Jump to: Installation | Performance | Conclusion
Enthusiasts who've been around the block a time or two will no doubt remember the name Enermax. Yours truly purchased his first Enermax power supply exactly two decades ago, and back then, the Taiwanese brand was synonymous with delivering some of the highest-quality products available to PC DIYers.
Fast forward to 2023 and the manufacturer is keen to reestablish itself as a major player in western markets and is introducing a wave of new products to help achieve that goal. Chief among them is the Liqmaxflo liquid cooler, arriving in 420mm ($149.99), 360mm ($129.99) and 240mm ($109.99) formats. Club386 spent some time getting acquainted with the mid-pack variant, and there's more to this all-in-one than first meets the eye.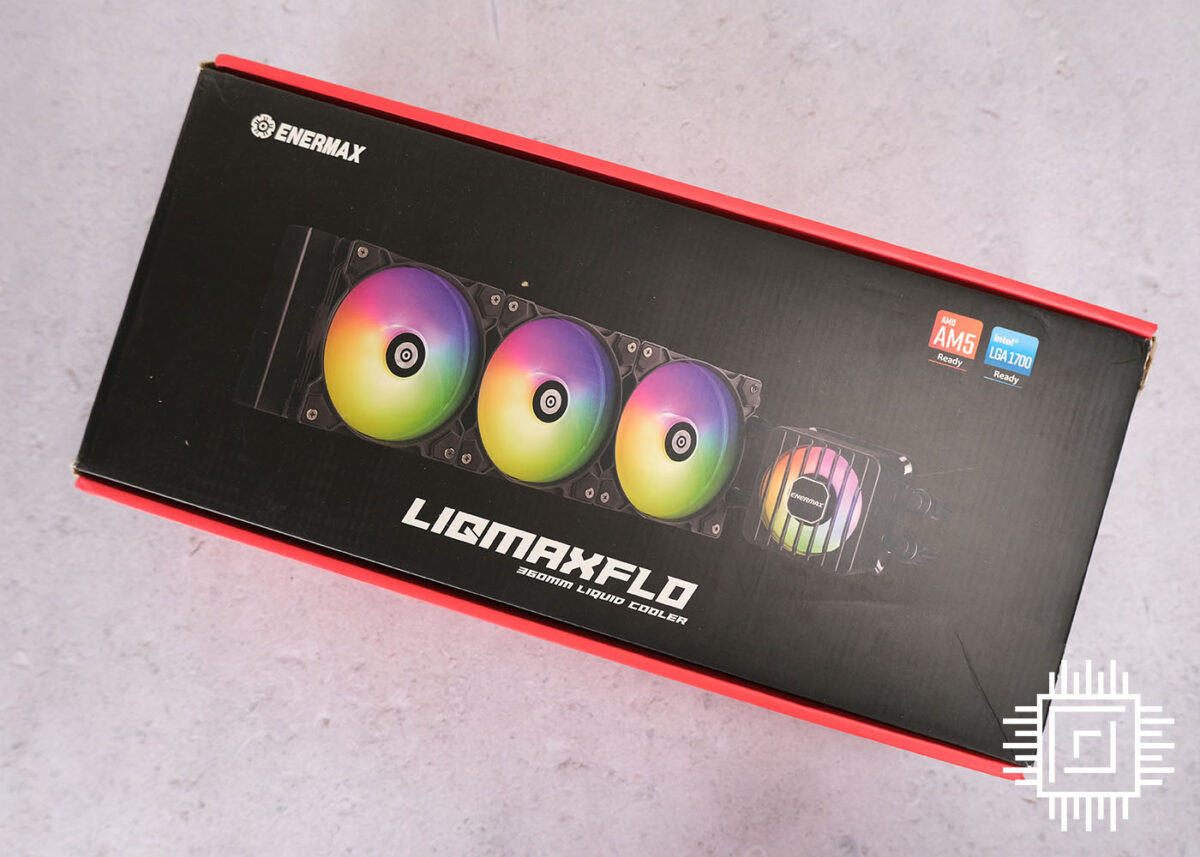 Remove the goodies from the box and it becomes immediately apparent the Enermax package is designed to be more comprehensive than most. In addition to all the fixings for current AMD and Intel sockets, the bundle includes a small tube of thermal paste, ARGB fans, a trio of tubing clips, an optional hardware RGB controller, and a combined PWM & RGB splitter cable.
There's even a four-pin SATA adapter should you run out of motherboard headers, as well as a 24-pin power adaptor that can be used to cycle the unit for maintenance and testing. Speaking of which, there's a 100ml bottle of coolant for topping up further down the line. It's about as comprehensive a bundle as we've seen for any AIO, and the firm backs its liquid coolers with a generous five-year warranty as standard.
Building on those solid foundations, the cooler itself is a step up from most competitors, too. The radiator, for example, is 38mm thick, offering greater surface area than the 27mm units we've become accustomed to. A 40 per cent increase in thickness is a meaningful upgrade, yet if there isn't room in your chassis, Enermax sells a Liqmaxflo SR model that's thinner, free of RGB fans, and priced even more competitively at $109.99 for a 360mm configuration.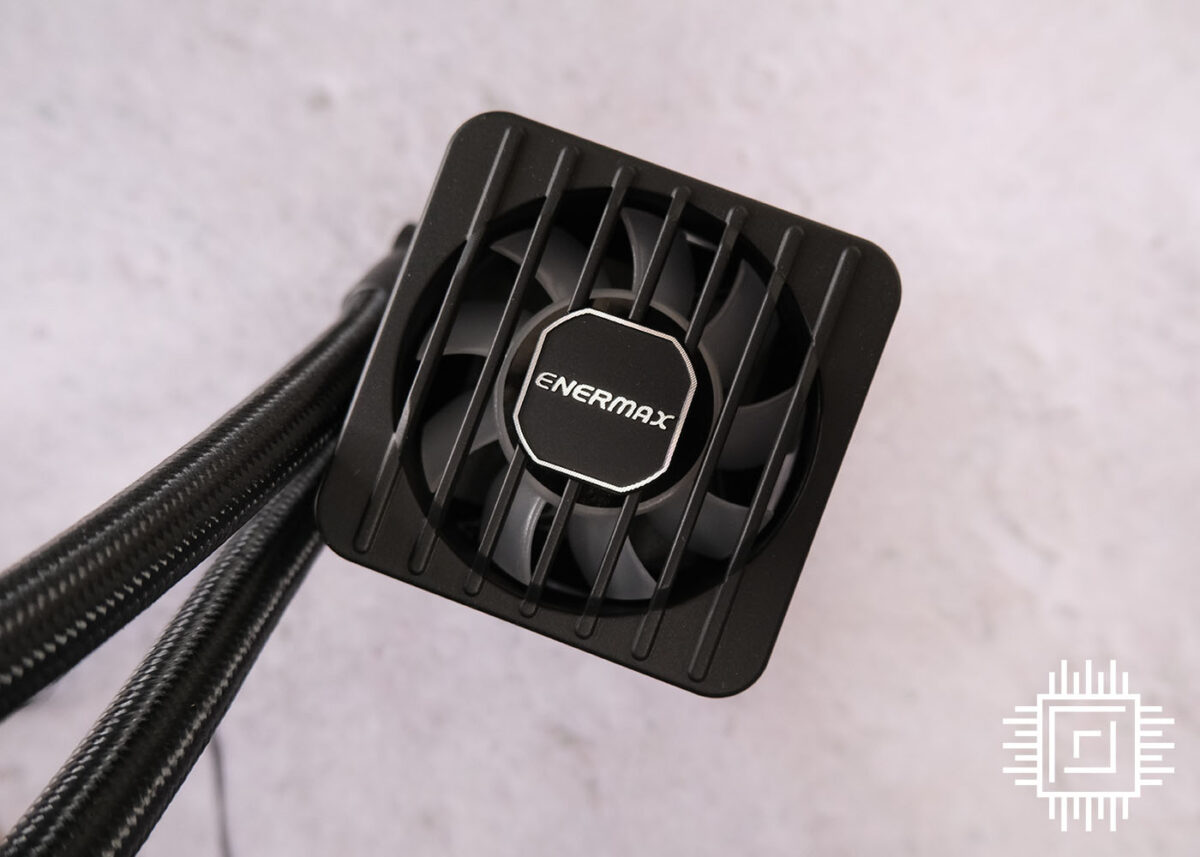 High-end cooling is the name of the game and that chunky 400mm x 120mm x 38mm radiator is attached to the CPU block via 400mm of braided tubing. Petite by comparison, the small block is home to Enermax's latest dual-chamber 'Xtreme' pump, which promises patented shunt-channel technology, a larger coolant inlet, and increased overall pressure. We're told flow rate is improved by as much as 20 per cent over prior generations, and there's also room to squeeze in a small 60mm fan for nearby VRM cooling.
The fan is accessible beneath a magnetic top cover that pulls away easily for cleaning and can be reattached in an orientation of your choosing. Interestingly, Enermax will also be releasing optional covers with unique designs for those who want to customise their cooler further. As it stands, the default option is a tidy-looking solution, and we love the fact that Enermax doesn't skimp on paste. In addition to the spare tube, the copper contact plate is lined with a patterned array of Dow Corning TC-5888 thermal grease; it's always nice to know your first application is going to be perfectly even.
Last but not least, a trio of 120mm 'Silent Flow' ARGB fans completes the package. 26.8mm-thick, the blowers promise up to 58CFM airflow at a maximum speed of 1,800RPM and are daisy-chained together via a proprietary connector to minimise excess clutter.
Installation
There's no drama when setting up the Liqmaxflo 360mm because Enermax has considered every eventuality. Adapters are available for those who don't have spare four-pin motherboard connectors or ARGB headers, though in an optimal setup, you'd have everything linked to one another. The three radiator fans are daisy chained and attached to the pump, which then connects to one motherboard header for PWM control and another for ARGB synchronisation.
It's a very clean setup with minimal cabling, and whereas some manufacturers recommend running the pump at full whack at all times, Enermax wants to encourage its all-PWM configuration to "save unnecessary power churn and create a quieter environment."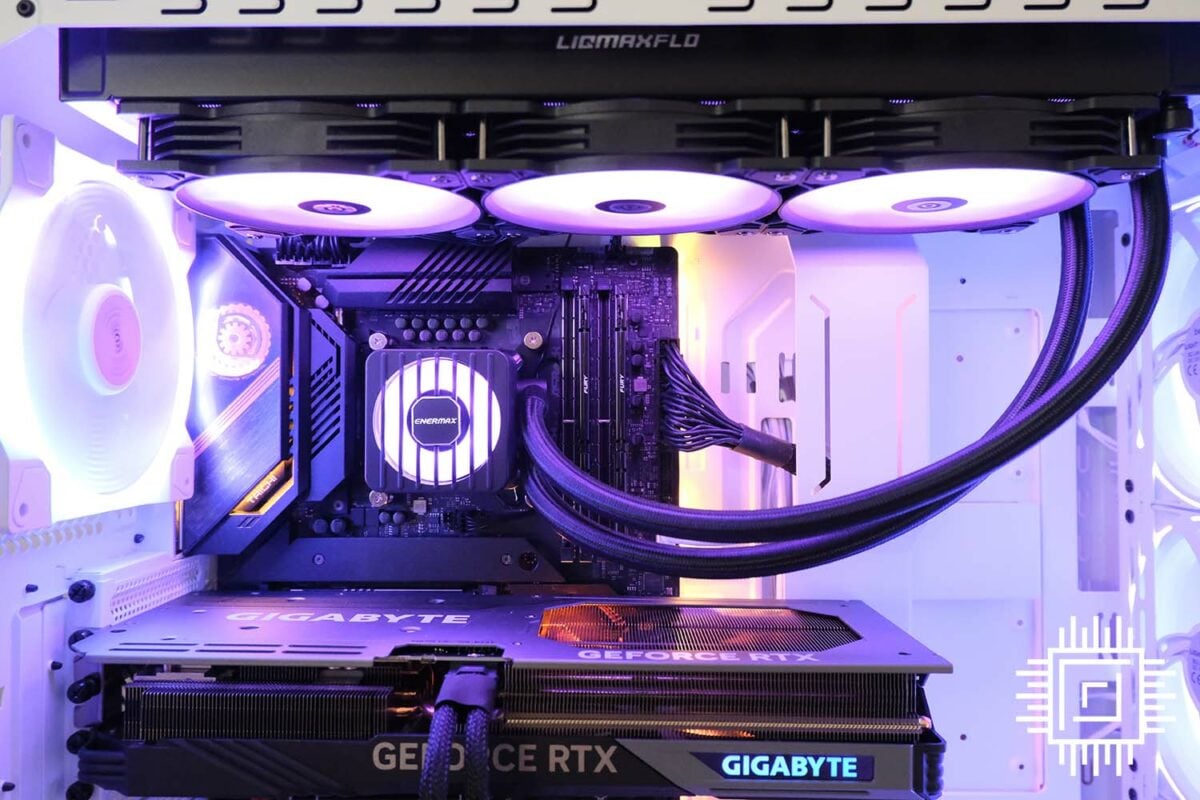 In its optimal setup, Liqmaxflo 360mm is configured to alter pump speed between 1,200 and 3,000RPM, VRM fan speed between 500 and 3,000RPM, and radiator fan speed between 500 and 1,800RPM. There's no need for any software, though if you prefer to take manual control, the separate parts can be attached to specific motherboard headers for BIOS customisation.
A word on the VRM fan. It is barely audible when speed is controlled via PWM but does get noisy at full blast, and there's evidently some turbulence beneath the top shroud as it becomes noticeably quieter with the cover removed. Whether or not the extra fan provides any meaningful cooling benefits is debatable; VRMs on our ASRock motherboard show negligible improvement, and the RGB fan's primary purpose is to provide an extra layer of visual flair. At low speed, it does that well and adds no noticeable noise.
Installation, on the whole, proved effortless, and in our real-world test platform, the combination of thicker radiator and PWM-controlled pump delivers an enviable balance of cooling performance and low noise. Let us demonstrate.
Performance
The somewhat disingenuous nature of today's enthusiast CPUs is such that the numbers written on the box don't paint a complete picture. Core i9-13900K maximum power soars to 253W but maintaining that top level of performance and the frequencies that come with is easier said than done.
Without requisite cooling, peak performance will drop off quickly, and for that purpose we're testing the CPU configured in BIOS to remain at 253W under full load. The question we want to answer is whether each cooler can maintain that wattage, what it means for core temperature, and how it affects benchmark results.
Getting testing underway, we begin with noise readings reflective of a real-world, fully built PC. With chassis fans fixed to 600RPM at all times, noise is measured with CPU cooler fans configured in three states: low-speed (600RPM), high-speed (1,200RPM), and the maximum applicable to each cooler model.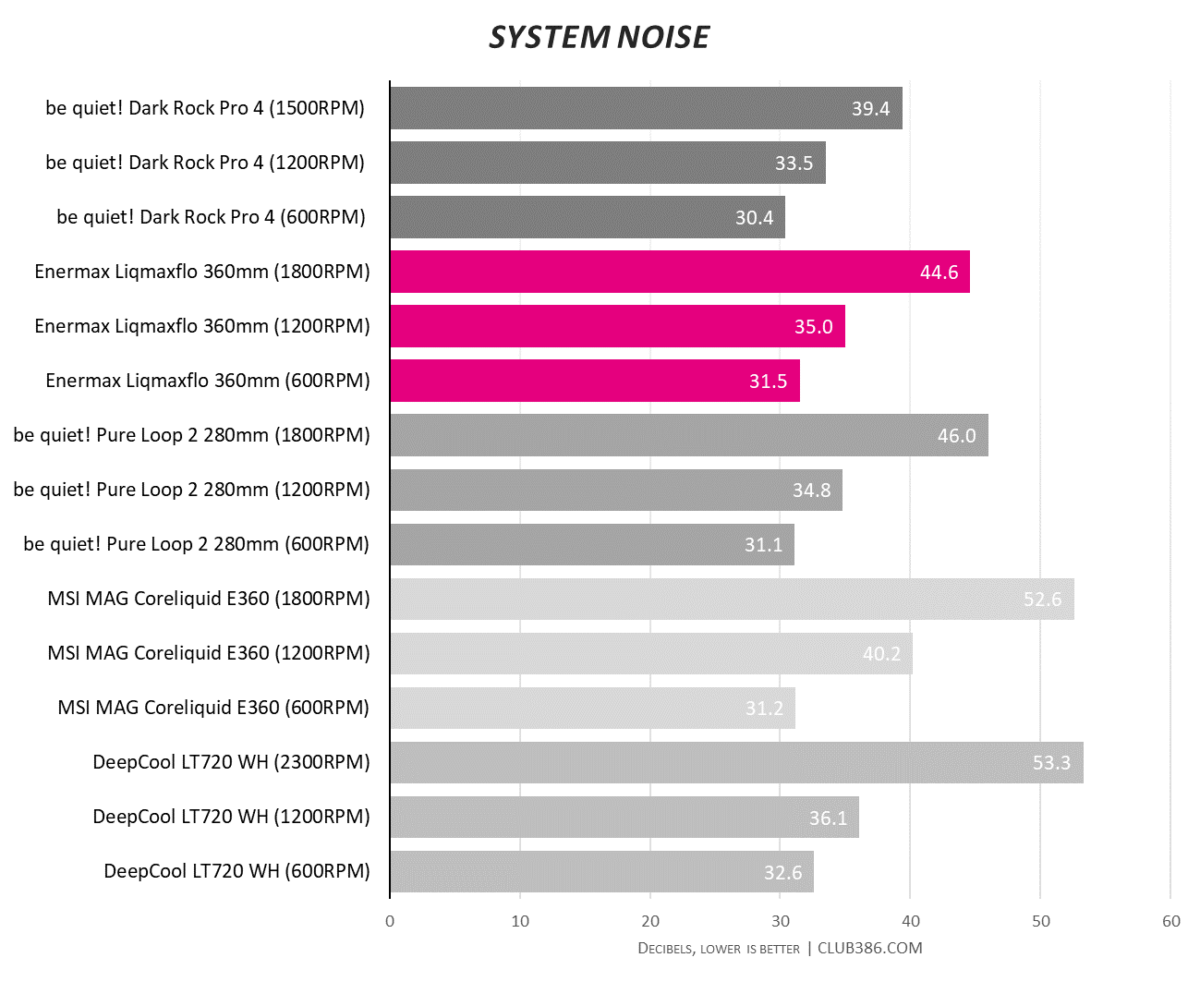 Liquid coolers are typically configured with the pump operating at 100 per cent, which inevitably adds an extra noise. Enermax favouring PWM control for pump and fans helps keep noise levels down to more agreeable levels, with the Liqmaxflo remaining impressively quiet at low-to-mid speeds.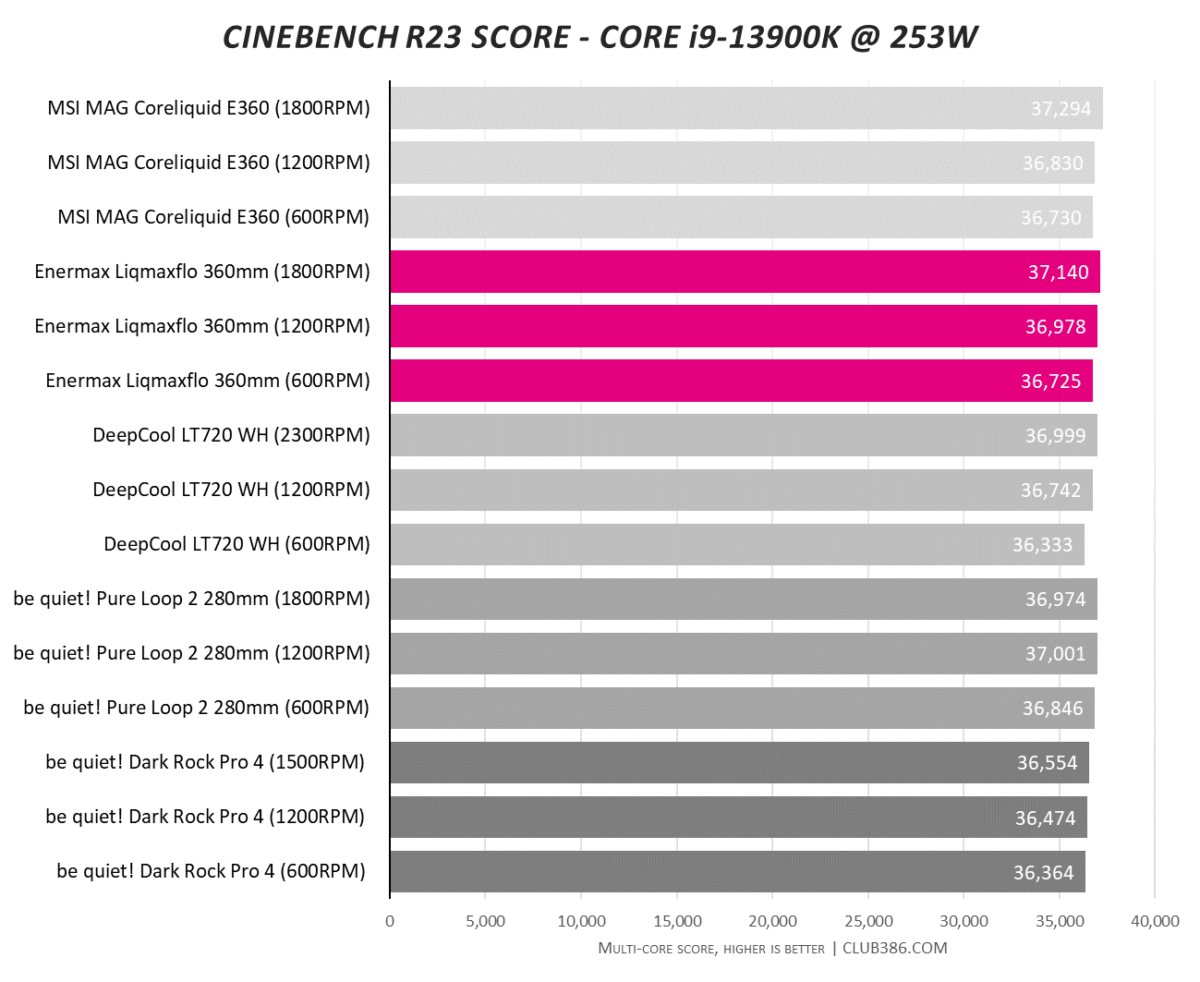 Running Cinebench, R23's built-in stress test is always helpful in gauging cooling optimisation. We expect the Intel Core i9-13900K to score in the region of 38k when all cores are firing optimally in a single run, though continuing that load for an extended period sees performance drop off by a fraction. There's not a great deal separating the AIOs on show, and 360mm or 280mm appears to matter not.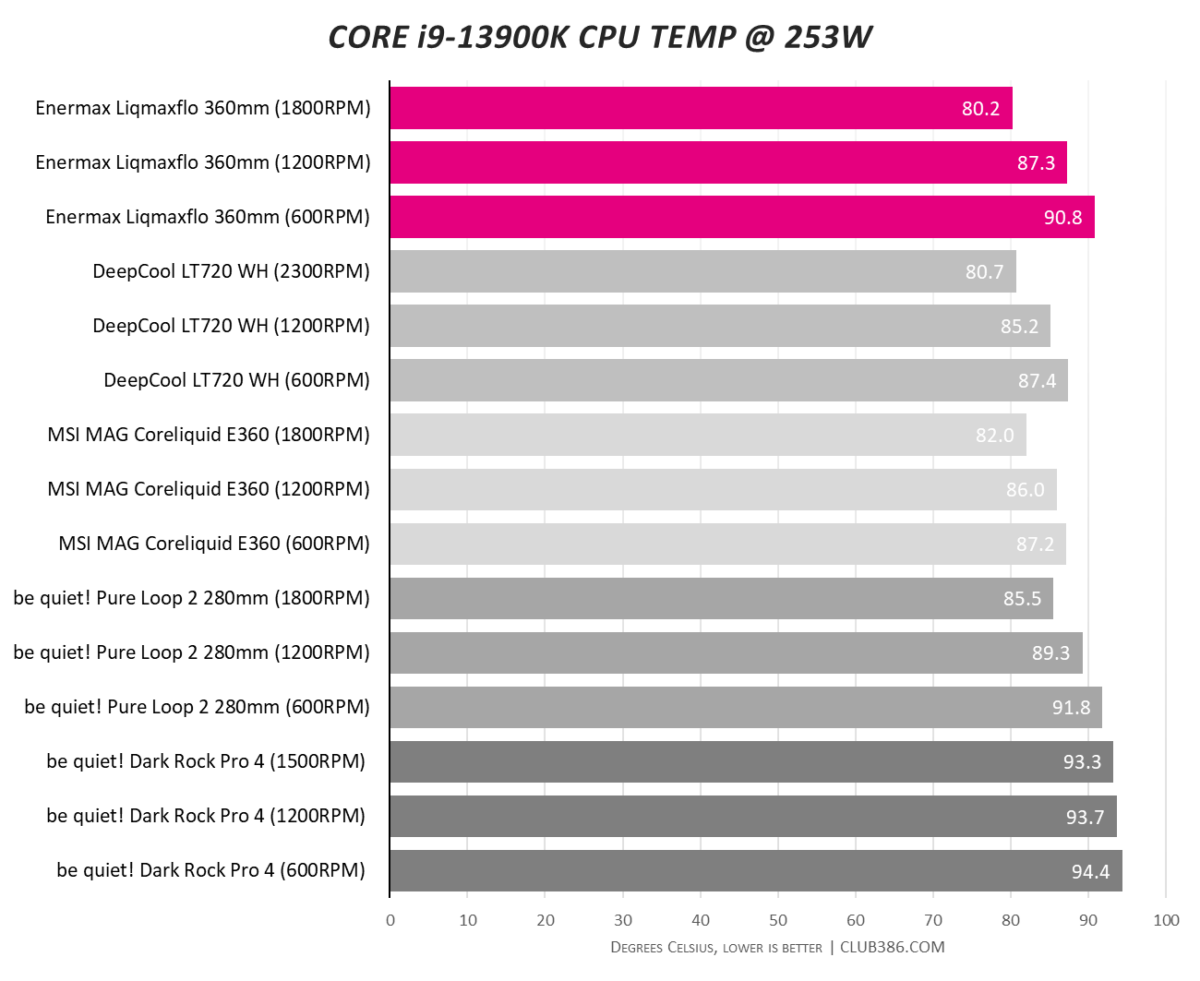 Average temperature across the Core i9-13900K's eight performance cores positions the 38mm-thick AIO at the top of the pack when fans are running at maximum speed. There's clearly a lot of potential, but cooling isn't as impressive at low speed, no doubt a consequence of PWM control reducing both fan and pump speed simultaneously.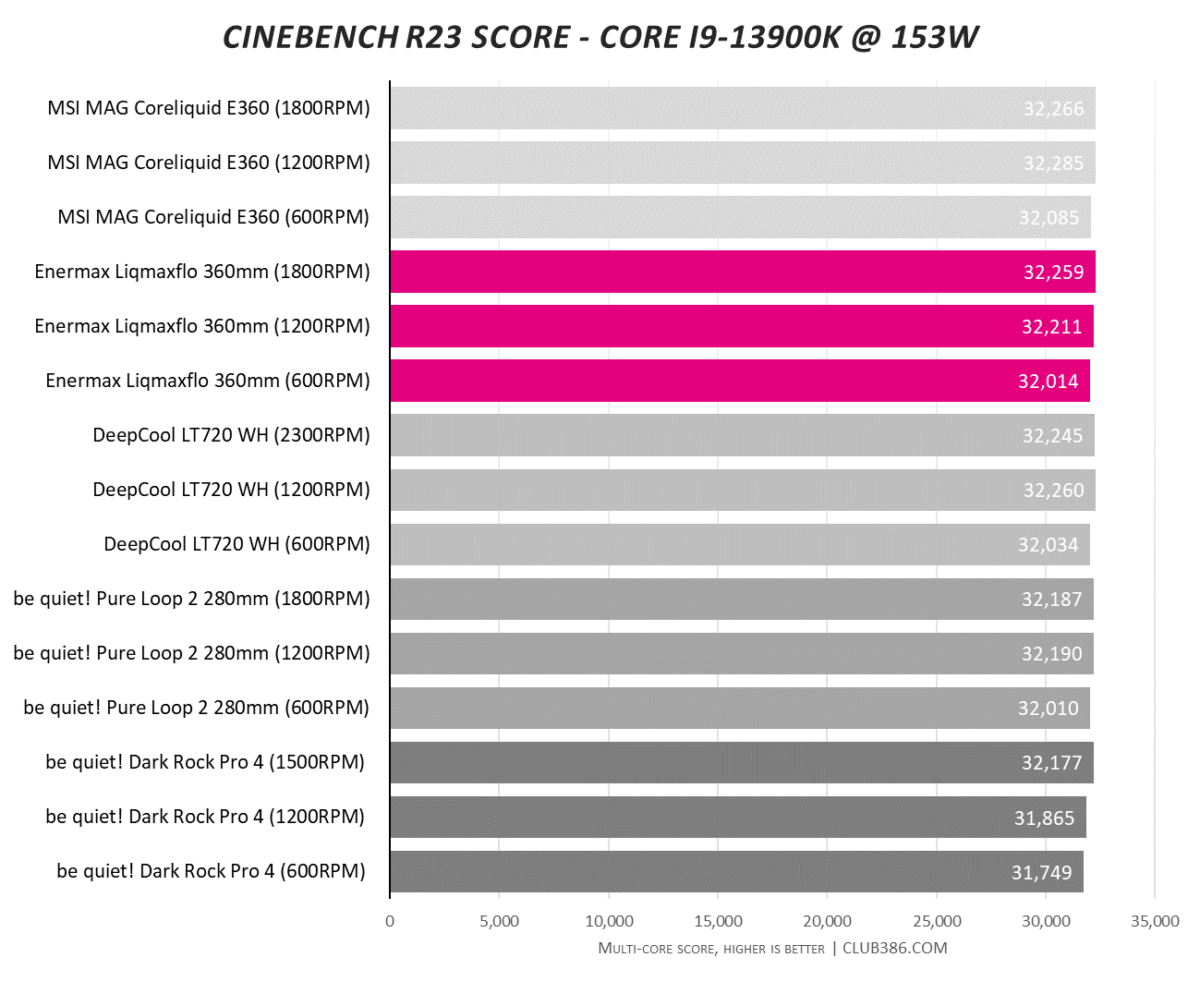 Given the alarming amount of energy consumption and heat generation at 253W, it's not uncommon in DIY circles to reduce power limits on enthusiast CPUs to more agreeable levels. Lopping 100W off the Core i9-13900K still delivers highly respectable performance, and no liquid cooler returns a score of less than 32k irrespective of fan speed.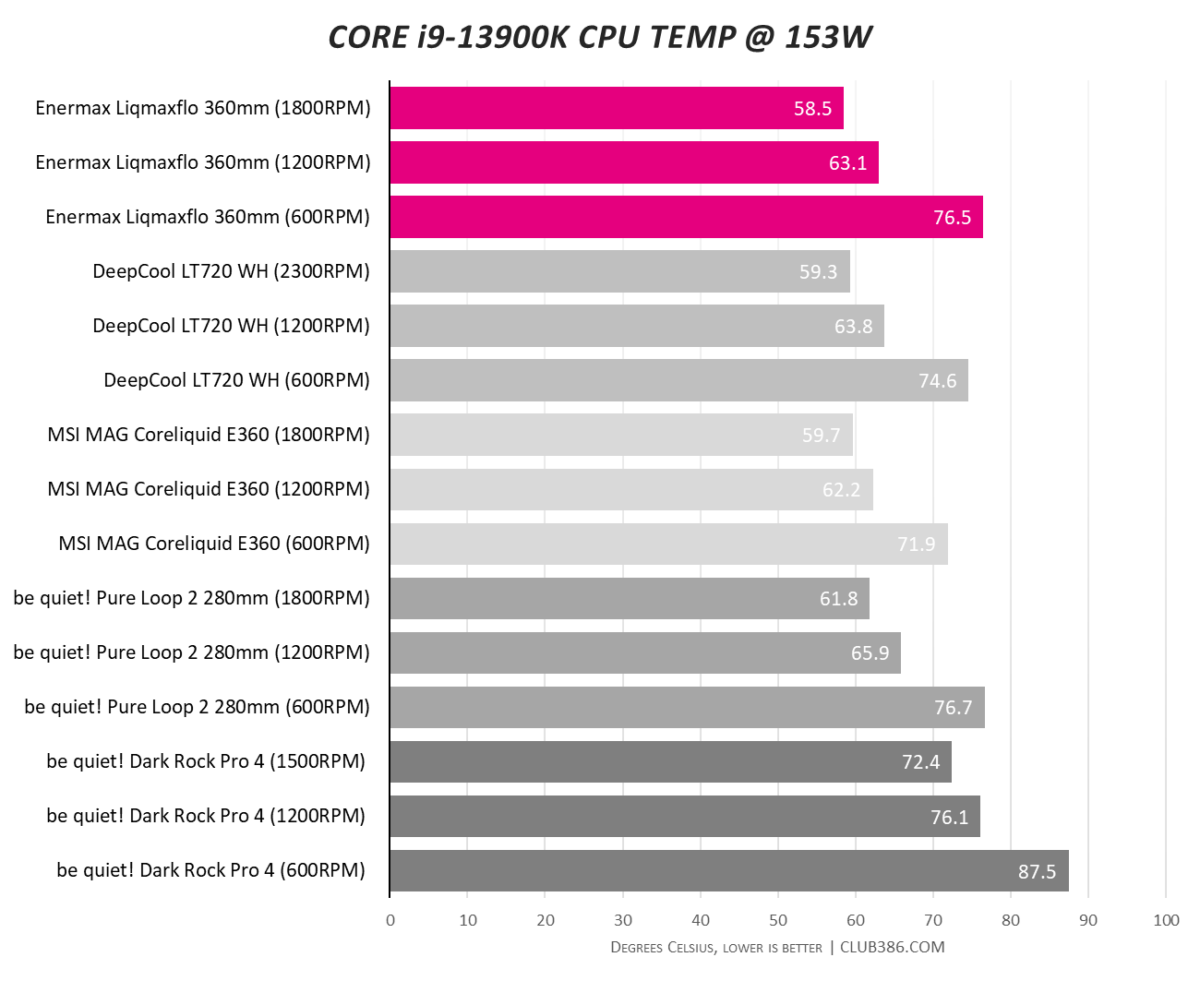 At these settings, it's worth running with the PWM-controlled pump. Noise is kept to an absolute minimum, and even with fans limited to 600RPM, the CPU never gets toasty. A fine balance of cooling and acoustic performance.
Conclusion
Two decades after my first experience of Enermax, the firm's products continue to do what they do best by overlooking superfluous additions in favour of features that may be of use to DIY builders.
Liqmaxflo is a good example of that sentiment. There's neither a tacked-on OLED display nor bloated software companion; what you have instead is a well-thought-out bundle that delivers all the AIO essentials at a competitive price. Installation is a cinch, cabling and controllers are included to cover all eventualities, you get thermal paste both on the contact plate and in a spare tube, plus a backup bottle of coolant if the need arises.
Factor in the 38mm-thick radiator and five-year warranty and you have a quiet, capable and unassuming all-in-one cooler that's easy to recommend.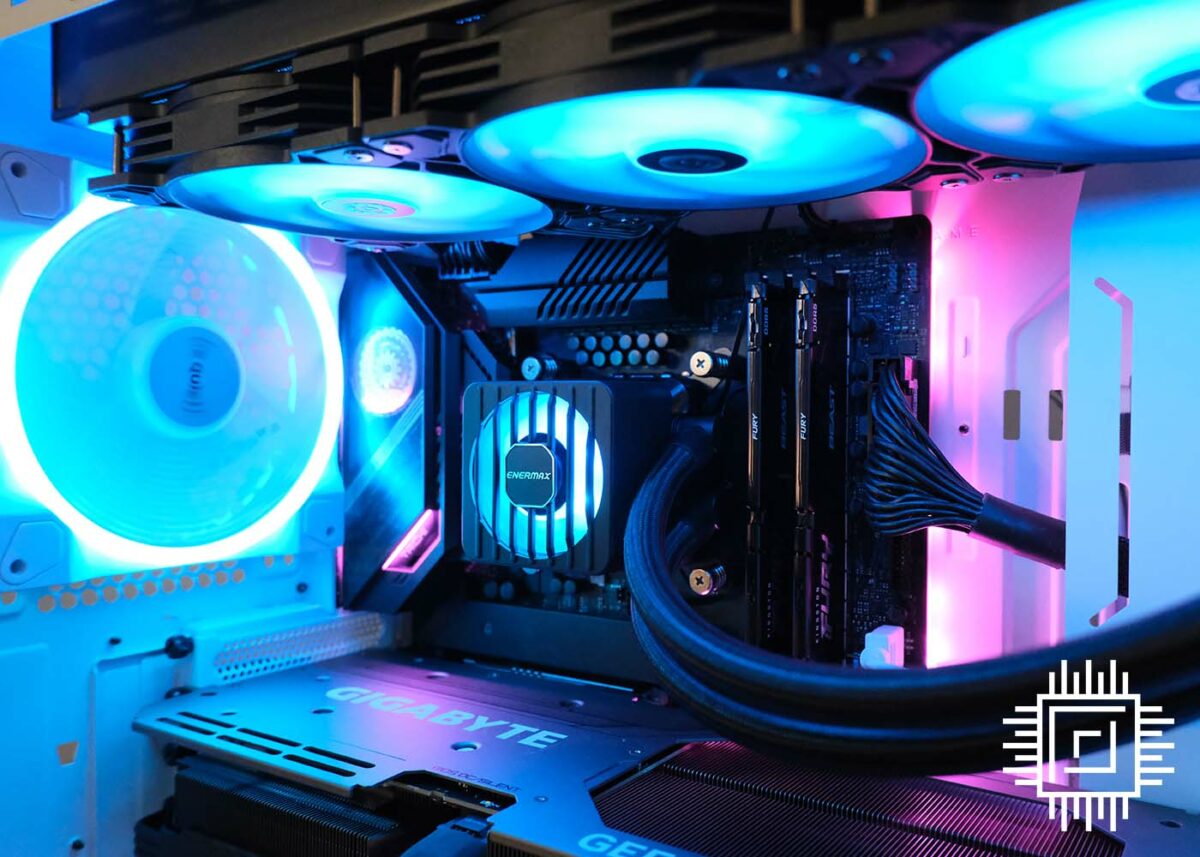 Enermax Liqmaxflo 360mm
Verdict: a highly likeable AIO and a welcome introduction to DIYers new to this brand.
---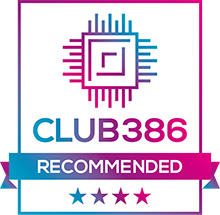 Pros
38mm-thick radiator
ARGB fans included
Simple installation
Comprehensive bundle
Five-year warranty
Cons
VRM fan can get noisy
Not available in white
---
Club386 may earn an affiliate commission when you purchase products through links on our site. This helps keep our content free for all.
Rest assured, our buying advice will forever remain impartial and unbiased.