Jump to: Specifications | Build | Performance | Conclusion
Fractal Design is on a hot streak. The Swedish manufacturer's recent high-end chassis have garnered plenty of acclaim, with the likes of Torrent and Define R6 being recommended around these here parts.
Handy to know if you're planning an enthusiast build, but the mainstream market is where the bulk of the action takes place, and following a warm reception to the Meshify Series, Fractal plans to expand in the budget arena with an entire new range of mainstream PC chassis. Enter the Pop Series.
Priced from £72.99, Pop's value is best realised in the sheer amount of available options. Plenty have tried to deliver modular enclosures with mixed results, so Fractal instead chooses to make this latest range available in at least 20 different configurations. Firstly, Pop enclosures will be offered in a choice of three sizes; Mini, Regular and XL. Each of those then splits into Air or Silent variants; the former favouring mesh frontage while the latter adopts solid panels lined with sound-dampening materials.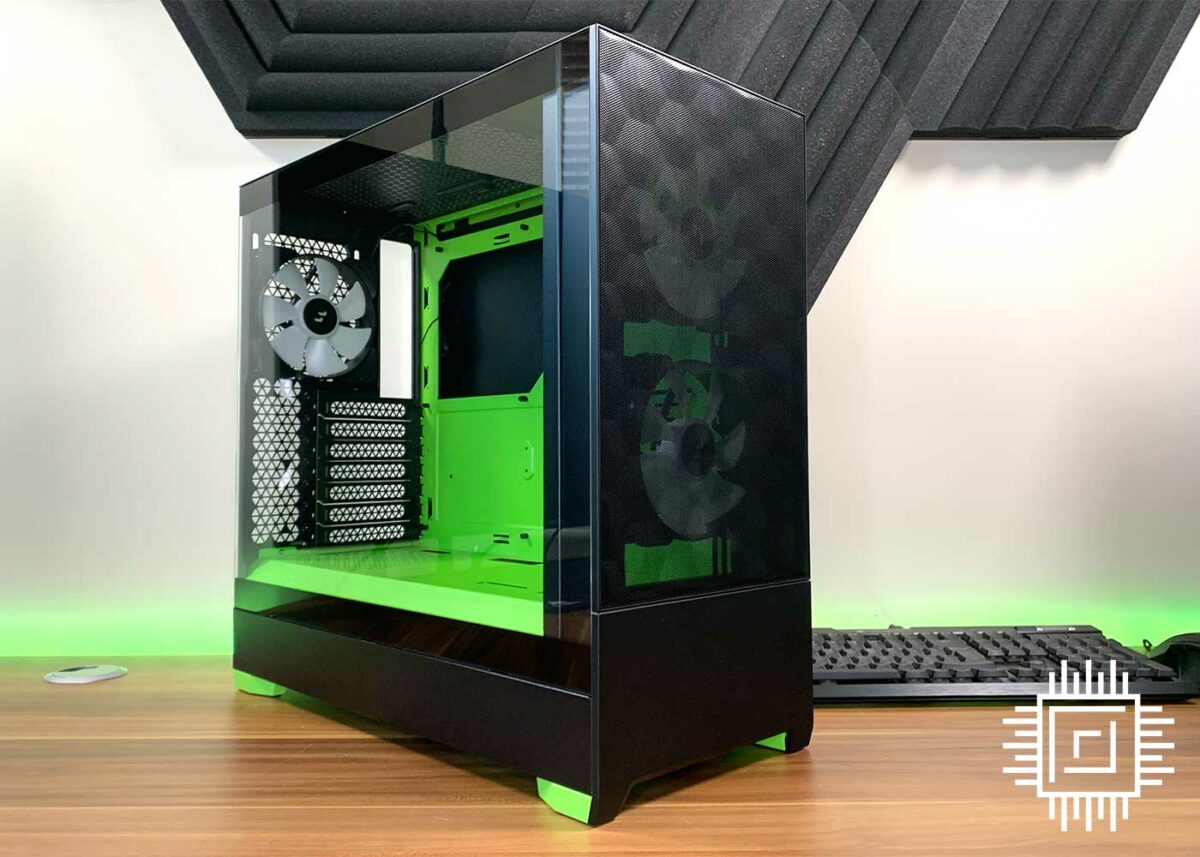 We have our hands on the mid-tower Pop Air, which itself comes in a dozen configurations to allow for a variety of eye-catching colour configurations. Base black or white models are available at the entry-level price point, but if you're willing to stretch to £81.99, the door opens to chromatic models armed with a trio of Aspect 12 RGB fans alongside vibrant interiors in a choice of cyan, magenta, green or orange.
Something for everyone it seems, and if our pictured 'Pop Air RGB Green Core TG Clear Tint' is anything to go by, colours are likely to prove popular among today's streaming audience. Rival NZXT has demonstrated how well a splash of paint can work, and we're pleased to see Fractal hasn't been the least bit cautious. That audacious green is something Bruce Banner would be proud of, and extends across the motherboard tray, PSU shroud, drive trays, SSD brackets and feet. Having gotten past our initial trepidation, we've grown quite fond of the hue, and are itching to see if cyan and magenta are as bold in the flesh.
Affordable Colour
The trick in the sub-£100 bracket is to deliver a mainstream chassis that doesn't look or feel cheap. Fractal manages to pull that off. Dimensions of 474mm x 215mm x 454mm are reasonably petite for a mid-tower solution, while the primarily metal frame feels well knitted together and more substantial than we're accustomed to at this end of the market.
Specification
Pop Mini
Pop
Pop XL
Available Types & Colours
Air RGB
– Black, Clear TG
– White, Clear TG
Silent
– Black, Solid
– Black, Clear TG
Air
– Black, Solid
– Black, Clear TG
– White, Clear TG
Air RGB
– Black, Clear TG
– Black w/ Cyan Core, Clear TG
– Black w/ Magenta Core, Clear TG
– Black w/ Green Core, Clear TG
– Black w/ Orange Core, Clear TG
– White, Clear TG
Silent
– Black, Solid
– Black, Clear TG
– White, Clear TG
Air RGB
– Black, Clear TG
– White, Clear TG
Silent
– Black, Solid
– Black, Clear TG
Combo 3.5/2.5in mounts
2 (included)
3 (2 included)
4 (3 Included)
Dedicated 2.5in mounts
4 (2 included)
4 (2 included)
4 (2 included)
5.25in drive bays
2
2
2
Expansion slots
4
7
8
MB compatibility
mATX / Mini-ITX
ATX / mATX / Mini-ITX
E-ATX (280mm) / ATX / mATX / Mini ITX
Front interface
2x USB 3.0, Power, Audio I/O
Optional USB-C (sold separately)
RGB controller (RGB versions)
2x USB 3.0, Power, Audio I/O
Optional USB-C (sold separately)
RGB controller (RGB versions)
2x USB 3.0, Power, Audio I/O
Optional USB-C (sold separately)
RGB controller (RGB versions)
Total fan mounts
Air: 5x 120 or 2x 140 + 1x 120
Silent: 3x 120 or 1x 140 + 1x 120
Air: 5x 120 or 4x 140
Silent: 3x 120 or 2x 140
Air: 6x 120 or 5x 140
Silent: 6x 120 or 5x 140 (cover off)
Front fan
2x 120 (included) or 1x 140
2x 120 (included) or 2x 140
3x 120 (included) or 2x 140
Top fan
Air: 2x 120 or 1x 140
Silent: N/A
Air: 2x 120/140
Silent: N/A
Air: 2x 120/140
Silent: 2x 120/140 (cover off)
Rear fan
1x 120 (included)
1x 120 (included)
1x 120 (included) or 1x 140
Dust filters
Air: Front, Top, PSU
Silent: Front side intake, PSU
Air: Front, Top, PSU
Silent: Front side intake, PSU
Air: Front, Top, PSU
Silent: Front side intake, PSU
Front radiator
Up to 240
Up to 240/280
Up to 360/280
Top radiator
Air: Up to 240
Silent: N/A
Air: Up to 240 (max 46mm height)
Silent: N/A
Air: Up to 240/28
Silent: Up to 240/280 (cover off)
Rear radiator
120
120
Up to 120/140
PSU max length
150mm
170mm
205mm
GPU max length
Air: 365mm w/ front fan
Silent: 340mm w/ front fan
Air: 380mm w/ front fan
Silent: 405mm w/ front fan
Air: 430mm w/ front fan
Silent: 455mm w/ front fan
CPU cooler max height
170mm
170mm
185mm
Case dimensions
432mm x 215mm x 393mm
474mm x 215mm x 454mm
522mm x 230mm x 520mm
MSRP
£72.99 – £81.99
£72.99 – £81.99
£90.99 – £96.99
It's worth taking a moment to peruse differences between all three available sizes. Those enjoying added colour will be disappointed to learn Pop Mini and XL models are only available in black or white, and cooling varies within each size category. Pop Silent, for example, adopts a solid top panel, reducing the total number of fan mounts from five to three.
Fractal's specifications nonetheless hint at ample room for a modern build. The reviewed Pop Air RGB can house either a mini-, micro- or regular ATX motherboard, alongside five fans; two 120/140s in the front, two 120/140s up top, and a 120 in the rear. Radiators are best installed at the front, where there's room for either a 240/280, as the top is limited to a 240mm rad measuring less than 46mm thick.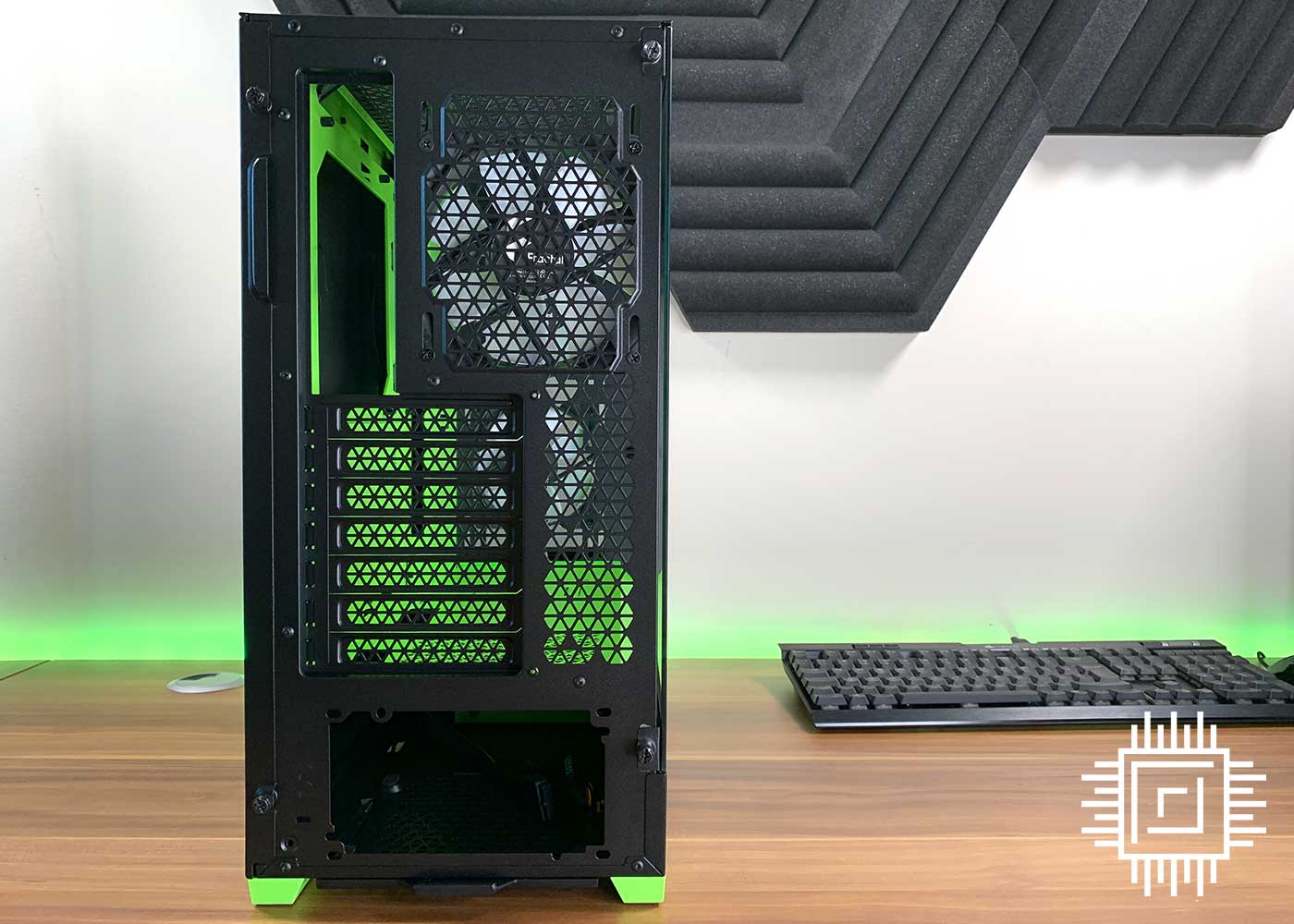 Pricing is kept below £100 irrespective of model, though would-be buyers ought to be aware of various features that are absent throughout the series. In contrast to dearer Fractal product lines, side panels are notched and thumb-screwed as opposed to quick-release, there are no rubber grommets on any of the cable-routing holes, you don't get a fan controller, and most frustrating of all, front I/O doesn't include USB-C as standard.
Don't be fooled by the neat column of ports across the top-right edge, as the Type-C is merely a placeholder; to get the actual port you need to purchase Fractal's 'USB-C 10Gbps Cable – Model D' add-on at a cost of £7.99. Hardly breaking the bank, yet as we enter the second half of 2022 we feel as though Type-C ought to feature on all chassis as standard.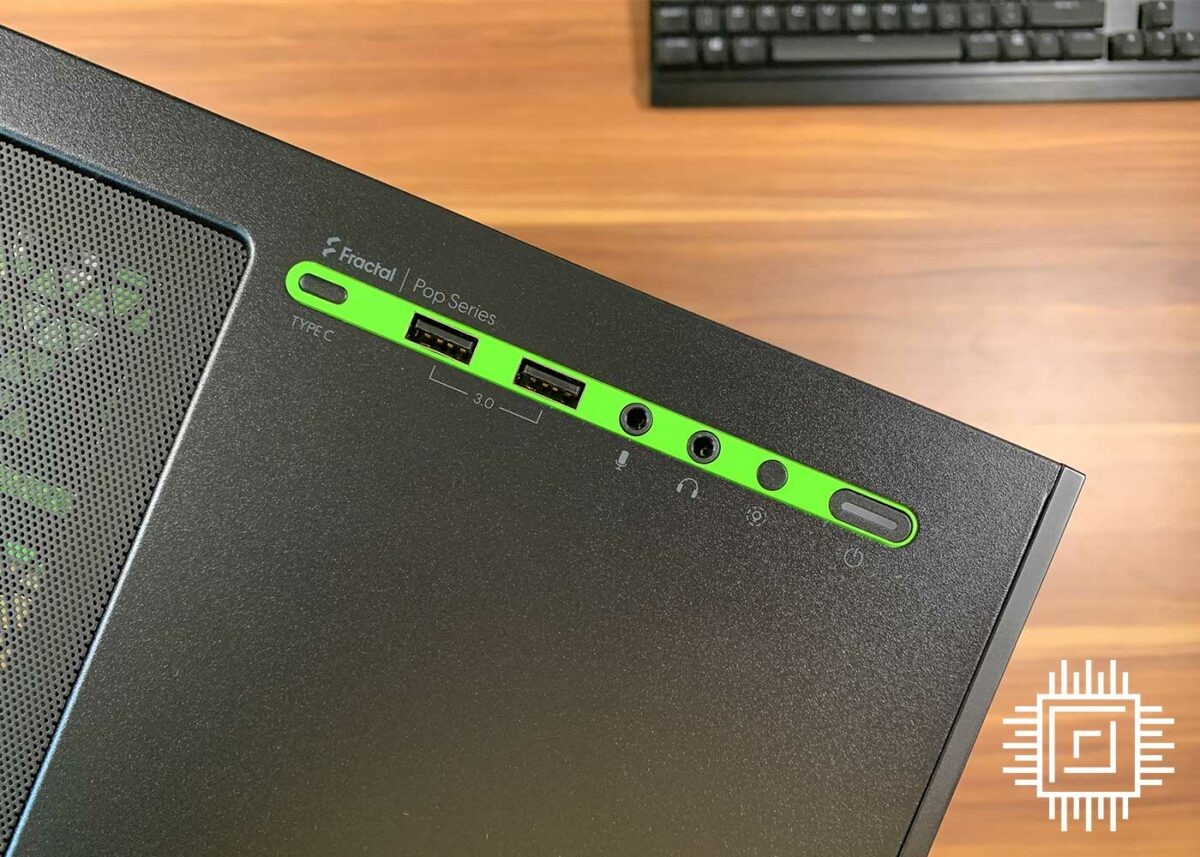 Looking past that missed opportunity, Fractal includes a pair of USB 3.0 5Gbps, headphone and microphone jacks, an RGB toggle button, and a backlit power button whose LED neatly synchronises to the same colour as the fans. A nice touch, but why are so many chassis manufacturers choosing not to bother with a reset button?

Show your support for impartial Club386 reviews
Club386 takes great pride in providing in-depth, high-quality reviews built on honest analysis and sage buying advice. As an independent publication, free from shareholder or commercial influence, we are committed to maintaining the standards our readers expect.
To help support our work, please consider making a donation via our Patreon channel.
Build Experience
Pop Air won't do everything, but it does do most things pretty well. Clearance is ample with 170mm CPU cooler height and 380mm GPU length, up to a 170mm PSU is neatly hidden from view in a dedicated compartment, and filtration is decent, too. The top mounts are lined with a magnetic filter, the PSU has a filter that pulls out from the back, and though the hexagonally-patterned mesh frontage doesn't come away easily, it's designed to be wiped clean.
Start exploring Pop Air's interior and there are some niceties you might not have expected. The inclusion of two 5.25in optical bays will in particular come as welcome relief to those still clinging to their DVD writer. Both bays are neatly hidden behind a magnetic cover at the bottom of the front fascia, but real-world usage might be complicated; you'll have to remove the cover before ejecting an internal drive. Modders might find a way around that predicament, while those who don't have plans on installing a 5.25in device can make use of Fractal's supplied storage drawer – it slots in with ease and serves as a neat little addition.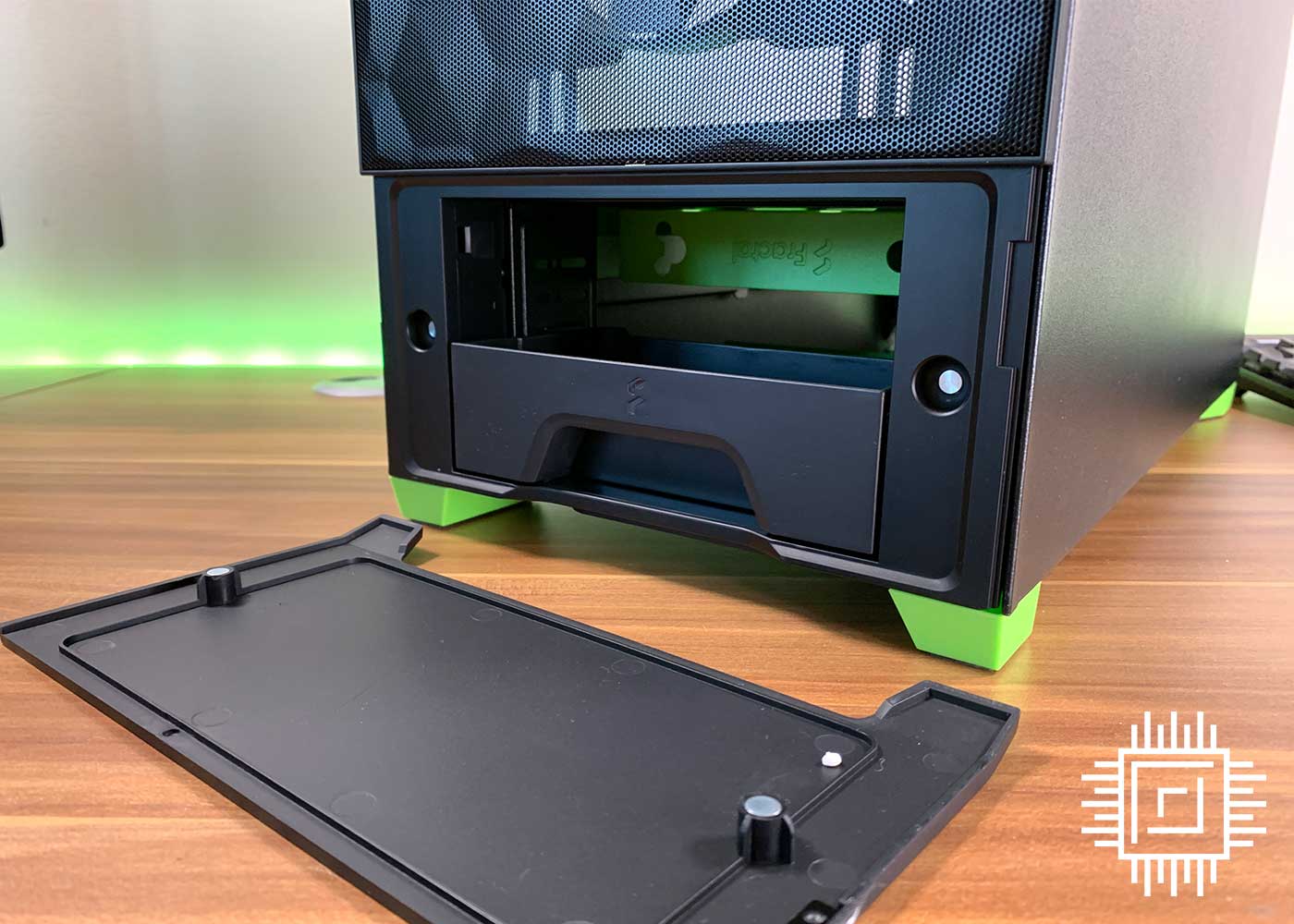 Storage is modestly catered for, with a dedicated dual SSD bracket attached to the rear of the motherboard and a pair of storage trays occupying the 5.25in bays. Each tray can house a 2.5in and 3.5in drive simultaneously, though they would of course need to be jettisoned if installing an optical drive. There is also provision to add two further SSD trays atop the PSU shroud, but said bracket isn't included in the box and is sold as another £8.99 extra.
Speaking of extras, vertical graphics card installation is technically supported as the seven expansion slots are bridgeless, allowing for the use of a vertical PCIe riser. You guessed it, sold separately and yours for a cool £45.99. None of these add-ons are mandatory, yet the Air Pop RGB, with extra SSD bracket, vertical GPU, and USB-C soon nudges up close to the £150 mark.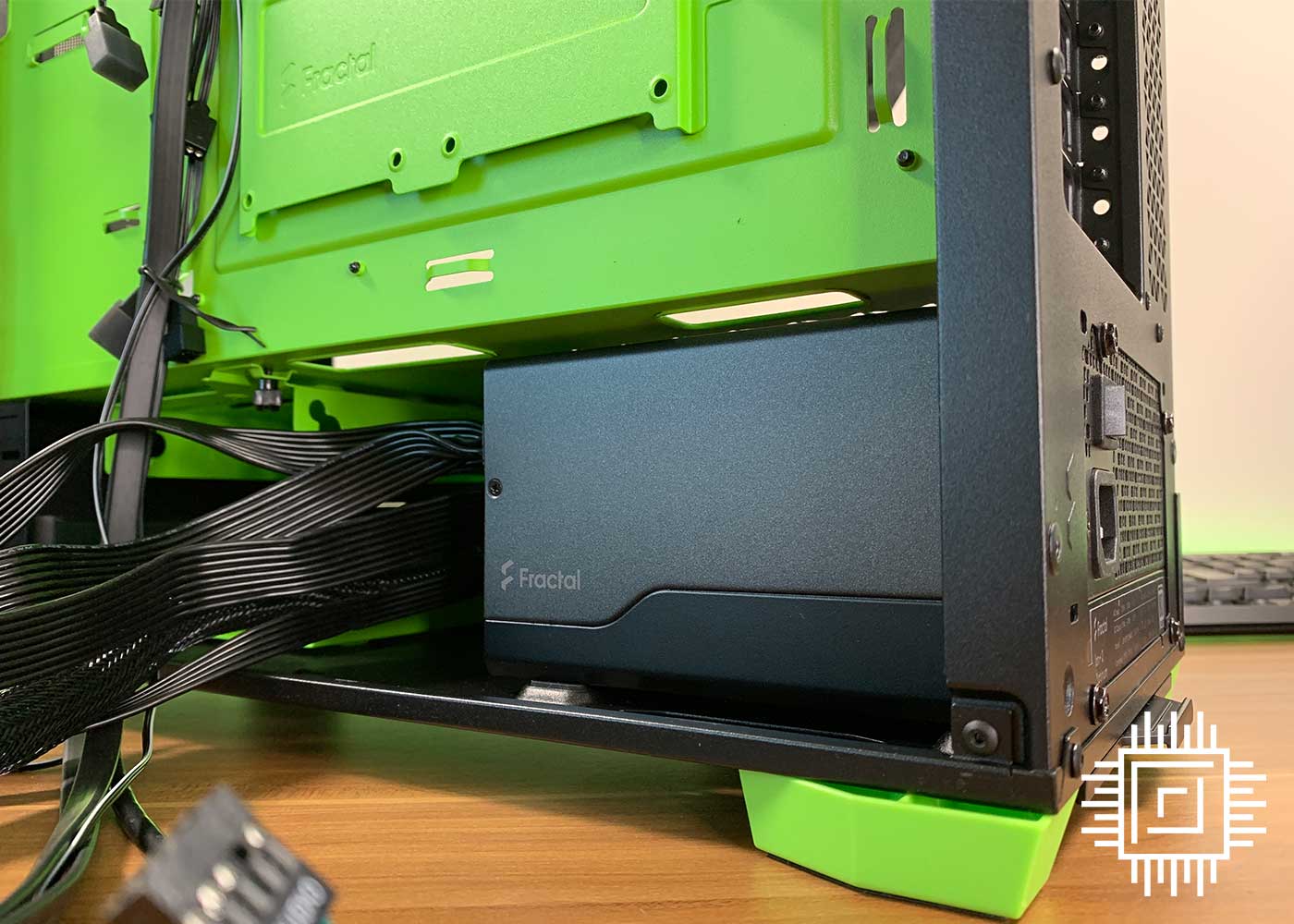 Cable management is decent with Fractal including routing holes above, below and to the side of the motherboard tray, as well as a couple of Velcro straps and over a dozen tie-down points around back. Keeping our test build tidy wasn't difficult, and though additional RGB fan cables add to the clutter, we like the fact that Fractal's trio of supplied three-pin fans can be daisy-chained for both power and lighting. Being able to attach all three to just two motherboard headers is helpful – one three-pin for power, another for RGB synchronisation – and if your motherboard doesn't support the latter, simply hook-up to the chassis' built-in controller and cycle through effects/colours using the button on the I/O panel.
Are the evident limitations going to hamper a build? You'll never be able to install a 360mm radiator, or a 280mm up top, and the rear being limited to 120 means those who favour 140s throughout are out of luck. Such caveats are unlikely to be a genuine concern on a mainstream chassis such as this, and save for the absence of USB-C, we're pleased with how our completed build has turned out.
Components contrast surprisingly well with the brilliant green, and even RGB lighting bounces nicely off the surface providing unexpected hues. At the very least, Pop Air, with three bundled RGB fans, makes it easy to create a low-cost, eye-catching build.
Performance
For the purpose of our benchmarks, a high-end Core i9-12900K processor is configured to 175W and cooled by a be quiet! Dark Rock Pro 4 operating at a fixed 700RPM. All the emphasis is shifted to the chassis, whose fans are tested in three states: 400RPM, 800RPM and maximum RPM.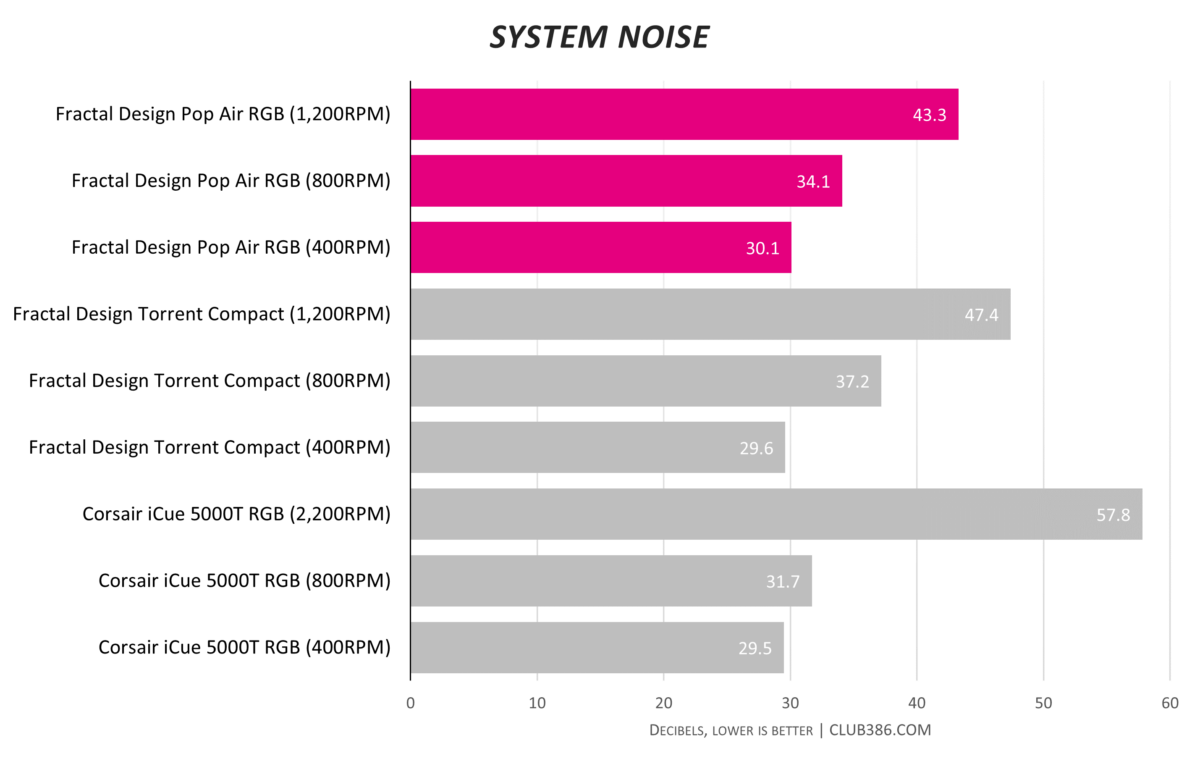 Fractal's trio of 120mm fans has a maximum speed of 1,200RPM. They remain reasonably composed at full chat, and then shift to quiet and very quiet when operating speed is reduced to 800RPM and 400RPM, respectively.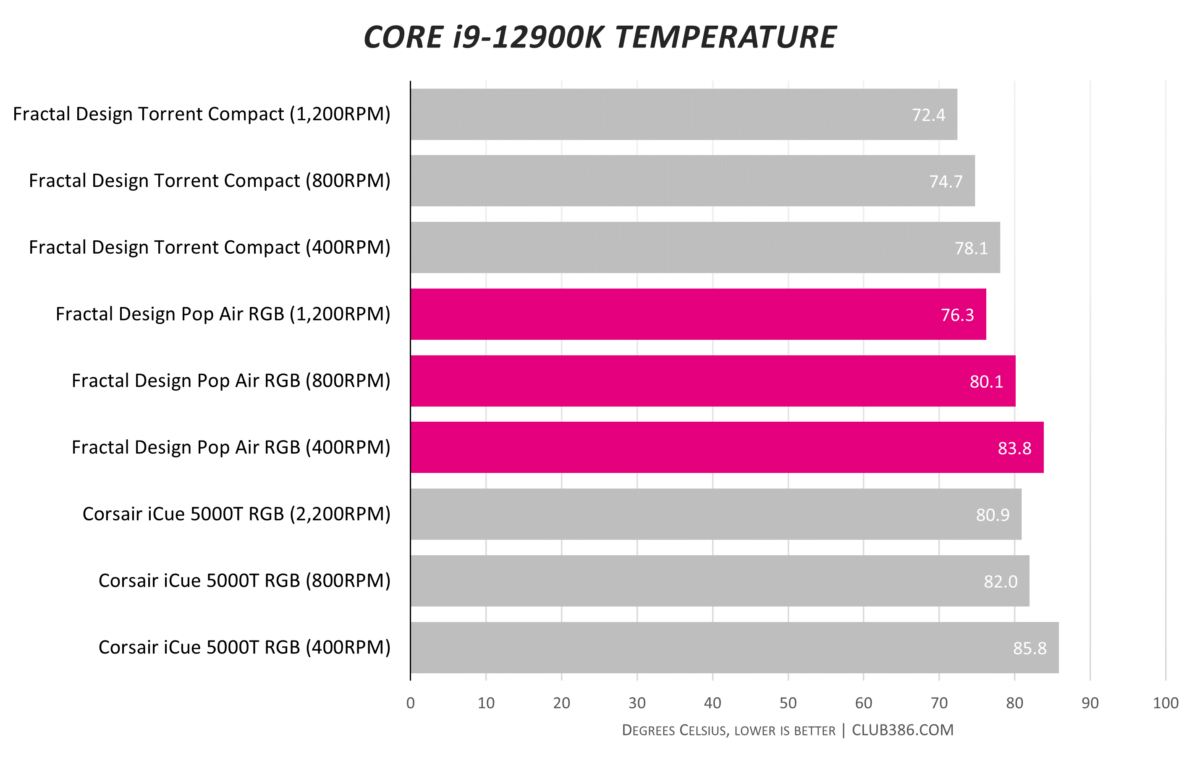 Any case with 'Air' in its branding ought to prioritise airflow, and the mid-tower Pop chassis seems to have decent supply. The typically warm-running Core i9 chip is kept comfortable under full load even at low fan speed, though as expected, the £140 Torrent Compact, armed with dual 180mm intakes, is a natural step up.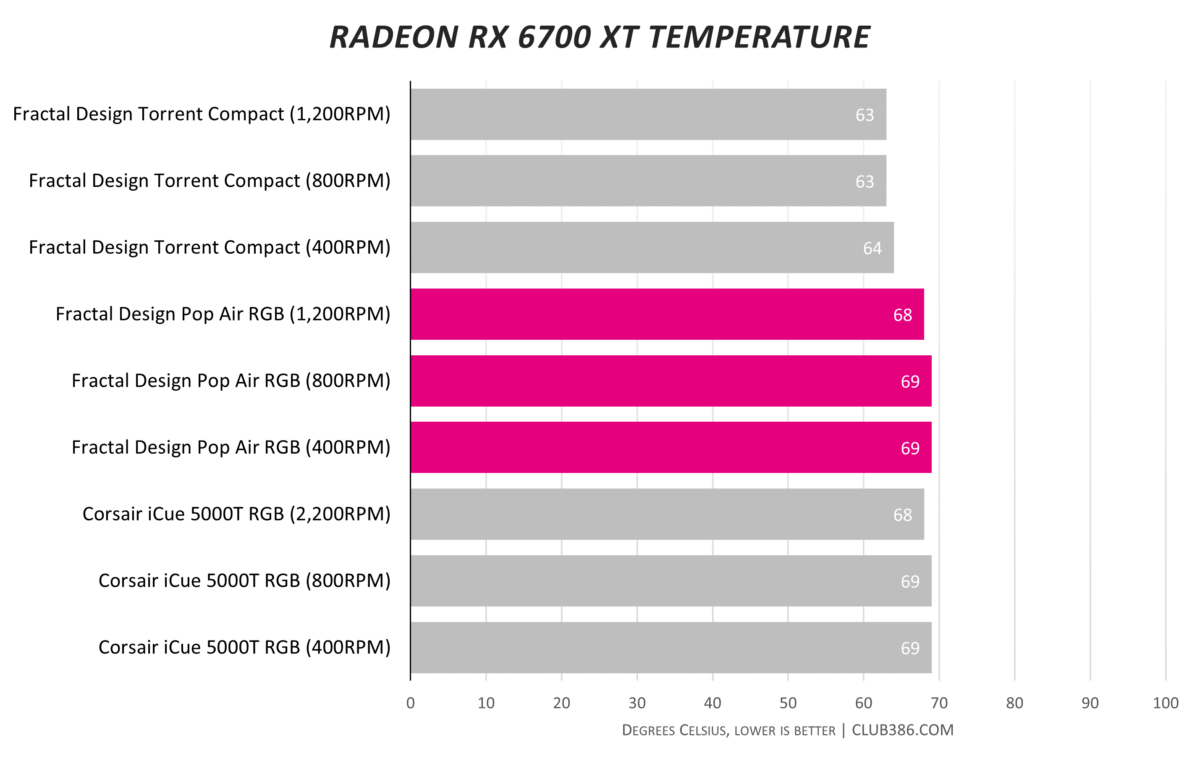 Only select chassis seem to have much sway in the GPU cooling department. Our Sapphire Radeon RX 6700 XT Nitro+ graphics card is happy to modulate frequency according to environment, and in most cases will settle close to the 70°C spot.
Conclusion
Fractal's ambition for mainstream Pop Series enclosures is to bring "variety, value, and versatility" to a wider range of customers. Key to achieving that goal is a product launch that sees 20 individual models being brought to retail on day one.
Whether you're building big or small, for airflow or silence, there's a Pop Series enclosure to suit, any in myriad colours no less. Striking cyan, green, magenta or orange accents are the star of the show, and with three RGB fans included as standard, Pop Air RGB becomes a prime candidate for builds that look markedly different to the norm.
Bold aesthetics and typically high Swedish build quality are plus points, but there are limitations to be aware of. A maximum of five fan mounts lowers the ceiling for liquid-cooled rigs, you don't get rubber-grommeted cable holes or quick-release side panels, four storage trays is by no means bountiful, and there's no USB-C as standard.
The absence of USB-C could be deemed a deal breaker, but elsewhere Fractal's attention to detail makes Pop Air effortless to build with. Cable management is decent with daisy-chained fans, performance is ample for a mid-to-high-end build, and few other £80 enclosures look as fun as this.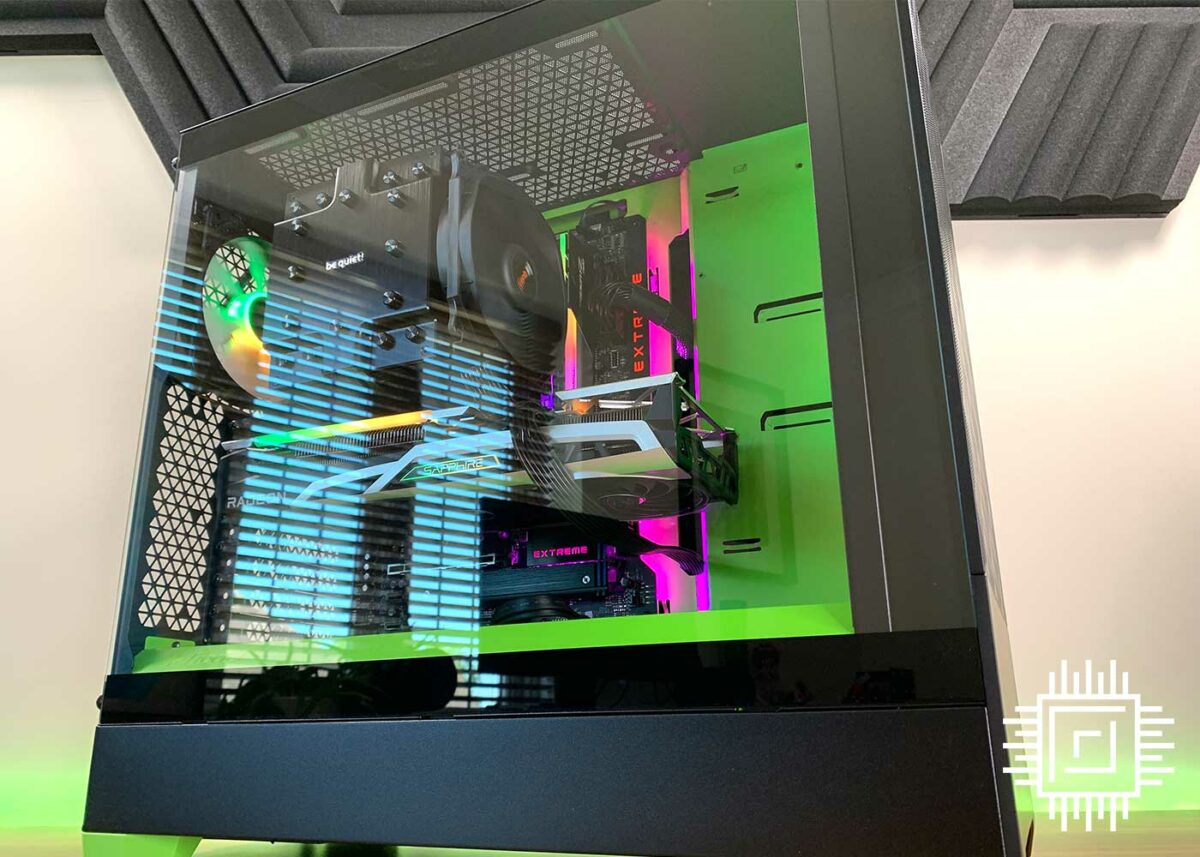 Fractal Design Pop Air
Verdict: Pop Air brings welcome colour to traditionally black boxes and is only a USB-C away from a recommendation.
---
Pros
Vivid colour
Multiple configurations
Attractive pricing
Good build quality
5.25in optical bays
Three daisy-chained fans
Cons
USB-C an optional extra
No reset button
Top rad limited to 240
---
Club386 may earn an affiliate commission when you purchase products through links on our site. This helps keep our content free for all.
Rest assured, our buying advice will forever remain impartial and unbiased.