Jump to: Exterior | Interior | Build | Performance | Conclusion
You saw this one coming, didn't you? Given the success of last year's Torrent, Fractal Design was always likely to follow-up on its popular 'all-airflow' enclosure with smaller mainstream variants.
In an effort to ensure there's a Torrent for everyone, the Swedish manufacturer is today launching Torrent Compact for streamlined mid-tower builds, as well as Torrent Nano for those who prefer to take the mini-ITX route.
Prices start at £114 and £97, respectively, and as always each model comes in a variety of flavours. Torrent Compact is the focus of today's review, so let's dig in.
Sleek Exterior
The big question was whether or not Fractal would succeed in retaining the unmistakeably handsome aesthetic of its 2021 original. The answer is a unanimous yes. We'd normally scoff at marketing jargon describing a chassis as a "creative fusion of brutalist elements and streamlined curvature," but credit where it's due, Torrent Compact is a stunner.
In fact, we'd argue Torrent has never looked better. Nano's smaller profile looks a little too diddy for our liking, and though we enjoyed the original, its enormous 544mm (L) x 242mm (W) x 530mm (H) footprint proved ungainly atop most desks. Compact's 450mm x 222mm x 467mm dimensions are less obtrusive, and the 33 per cent reduction in overall volume is more in keeping with our expectation of a mid-tower solution.
If there's a criticism of the eye-catching design, it's that angular motifs typically result in large swathes of plastic. Though the front fascia looks incredible, the slithers that make up the vent do have some flex to them, and the chassis' plastic top panel doesn't carry the high-quality feel of a metal build.
…credit where it's due, Torrent Compact is a stunner.
In terms of colour choices, Compact's £114 base model is all-black with solid side panels. Black or white models with a tempered-glass panel raise the price tag to £123, and if you want the dual 180mm front intakes to be of the RGB variety, there's a range-topping RGB black TG model fetching £140.
Fractal has managed to steer well clear of the full-size original, which starts at £180, but it's a shame Compact isn't available in a wider array of hues. A white case isn't presently available with RGB fans, and the grey colour option that worked so well on last year's model isn't available at all. Here's hoping that's something Fractal will remedy in the months following launch.
Compact Yet Capable
On the inside the decision to slim down hasn't diminished the chassis' suitability for a high-end build. Strictly speaking, there's still room for up to a 274mm E-ATX motherboard, though regular ATX is going to be a better fit for for most users.
Both Compact and Nano continue the Torrent tradition of a top-mounted PSU, but as expected, the amount of headroom now varies. PSU support has reduced from 230mm on the original to 210mm for the Compact, maximum GPU length shrinks from 423mm to 330mm, and the limit for CPU cooler height falls from 188mm to 174mm.
Ample room for typical enthusiast parts, but similar concessions extend throughout the case. While its bigger brother can accommodate up to seven 120/140mm fans or four 180s, Compact houses up to six 120s, four 140s or two 180s. Dotted around the enclosure, that includes two 140s or three 120s at the bottom, while the rear is limited to just a 120.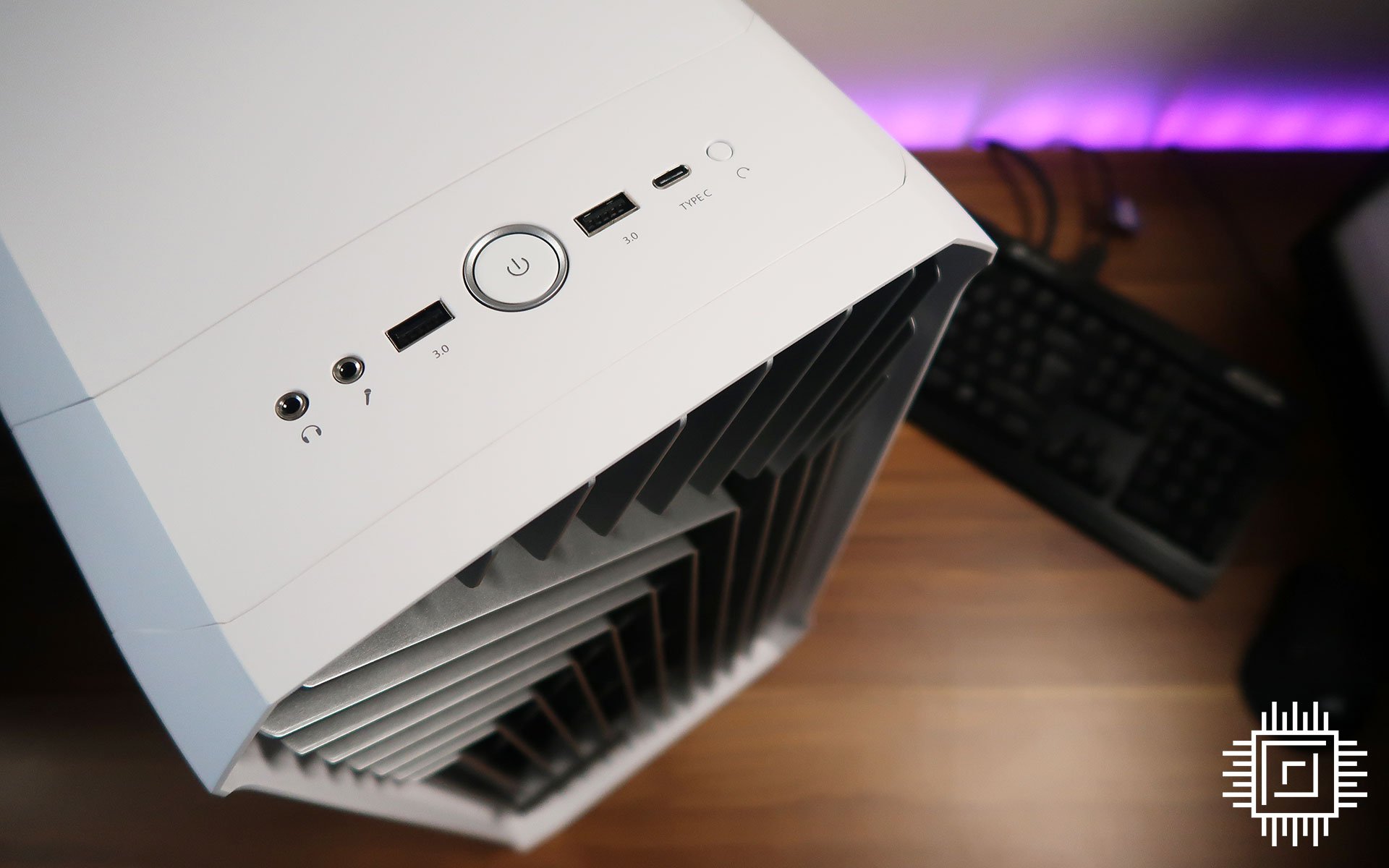 Two fans are bundled as standard – a pair of 180mm Dynamic X2 GP-18 PWM front intakes – and as before, Fractal includes bundled brackets should you prefer to swap-out the 180s in favour of two 140s or three 120s.
When it comes to liquid cooling, said fan mounts can handle a 120/140/240/280/360 radiator in front. There's technically room for up to a 240/280 on the bottom, though installation will be fiddly in front of an ATX motherboard. You can instead put a couple of 180s down here, albeit with the proviso that you'll have to use a micro-ATX board.
Such restrictions matter only to the most extreme builds. For everyone else, Torrent Compact retains quick-release side panels, seven bridgeless expansion slots supporting the optional Flex B-20 vertical riser bracket, and a top I/O panel comprises one USB 3.1 Gen 2 Type-C, two USB 3.0, a pair of audio jacks and customary power and reset.
Build Considerations
Fractal's tool-free side panels are among the best in the business and contribute to Torrent Compact being easy to work with. Our test platform, featuring an Intel Core i9-12900K processor and Sapphire Radeon RX 6700 XT graphics card atop an ASRock Z690 Extreme motherboard went in with relative ease, though there are a couple of niggles to be aware of.
Firstly, all Torrent enclosures emphasise front-to-back airflow and builds should be planned accordingly. There is no option for top venting, and though most modern PSUs are built to last, we don't feel entirely comfortable with the supply's limited breathing room. Just a few slits in the top panel, to allow for an upward-facing PSU fan, would give us that extra peace of mind.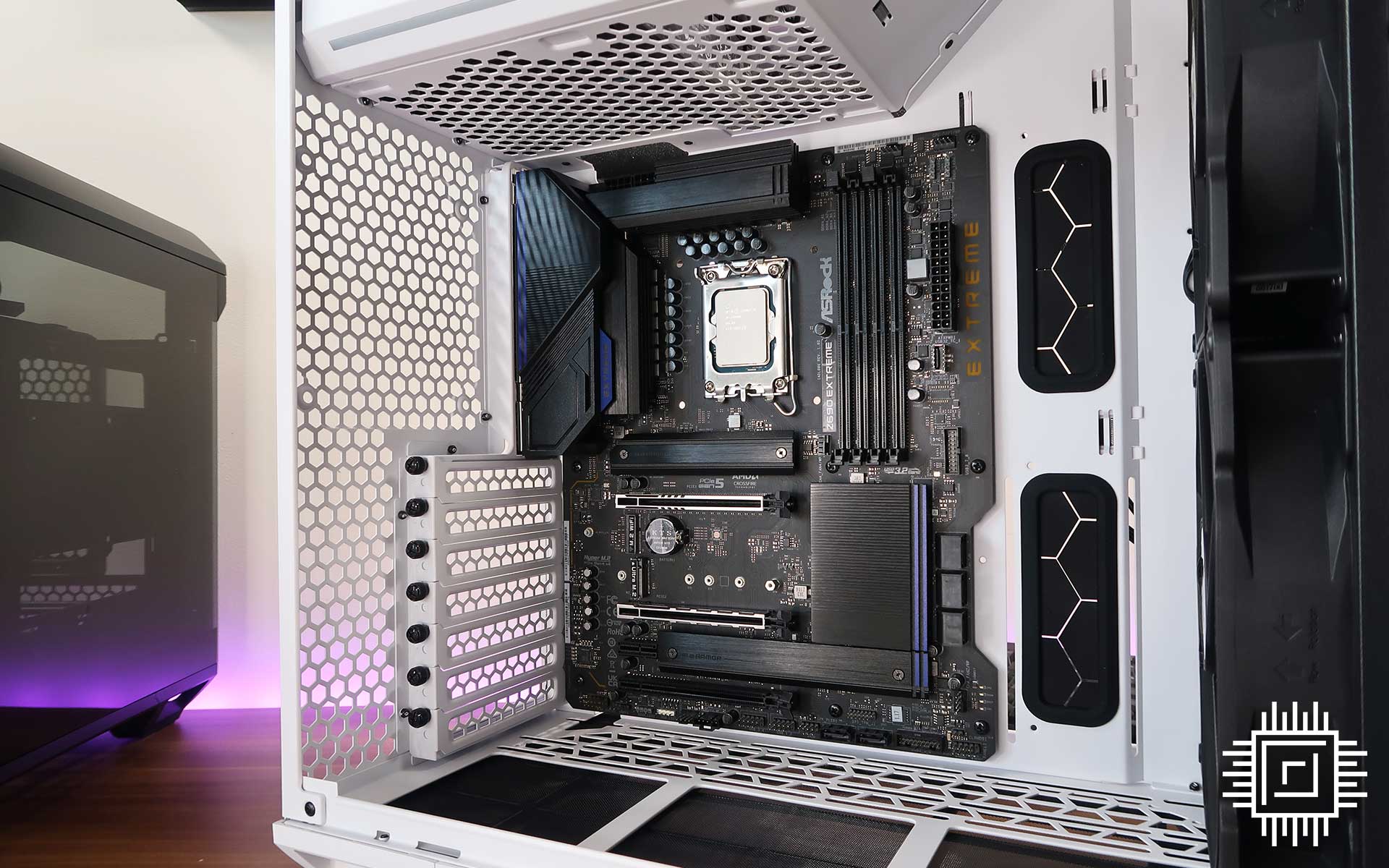 Secondly, cable management could be better. The chassis' internal layout leaves little provision for cables to pass over or below the motherboard, and the Compact form factor shrinks rear cable routing space to just 20mm. Irrespective of all the Velcro ties, that's not a great amount to play with, and we were forced to secure our rear side panel with a thumb screw to prevent it pinging off.
Minor niggles in the grand scheme of things, and Fractal has managed to preserve some of Torrent's better features. Full-length mesh filters line the front and bottom, there's a bundled GPU support bracket to help prevent unwanted sag, and not to be deterred by last year's faulty batch, a SATA-powered Nexus 9P Slim fan hub allows up to nine PWM fans to be controlled from a single header.
A signature RGB strip along the side of the PSU bay is still present on TG models, and as expected, the storage requirements of a modern-day build are well catered for. A drive bay hidden neatly in the top panel can accommodate both a 3.5in and 2.5in disk, while a further three 2.5in trays are attached to the rear of the motherboard tray.

Show your support for impartial Club386 reviews
Club386 takes great pride in providing in-depth, high-quality reviews built on honest analysis and sage buying advice. As an independent publication, free from shareholder or commercial influence, we are committed to maintaining the standards our readers expect.
To help support our work, please consider making a donation via our Patreon channel.
Performance
Any chassis promising maximum airflow is ultimately going to be judged on its ability to keep components cool. For the purpose of our tests, a high-end Core i9-12900K is configured to 175W and cooled by a be quiet! Dark Rock Pro 4 operating at a fixed 700rpm. All the emphasis is shifted to the chassis, whose fans are tested in three states: 400rpm, 800rpm and maximum rpm.

The noise readings are illuminating. Fractal's large 180mm intakes are practically silent at low speed, and even at 800rpm the smooth hum is far from distracting. The decibel meter reacts accordingly as fan-speed rises, and you need to get closer to full pelt for noise level to rise above 40dB, which we deem off-putting.

A high-quality cooler ought to be the first port of call when taming an enthusiast chip, but a decent chassis has a part to play. A Core i9-12900K under full load is perfectly happy inside Torrent Compact, even with fans configured to a barely audible 400rpm. Increasing fan speed does improve temperature, though one might argue the shift from 78°C to 75°C is hardly worth the trade-off in noise.

We're both intrigued and surprised by the GPU results. Our Sapphire Radeon RX 6700 XT graphics card tends to take no notice of an uptick in chassis fan speed. Digging into the logs reveals that while the card routinely settles at around the 63°C mark, there are subtle differences. With the chassis fans spinning at 400rpm, the GPU fans hit almost 1,600rpm in an effort to balance temperature and frequency. Bumping chassis fans up to 800rpm allows the GPU cooler to dial back to ~1,400rpm while maintaining effectively the same core temperature.
Conclusion
Fractal Design's latest Compact rectifies a common criticism of last year's Torrent; it was too darn big. Reducing overall volume by some 33 per cent, the mid-sized addition to the range is much better suited to desktop use while maintaining support for a good selection of high-end gear.
The size is right, pricing is acceptable, and the most appealing aspects of Torrent go untouched. That stylish front fascia looks better than ever and dual 180mm intakes deliver on the promise of high airflow.
Slimming down does carry trade-offs – rear cable management is a squeeze and there's only room for a 120 exhaust – but for enthusiasts calling for smaller options, Torrent Compact has been worth the wait. If only it came in grey.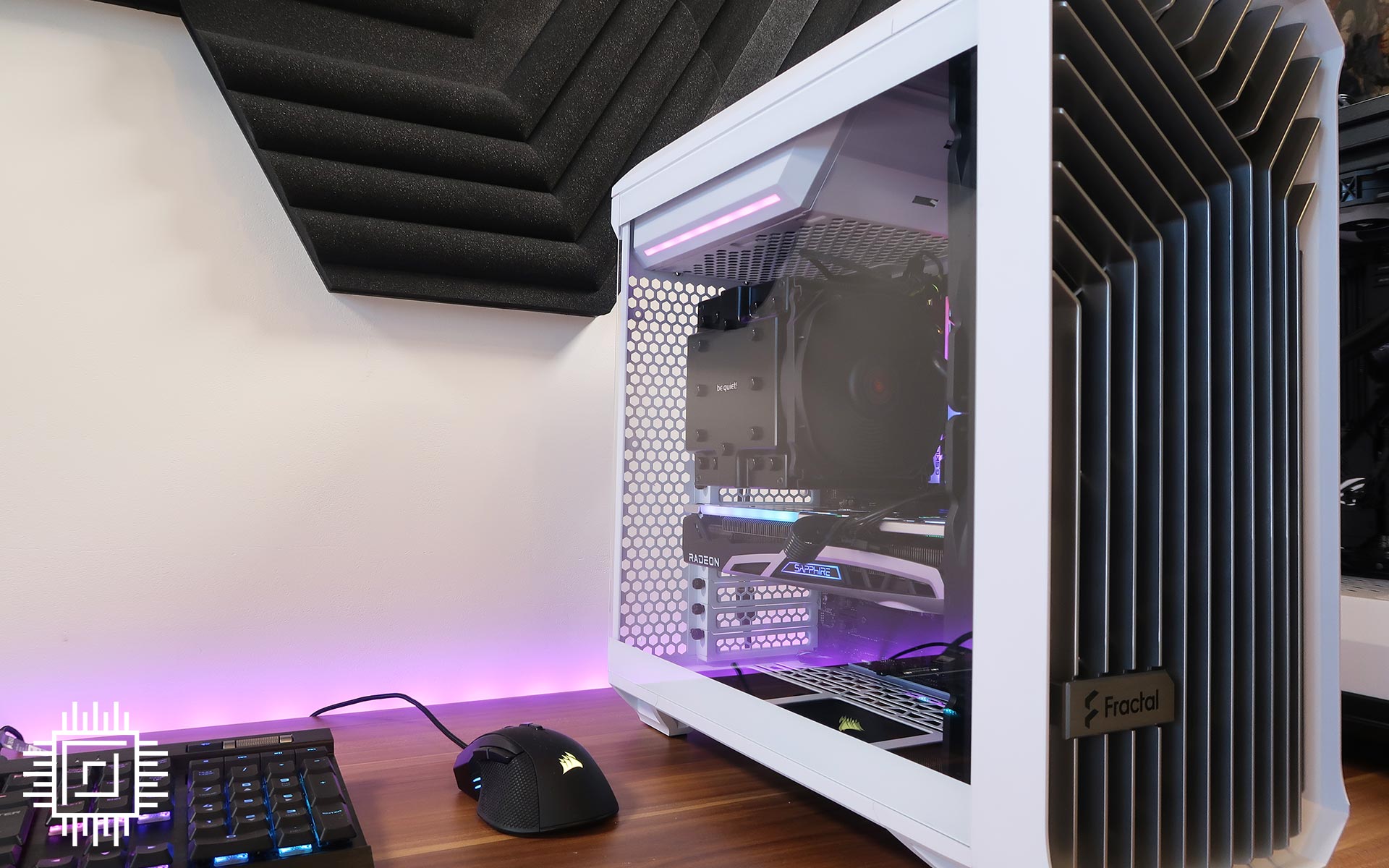 Fractal Design Torrent Compact
Verdict: A welcome addition to the range, Fractal's latest offers the best bits of Torrent in a smaller yet equally satisfying form factor.
Pros
Looks fantastic
Smaller size works well
Dual bundled 180mm fans
GPU support bracket
Nine-way PWM fan hub
Tool-free side panels
Cons
Cable management not great
Rear fan mount limited to 120
Not available in grey
Club386 may earn an affiliate commission when you purchase products through links on our site. This helps keep our content free for all. Rest assured, our buying advice will forever remain impartial and unbiased.