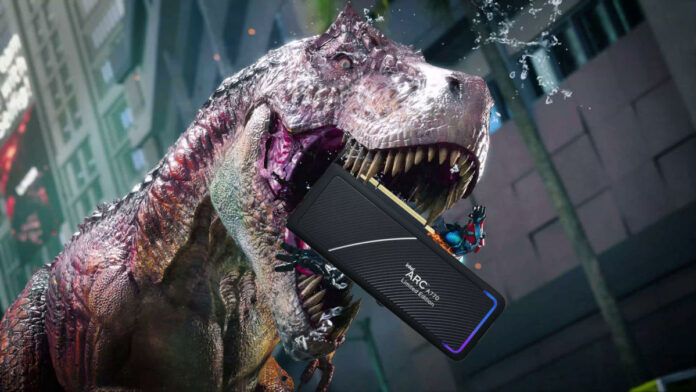 Over the weekend Intel released a beta driver for Arc A-Series and Iris Xe GPUs. Designated as version 31.0.101.4575, the update brings Game On support for Exoprimal and Jagged Alliance 3, all while providing further optimisations for older games, and fixes for various issues.
Highlights include improved performance for League of Legends with up to six per cent performance uplift in 1080p gaming, and a 10 per cent performance uplift in 1440p gaming with settings cranked up to the Very High preset. Nice.
Halo Infinite players will also be pleased to know that a frustrating issue with application freezing after loading to game menu has been fixed. Plus, Dota 2 streamers will no longer experience corruption in Game Capture mode when using XSplit Broadcaster. All in a day's work.
In case you've been living under a rock, Exoprimal is developer Capcom's latest stab at a live-service game that features a whole bunch of dinosaurs versus mechs in a post-apocalyptic world. The title received a mixed-to-lukewarm response from the gaming community over the weekend, many praising its visual fidelity, gameplay mechanics and overall fun factor.
However, others agree that the game in its current state is far too basic to be released at full price, plus in-game monetisation is a tad too aggressive. Cross-play and matchmaking are frustratingly cumbersome to setup, even on PC which is split between Steam and PC Game Pass users. Bummer.
Meanwhile, Jagged Alliance 3 is a sequel to an age-old classic that debuted over 25 years ago. A turn-based tactical strategy game, the threequel received generally favourable reviews not only for its nostalgia factor, but also for its engaging story, addictive gameplay and artistic design. Definitely one to keep on your radar.
Intel Graphics Beta Driver 101.4575 is available for download here.
The full list of improvements and shortcomings can be found down below:
Gaming Highlights
Exoprimal
Jagged Alliance 3
Game performance improvements
League of Legends (DX11)
Up to 6% uplift at 1080p with Very High preset
Up to 10% uplift at 1440p with Very High preset
Fixed Issues
Intel Arc Graphics Products:
Halo Infinite (DX12) may experience application freeze or crash after loading to game menu.
Streaming Dota 2 (DX11) using XSplit Broadcaster may exhibit corruption in Game Capture mode.
Known Issues
Intel Arc Graphics Products:
Shadow of The Tomb Raider (DX11) may experience an application crash after loading to game menu.
System may hang while waking up from sleep. May need to power cycle the system for recovery.
GPU hardware acceleration may not be available for media playback and encode with some versions of Adobe Premiere Pro.
Topaz Video AI may experience errors when using some models for video enhancement.
Blender 3.6 may experience an application crash during render operations when Hardware Ray Tracing is enabled.
Adobe After Effects may experience an application crash during render operations.
Intel Iris Xe MAX Graphics Products:
Driver installation may not complete successfully on certain notebook systems with both Intel Iris Xe + Iris Xe MAX devices. A system reboot and re-installation of the graphics driver may be required for successful installation.
Intel Core Processor Products:
Call of Duty Warzone 2.0 (DX12) may exhibit corruption on certain light sources such as fire.
Intel Arc Control Fixed Issues:
Arc Control may become unresponsive after a driver upgrade. A workaround is to perform a clean driver installation using Display Driver Uninstaller.
Intel Arc Control Known Issues:
Using Arc Control Studio capture with certain games may incorrectly generate multiple video files.
With Intel Arc Control installed, systems may experience slightly higher than expected power consumption during system sleep or hibernate.
May observe "could not stop Highlights" notification when stopping Auto-Game Highlights.
The Camera on-screen preview may incorrectly persist when switching between Desktop and Overlay modes.
The "Connector" type in the Display page may incorrectly show DP when using an HDMI display connection.
May observe "stream has already ended" pop-up after the power events with Capture/Highlights/Broadcast toggle on.