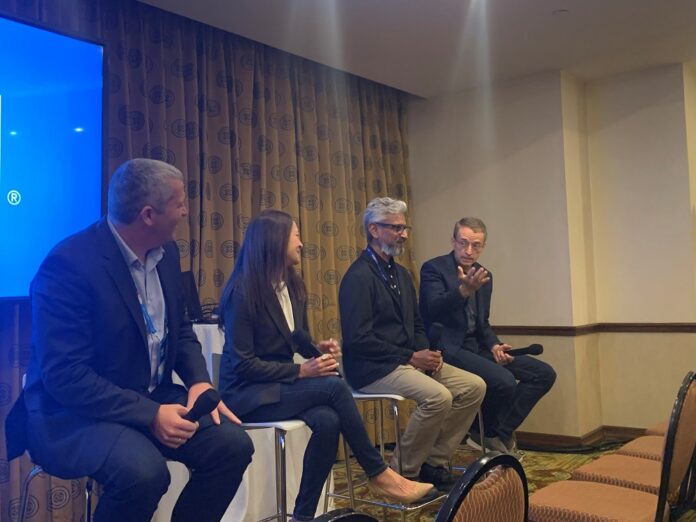 Intel is holding a two-day Vision conference in Dallas, Texas – the latest in the ON series – where senior company executives discuss the future of business and technology. In a Q+A session headed by top brass, where Club386 was invited, CEO Pat Gelsinger and other executive vice presidents spoke at length on myriad business topics.
Get this frikkin' thing done – CHIPS Act
Discussing bottlenecks stopping Intel from executing strategy at desired pace, Gelsinger railed at the US government. 'We think it is super, super-important for the US House and Senate to finish the CHIPS Act. Get this frikkin' thing done! We need this done to accelerate the industry. The EU is moving forwards very rapidly. The world needs a more geographically balanced, resilient supply chain.'
Addressing Intel's plans regarding improving supply capacity, which is afflicting all semiconductor companies to one degree or another, Gelsinger said: 'what are we about it? We're bringing new capacity online as fast as we possibly can by rebuilding how Intel manages supply chains. We're leaning into our supply-chain partners much more aggressively than we have for decades.'
Moving on to how Intel has fared as competitors such as Apple have forged ahead with 'very closed environments,' Gelsinger made the tacit admission that was largely down to 'we (Intel) didn't not show up into those environments. The Apple environment is much too closed… similarly in the AI space we have (Nvidia) Cuda and others that are much too proprietary for sustainable innovation. We have to show up and start fixing that, and that's exactly what we're going to do as we lean forward.'
Software more important than hardware
The notion of software being arguably more important than hardware is firmly believed within Intel. Underscoring this point, Gelsinger said: 'I have more software engineers (at Intel) than I had at VMWare, at that point,' where Gelsinger was CEO for over eight years.
Speaking about the industry as a whole, Gelsinger noted 'our industry went from being a 2:1 hardware to software split in revenue. Now it's 3:1 software to hardware in the industry as a whole. We don't believe that changes.' Nevertheless, Gelsinger is on a mission to tie hardware, which Intel is synonymous with, to software, expanding capacity and ambition on both. 'It's great to have a boss who understands software is harder than hardware,' said newly promoted Raja Koduri, now executive vice president and general manager of the Accelerated Computing Systems and Graphics (AXG) Group.
A sprawling behemoth across multiple segments, Intel still has to choose battles carefully. Striking a bullish tone and wanting to be the best at the edge, datacentre, connectivity, compute, manufacturing, graphics, AI, software as a service, to mention but a few, comes with its own unique set of difficult challenges. If, and it's a big one, Intel is able to execute smoothly, the rewards are vast, but many obstacles remain.