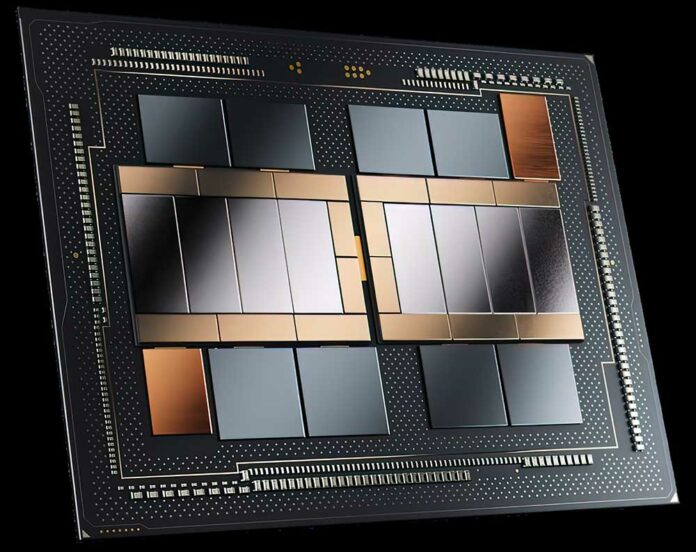 Bolstering ambitions in the supercomputing space, Intel revealed an updated processor, graphics and software roadmap at this week's ISC High Performance event in Hamburg, Germany.
Chief amongst the announcements made by Jeff McVeigh, vice president and general manager of the super compute group, is the successor to Intel's HPC-optimised 'Ponte Vecchio' GPU. Codenamed Rialto Bridge and sampling to customers in mid-2023, there's promise of more performance in every meaningful metric.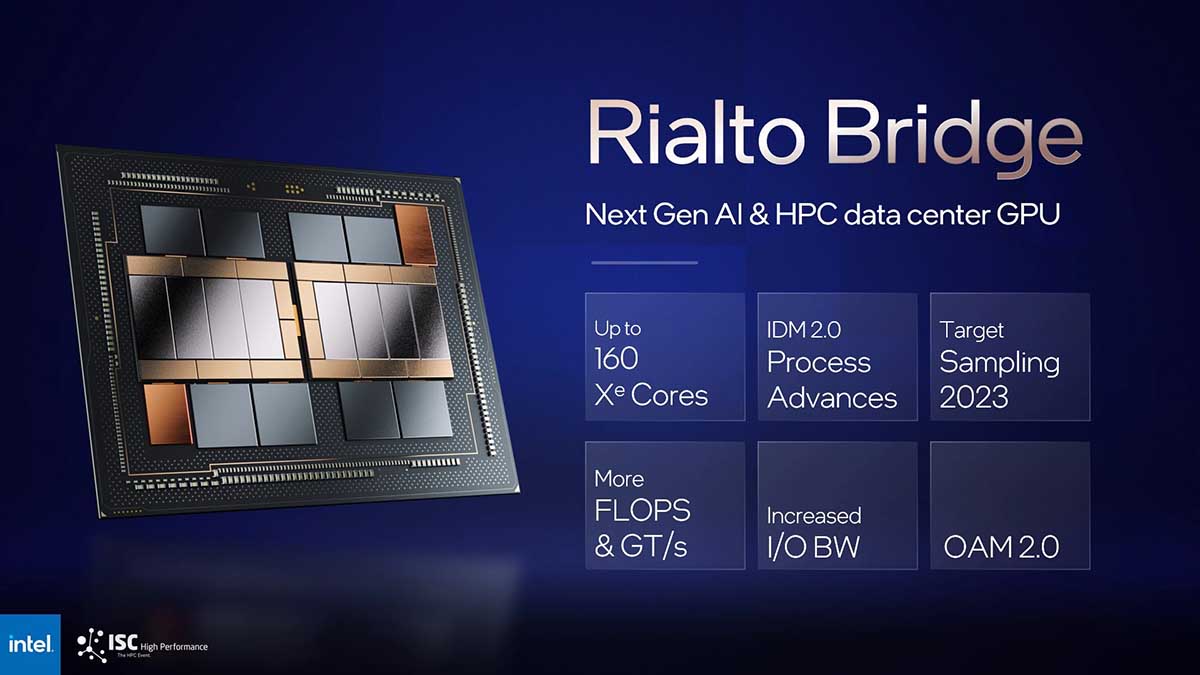 More performance, more power
Built on the same fundamental Xe-HPC architecture as Ponte Vecchio, Rialto Bridge ups performance ante by increasing core count from 128 to 160. Under the assumption the chip render is accurate, Rialto Bridge has half as many central tiles – eight vs. 16 – though each carries 2.5x the number of Xe cores.
Innately complex in nature than Ponte Vecchio, Intel actually simplifies layout by removing the first-generation accelerator's discrete 'Rambo Cache' and likely integrating it into other dies. It's clear to see eight stacks of memory in groups of two, but we don't know the exact type – HBM3, most likely? – or speed.
Moving between generations, it is already understood Ponte Vecchio uses a mixture of Intel 7 and TSMC 5/7 for various tile and cache constituents. Rialto Bridge necessarily moves the process needle to the right, though Intel isn't divulging per-tile nodes presently.
Compatible with Ponte Vecchio OAM packaging, the new GPU superchip is seen as a drop-in hardware and seamless software upgrade. More performance connotes greater power consumption, and Intel says Rialto Bridge pulls a maximum single-package 800W, compared to 600W presently.
It's worth appreciating this talk of next-generation HPC GPUs is underscored by knowledge that today's Ponte Vecchio has yet to ship to customers, and we're first likely to see it in the upcoming Aurora supercomputer, helmed by over 9,000 nodes each composed of two Sapphire Rapids CPUs and six Ponte Vecchio GPUs.
Nevertheless, Intel's HPC ambitions are clear and bold. Going toe-to-toe with Nvidia in the lucrative, burgeoning machine learning and AI space, the race to exploit significant market opportunity is well and truly on.