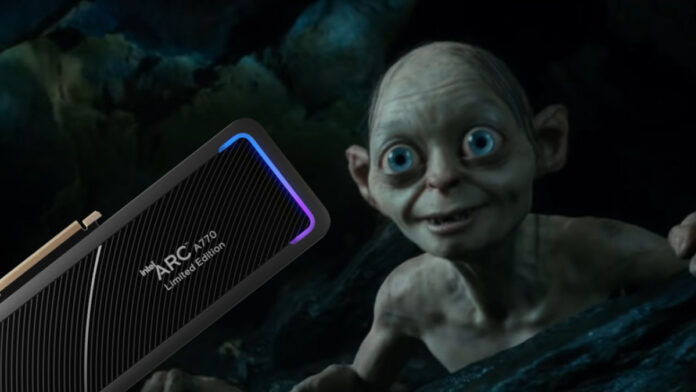 Intel has released the latest version of its Arc graphics drivers, labelled 101.4369 WHQL, bringing significant performance enhancements for The Outlast Trials and Starship Troopers: Extermination, as well as Game On support for the imminent launch of The Lord of the Rings: Gollum, slated for release on May 25.
Users currently experiencing the psychological horror that is The Outlast Trials will be pleased to know the game receives a staggering 65 per cent performance gain at 1080p and a up to a 52 per cent performance bump when played in 1440p. Starship Troopers: Extermination on the other hand gets a slightly less significant 11 per cent uptick in performance, which may not sound like much, but all things considered it's still free frames for little to no effort.
Minecraft: Bedrock Edition also sees up to 30 per cent performance uplift with raytracing enabled at eight RT chunks, and a maximum of up to 34 per cent at 1440p with the same settings turned on.
What's more, there's also an enhanced Arc Control feature set that incorporates various improvements, including but not limited to; improved fan speed control and VRR control, a convenient search bar for quick access to specific settings, improved background replacement for virtual cameras and finally, the ability to select multiple devices for telemetry.
Intel Graphics Driver 101.4369 WHQL is available for download here.
The full list of improvements and shortcomings can be found down below:
Game Highlights
Intel Game On Driver support on Intel Arc A-series Graphics for:
The Outlast Trials
The Lord of the Rings: Gollum
Starship Troopers: Extermination Early Access
Game performance improvements versus Intel 31.0.101.4335 software driver for:
The Outlast Trials (DX12)

Up to 65% uplift at 1080p with Ultra settings
Up to 52% uplift at 1440p with High settings

The Lord of the Rings: Gollum (DX12)

Up to 4% uplift at 1080p with Epic settings
Up to 11% uplift at 1440p with High settings

Minecraft Bedrock (DXR)

Up to 30% uplift at 1080p with Ray Tracing enabled at 8 RT chunks
Up to 34% uplift at 1440p with Ray Tracing enabled at 8 RT chunks
Up to 28% uplift at 1440p with Ray Tracing enabled at 24 RT chunks
Fixed Issues:
Intel Core Processor Products:
Battlefield: 2042 (DX12) may exhibit color corruption at the game menu
Call of Duty: Modern Warfare 2 (DX12) may experience color corruption in Quick Play Lobby
Known Issues:
Intel Arc Graphics Products:
The Last of Us (DX12) may experience an application crash during gameplay.
System may hang while waking up from sleep. May need to power cycle the system for recovery.
GPU hardware acceleration may not be available for media playback and encode with some versions of Adobe Premiere Pro.
Topaz Video AI may experience errors when using some models for video enhancement.
Intel Iris Xe MAX Graphics Products:
Driver installation may not complete successfully on certain notebook systems with both Intel Iris Xe + Iris Xe MAX devices. A system reboot and re-installation of the graphics driver may be required for successful installation.
Intel Core Processor Products:
Total War: Warhammer III (DX11) may experience an application crash when loading battle scenarios.
Call of Duty Warzone 2.0 (DX12) may exhibit corruption on certain light sources such as fire.
Conqueror's Blade (DX12) may experience an application crash during game launch.
A Plague Tale: Requiem (DX12) may experience application instability during gameplay.
Intel Arc Control Highlights:
Display Page

o A new display page is now available in Intel Arc Control that allows users to view connected display information as well as shortcuts to the OS for changing resolution and refresh rate of displays.
o Variable Refresh Rate status and control is now available within the new Display page.
Resizable BAR Status
o Resizable BAR status reporting within Intel Arc Control now contains a drop-down menu to view per graphics device Resizable BAR status.
Driver Update Beta Opt-In
o Recently introduced improvements for the driver update feature within Intel Arc Control allows users to opt-in to the beta releases of drivers made available on intel.com. Users can now also view the type of release which is installed as well as release notes for that release within Arc Control.

Search Bar

A new feature available within Intel Arc Control that allows you to easily and quickly search for and navigate to features within the user interface.
Performance Telemetry Support
Telemetry within the performance page of Intel Arc Control now has a drop-down selector that allows telemetry for supported graphics products connected to your system to be viewed.

Fan Speed Controls

Added new fan speed controls within the performance page under performance tuning configuration of Intel Arc Control.

Automatic allows the driver to control your fan speed behavior.
Fxed fan target enables a static fan speed.
Fan curve enables a dynamic fan speed to adjust fan speed with temperature targets.
Virtual Camera Filters

Lighting adjustments enable auto and manual adjustment of lighting conditions.
Background replacement has been improved with the ability to adjust color balance.