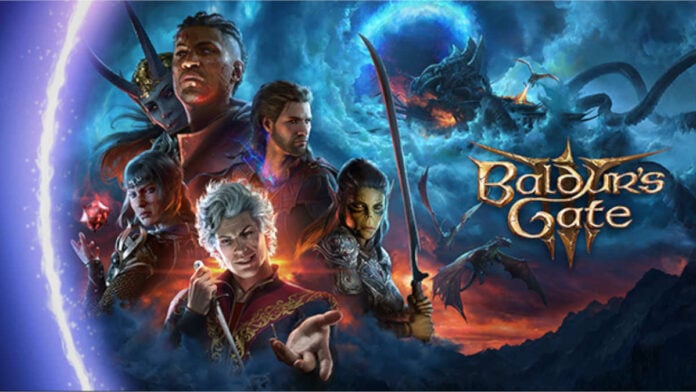 Intel has been hard at work fine-tuning its Arc GPUs and Iris Xe APUs. Chugging ahead of the competition, Team Blue's Arc GPU Graphics driver 101.4578 beta is the first to feature Game On support for the next big RPG from Larian Studios, Baldur's Gate 3.
In an accompanying blog post, Intel says that compared with Nvidia's RTX 3060, Arc A750 GPU offers up to 47 percent better performance per dollar in Baldur's Gate 3, though do keep in mind the metrics could be a tad inflated and, as such, should be taken with a grain of salt. Still, quite impressive how far Arc GPUs have come since their debut.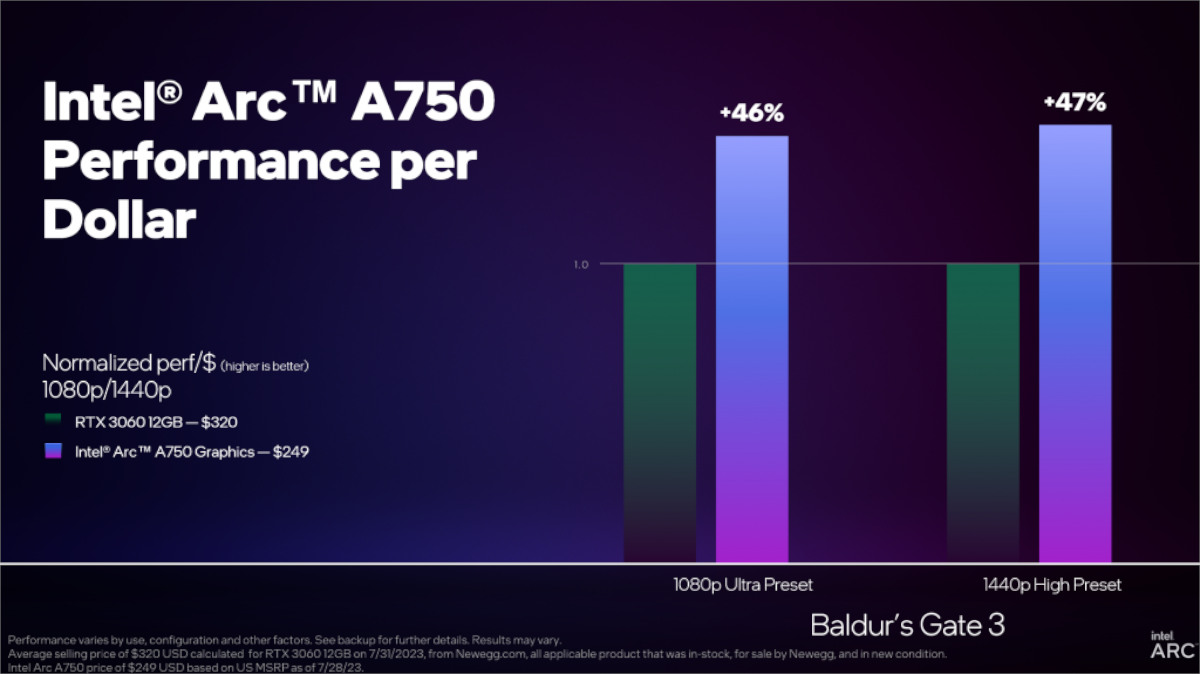 Besides Game On support, there is a list of known issues highlighted in the footnotes as follows:
Gaming Highlights
Known Issues
Intel Arc Graphics Products:
Shadow of The Tomb Raider (DX11) may experience an application crash after loading to game menu.
System may hang while waking up from sleep. May need to power cycle the system for recovery.
GPU hardware acceleration may not be available for media playback and encode with some versions of Adobe Premiere Pro.
Topaz Video AI may experience errors when using some models for video enhancement.
Blender 3.6 may experience an application crash during render operations when Hardware Ray Tracing is enabled.
Adobe After Effects may experience an application crash during render operations.
Intel Iris Xe MAX Graphics Products:
Driver installation may not complete successfully on certain notebook systems with both Intel Iris Xe + Iris Xe MAX devices. A system reboot and re-installation of the graphics driver may be required for successful installation.
Intel Core Processor Products:
Call of Duty Warzone 2.0 (DX12) may exhibit corruption on certain light sources such as fire.
Arc Control Known Issues
Using Arc Control Studio capture with certain games may incorrectly generate multiple video files.
With Intel Arc Control installed, systems may experience slightly higher than expected power consumption during system sleep or hibernate.
The Camera on-screen preview may incorrectly persist when switching between Desktop and Overlay modes.
The "Connector" type in the Display page may incorrectly show DP when using an HDMI display connection.
May observe "stream has already ended" pop-up after the power events with Capture/Highlights/Broadcast toggle on.
As always, the latest Intel Arc GPU can be downloaded, here.
A Little History
Sadly, I never had the opportunity to join the wonderful world of Dungeons and Dragons. Mainly, because I was far too young to enjoy the table-top experience, and the same can be said for the Baldur's Gate franchise that it birthed. What I do know is that Baldur's Gate influenced a generation of open-world Fantasy RPGs from my favourite game developers.
Case in point, Blizzard's Diablo franchise is almost directly inspired by DND, and the same can be said for the original isometric Fallout series by Obsidian Entertainment. In fact, Baldur's Gate and its sequel were made by BioWare and Black Isle Studios, and published by Interplay Entertainment back when the publisher ruled the RPG landscape. While a threequel was planned, Interplay, as we all know, faced a financial crisis and ended up closing Black Isle Studio. Years later, it was Larian Studios' genre-inspired Divinity: Original Sins franchise that intrigued Wizards of the Coast to commission the developer to create Baldur's Gate 3. Alas, it all comes full circle.
Nonetheless, the game has been in early access for a while now and has received a very positive review rating from the Steam community thus far. Baldur's Gate 3 officially launches today, followed by a PS5 port in September, while an Xbox Series X|S port is currently in development. Definitely worth keeping on your radar.