Intel chooses to fight hard battles. This sentiment is never more true than with the desire to be the third player in the discrete PC graphics card market. Dominated by the Nvidia and AMD duopoly since time immemorial, building a competitive dGPU stack requires expertise in both hardware and software.
Yet Team Blue hasn't approached discrete graphics on a whim. Millions of Intel GPUs are sold every year, actually, and their presence is most keenly felt as the integrated graphics portion of multitude Core CPU processors. Rocking a Core i3, i5, i7 or i9, chances are there'll be an iGPU tucked away in the silicon. Solid foundation for discrete graphics, you would think.
Since the branding announcement in August 2021, Intel's carpet-bombing approach to marketing has the name Arc firmly etched in PC enthusiasts' minds. Representing the first generation of discrete graphics cards for mobile and desktop, an ambitious roadmap extends to subsequent generations known as Battlemage, Celestial and Druid, respectively. Contrary to recent speculation, Intel, it seems, is here to stay in the cutthroat graphics market.
Teething Problems
Attractive PowerPoint presentations and bombast declarations rarely translate perfectly into real-world success. Especially true in an area where competitors have substantial proven lineage and trust, Intel naturally faced an uphill task in convincing would-be purchasers to eschew GeForce and Radeon for Arc. That task was made all the more Sisyphean by the troubling combination of tardy releases and sub-par performance when finally launched.
Intel's management has understood and embraced constructive criticism and doubled down on desktop Arc A750
You see, most pertinent to Club386 readers, Intel Arc desktop was supposed to arrive at retail in first quarter 2022, going by public postings, yet widespread delays forced the global release back to October 2022. Even then, initial reviews painted a mixed picture, praising value yet lamenting the polished, consistent experience gamers had long become accustomed to.
Behind the eight ball from the get-go, Intel's management has understood and embraced constructive criticism and doubled down on desktop Arc A750 in particular. Opting to go on the charm offensive through self-deprecated transparency rather than nebulous claims, Intel believes Arc is truly ready for mainstream disruption. Here's looking at you, GeForce RTX 3060 and Radeon RX 66×0 XT.
Brighter Horizons
Claiming to have cleaned-up performance in DX9 with the latest drivers (4146) and purportedly offering the best bang for buck in the sub-$300 space, it's high time to revisit Intel Arc A750. Understanding exactly what Intel brings to the silicon table requires appreciation of the Arc architecture, so it makes sense to familiarise yourself with the inner workings. Good for you that we've already done the legwork in an in-depth article.
A750 uses the same building blocks as the more powerful Arc A770, and both leverage the larger ACM-G10 die measuring a considerable 406mm² and occupying 21.7bn transistors. It's quite a beast. Arc A770 takes the best bits of that design by utilising all 32 available Xe cores, leading to a traditional 4,096 shaders.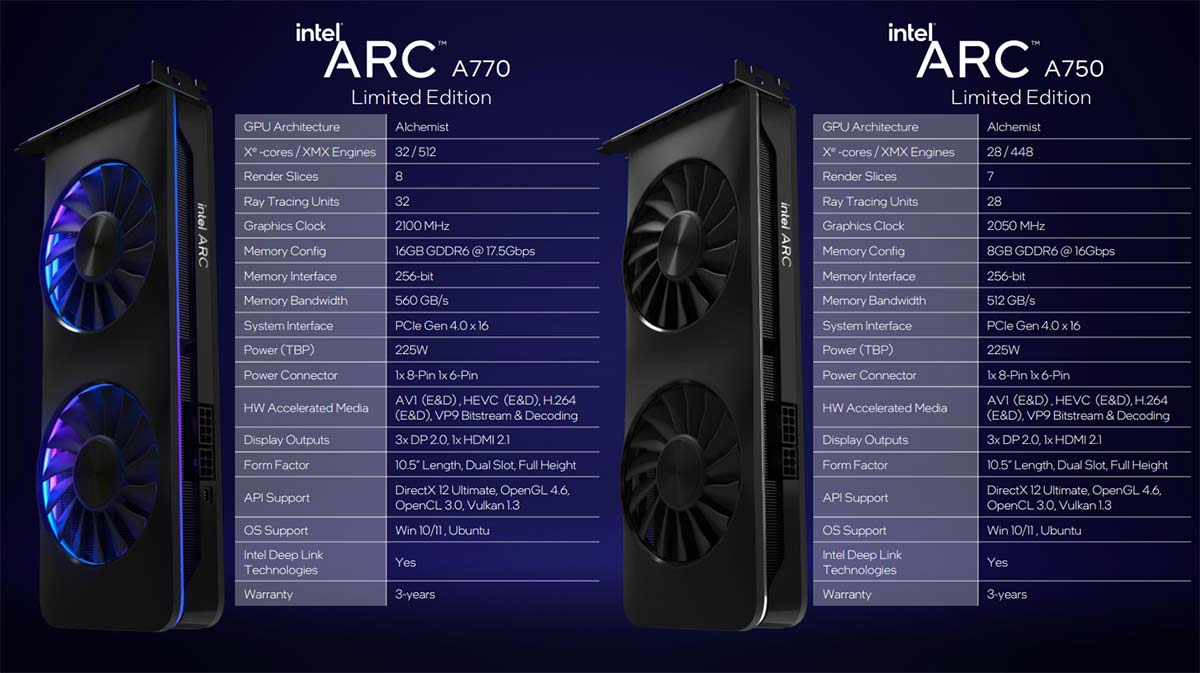 It's clear, however, A750 is a binned version of A770, meaning it's built from silicon that doesn't make the grade required for the faster GPU. As the Intel slide clearly shows, Xe cores drop from 32 to 28 (3,584 shaders), engine clock is down marginally from 2,100MHz to 2,050MHz, and memory bandwidth is also reduced from 560GB/s to 512GB/s. These cuts are entirely expected for a GPU that will benchmark at around 85 per cent of its bigger brother's level yet consume the same peak 225W power.
Robust specifications and claimed upticks in performance through iterative driver updates place Arc A750, on paper, where it ought to have been a year ago. The past cannot be changed, of course, but the question we're planning on answering is whether there's a future for desktop Arc.
It's entirely useful to compare the performance of a retail Arc A750 card based on Intel's assertions of much-improved performance between launch (3490) and current drivers (4146). Furthermore, it's instructive to look at how today's Arc proposition compares against immediate competition from a rival card. Knowing this information frames the Arc proposition in early 2023.
The ASRock Equation
Retail availability of Intel Arc cards has certainly improved in recent months, and we've managed to get our hands on an ASRock Arc A750 Challenger D 8GB OC card based on a custom cooling setup.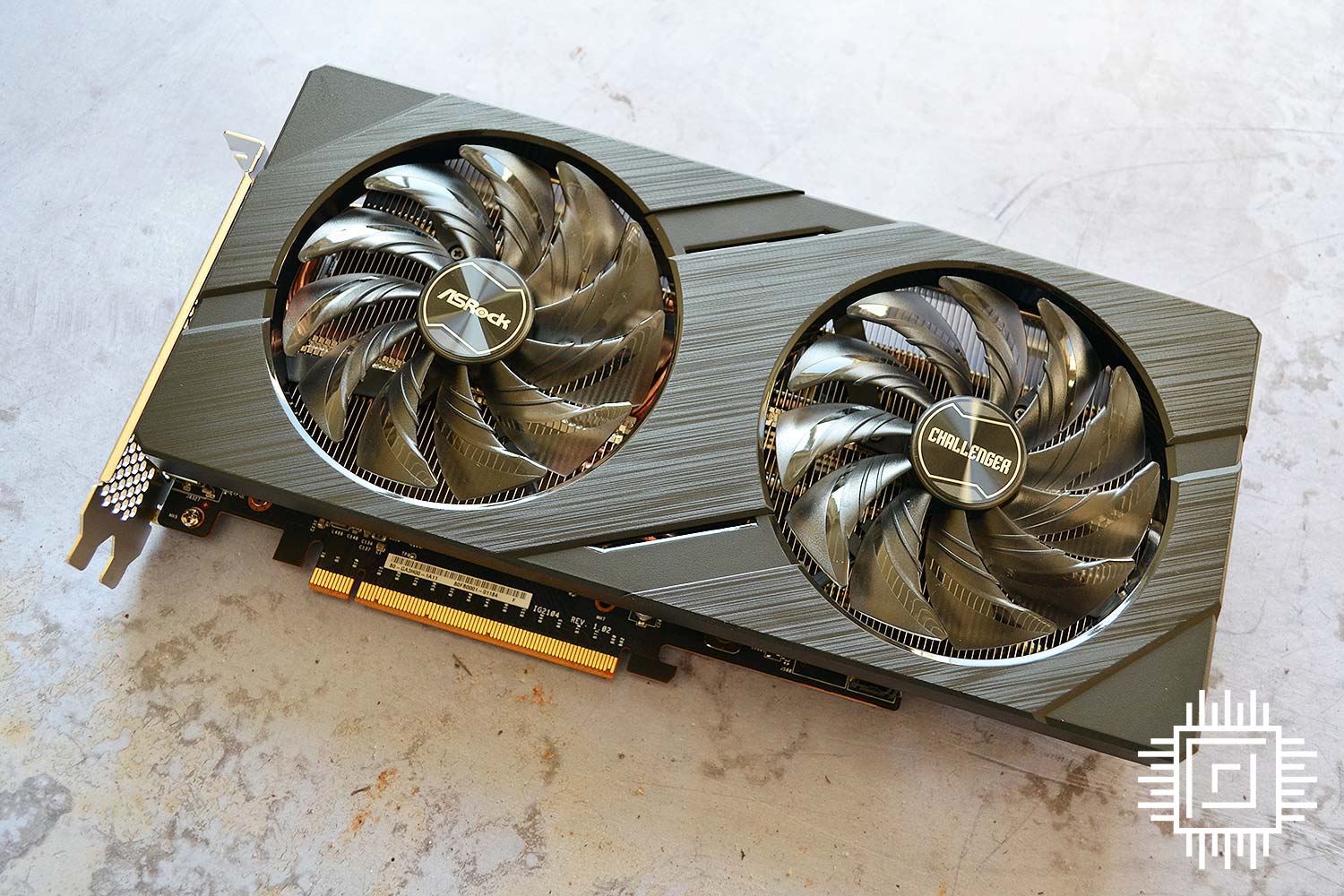 Delivered on a dual-fan design measuring 271mm long, 132mm high and 48mm deep, ASRock markets the card as a 2.4-slot offering. Forget that and consider this a three-slot job, as you'll want to keep some space aside for airflow.
100mm fans dominate the open-design shroud and switch off at low loads. Be aware there's no RGB on this model, which is a shame, and do understand Challenger D 8GB OC is the solitary offering for Arc A750.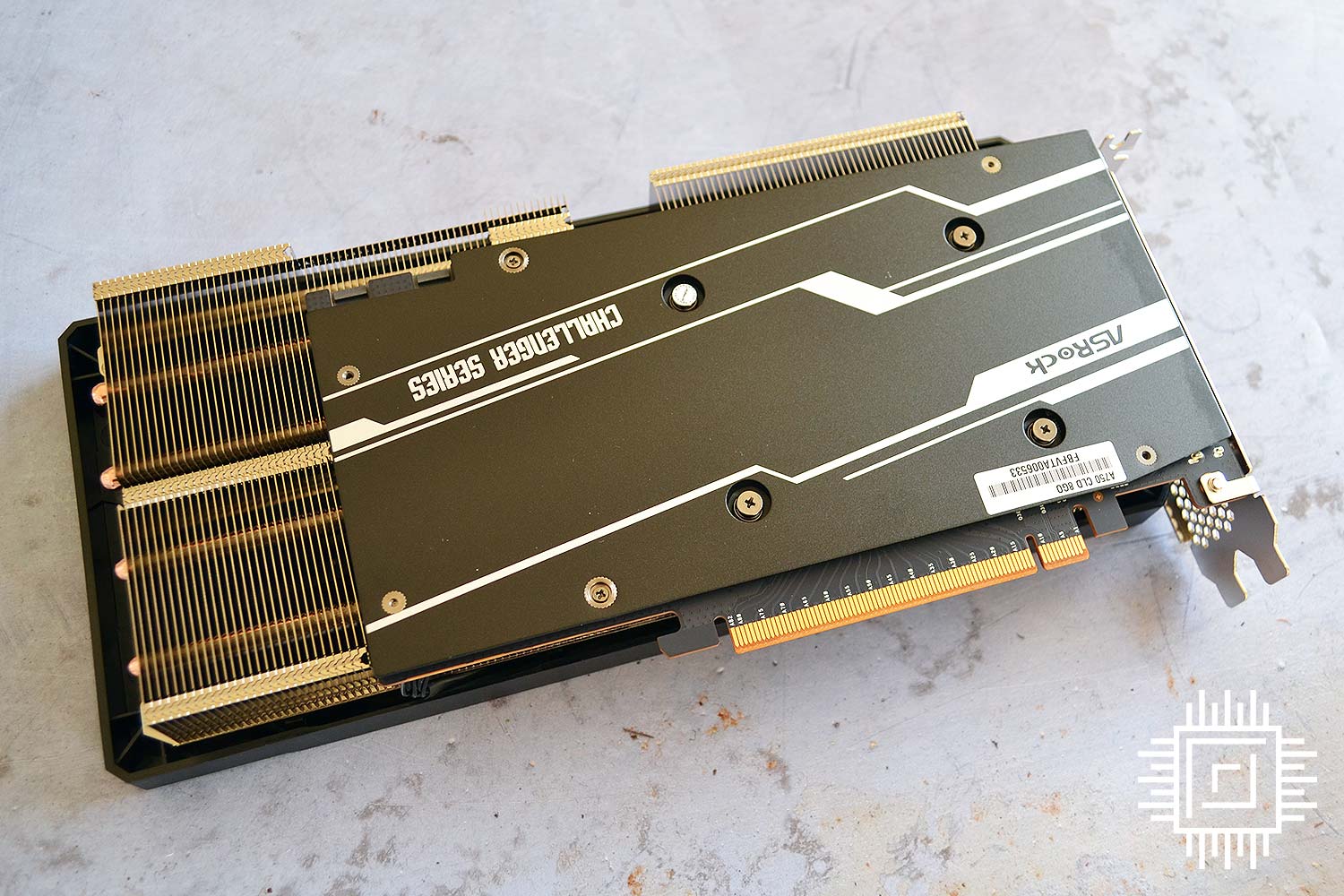 The rear of the 800g card is rather snazzy. The metal backplate covers only the PCB and extends about 75 per cent the way along the card. Intel mandates a peak 2,050MHz boost speed; ASRock scoffs at that and installs a 2,200MHz GPU clock – every little helps in boosting mid-range performance.
Four heatpipes jut out of the side and then flatten as they wend their way through the GPU block. Having a direct-touch design usually bodes well for thermals, especially on a design pulling no more than 225W under the pump.
Intel Arc A750
---
"Enter a new realm of gaming. Experience immersive, high‑performance gaming with next‑level visual technologies and support for DirectX 12 Ultimate."
We earn a commission if you make a purchase, at no additional cost to you.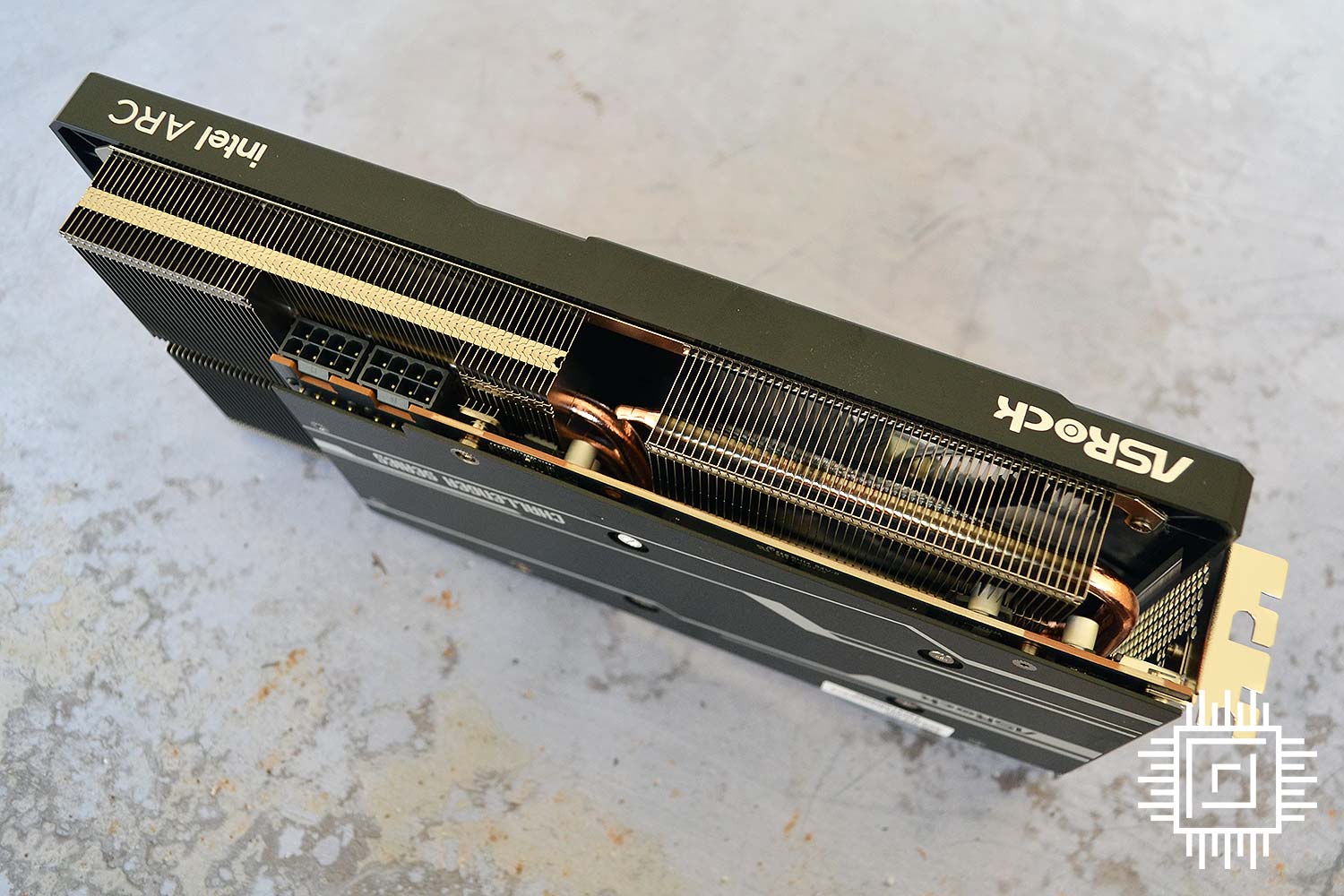 No faffing around with special power connectors, either, as ASRock relies on the familiar assortment of two eight-pin plugs. They're recessed a fair way in, but there's enough clearance to comfortably engage or disengage connectors without losing skin.
Attention to detail is good. Every important heat-producing component is hidden under some form of heatsink, meaning overall build quality is above average for a sub-$300 card.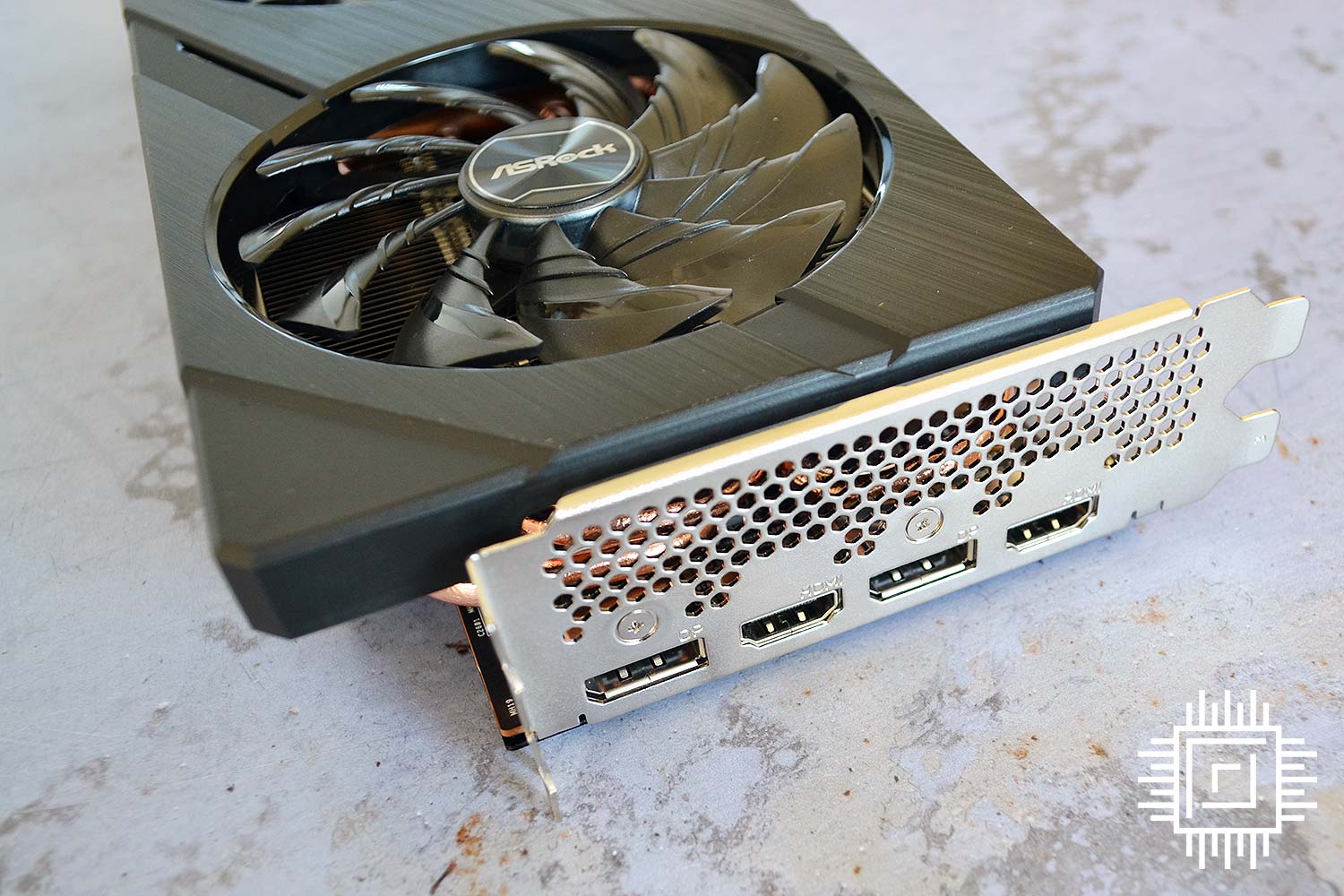 Outputs and video processing are strong points for Arc. Dual DisplayPort 2.0, HDMI 2.1 (on the left-hand side) and 2.0b are all sensible, though why the second HDMI isn't 2.1 is curious. Every desktop also Arc features hardware encoding of AV1, which is a first.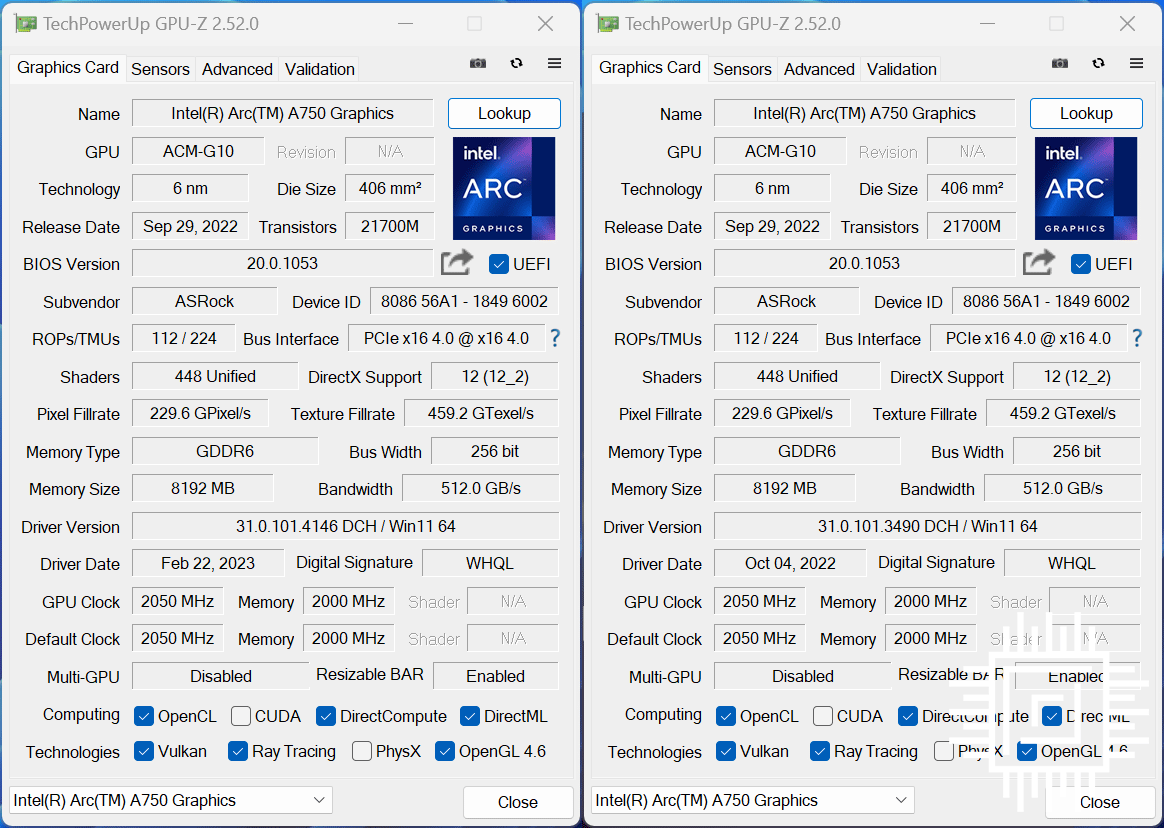 Performance
Evaluating performance requires a top-notch PC. Harnessing the AMD Ryzen 9 7950X3D sat on top of an ASRock X670E Taichi updated to the latest BIOS and sporting the necessary cache-appreciating driver, further outfitted with 32GB (2x16GB) of G.Skill Trident Z5 Neo EXPO memory operating at AMD's official specification, subsystem oomph is not in question.
ASRock's card retails for around £270 on these shores. As mentioned earlier, it's useful and necessary to provide performance context against an established player. Enter the Sapphire Radeon RX 6650 XT Nitro+ 8GB, indicative of what a higher-priced £300-£350 card offers the gamer right now, we benchmark it on the very latest Adrenalin 23.3.1 drivers also run on Windows 11. Intrigued? We certainly are.

Intel Arc A750 does a sterling job in the synthetic 3DMark Time Spy test. It doesn't matter which driver you use, performance is excellent, and the pricier Radeon is be put to the sword. Time for renewed optimism, perhaps?

But wait. Real-world games are where genuine optimisation is at, and we've benchmarked a multitude at the ubiquitous FHD resolution allied to highest quality settings. The intimation is £270-£350 cards ought to produce well in excess of 60fps, preferably closer to 100fps.
Though there's a minor uptick moving from 3490 to 4146 drivers – the ASRock card averages the same 2,300MHz peak speed for both – Arc is left trailing in the Radeon RX 6650 XT wake. We put the huge deficit down to AMD doing particularly well in this taxing title run at the ultra-high preset.

Intel's claim of better DX9 performance is realised when looking at how each driver runs CS:GO. Already blindingly fast on any card, 4146 add a further 16 per cent on top of base performance. Healthy gains indeed, and one has to wonder how much more headroom the Arc architecture may have available.

Surprise, surprise. Arc smashes Radeon when running Far Cry 6 with ray tracing enabled. Some games clearly favour one architecture over another, but this much is clear; Intel is very much in the mix.

Show your support for impartial Club386 reviews
Club386 takes great pride in providing in-depth, high-quality reviews built on honest analysis and sage buying advice. As an independent publication, free from shareholder or commercial influence, we are committed to maintaining the standards our readers expect.
To help support our work, please consider making a donation via our Patreon channel.

Going back to an older title further teases out Arc credentials. We don't see an improvement in drivers, and while absolute performance is a little ways off, the results are very decent for the price.

Old is gold. I remember plying enough time into Just Cause 2 back in the day. We're not arguing with 226fps at all.

There are a few times when Arc and RDNA 2 produce near-identical results. Gears Tactics is one such example, though there is no major benefit in shifting to the latest drivers.

FHD60 was the aim; all three tested configurations manage that at highest in-game settings.

Another case of minor improvements between drivers. When dialled into the correct game, Arc A750 is certainly competitive and bats above its pay grade.

Arc drivers have certainly helped close the gap to established competition. A750 now obtains 90.4 per cent of the Radeon RX 6650 XT's performance, evaluated over eight games. Appreciating it costs up to 20 per cent less, value is a strong play, and we can graph that up by taking a £270 street price for the ASRock and £330 for Sapphire.

Putting all that into the Spreadsheet of Doom™ reveals Intel and its partners have pricing spot-on.

Eagle-eyed readers may wonder what's going on with idle power consumption for Arc when used with either driver. Let's explain.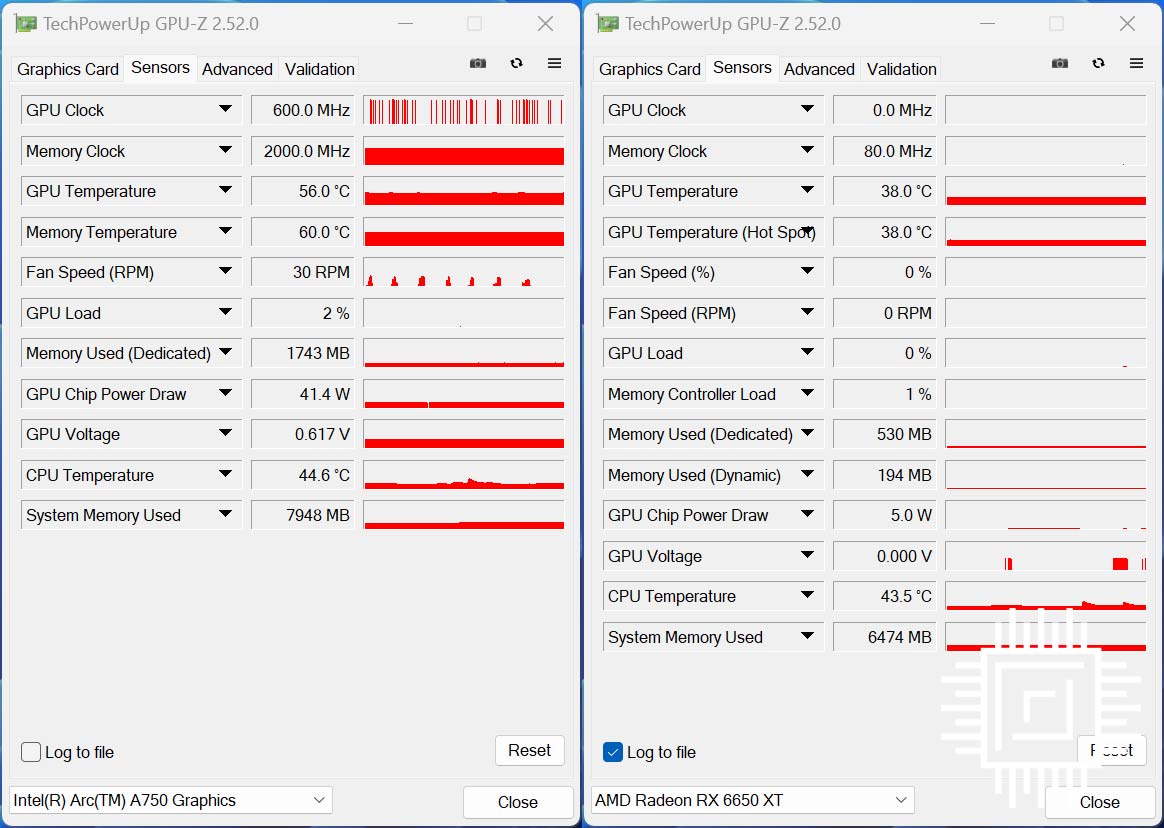 These side-by-side screengrabs show Arc A750 and Radeon RX 6650 XT at rest, idling away on the desktop. Notice the consistent 41W power-draw for A750, whereas AMD's card pulls practically nothing. Intel is aware of this issue, and has been for some time, and there's a semi-workaround. It's poor form that the problem is still present in the latest drivers.
The GPU clock, too, flits between frequencies for no apparent reason, leading to the ASRock's fans coming on at random intervals, as you can see in the screengrab above.

No qualms here, Challenger D does a decent job in wicking away heat from a GPU that can chew through 225W at full gallop.

And the dual-fan cooler keeps noise down to a minimum.
Summary
Intel's decision to reignite desktop graphics is a brave one and not without risk. Slugging it out with Nvidia and AMD is no easy challenge, but credit where it's due, Arc is now here and available from multiple partners. We discourage gamers from considering entry-level A300 series and focus their attention on A700 instead.
Recent price drops and driver improvements sweeten the deal. Our analysis shows the largest performance increase coming in older DX9 titles, but most importantly, Arc A750 runs through our battery of tests without hiccup. Intel's desktop graphics have matured sufficiently for smooth performance in a broad swathe of titles.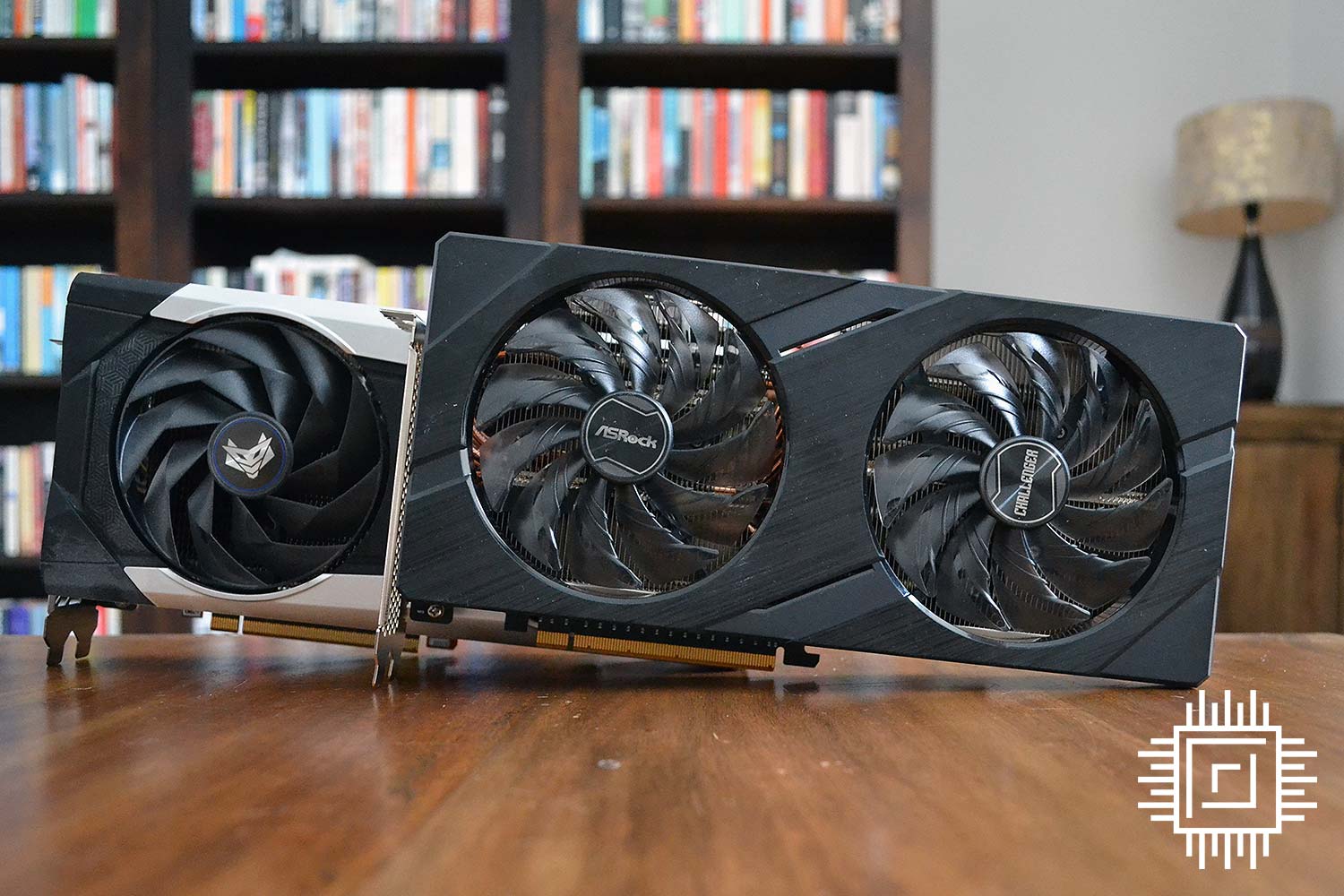 No card exists in a vacuum, of course, and the latest drivers still put ASRock A750 Challenger behind a Radeon RX 6650 XT in a few titles and on-par in others. That's still commendable given Arc's aggressive pricing, and our value graph shows Intel and ASRock are definitely on the right track.
Gremlins remain, of which high idle power consumption is the largest bugbear. There really is no reason why Arc ought to consume more than GeForce or Radeon when doing practically nothing. Considering most PCs tend to do not much most of the time, this is an issue Intel needs to address promptly.
A couple of years ago it was hard to envisage a third player in the desktop graphics card market. Though Arc has endured a rocky journey from inception to product, and remains a little rough around the edges, the latest drivers and attractive pricing make ASRock's A750 Challenger D 8GB OC a genuine alternative if your budget stretches not much past £250.
Intel is tilling the fertile furrow left behind by AMD and Nvidia's insistence on bringing new-generation cards at eye-watering price points. There's considerable merit in the mainstream Arc approach, appealing to the masses first and foremost. Feeling priced out of PC gaming? Do yourself a favour: consider Arc as the next upgrade.