Kingston has announced new DDR5 memory clocked up to 6,400MT/s with CL32 timings. Tasty. Not only that, there's also DDR4 running at 3,600MT/s with CL16 latency.
Fury Renegade DDR5
Available with or without RGB lighting in 16GB single modules or 32GB (2x16GB) kits, two speeds are on offer: 6,000MT/s at 1.35V and 6,400MT/s at 1.4V. Both have the same CL32 latency and measure 133.35mm x 39.2mm (44mm on the RGB variant) x 7.65mm. The RGBs can be controlled via Kingston's CTRL software, where you can choose from 16 customisable RGB lighting effects.
According to Kingston, these kits are made "With premium components hand-tuned by engineers, rigorously tested for compatibility across the industry's leading motherboards, backed by 100 per cent factory testing at speed, and Intel XMP 3.0 certified."
Talking of which, two additional profiles are customisable with unique timings, speeds, and voltages before saving them directly to the DIMM. If you don't have time to tinker with hardware, pre-made XMP 3.0 profiles will make sure you unlock the rated speed with a click of a button.
Finally, being DDR5 means they include on-die ECC for more reliability, an on-board PMIC for balancing power, and two independent 32-bit subchannels making maximum use of each clock cycle.
Kits are backed by a limited lifetime warranty.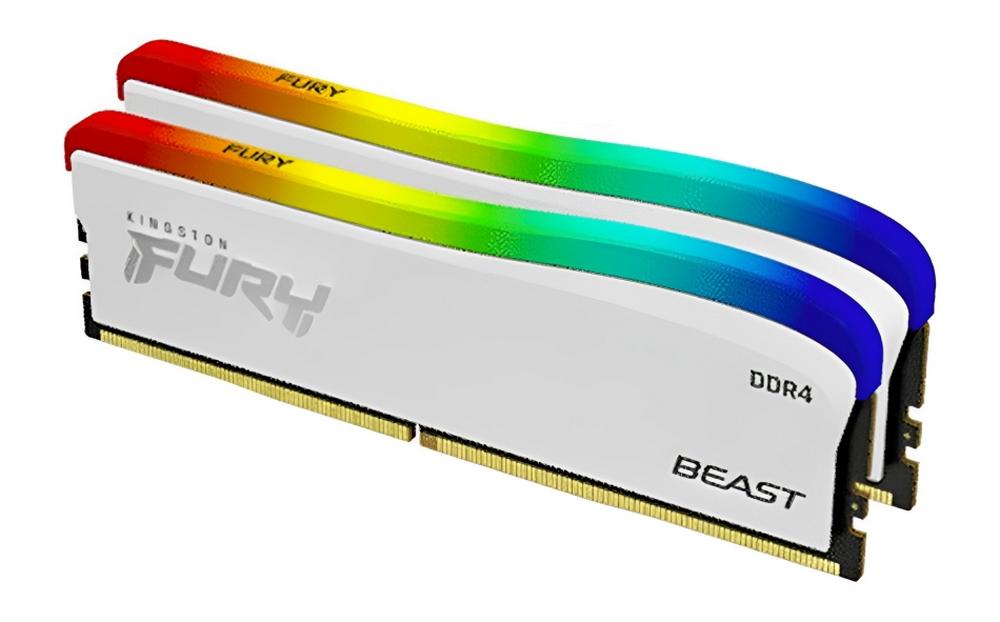 Fury Beast RGB DDR4 Special Edition
Celebrating the brand's 35th anniversary, Fury Beast RGB DDR4 will be available in 8GB or 16GB single modules and 16GB (2x8GB) or 32GB (2x16GB) kits. All variants will be offered at 3,200MT/s and 3,600MT/s speeds with either CL16, CL17, or CL18 timings at 1.35V.
Models feature a new, unique heatsink design with RGB lighting measuring 133.35mm x 45.8mm x 8.1mm. You can tune effects to your liking from a library of pre-set lighting patterns via Kingston CTRL software.
Intel XMP is also present here, storing advanced pre-optimised timings, speeds and voltages to overclock with ease by a single selection of one of the built-in profiles. However, this doesn't mean that AMD systems are forgotten, as the brand indicates that kits are also AMD Ryzen-ready. But are they EXPO-certified? We wait to find out.
Special-edition DDR4 RAM modules are also backed by Kingston's limited lifetime warranty.