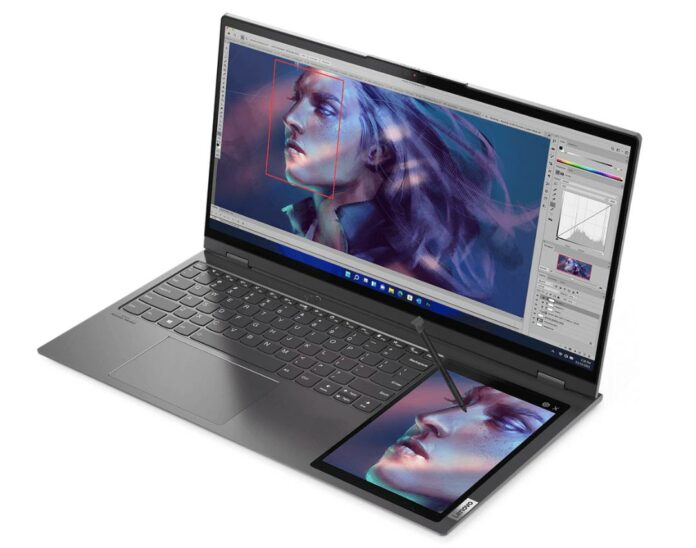 Photos purportedly showcasing Lenovo's 17in ThinkBook Plus have been shared online. This is a fascinating design, as to the right of the keyboard deck resides a touch- and stylus-friendly tablet area. We mentioned this machine first in November, in our daily news summary, when a solitary and low-resolution photo leaked out.
Lenovo's answer to the dual-screen creator laptop doesn't forsake the Touchpad, unlike the Asus ROG Zephyrus Duo machines. However, the right-hand side positioning of the second screen will be a drawback to the sinistral portion of the population.
Lenovo ThinkBook Plus
Twitter's usually reliable smartphone leaking specialist @evleaks spilled this pictorial cache, but as with any leaks, it is still worth adding a pinch of salt to the official-looking renders. Happily, the renders don't just provide a good look at the hardware. If you look closely at the shared images, you can clearly see various use-cases for the tablet and how it can be adapted to be a worthwhile addition to the keyboard deck area.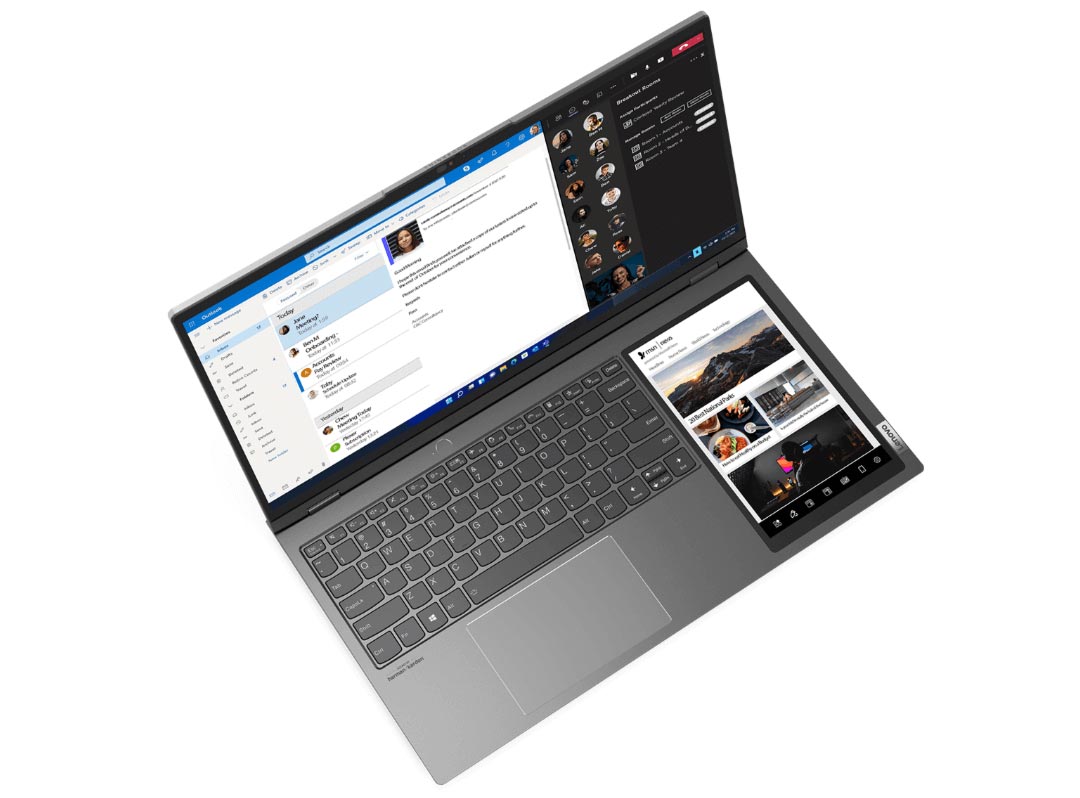 In the image above, you can see that the tablet area is being used in a general office workflow. Specifically it is being used for browsing MSN News, while the user works in email and messaging apps. In the image below, a content creator is working on some close detail of an image in Photoshop or a similar app. It looks like the magnify tool is currently selected but the stylus will probably be more of an asset in photo touch-up work.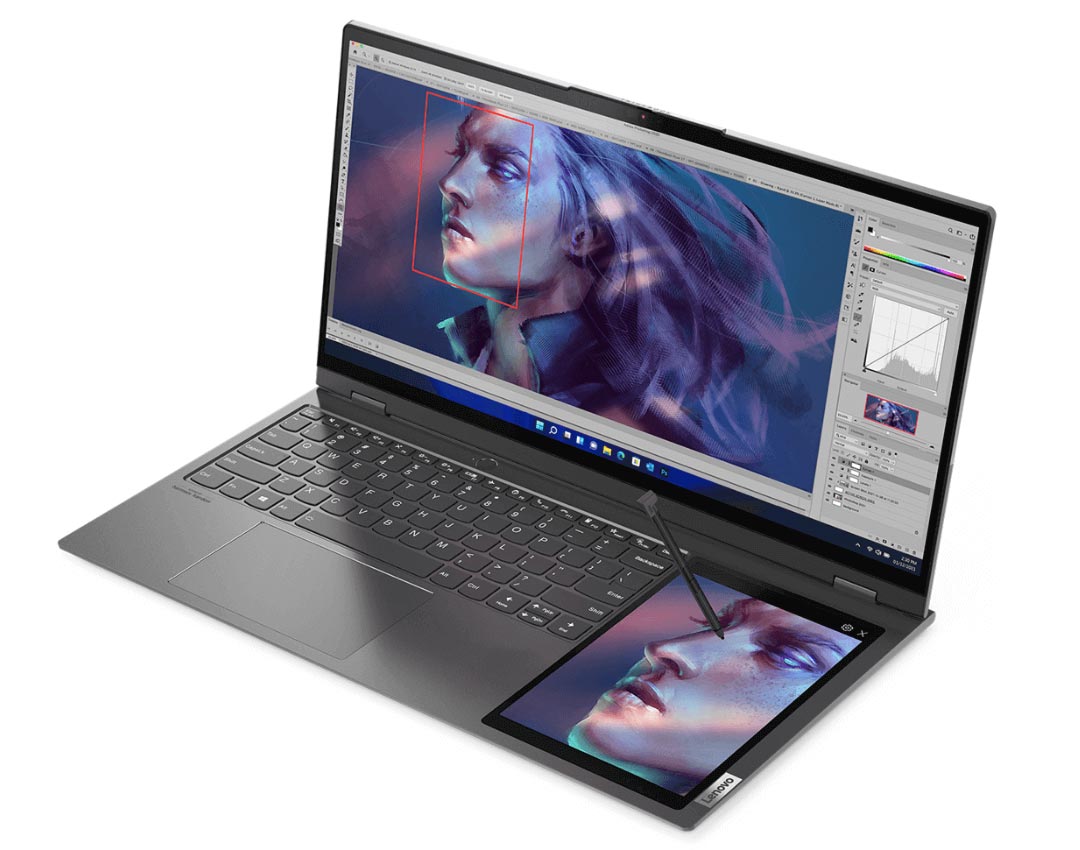 The last shot of the second screen UI in action shows a quick, customisable and intuitive launcher. Tabs are available to users here, and the currently selected Favourite tab. If you pixel-peep the below image you can see that the user frequently runs Edge, Photoshop, Teams, etc.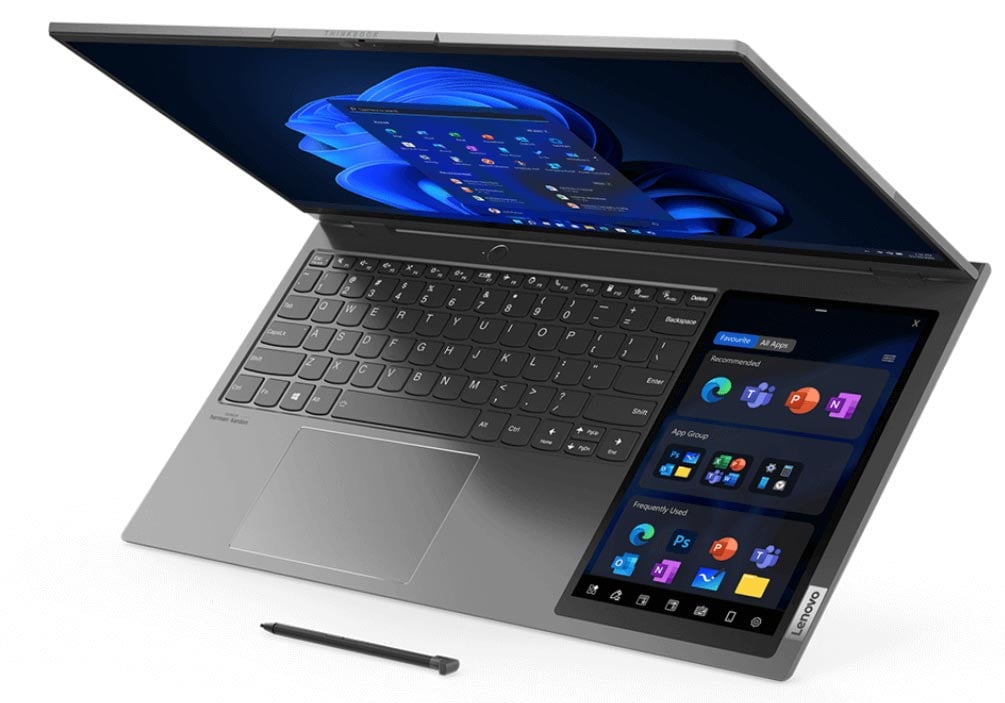 We don't have the luxury of a spec sheet to check over for the Lenovo ThinkBook Plus, sadly. The only hardware specs we can see from the photos are the port selection: two USB Type-C, two USB Type-A, one HDMI, and a 3.5mm headphone jack. Further details we can see are that Lenovo has used Harmon Kardon speakers, there is a slightly lipped top bezel packing in a camera of some kind, and a round power button – flanked by a mic, resides between the keyboard and screen.
Do readers think Lenovo's 17in ThinkBook Plus is a better dual-screen laptop solution than the Asus ROG Zephyrus Duo? Please let us know on social media.
Other recent Lenovo leaks
If a dual-screen laptop isn't to your taste, and you would be more interested in a thin-and-light executive-style laptop in 2022, it is worth a look at @evleaks follow-up post to the above. The images below are said to represent the upcoming ThinkPad Z-series, and it isn't hard to admire the sleek lines of this design, twinned with what looks to be a premium finish.

Pixel peeping the above images you can quite clearly make out an attractive leather-like material covered top lid, with a slightly lipped gold plate. On the plate, Lenovo has engraved Z13, leading us to assume this is a 13in design. Elsewhere on the plate, you can read "FHD f/2.0, Digital Mic array."
Overall, the images indicate that this ultraportable design features just three USB Type-C, ports, one acting as a power input, plus what looks like a full-size SD card slot and headset jack. Taking a step back, one has to comment on the design choice of mixing minimal bezels with the significant top lip on the screen. Being positive, the lip might make it nice and easy to quickly open this laptop, and some will find it preferable to either eschewing cameras up-top, or having a screen with a punch-hole selfie cam.
If the above tickle your fancy, please stay tuned for our Lenovo CES 2022 coverage next week.