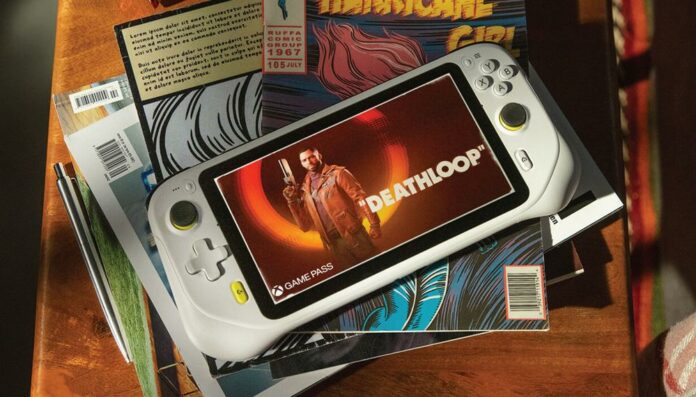 Logitech has officially presented the $350 G Cloud gaming handheld, which is a brand-new portable 'console' resembling Nintendo Switch and Steam Deck… but with a catch. The machine is solely dedicated to being used with cloud gaming services such as Xbox Cloud Gaming or GeForce Now, which conveniently arrive preinstalled.
At first glance, we notice some similarities with the Nintendo Switch, in particular the location and layout of buttons. There's a joystick on each side, asymmetrically placed, a directional cross and a Logitech G button on the left, plus the A, B, X, Y and Home buttons on the right. And that's it. Similarities abruptly stop here.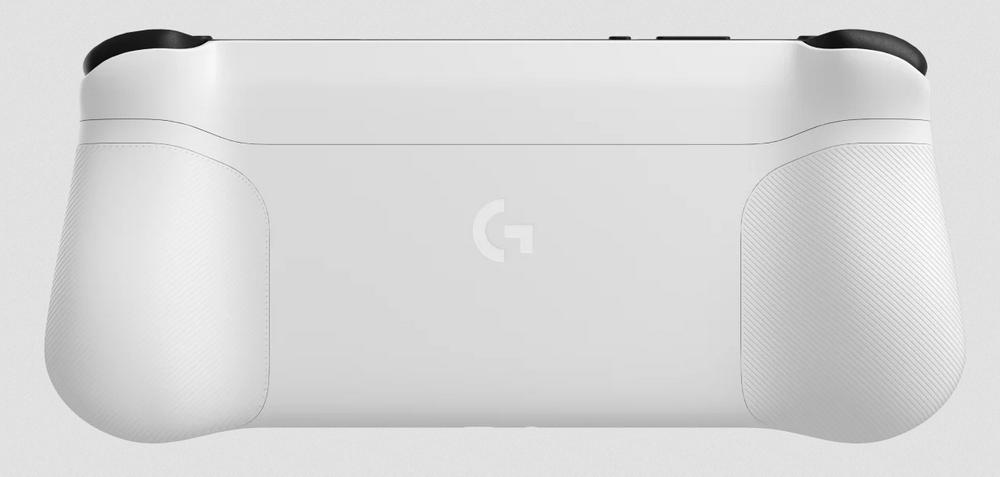 Measuring 256.84mm (L) x 117.21mm (W) x 32.95mm (H) and weighing 463g, G Cloud features an octa-core Snapdragon 720G processor clocked up to 2.3GHz. An SoC that may be limited for local playing, one can argue, but sufficient for the low-latency video decoding required by cloud gaming. Logitech didn't specify how much memory you're getting, but we assume it's around the 4GB mark. Internal storage is also unspecified, but that's not an issue for cloud gaming, especially since the G Cloud also has a Micro SD slot.
A Snapdragon CPU means this handheld operates on Android, 11 to be exact, making it at least on paper capable of running mobile games. Thanks to its low consumption compared to the bigger APUs, Logitech advertises more than 12 hours of battery life under normal playing conditions.
The G Cloud has a 7in 16:9 1080p (FHD) IPS touch screen running at a 60Hz refresh rate and offering 450nits of typical brightness. For audio, there are stereo speakers, a stereo mic with echo cancelling plus noise suppression, digital USB-C headphone support, and a 3.5mm audio jack.

No Mobile Connectivity
Now let's address the elephant in the room, also known as the absence of 5G or even 4G connectivity. How can a Cloud-focused machine only include Wi-Fi 5 and Bluetooth 5.1? If I must be at home to enjoy my games I rather play directly on PC or console. And that, not even considering the price, which for only $50 more allows me to get a Steam Deck that can run games whether you are home or not. Even worse, at $350, there's enough cash for a Switch OLED. Moreover, nothing is stopping you from using a Steam Deck to stream games – after all, it's just a PC with Linux and Steam on top.
Another point that may be off-putting to some is the lack of a high-refresh-rate screen, since Nvidia's streaming service has added 120Hz with the GeForce Now RTX 3080 subscription tier, costing £17.99 per month. The same goes for Xbox Cloud gaming, which offers 120Hz in games like Yakuza and Rainbow Six Siege.

On the upside, however, there is baked-in support for Xbox Cloud gaming and GeForce Now, plus technically any streaming service available on Android, not to forget local streaming using Steam Link and Xbox Remote Play, allowing you to play games installed on PC or Xbox. Note that both Steam Link and Xbox Remote Play should also work just fine via Internet if you go outside. The only difference compared to Xbox Cloud and GeForce Now is that the former uses your home machines to drive the game, whereas the latter connects directly to Microsoft and Nvidia servers.
Backed by a one-year warranty, the Logitech G Cloud gaming handheld is expected to be available in October for North America at $349.99 MSRP. Those who pre-order now gets a $50 discount.