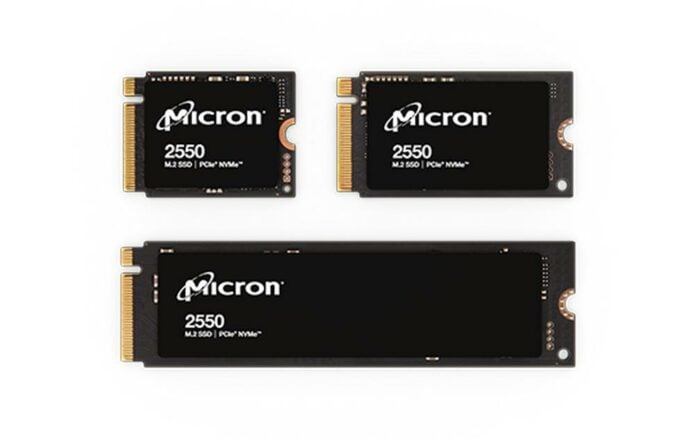 Micron has launched the first client SSD featuring high-density 232-layer TLC NAND​ delivering up to 5,000MB/s speeds in super-compact packages.
The PCIe Gen 4 2550 NVMe is said to be the world's first client SSD to ship using NAND with over 200 layers, offered in 256GB, 512GB, and 1TB capacities. Surprisingly, there is no 2TB, 4TB or 8TB variants, which is a shame for such dense NAND flash chips.
According to Micron, the 2550 NVMe SSD transfers files up to 112 per cent faster, runs office productivity applications up to 67 per cent faster, loads major games up to 57 per cent quicker, and runs content creation applications up to 78 per cent faster than comparable competing products thanks to innovations such as predictive cache optimisation. These are some strong claims that need to be confirmed by third-party reviews.
Using more precise metrics, the brand advertises SSDs as capable of reaching 5,000MB/s read and 4,000MB/s write speeds for both 1TB and 512GB models, with the 256GB variant behind at 4,500MB/s and 2,000MB/s, respectively.
For IOPS we have 550,000, 500,000, and 380,000 in read, plus 600,000, 600,000, and 400,000 in write for the 1TB, 512GB, and 256GB models, with an endurance rating of 600TB, 300TB, and 150TB respectively. All reasonable specs for mainstream drives.
Something that not many brands share is read and write latency, which here sits at 50μs and 12μs, respectively, not as if it makes that much difference for everyday tasks, but still nice to know nonetheless. As far as we can tell, all the specs above are the same for all drive formats (dimensions).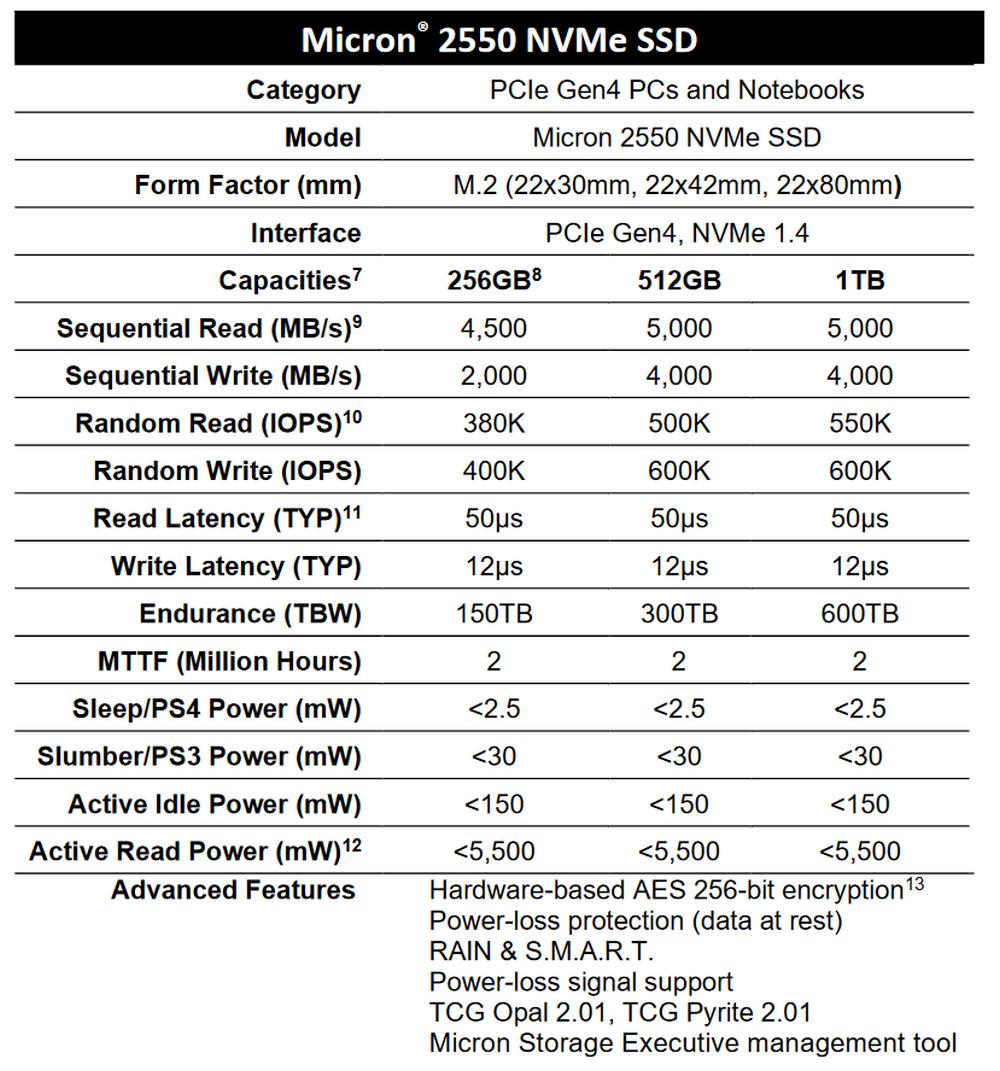 These drives come in three form factors – 22mm x 80mm, 22mm x 42mm, and 22mm x 30mm. The latter is noteworthy since it could make for a powerful upgrade on an entry-level 64GB Steam Deck as the handheld uses a PCIe 3.0 M.2, so you can get the most of the interface's transfer speed with some room to spare. Moreover, this SSD size should also fit inside an Xbox Series S, but that's a thing for advanced tinkerers.
"We focused on delivering a superior user experience for PC users with this SSD," said Praveen Vaidyanathan, vice president and general manager of the Client Storage Group at Micron. "The new 2550 SSD builds on our established and broadly adopted PCIe Gen4 architecture. It also incorporates Micron's industry-leading 232-layer NAND and focuses on thermal architecture and power design. These capabilities deliver impressive application performance and phenomenal power savings."
Finally, an important note for battery-powered devices, Micron's 2550 NVMe SSDs consume under 2.5mW during sleep mode, 150mW while idle, and 5.5W when active.
Unfortunately, at the moment, we don't have any information about price and availability.