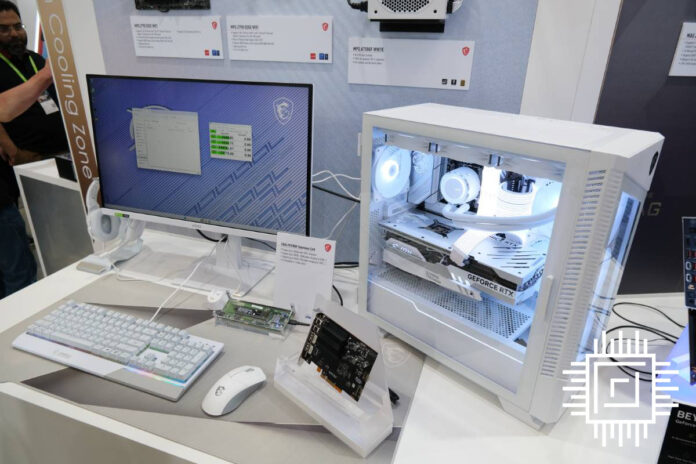 I'm dreaming of a white Christmas… and apparently so did MSI when it dreamt up all-white gaming components and peripherals at Computex this week.
The snowy products are a welcome appearance amid the heatwave we're currently experiencing in Taiwan, ranging from motherboards, AIO cooling solutions, screens, cases and PSUs. The brand with the dragon tattoo has it all.
The Case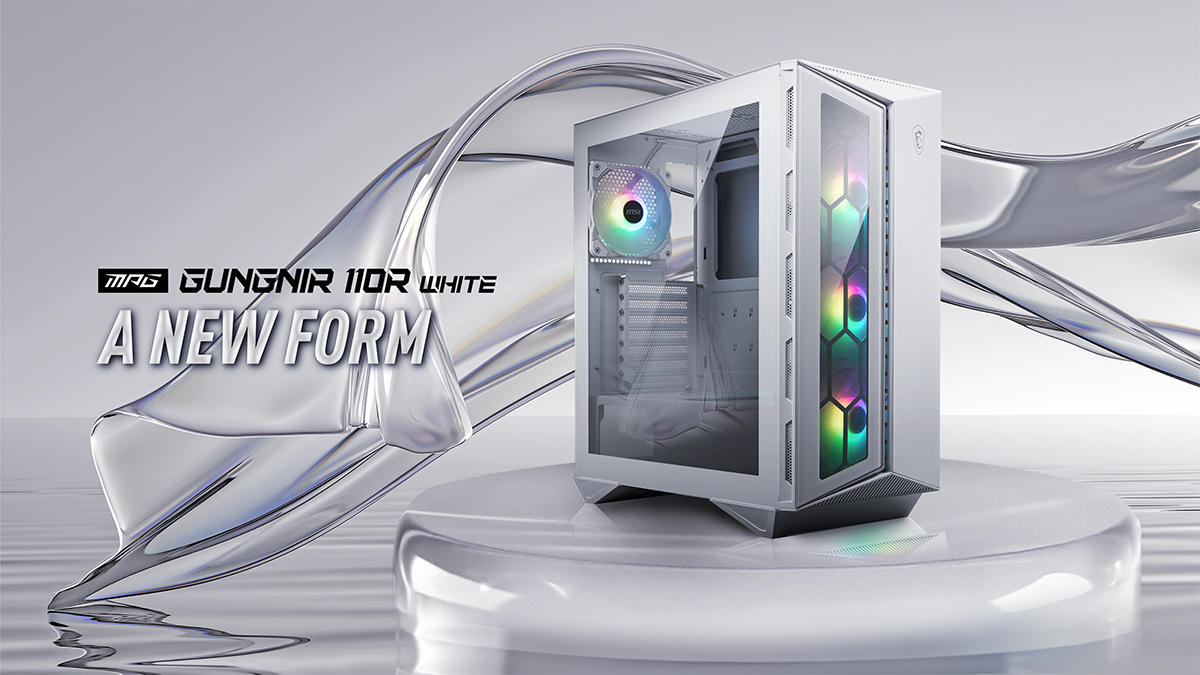 Kicking off with the case, we get MSI's popular MPG Gungir 110R in, of course, white providing a perfect foundation for the litany of components found inside. Built with versatility and constructed with highest-quality components, the company says, it's crafted with maximum airflow in mind. Featuring a meshed front and top panel with enough room to hold a full 360mm radiator up front or a 240mm radiator at the top, the choice is ultimately yours.
Measuring 380 x 215 x 450 mm, there's enough space for a 340mm-long GPU and a maximum CPU air cooler height of 170mm. Motherboard form factors are supported all the way up to ATX, as well as ATX PSU down in the basement provided its maximum length is short of 250mm. Finally, you can also fit two 2.5in drives there, though you will have to sacrifice PSU length if you opt to use the 3.5in HDD bracket. Them's the brakes.
The Motherboards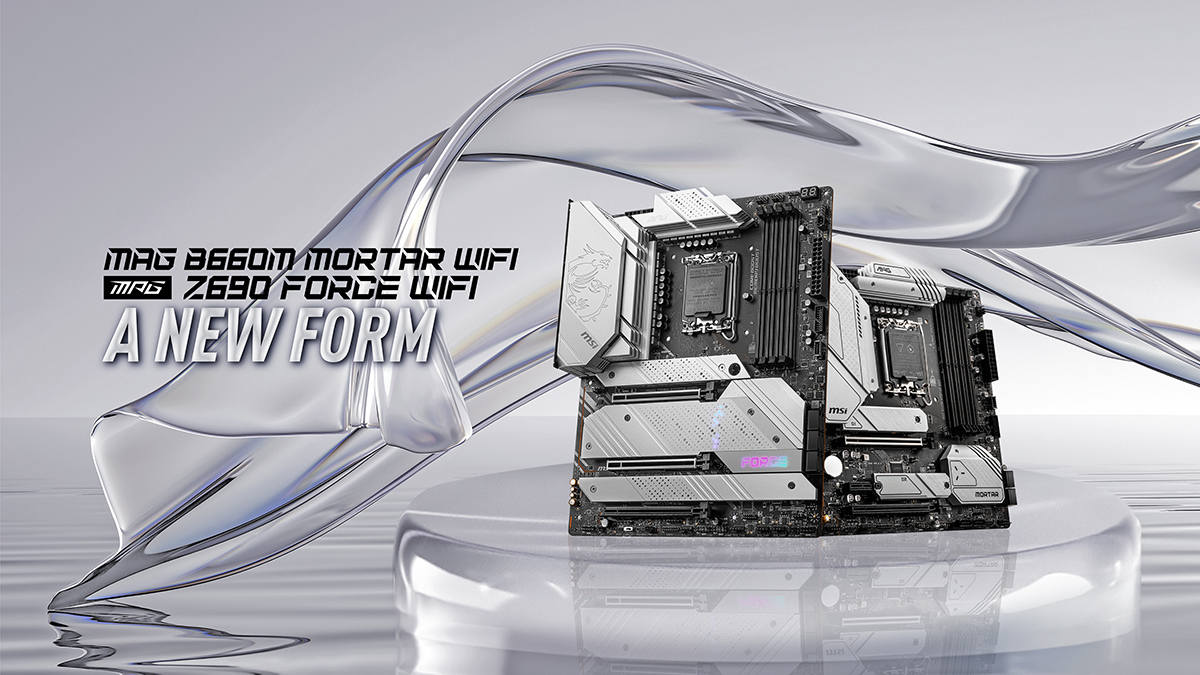 Marrying an all-white case to a motherboard is no easy task, that is until now. Enter the MPG Z690 Force Wi-Fi and MSI MAG B660M. The motherboards are everything they were before and more, now featuring ice white and brushed aluminium swishes, with tasteful RGB, and large thick armoured heatsinks to cool those spicy VRMs, heat-seeking onboard chipsets, and blistering-fast PCIe 5.0 M.2 SSDs. Lovely.
Opting for the full ATX line nets you the MPG Z690 Force Wi-Fi that features up to two PCIe 5.0 x16 slots, five onboard M.2 slots including four M.2 Gen4 x4. The board feature 18 VRM phases with 75A SPS each. Plenty for an overclocked Core i9, though shame it's not the latest Z790 model.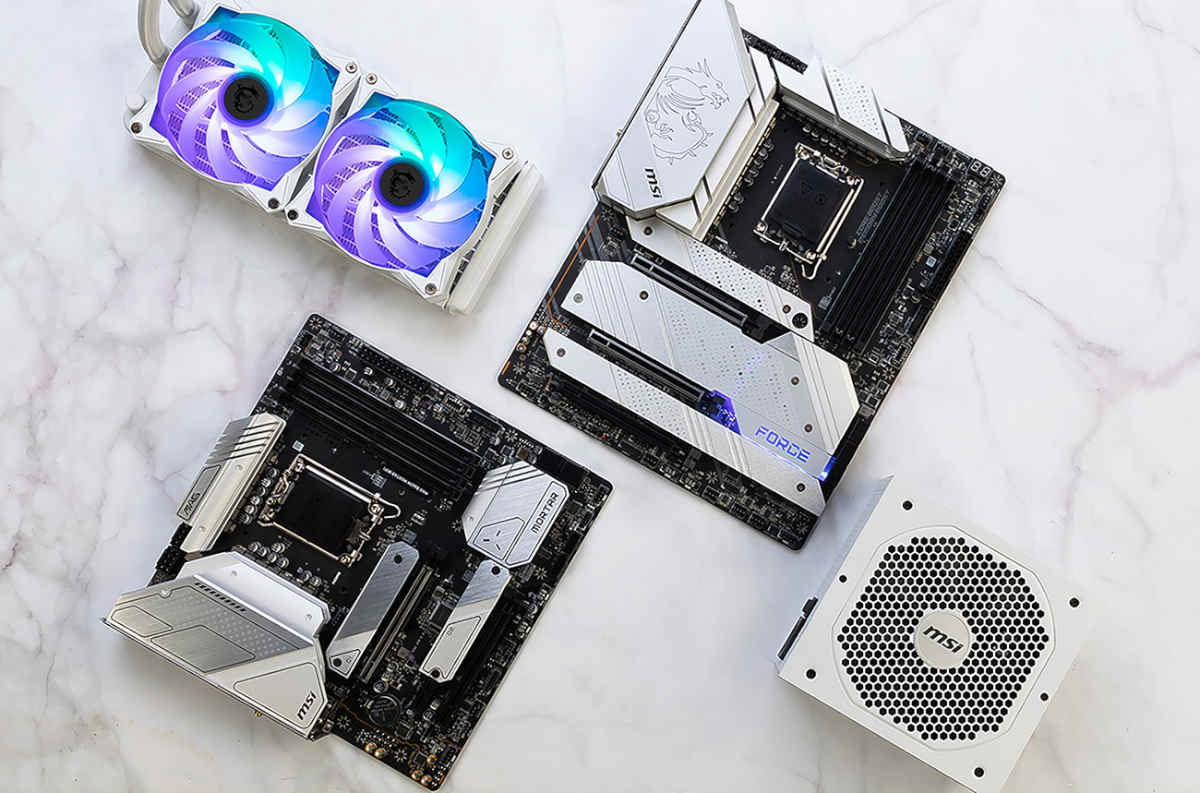 On the other end of the spectrum, the MSI MAG B660M, offer modest upgrades with PCIe 4.0 support, a six layered PCB providing long lasting system stability and signal integrity, and support for the latest DDR5 memory speeds up to 6,200MHz. It also has a plethora of rear I/O at your disposal, and a tried and tested Wi-Fi 6E module for network connectivity.
The AIO and PSU

MSI's CoreLiquid 240R V2 white offers promising cooling performance thanks to its three-phase motor that generates minimal vibrations, maximum flow rate, and a radiator pump design that reduces noise and increases the pump's maximum life expectancy, at least according to the manufacturer.
It also comes include with two RGB fans and a pump housing that features a rotatable blockhead, ensuring the illuminated MSI dragon is always in the right position. Got to get the details right.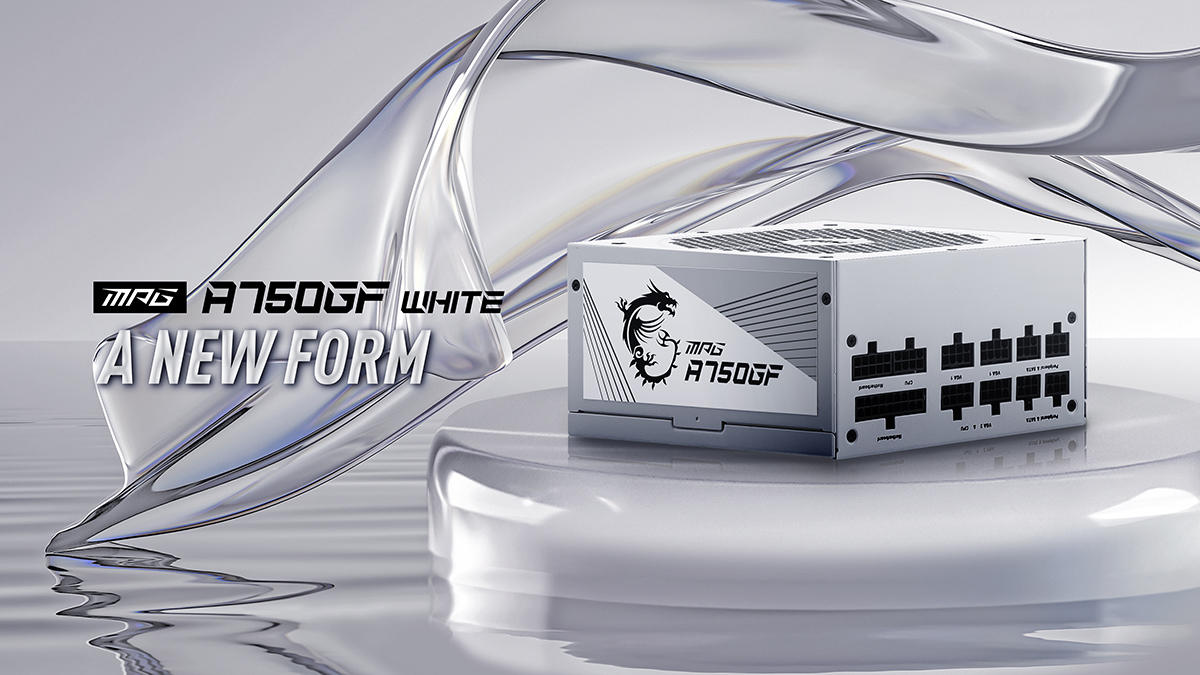 Finally, adding to the list newly-refreshed components is the MPG A750GF White edition, which is a 750W fully-modular PSU that hold an 80 Plus Gold certification and enough power for 90 per cent of builds. Shame it doesn't feature ATX 3.0 and PCIe 5.0 support, though.
Monitors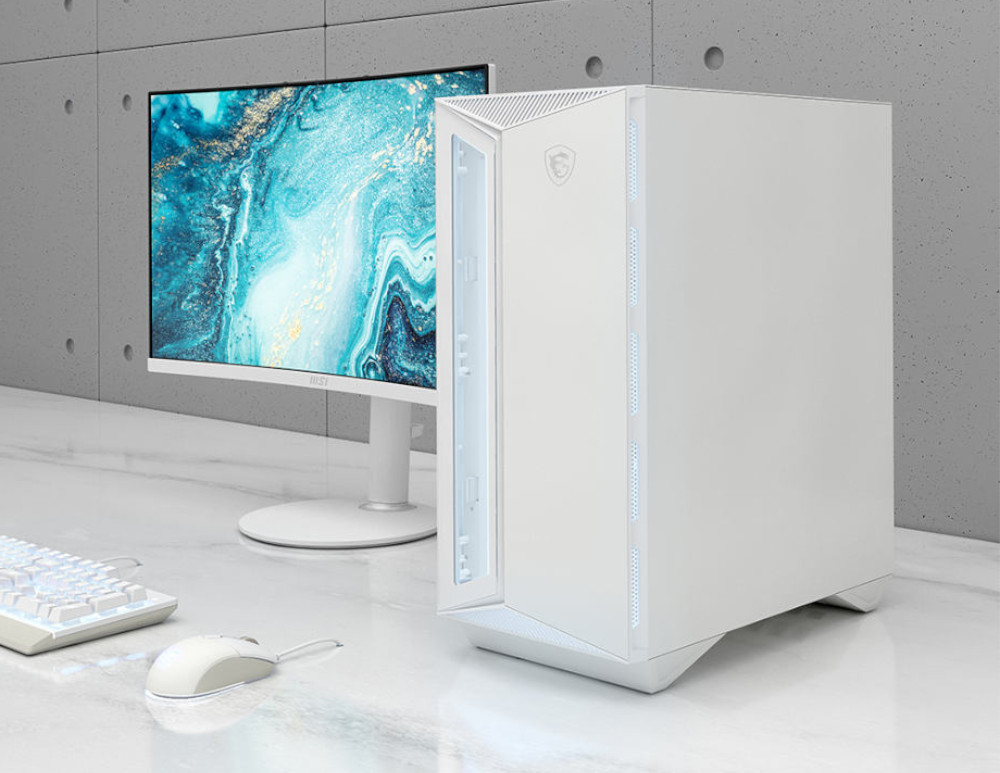 Besides the premium listings at Computex, there are five equally capable monitors that also received MSI's all-white paint scheme. Namely, four Modern series displays, aimed squarely for the business market, ranging between 24in or 27in sizes, feature a bright 1440p IPS equipped with 75Hz refresh rates and 3000:1 contrast ratios good colour highs and lows. These models can be had in either flat or 1500R curved form factors.
Moving on, the Prestige PS341WU is a 34in ultrawide monitor designed for creators and multitaskers. As such, it offers a solid range of premium features including a nano-IPS panel with a 5k resolution that covers 98 per cent of the wider DCI-P3 colour gamut, has VESA-certified DisplayHDR600 support for brighter, authentic and lifelike content, a built-in PIP mode, and an ergonomic stand that tilts, swivels and adjusts precisely.
Gaming Gear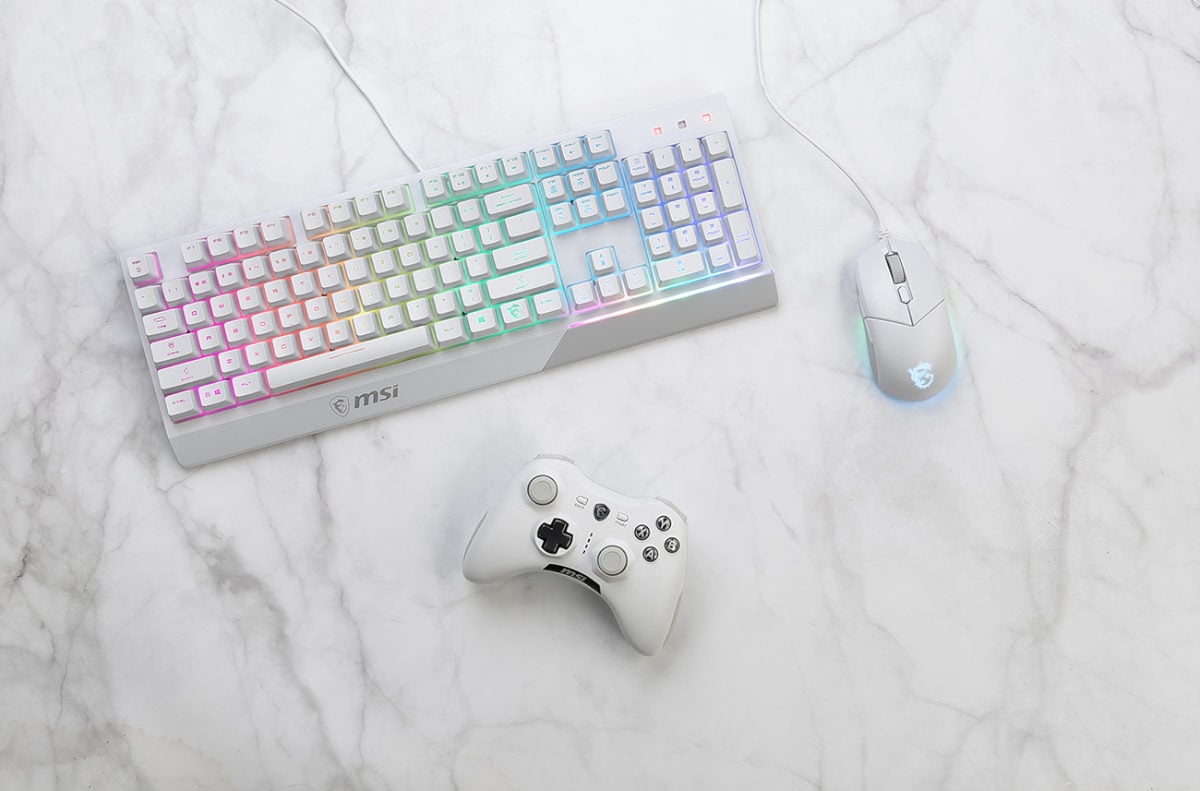 Completing the look, and making your future potential setup an absolute white-washed affair, are the peripherals. First at bat is the MSI Vigor GK30 white edition gaming keyboard. Second, the budget-oriented Clutch GM11 gaming mouse, and last but least, the Force GC30 V2, MSI's take on the classic Xbox controller form factor. Alas, my Christmas wishlist is complete.