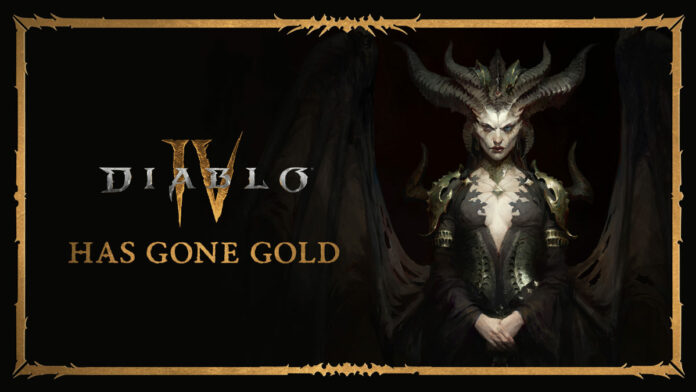 Blizzard Entertainment has announced Diablo 4 has gone gold. Harking back to the early days of physical media, this simply means the game is complete and ready to ship. Huzzah!
Blizzard announced the news via Twitter, making it known the game is ready for play, adding, "See you in Sanctuary. 6.6.23." Too bad we have to wait 50 days until we get to slay demons and take names, but a significant milestone for the developer, nonetheless.
Gold confirmation is a pretty big deal in the game-development world, and essentially assures players that Diablo 4 is as polished and bug-free as it can be. Unless there are any unforeseen circumstances, best believe the release won't be pushed back any further.
"Going gold is a landmark milestone for the incredible Diablo IV team, who have all worked so hard crafting the next-generation installment of this iconic franchise. This is a concrete, meaningful step toward our June 6 launch," said franchise boss, Rod Fergusson, via an accompanying press release.
"Whether players are veterans of the franchise or jumping in for the first time, we can't wait for everyone to experience the full game: taking part in the incredible storytelling, experimenting with character classes and builds, and exploring what the endgame and the dark world of Sanctuary has to offer," he added.
The news, in part, can be attributed to the successful beta tests last month. They provided invaluable data for the developer to sift through and address various bugs, crashes, and anomalies. The end results speak for themselves; besides going gold, Blizzard released a rather comprehensive list of tweaks and changes to make the experience that much more satisfying upon release.
Of note, Dungeon layouts has seen a large rework, minimising the need for backtracking and increasing the chance of unique Dungeon events from 10 to 60 per cent. Additionally, all five of the game's classes have been tweaked and overhauled, bosses updated, and various UI and quality-of-life changes implemented.
Diablo 4 will launch June 6 and available on PlayStation 5, PlayStation 4, Xbox Series X/S, Xbox One, and PC. The Digital Deluxe or Ultimate Editions of Diablo 4 grant players early access four days ahead of launch. Can't wait.