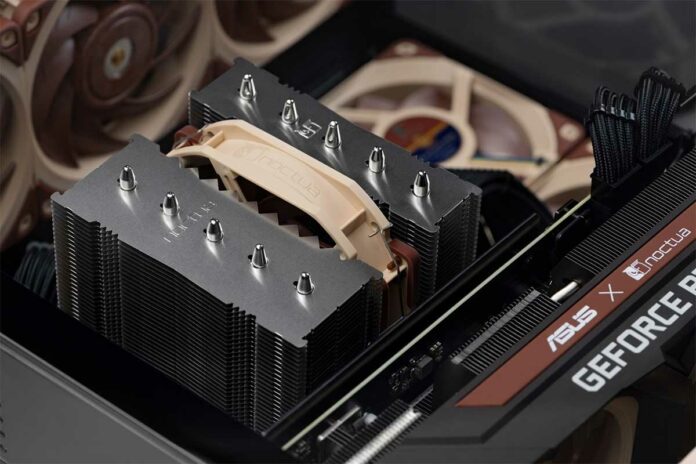 Struggling to make room inside your build for Noctua's most capable CPU coolers? You're in luck as the firm has just announced the all-new NH-D12L, a dual-tower cooler promising high-end performance at a reduced height.
Measuring 145mm tall – 13mm shorter than regular Noctua models – the NH-D12L makes use of a purpose-built NF-A12x25r fan, whose rounded edges allow for the fan to be lowered between the fin stacks without fouling nearby components.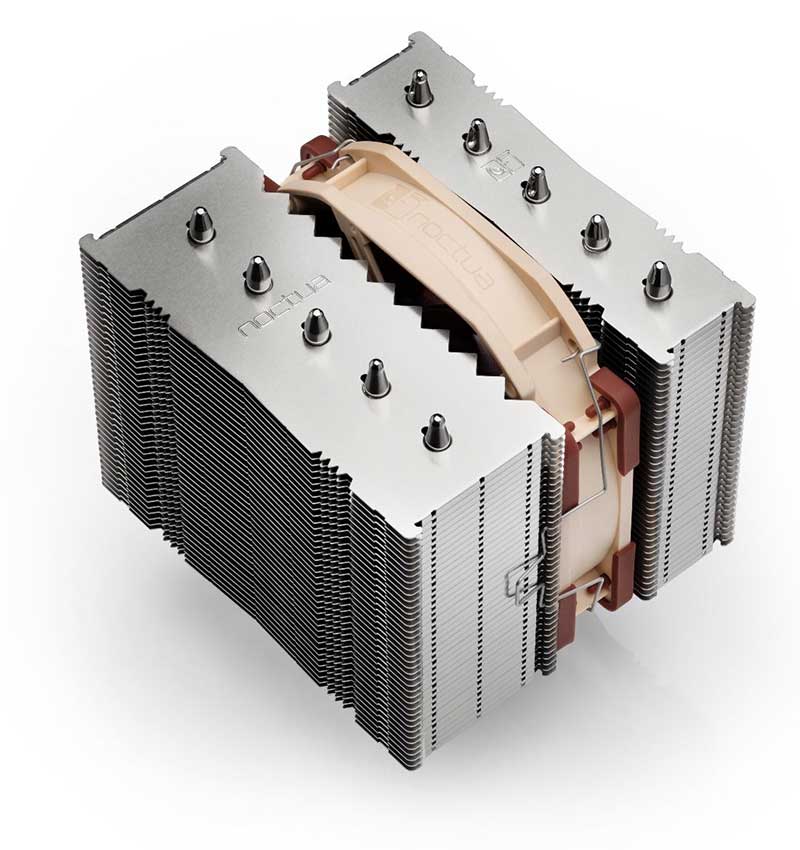 The round-framed PWM fan is said to offer the same quiet cooling performance of Noctua's existing and highly regarded NF-A12x25, and despite the reduced footprint, we're told the five-heatpipe NH-D12L "easily outperforms 90mm coolers," and delivers a level of cooling just shy of the venerable NH-U12A.
Noctua CEO Roland Mossing said: "Simply lowering one of our existing models wasn't an option because a standard square 120mm fan would cause lots of issues with motherboard heatsinks or shrouds."
"That's why we came up with this novel dual tower design and a round-frame version of the NF-A12x25 fan that can be installed at a very low position between the two towers – a winning combination that provides impressive results for this height class."
A 145mm height is specifically chosen to fit a variety of 4U rackmount servers, but also bodes well for consumer chassis and small-form-factor PC builds. In keeping with others in the range, an asymmetric design helps alleviate compatibility issues with nearby DIMM slots, and an extra set of fan clips is included for those favouring a dual-fan setup.
Customary NT-H1 thermal compound and low-noise adaptors are included in the box, along with SecuFirm 2 mounting kits for the latest Intel/AMD sockets – including LGA1700 and upcoming AM5 – and the whole package is backed by a stellar six-year warranty as standard.
There's no mention of an all-black Chromax edition as yet, but the NH-D12L is available to purchase immediately priced at $90 in the US or £80 here in the UK. Full specifications are available at Noctua.at, as is a helpful table comparing the vital characteristics of the NH-U12A, NH-U12S, NH-U12S redux and NH-D12L.
---
"The NH-D12L is a low-height 120mm class CPU cooler that has been conceived to combine outstanding quiet cooling performance with superior case compatibility."
We earn a commission if you make a purchase, at no additional cost to you.