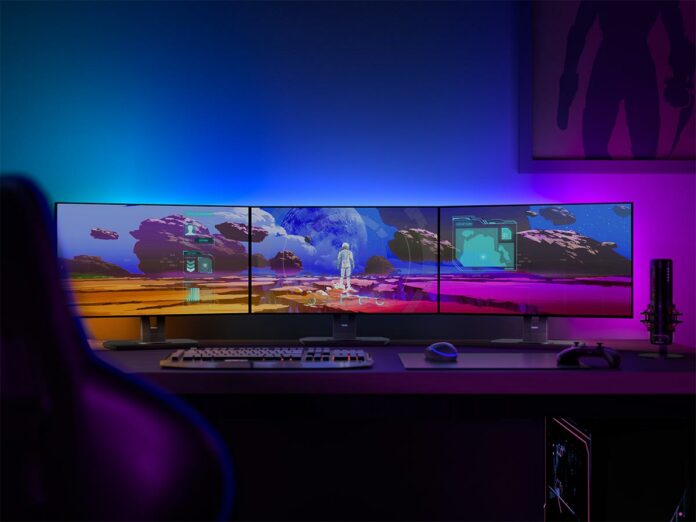 Signify has announced a further expansion of its hugely popular Hue ecosystem with the launch of lightstrips designed specifically for computer monitors.
Sensibly dubbed the Philips Hue Play gradient lightstrip for PC and intended to attach to the back of displays via bundled mounts, the strip offers a rainbow of ambient lighting and a halo effect to help enhance the feeling of immersion.
Similar Hue lightstrips already exist for larger TVs, yet starting September 13, PC variants will become available in a choice of sizes. A lightstrip for 24-27in monitors will fetch €149.99, 32-34in will set you back €169.99, and a longer strip designed for a trio of 24-27in displays in a multi-screen setup will cost a whopping €259.99.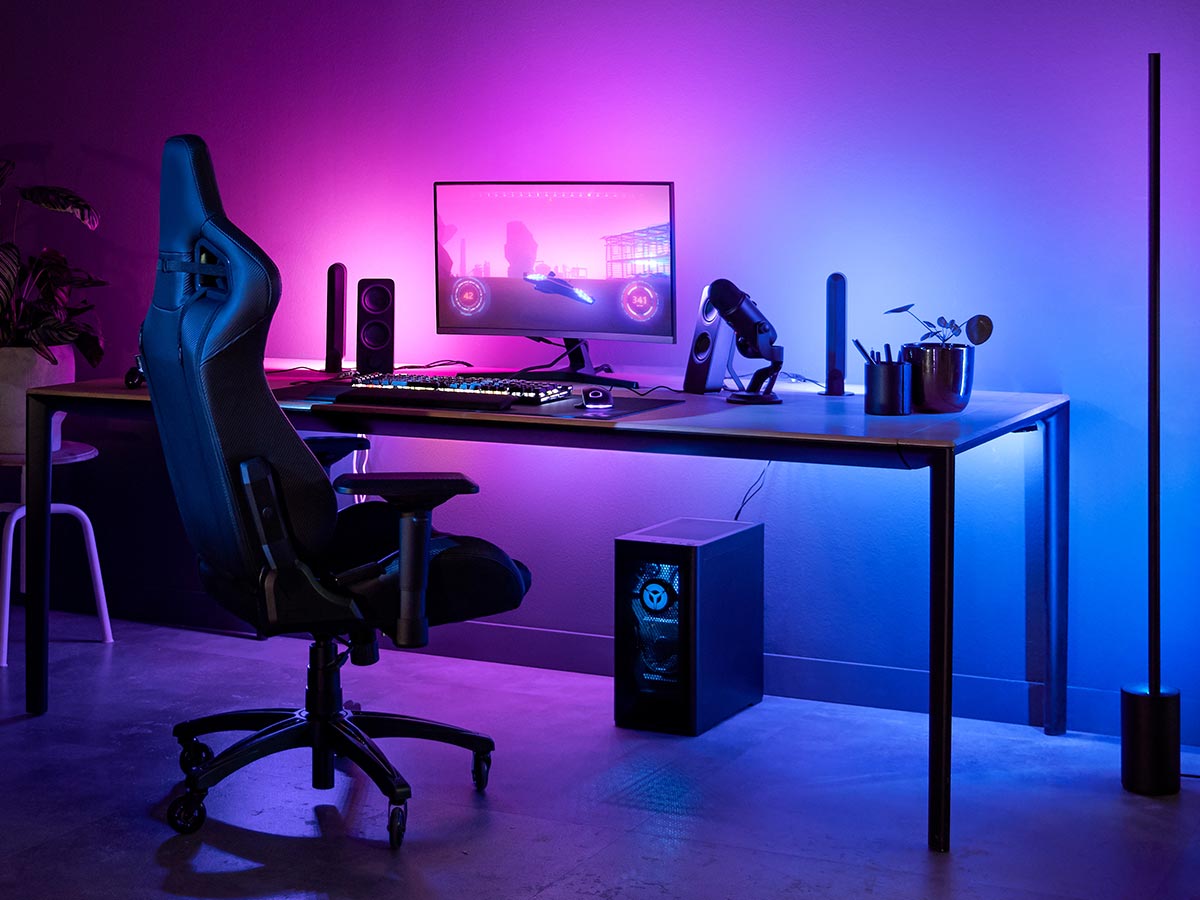 Hue gear typically attracts a premium and though the new lightstrips are no exception, fans who appreciate the system's ease of use and reliability will no doubt welcome Hue's growing influence in PC lighting.
As part of its bid to attract the PC gaming crowd, parent company Signify has announced a collaboration with Corsair, allowing Hue lights to be controlled and synchronised with various Corsair peripherals through iCue software. Those without any Corsair gear will be able to continue synchronising Hue lightstrips with on-screen content via the existing Philips Hue Sync desktop app.
"At Philips Hue, we believe the continued integration of smart lighting and home entertainment is increasingly relevant to our users, whether they're gaming, watching TV, or listening to music," said Jasper Vervoort, business leader Philips Hue at Signify.
"With our new products and app features, we continue to offer a more immersive and user-friendly entertainment experience. We also recognize that our users are design-conscious and so we strive to bring them new, exciting, and elegant lighting products that complement their home and give the opportunity to personalize the ambiance."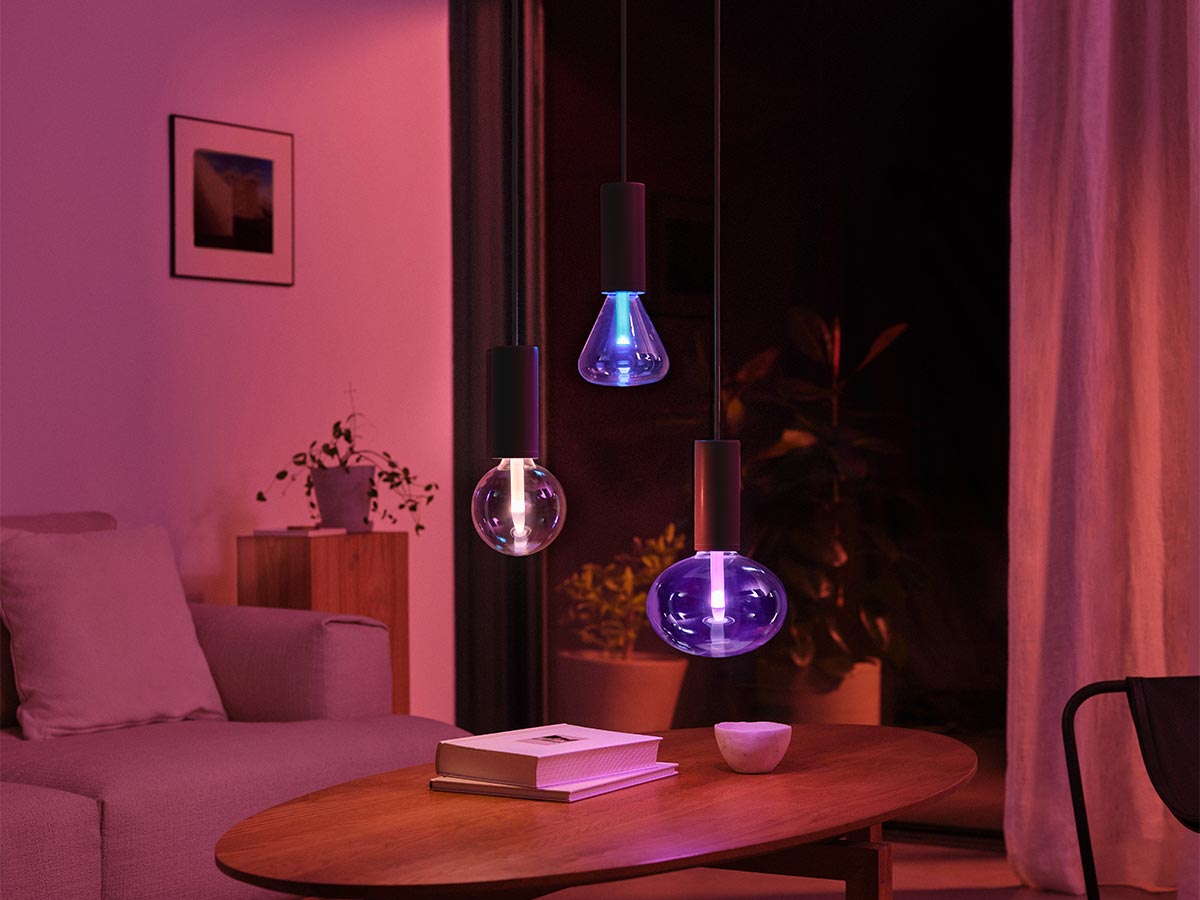 Outside of the PC space, Hue's huge catalogue has also been bolstered with the introduction of Lightguide bulbs touting "eye-catching modern style along with all the smart light functionality of Philips Hue."
Available in globe, elipse or triangular shapes, the Lightguide bulbs look fantastic and are positioned as a premium solution. A single bulb will fetch €99.99, and if you happen to like those sleek pendant cords, available in black or white, they'll set you back a further $49.99 apiece with launch penned for Q4 of this year.