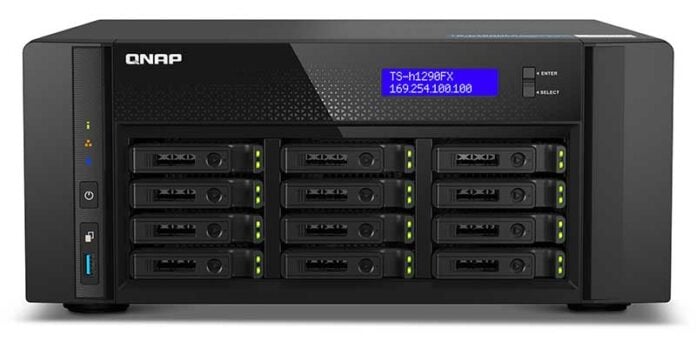 Network-attached storage expert Qnap has released a powerful server-level NAS without the need for dedicated rackmount space. The AMD Epyc-powered TS-h1290FX offers 12 bays, all-flash storage, 25GbE connectivity, and support for Nvidia graphics cards for either video processing or virtual machine GPU acceleration. Quite the beast.
Effectively a mid-level server PC presented as a premium, portable NAS appliance, TS-h1290FX provides 12 hot-swappable 2.5in U.2 NVMe Gen 4 x4 SSD drive bays for storage duties. An optional QDA-UMP4 adapter enables you to fit M.2 instead of U.2, as the former are more readily available at lower prices.
The specs go on. Four PCIe Gen x4 slots for installing various expansion cards such as graphics or networking, two 25GbE SFP28 SmartNIC ports, two 2.5GbE RJ45 LAN ports, and three USB 3.2 Gen 1 ports. Phew.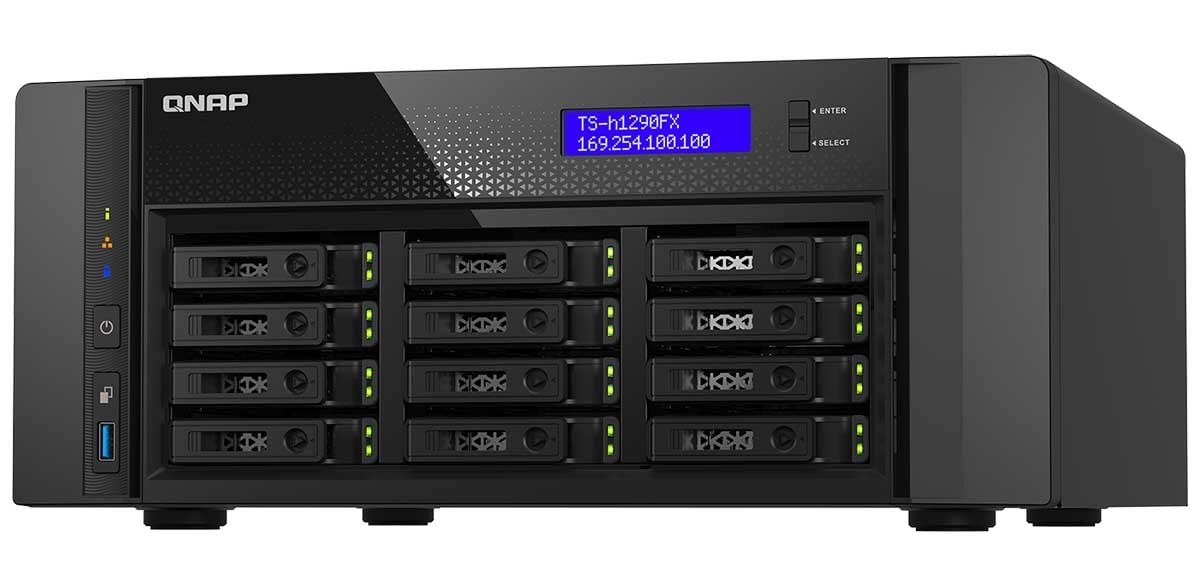 What's more, if using four quad-port 5GbE/2.5GbE PCIe cards, available separately, you can directly connect up to 20 PCs without having to use a switch, though doing so will leave no expansion slot spare for other duties. Driving all these hardware goodies on the software front is the ZFS-based QuTS hero operating system.
Server-style NAS aspirations are clear in the use of processor. In this case, Qnap leverages a trio of AMD Epyc processors. The entry-level solution pairs an Epyc 7232P/7252 8-core/16-thread processor with 64GB RDIMM DDR4 ECC (8x8GB). Mid-spec ups the performance ante to an Epyc 7302P 16-core/32-thread processor alongside 128GB RDIMM DDR4 ECC (8x16GB), and top-line specs include the same Epyc chip but this time with 256GB RDIMM DDR4 ECC (8x16GB). Each box can feature 1TB of memory (8x128GB) and all are powered by a built-in 750W PSU. Pricing starts at around £4,500+VAT for the base model.
"Modern businesses and studios shouldn't need to dedicate entire rooms to accommodate hot and loud servers, and that's where the TS-h1290FX comes in. Contained within a unique tower form factor and utilizing quiet cooling is exceptional performance driven by a server-grade processor, all-flash U.2 NVMe SSD storage, and QNAP's enterprise-grade QuTS hero operating system," said Jason Hsu, Product Manager of Qnap.