Jump to: Hardware | Software | Performance | Conclusion
QNAP is on a mission to dispel the notion turnkey NAS solutions are underpowered. The Taiwanese manufacturer has typically offered more in terms of hardware munition than its immediate competitors, and with the new hx74 Series, the bar is being raised higher than ever before.
Arriving in a choice of four-, six- or eight-bay models, the high-performance range brings powerful Intel processor technology and ZFS-based storage to businesses and home-office enthusiasts. Do be mindful when basing purchasing decisions solely on capacity, however, as all three sizes offer varying performance characteristics.
| Model | TVS-h474-PT | TVS-h674-i3 | TVS-h674-i5 | TVS-h874-i5 | TVS-h874-i7 | TVS-h874X-i9 |
| --- | --- | --- | --- | --- | --- | --- |
| SATA Bays | 4 | 6 | 6 | 8 | 8 | 8 |
| Intel CPU | Pentium Gold G7400 | Core i3-12100 | Core i5-12400 | Core i5-12400 | Core i7-12700 | Core i9-12900 |
| Cores/Threads | 2/4 | 4/8 | 6/12 | 6/12 | 12/20 | 16/24 |
| CPU Burst | 3.7GHz | 4.3GHz | 4.4GHz | 4.4GHz | 4.9GHz | 5.1GHz |
| Graphics | Intel UHD 710 | Intel UHD 730 | Intel UHD 730 | Intel UHD 730 | Intel UHD 770 | Intel UHD 770 |
| System RAM | 8GB | 16GB | 32GB | 32GB | 32GB | 64GB |
| M.2 Slots | 2x PCIe Gen 3 x2 | 2x PCIe Gen 4 x4 | 2x PCIe Gen 4 x4 | 2x PCIe Gen 4 x4 | 2x PCIe Gen 4 x4 | 2x PCIe Gen 4 x4 |
| PCIe Slot 1 | PCIe Gen 4 x16 | PCIe Gen 4 x16 | PCIe Gen 4 x16 | PCIe Gen 4 x16 | PCIe Gen 4 x16 | PCIe Gen 4 x16 |
| PCIe Slot 2 | PCIe Gen 3 x2 | PCIe Gen 4 x4 | PCIe Gen 4 x4 | PCIe Gen 4 x4 | PCIe Gen 4 x4 | PCIe Gen 4 x4 |
| 2.5GbE Ports | 2 | 2 | 2 | 2 | 2 | 2 |
| 10GbE Ports | – | – | – | – | – | 2 |
| Warranty | 3 Years | 3 Years | 3 Years | 3 Years | 3 Years | 3 Years |
| Retail Price | £1,320 | £1,900 | £2,200 | £2,500 | TBC | TBC |
In fact, the range is productised as half-a-dozen unique models. At the lower end of the scale, the four-bay TVS-h474-PT features a 12th Gen Pentium Gold G7400 processor. The dual-core, quad-thread chip is accompanied by 8GB of memory and has a few limitations performance purists ought to be aware of. Graphics are dialled-down to UHD 710 (16 execution units) while both the M.2 slots and secondary PCIe expansion slot drop to Gen 3 x2 speeds on account of the lanes available from the Pentium chip.
Six-bay TVS-h674 is offered in a choice of Core i3 or Core i5 flavours, while at the top of the stack eight-bay TVS-h874 adds a flagship Core i9 model. All 'Core' units allow for PCIe Gen 4 support throughout, and both memory capacity and graphics capability are improved as you work your way up the range. QNAP's top-end Core i9 model doesn't yet have a UK price, but incorporates dual 10GbE expansion and 64GB of memory as standard. Expect such a NAS to fetch comfortably in excess of £3,000.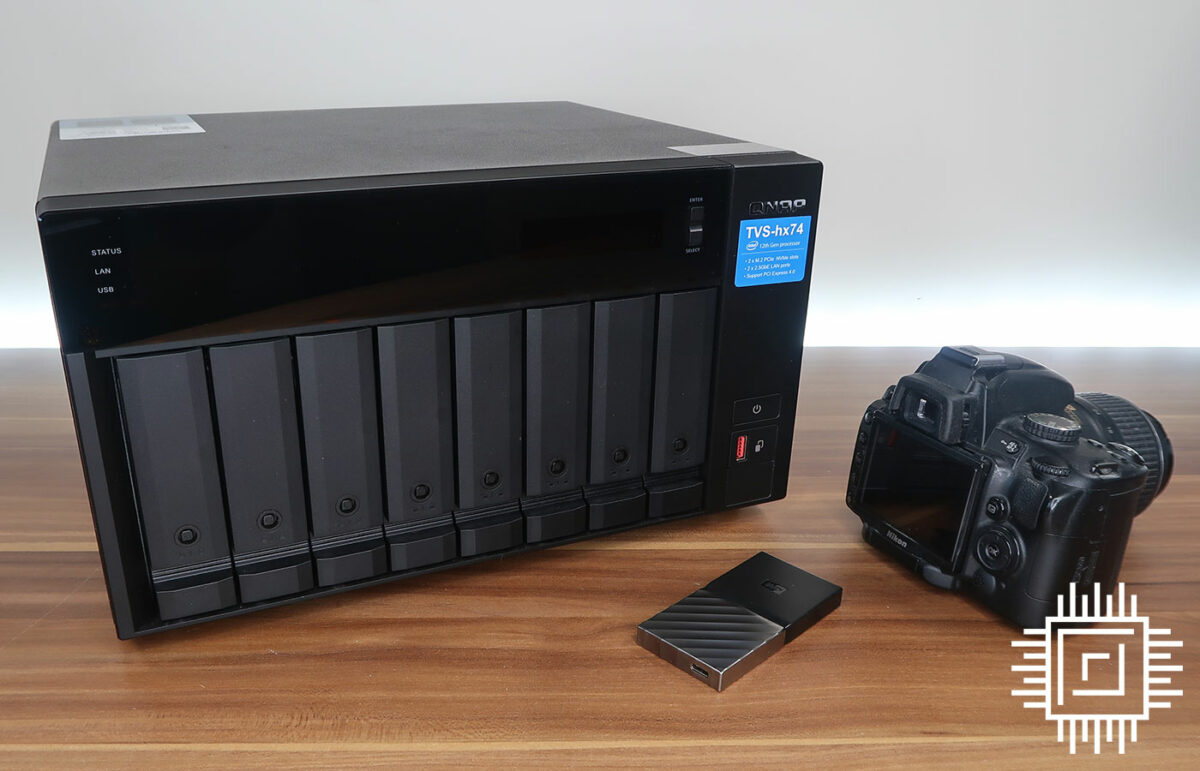 These are powerful products with SMB and enterprise ambition, and if you're willing to foot the bill for an expansive feature set, few turnkey NAS solutions offer this balance of performance and functionality. In the Club386 labs for evaluation purposes is the mid-pack TVS-h874-i5.
Fast and Expandable
From the outside, the hx74 Series, as expected, looks a lot like its hx72 predecessor. All models share a similar aesthetic, with size dictated by the number of drives; our eight-bay review sample measures 188mm × 329mm × 281mm and tips the scales at just over 7kg sans drives. To the right of said bays is the power button and a USB 3.1 Gen 2 Type-A port, supporting one-touch copy at speeds of up to 10Gbps.
As a business-oriented device, we like that QNAP retains an LCD status display at the front, and each lockable 2.5/3.5in storage tray offers tool-free hard disk installation. Two keys are provided, but do note the locks are merely a deterrent. You'll prevent a drive being accidentally pulled, but the plastic build won't stop a determined thief.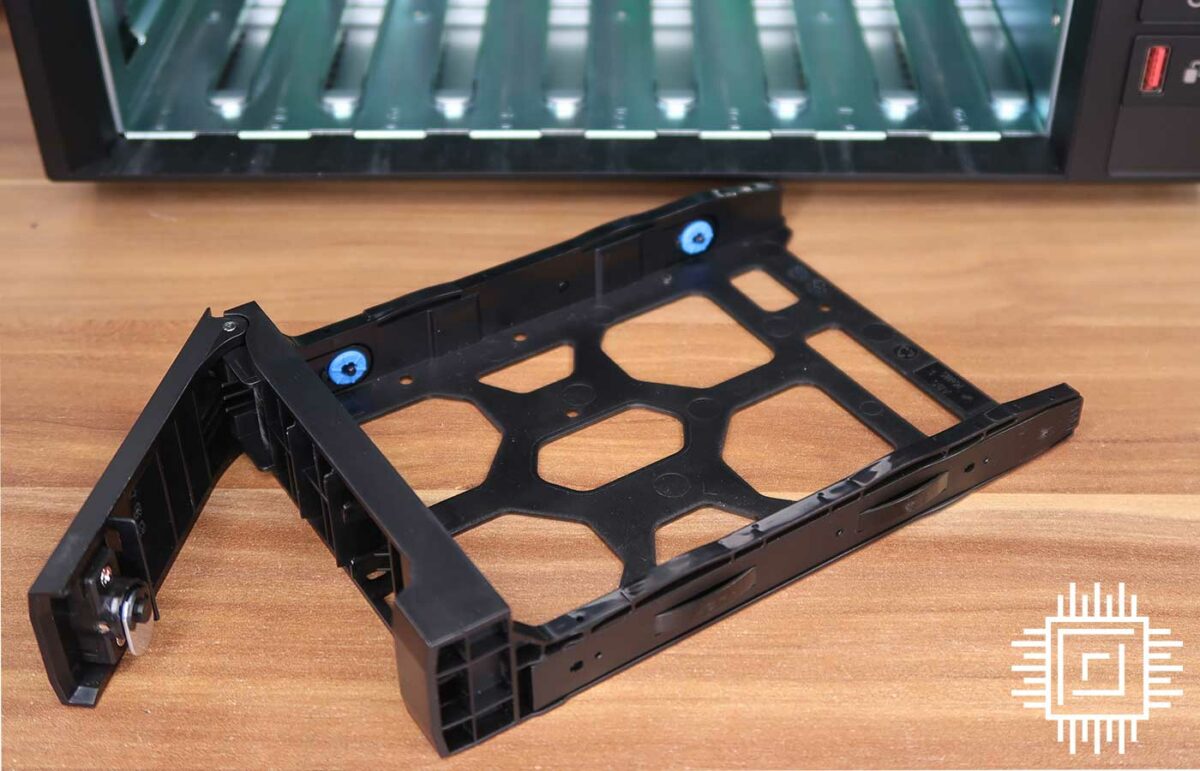 Around back is a dedicated HDMI 1.4b output (limited to 4K30), dual 2.5GbE LAN ports, a further two 10Gbps USB ports (one Type-A, one Type-C), plus a connector for the internal 250W power supply. It's good to see manufacturers finally moving beyond Gigabit Ethernet to faster speeds, though at this price point, we'd like 10GbE included on more hx74 Series models as standard.
QNAP's counter to that, of course, is that excellent expansion opportunity is available from two PCIe Gen 4 slots – one x16 plus another x4 – for those who need it. The manufacturer's portfolio of optional M.2 or network expansion cards is among the most comprehensive in the field, and there's enough bandwidth here to add dual-port 10GbE, 25GbE or even 100GbE connectivity if the need arises.
You could, in theory, install a dual-slot discrete graphics card, though a few potential obstructions come into play. Such a card would need to measure a maximum 169mm x 47mm x 111mm in size, and the 250W PSU offers little wiggle room plus no additional power connectors.
Enthusiast home users in the market for the ultimate Plex server will automatically see the attraction of eight bays and 12th Gen transcoding chops, but be mindful of potential noise given TVS-h874 is cooled by four fans. That's two 120mm for the drives, a 60mm for CPU, plus an even smaller fan built into the PSU. The steady hum is noticeable, and when you add noisy mechanical disks, this isn't a unit best suited to the living room.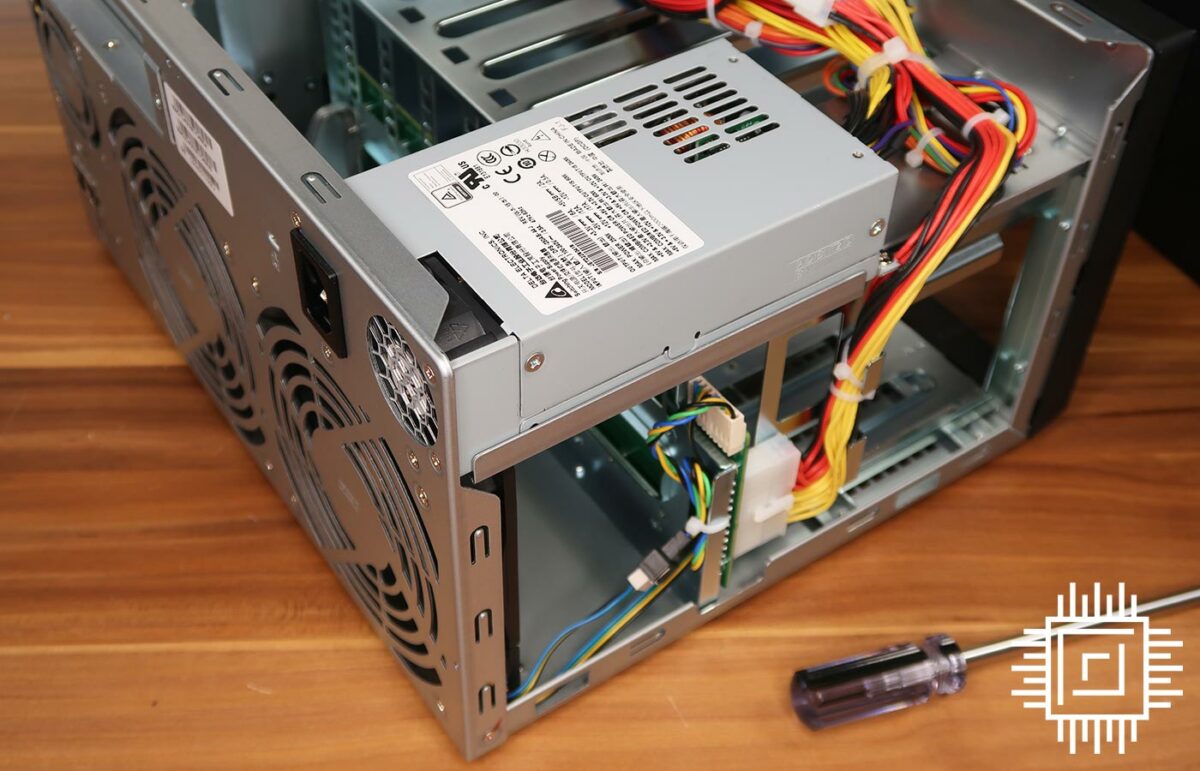 Peeling off the top cover entails removing three screws and on the inside QNAP's large footprint allows ample breathing room for all components. The Intel Core i5 chip resides beneath a good-sized heatsink with nearby fan, and users have convenient access to both DDR4 SO-DIMM slots as well as two M.2 2280 PCIe Gen 4 x4 slots.
Core i5 and Core i7 variants of TVS-h874 come equipped with dual Transcend TS2GSH64V2E3 16GB DDR4-3200 CL22 modules as standard, and this can be upgraded to a maximum of 128GB. Do note, however, the underlying Intel H670 chipset does not include support for ECC. The system ought to boot just fine with ECC memory installed, but error correction would sadly be disabled.
QuTS hero
Despite a few constraints, TVS-h874 is easily the most powerful turnkey NAS we've tested, and such potent hardware requires forward-looking software able to harness that potential. To that end, QNAP's setup wizard begins by giving users a choice of operating systems; QTS, a mid-range platform most readers will be familiar with, and QuTS hero, a ZFS-based OS geared for business.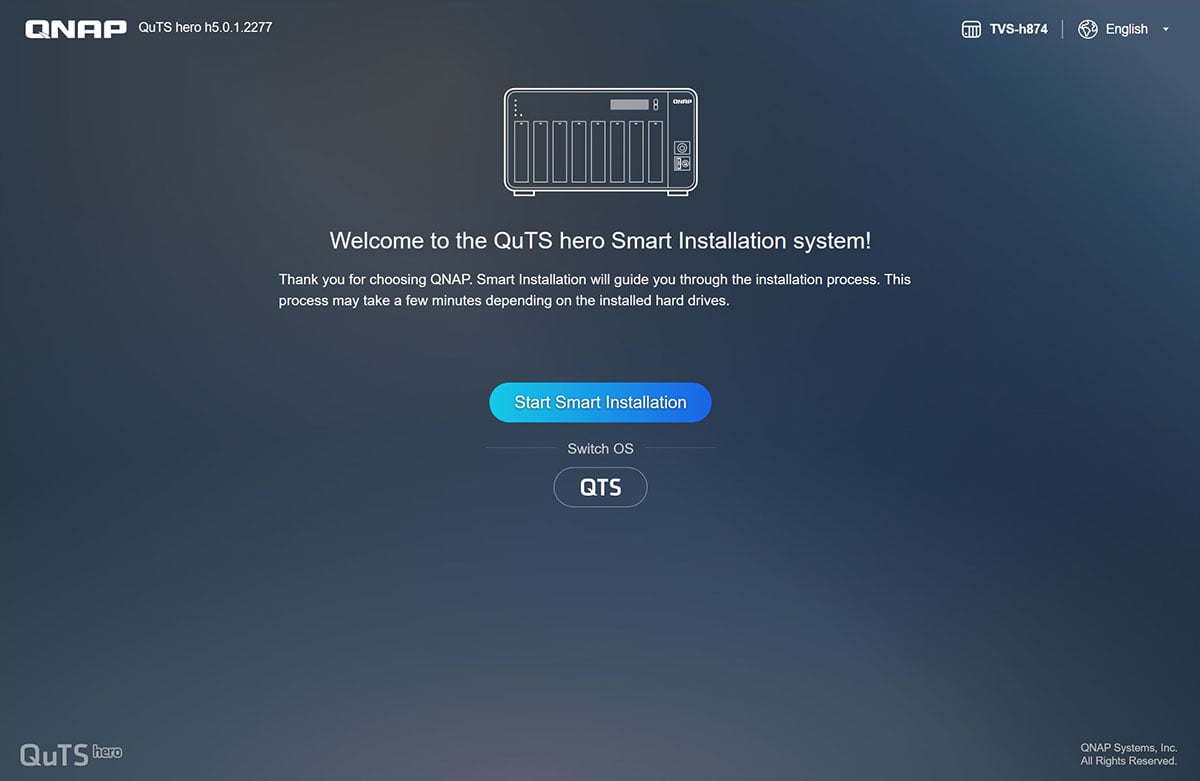 QuTS hero is the default choice, and though users are free to switch to QTS at any time, do be aware that all data will be wiped during the process, making it important to make the right selection from the get-go. Those opting to stick to QTS will appreciate a tried-and-trusted Ext4 file system, less dependability on available RAM, and the ability to add drives to existing RAID groups. Nevertheless, QuTS hero would be our recommended choice, particularly if all bays are already populated.
Built to utilise the forward-looking, 128-bit ZFS file system, QuTS hero promises to "meet the needs of business-critical applications" while addressing the challenges of increased SSD adoption, 8K media and big data. Key to achieving those goals, ZFS enables block-based inline data deduplication, compression and compaction to maximise SSD storage efficiency. Individual shared folders can now weigh up to five petabytes in capacity, end-to-end checksums help guard against data corruption, and with the number of available snapshots increasing to a whopping 65,535, you'll have years of peace of mind even if snapshots are created hourly.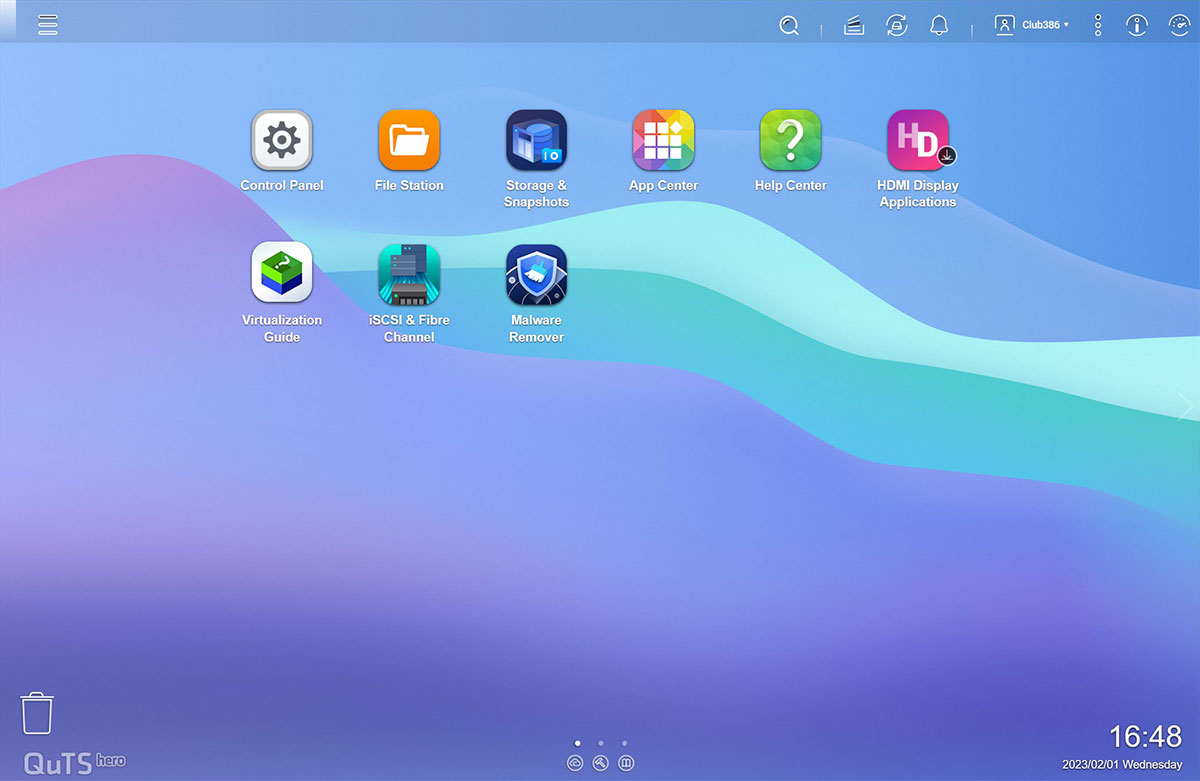 A stumbling block to adoption has been the need for large amounts of memory, a key contributor to ZFS performance. At least 16GB is required for inline data deduplication to even function, though with 32GB at the helm, TVS-h874-i5 arrives suitably well equipped. Still unsure if QuTS hero is the right choice for you? QNAP provides the following table to help compare core functionality.
Operating System
QuTS hero
QTS
File System
ZFS
Ext4
SSD Cache
Read Cache
Read/Write Cache
Read Cache
Write Cache
Inline Compression
Yes
(LZ4 compression, ideal for RAW files and document files)
No
Inline Deduplication
Yes
(At least 16 GB RAM required)
No
HBS with QuDedup for Remote Backup
Yes
Yes
Qtier auto-tiering
No
Yes
Power Failure Protection (Hardware)
Uninterruptible power supply (UPS)
Uninterruptible power supply (UPS)
Power Failure Protection (Software)
ZIL
Copy-On-Write
(Service continues after power recovery)
No
(Risk of filesystem-level corruption on power-loss and system downtime required for "Check File System")
Permission Management
Rich ACLs (14 types)
POSIX ACLs (3 types) + certain special permissions
Capacity Expansion
Upgrade RAID capacity
Change higher capacity disk drives
Attach expansion enclosures/JBODs
Add a disk drive to a RAID group
Upgrade RAID capacity
Change higher capacity disk drives
Attach expansion enclosures/JBODs
Data Security
Better
(Self-Healing & Copy-on-Write)
Standard
Overall Performance
Requires higher-performance CPU and more memory
Better
Recommendation SSD Configuration for Video Editing Applications
Use SSD Pools

Note: Set the block size 128K when creating Folders/LUNs
Editing (from original/RAW files): Use SSD Pools
Post production: Enable Read/Write cache

Note: Set the block size to 32K or 64K when creating Volumes, and choose "All I/O" for cache mode.
Whichever path you choose, it is worth mentioning that both QuTS hero and QTS retain a practically identical interface that IT admins may already be accustomed to. Optimised for multi-tasking, QNAP's desktop-like GUI is quick to get around, highly customisable, and crucially carries the same App Center. That means all the apps you're used to deploying on QTS are present and accounted for on QuTS hero.
A tip for first-time setup: QNAP's flexible approach to drive deployment allows M.2 SSDs to be used for caching or storage pools. It makes implicit sense to have apps run from a high-speed drive, so be sure to create your first pool on the SSD(s); it will automatically be designated as the system pool.
Performance Potential
With such a broad array of configuration options, network-attached storage performance can be heavily dependent upon disk drives, infrastructure and vendor-specific settings. For the purpose of our tests, the TVS-h874-i5 is outfitted with half-a-dozen 8TB Seagate IronWolf NAS hard disks and a single WD Red SN700 500GB M.2 SSD.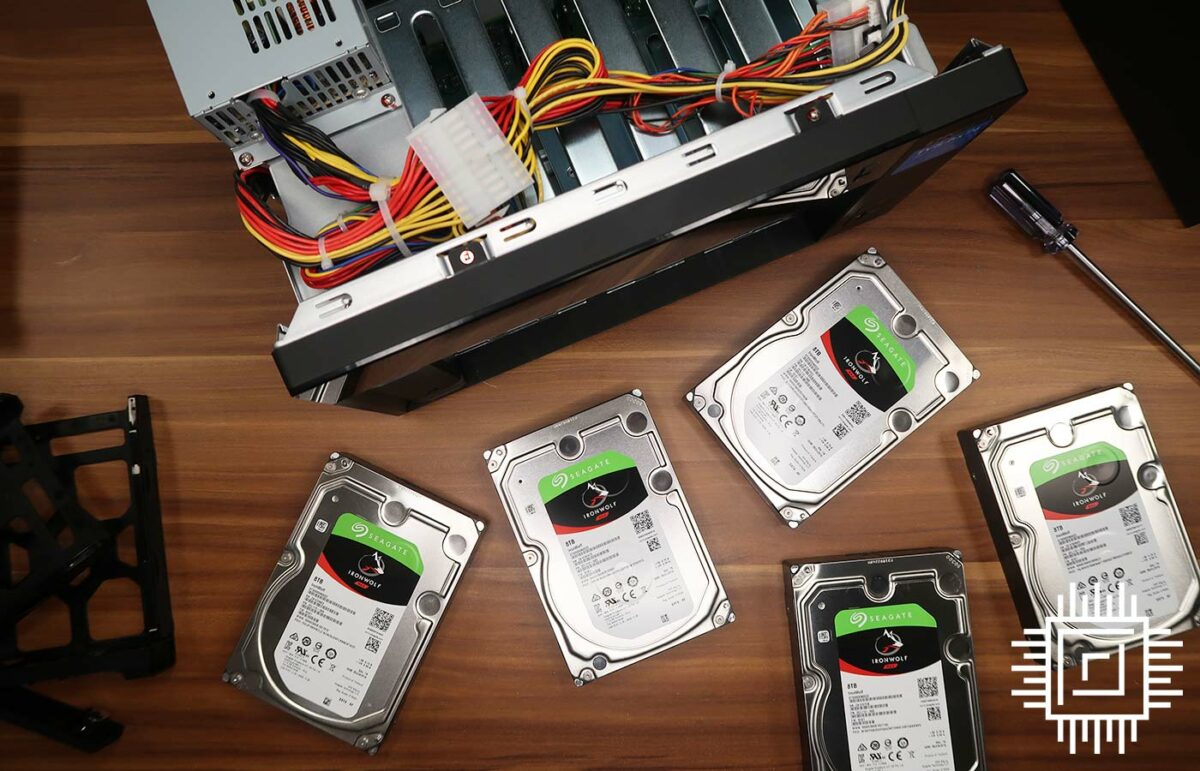 The NAS is attached to our Ryzen 9 5950X client PC via an Asus XG-C100C 10GBase-T PCIe Adapter and high-speed unmanaged switch.
For those concerned about running costs – something we're all increasingly mindful of – the TVS-h874-i5 draws 96W from the wall with all disks active. Allowing the drives to enter standby after a predefined period of inactivity reduces idle power consumption to 47W.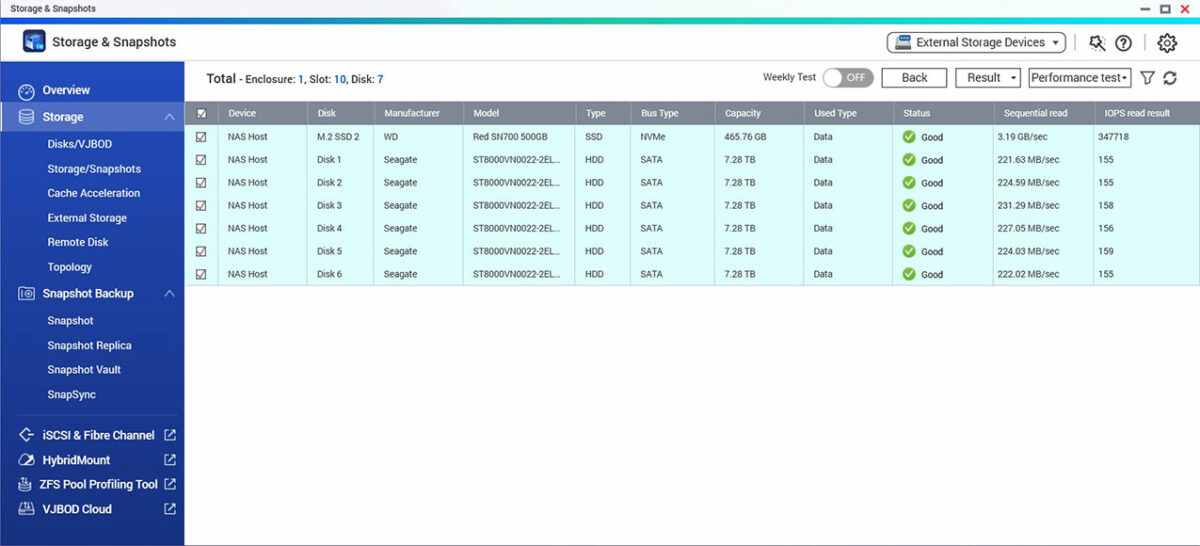 QNAP's built-in performance tests suggest nothing untoward with sequential read speeds. The 500GB WD Red SN700 M.2 SSD gets close to official figures at nearly 3,200MB/s, while each 8TB Seagate IronWolf HDD delivers expected speeds of ~220MB/s.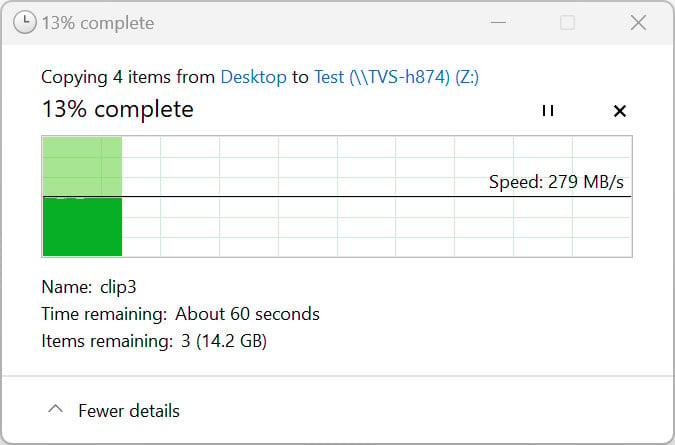 With our storage pool spanning six mechanical drives, it is all too easy to saturate a single 2.5GbE interface with a simple Windows file transfer to the NAS. This is merely scratching the surface of what the TVS-h874-i5 is capable of, though you'll need the requisite supporting hardware to explore possibilities.
Have a switch supporting 2.5GbE link aggregation? QNAP's in-house benchmarks suggest sequential throughput will climb to 590MB/s. Planning to add a 25GbE PCIe expansion card and, say, eight SATA SSDs in a RAID volume? Expect to see read and write numbers in the region of 2,950MB/s. Take note, content creators; at these speeds, there's scope for TVS-h874 to handle real-time 8K video editing without breaking a sweat.
Conclusion
QNAP's TVS-h874 is a formidable turnkey NAS intended to tackle everything from virtual machines to high-resolution video editing. Armed with a 12th Gen Intel Core i5 processor and 32GB of DDR4 memory, it is easily the most capable NAS we've ever tested, and at £2,500 for a barebone configuration, is priced as such.
Comprehensive out-the-box specs hold the unit in good stead, yet it's the amount of expandability that makes the eight-bay NAS an attractive long-term investment. PCIe Gen 4 expansion, dual M.2 slots and a ZFS-based operating system take QNAP's already comprehensive feature set and add an option to turn the dial right the way up to 11.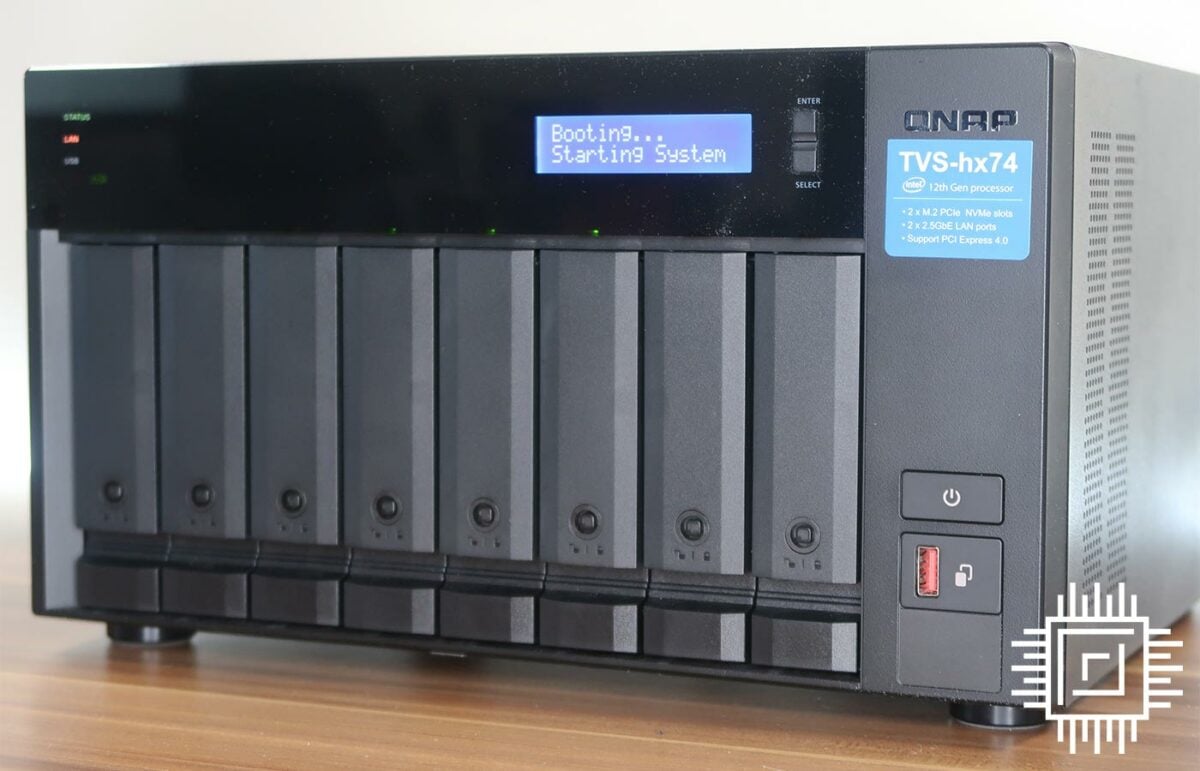 QNAP TVS-h874
Verdict: An eight-bay desktop NAS delivering powerful performance, extensive functionality and ample room to grow.
---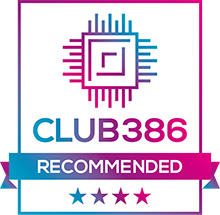 Pros
Potent 12th Gen Intel CPU
32GB memory
Three 10GB/s USB ports
Advanced ZFS file system
Two dedicated M.2 bays
Cons
Lacks support for ECC
10GbE still optional
---
Club386 may earn an affiliate commission when you purchase products through links on our site. This helps keep our content free for all.
Rest assured, our buying advice will forever remain impartial and unbiased.