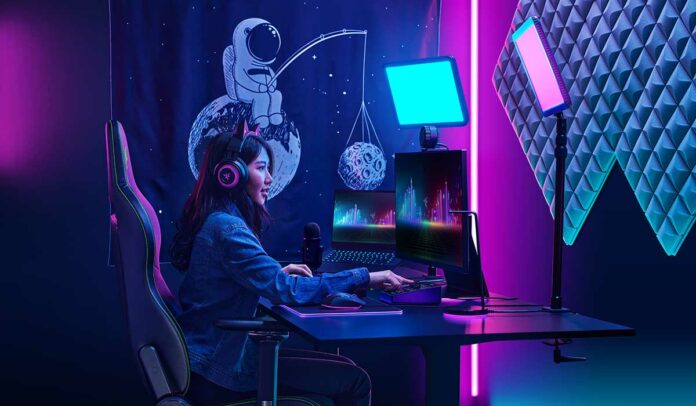 The global streaming market continues to boom and Razer is hoping to secure its slice of the pie with a trio of new hardware accessories.
In the all-important lighting department, Razer's Key Light Chroma promises to "set the mood and encourage audience interaction" with the ability to display just about any colour the heart desires. Integrated into Razer's Chroma ecosystem, the key light can be synced with other Razer hardware and controlled via mobile app or Razer Synapse 3 desktop software.
Brightness is rated at up to 2,800 lumens, with temperature ranging from 3,000K to 7,000K, and a desk-clamp 1.3m pole with 1/4in ball joint is included as part of the package alongside a 53W power adapter.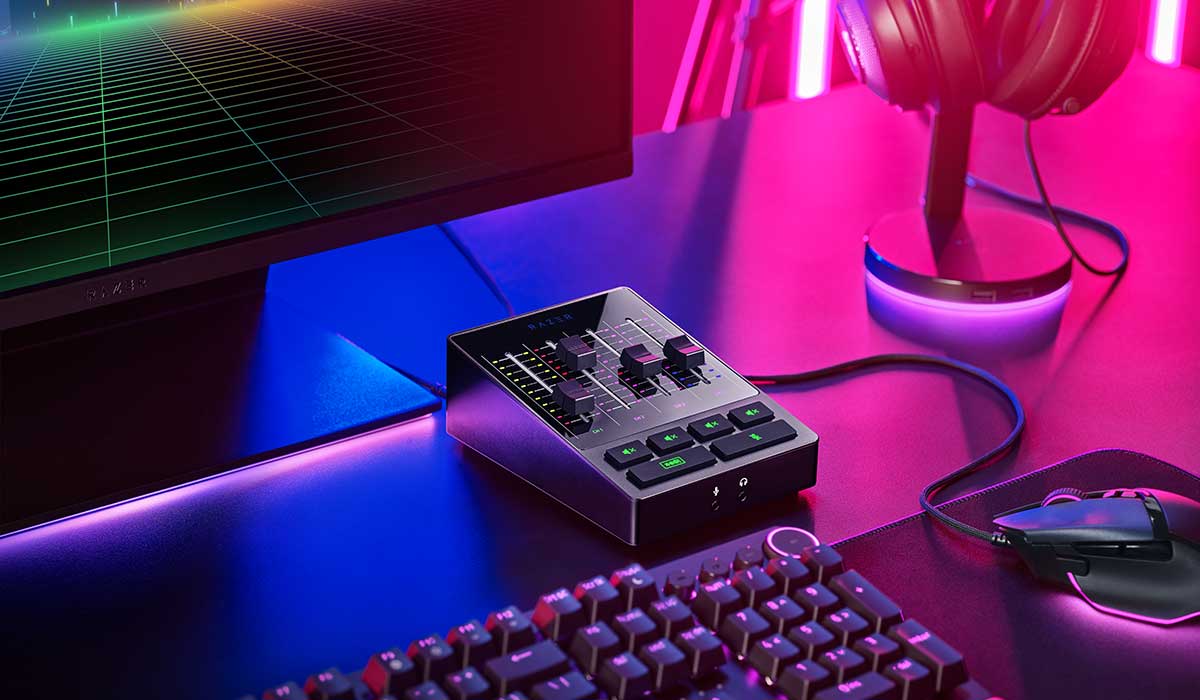 On the broadcast front, there's a desktop Audio Mixer to help streamers manage multiple audio sources quickly and efficiently. Reasonably compact at 155mm x 115mm x 55mm, the analogue mixer offers four sliders for streamlined hardware control, as well as dedicated mute buttons for each channel. There's even a 'bleep button' to immediately cut the stream when you feel an expletive is imminent.
Connections include 6.35mm XLR, 3.5mm line-in, 3.5mm line-out, 3.5mm headphone, 3.5mm microphone, as well as UCB-C and optical audio. As you would expect, Audio Mixer offers full control via Synapse and colourful customisation through Chroma RGB. Built-in processing effects include voice changers, echo and reverb, and though the primary use case is Windows PCs, Razer confirms games consoles are also compatible.
Finally, the Seiren BT clip-on Bluetooth mic is at hand for wireless audio recording while on the go. Armed with a 6mm omnidirectional mic, the IRL-compatible Seiren BT ships with a choice of foam or fur windsocks, designed for indoor or outdoor noise reduction, respectively.
Plenty for fans of the three-headed snake to get excited about, but as expected there is a premium to pay for the Razer badge, Chroma RGB and Synapse integration. Key Light Chroma retails at €300, Audio Mixer will set you back €260 and you can add another €110 for the Seiren BT mic. All three are available immediately.