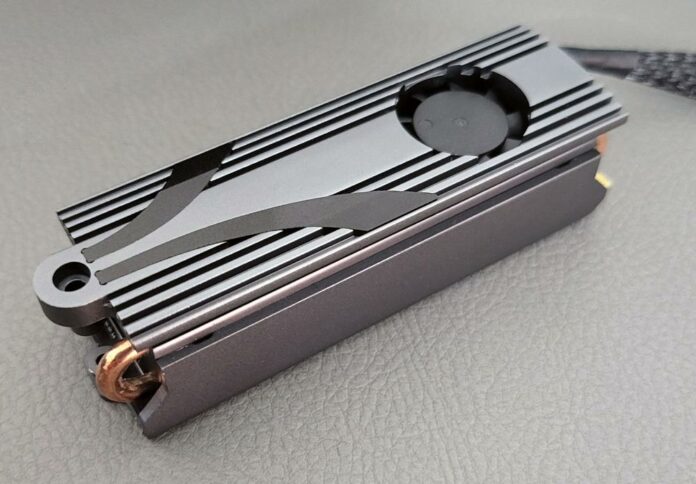 Sabrent's Rocket X5 M.2 SSD has been benchmarked, showing super-fast sequential speeds.
According to Serve The Home's tests, the Rocket X5 managed to reach 14,179MB/s sequential read / 12,281MB/s write on Crystal DiskMark 8.0.4. At least for reading, Sabrent's offering is close to maxing out the PCIe 5.0 x4 interface bandwidth, if not already, when factoring in any overheads. The SSD is actively cooled by a grey (probably aluminium) heatsink featuring a small fan plus a copper heatpipe, with the fan, allegedly, not having a high-pitched noise, which is welcome.
Serve The Home didn't specify the hardware chosen by Sabrent, but with specs near the best M.2 products, we assume it's using Phison's E26 controller and Micron's 232-layer NAND.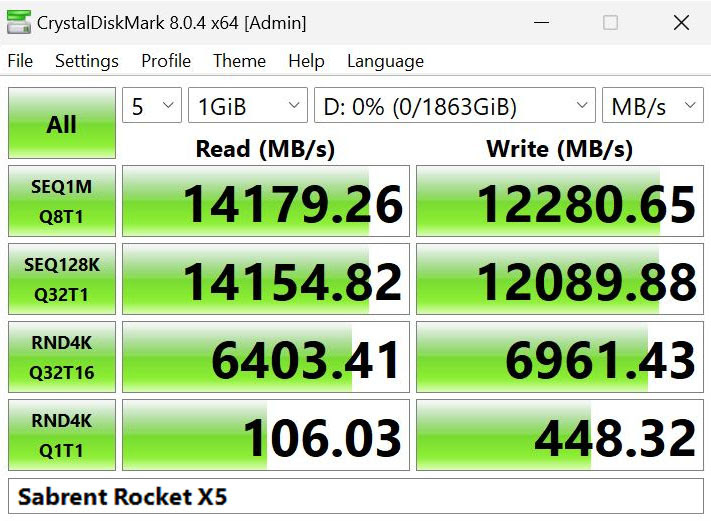 The Rocket X5 is Sabrent's first attempt at a Gen 5 drive, and with numbers like these, potential owners will surely be impressed. Just keep in mind that CDM doesn't represent 100 per cent real-world performance, which can be impacted by many things.

We don't know if these figures are thanks to better cooling or a result of firmware optimisations, but somehow, Sabrent has managed to increase the speed of its SSD from 12,398MB/s read / 11,844MB/s write announced back in March to what you see above.
However, note that some tests were run using a higher thread count (16) which can inflate the results compared to (old CDM) single-thread benchmarks, so keep this in mind when comparing to other drives.
While we don't have any release dates, the Rocket X5 looks primed for lift off.