Jump to: Aesthetics | Performance | Conclusion
While most enthusiast brands have branched out into other categories, Sapphire has for the most part opted to stick to Radeon graphics cards. No bad thing when you consider that the firm's custom coolers are among the best in the business, but on the consumer front we've always felt there's scope for Sapphire to do more.
There have been sporadic attempts at motherboards and mini PCs in the past, and having recently celebrated its 20th anniversary, Sapphire fans are now being treated to the Hong Kong-based manufacturer's first-ever AIO liquid coolers. Enter the Nitro+ S240-A and S360-A, priced at £130 and £170, respectively.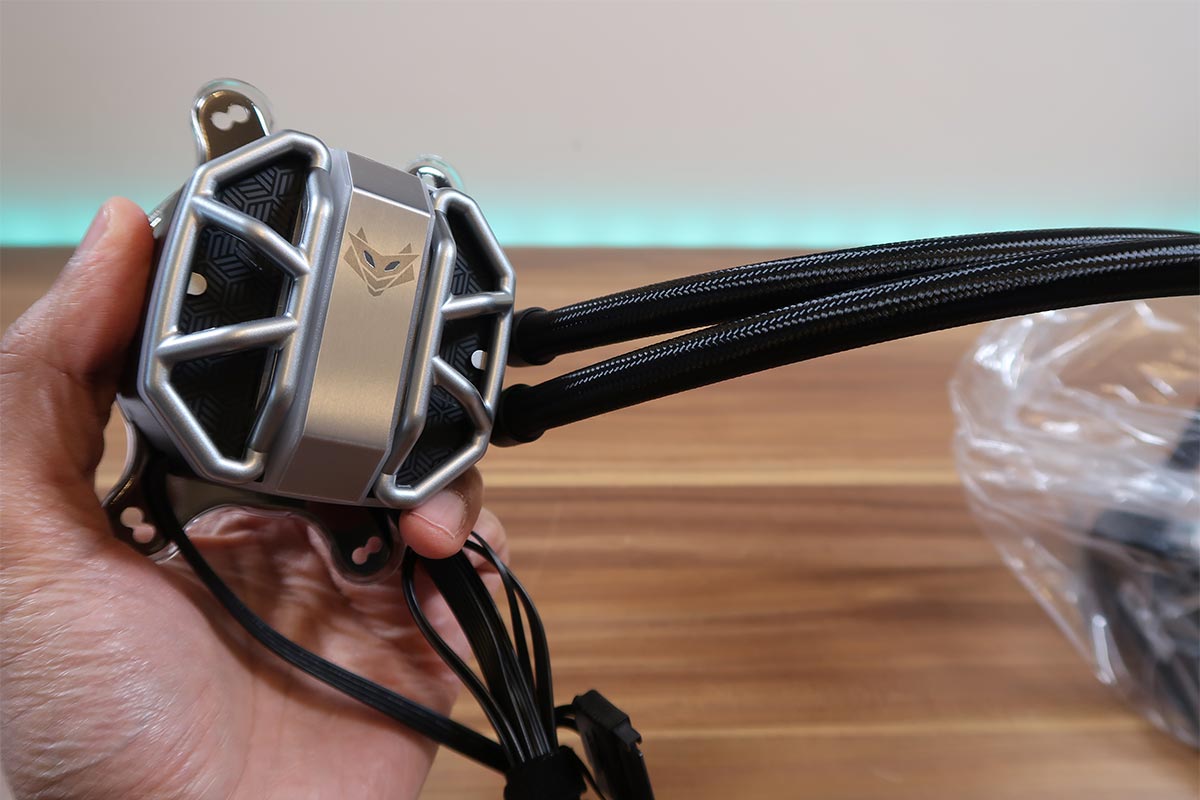 Pricing is a tad ambitious for a newcomer to the space, yet much of that is dictated by the underlying platform. In keeping with a long list of competitors, Sapphire chooses 7th Gen Asetek as its foundation. Packaging and installation all feels familiar, yet if there is one thing that sets the Nitro+ apart, it is the striking pump-cap design.
Spider-Man aesthetics and a web of cables
Albeit plasticky to the touch, the unusual spider-esque cap looks surprisingly good inside the Club386 test platform, with tidy aRGB lighting, a neat underlying pattern and a silver finish that happens to blend well with our Nitro+ graphics card.
It doesn't come in red and blue, sadly, yet Sapphire succeeds in offering an easy way to add visual interest to a high-end build. The caveat for those who want to keep things tidy is that overall elegance is compromised somewhat through a messy selection of cabling.
Emanating from the CPU block is a four-pin pump connector, a four-pin CPU fan connector, a three-pin aRGB connector, another three-pin aRGB header for connecting an external device, SATA power, and a six-pin fan connector to which you attach the bundled three-way radiator fan cable.
Phew, that's a whole lot of wires. To Sapphire's credit each is labelled and the manual is suitably comprehensive, but do note the supplied fans are attached in sequence using proprietary five- and seven-pin connectors, making them incompatible with regular motherboard headers.
Cluttered cabling tends to be a common frustration with illuminated AIO solutions, but liquid-cooling aficionados may argue that a few extra cables are less offensive than a hulking air cooler. In terms of exact specifications, Sapphire's block measures 76.2mm x 72.8mm x 59.2mm, touts a pump speed of 800-2,000RPM and attaches to an aluminium radiator via 400mm of nylon-sleeved EPDM tubing.
Sapphire has opted against radiator branding – it's all-black, all around – but the fans included with our 273mm x 120.5mm x 52.5mm unit do add some aRGB flair. Each brushless, 12-blade blower can hit a top speed of 2,400RPM and is identified as model FD1225H12D from Chinese manufacturer FirstDO.
We don't expect any performance issues on our Ryzen 9 5950X test platform, but it's a shame Sapphire doesn't offer a 280mm model at launch; we much prefer 140s throughout. The warranty could be deemed relatively stingy, too, with the S240-A backed by two-year cover for the pump, radiator and tubing, plus three-year cover for the radiator fans.

Show your support for impartial Club386 reviews
Club386 takes great pride in providing in-depth, high-quality reviews built on honest analysis and sage buying advice. As an independent publication, free from shareholder or commercial influence, we are committed to maintaining the standards our readers expect.
To help support our work, please consider making a donation via our Patreon channel.
Installation and Performance
Outside of cable management getting up and running is a cinch. Nitro+ AIO coolers support all the latest Intel (including LGA1700) and AMD sockets bar Threadripper, and perhaps as a nod to Ryzen's success, the AMD mounting kit is pre-attached right out of the box.
Installation on our Ryzen 9 5950X test platform proved straightforward enough and we're comparing performance directly against our default cooler, Corsair's iCue H115i Elite Capellix. With fan speeds configured to 600, 1,200 and max RPM, we record noise output at each setting and log temperature during an extended multi-core run of Cinebench R23.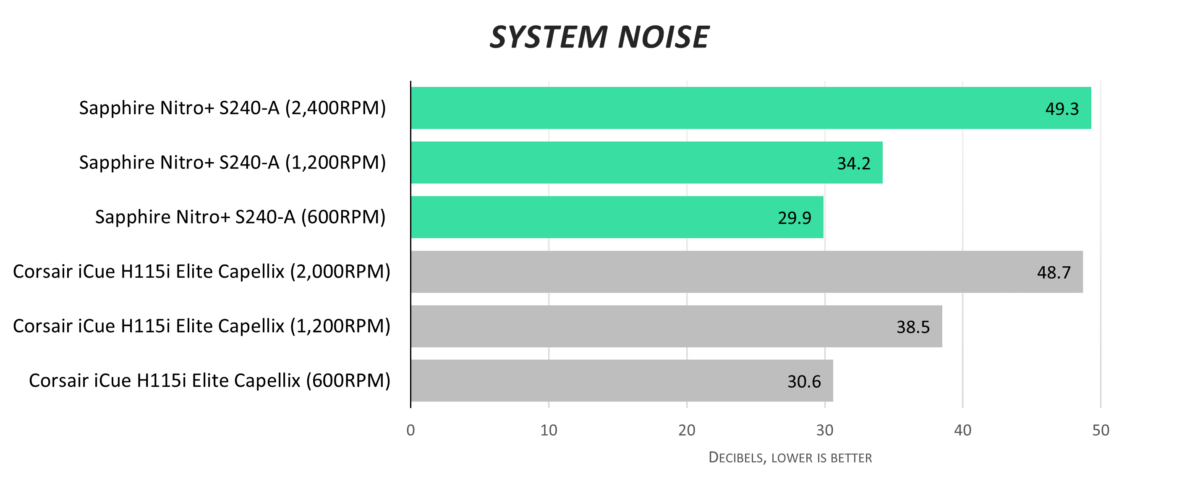 Corsair's more expansive 280mm solution should lead the way, yet we see Sapphire's S240-A put up some decent numbers. Indeed, despite smaller fans, the Nitro+ is able to run quieter at both 600 and 1,200RPM. The difference at the latter speed is surprisingly noticeable inside our mid-tower build.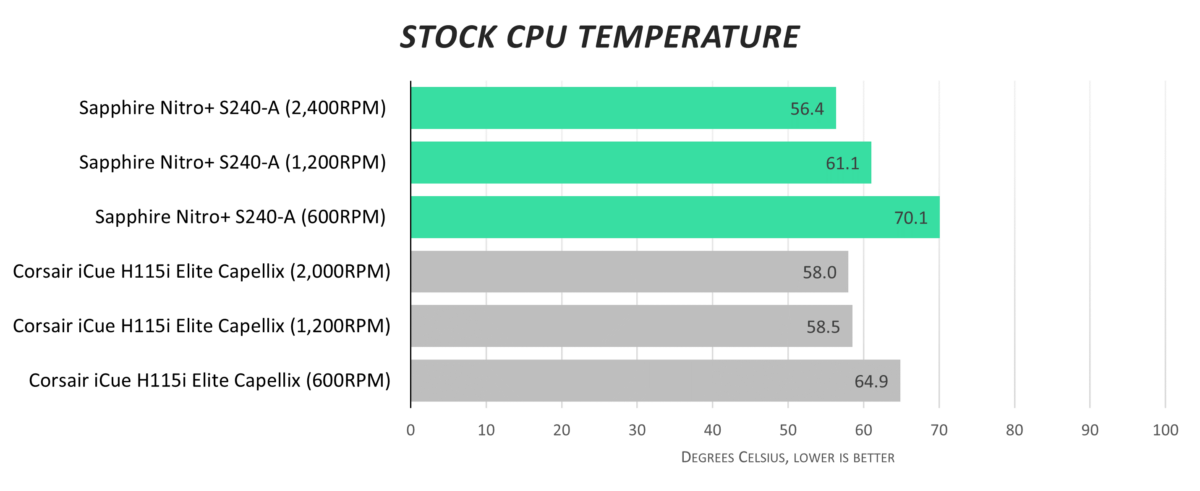 Sapphire does well to keep noise down to a comfortable level, but cooling performance naturally isn't going to be a match for the 280mm Corsair at lower speeds. Still, 70°C with the fans operating at just 600RPM is perfectly cool and extremely quiet.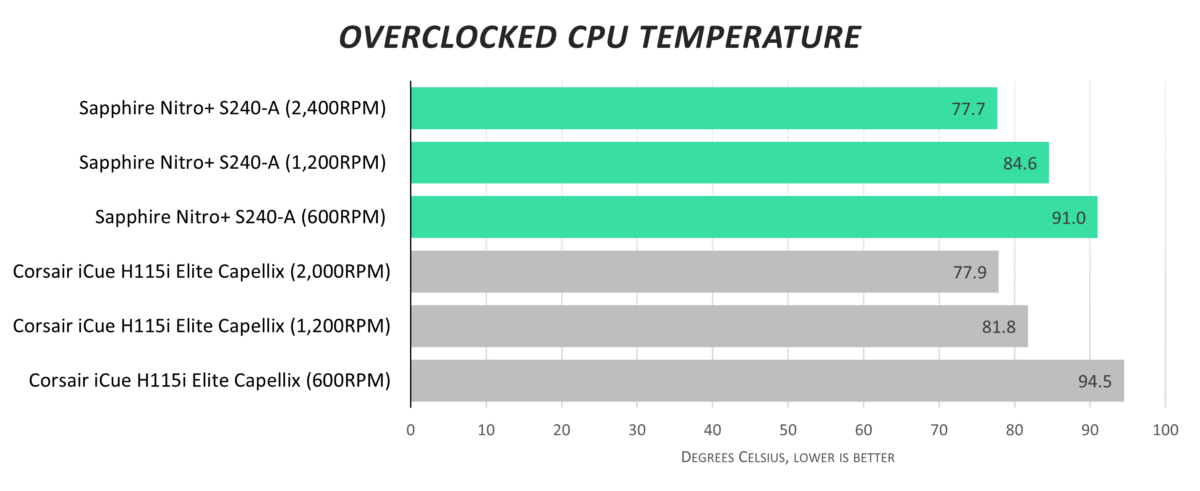 Stock temperatures aren't a problem for coolers of this ilk, but apply 1.3V and a 43x multiplier across all 16 cores, and excess heat becomes immediately apparent. In this more challenging scenario Sapphire's 12-blade, high-pressure fans do a better job of contesting our 280mm stalwart. Courtesy of a higher maximum fan speed the S240-A manages to keep peak temperature a smidgen lower than the Corsair.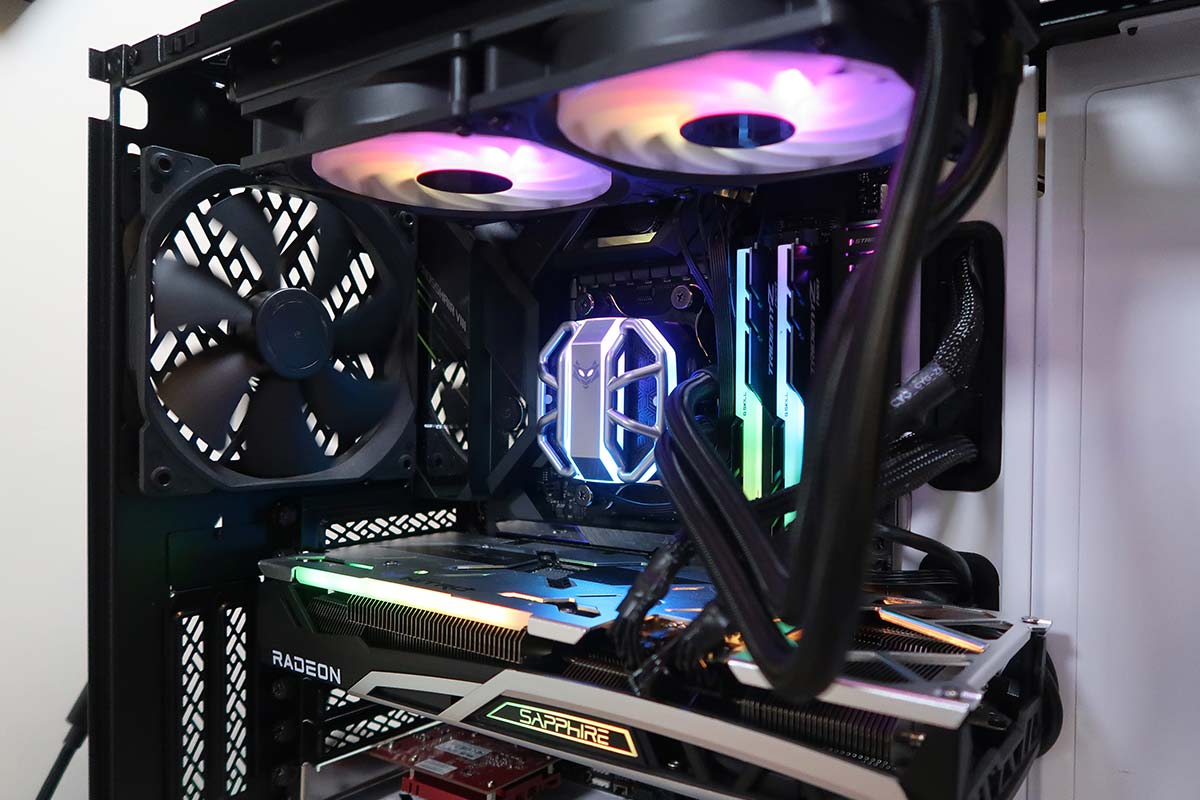 Summary
Sapphire's foray into the world of all-in-one liquid cooling delivers predictable high-end performance in keeping with myriad other Asetek-based designs. The key differentiator is a unique pump head that's unlike anything we've seen thus far. Guaranteed to divide users, the "spider" pump-cap design is without doubt an acquired taste, yet offers something a little different to the norm and is certain to turn heads.
There's room for improvement in cable management, and we'd like to see a 280 model, but above all else we come away wondering if this is Sapphire's first step toward a wider product catalogue. Here's hoping.
Sapphire Nitro+ S240-A AIO CPU Cooler
Pros
Unique pump design
Predictable Asetek performance
Straightforward installation
Cons
Lots of cabling
No 280mm model
Relatively short warranty
Club386 may earn an affiliate commission when you purchase products through links on our site. This helps keep our content free for all. Rest assured, our buying advice will forever remain impartial and unbiased.