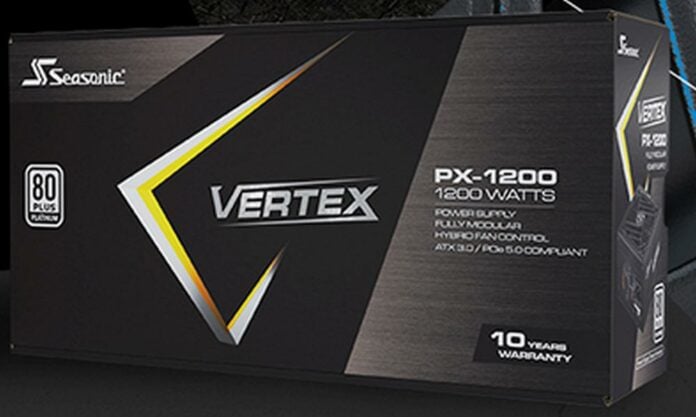 Seasonic has revealed Vertex power supplies featuring ATX 3.0 support with 80 Plus Gold and 80 Plus Platinum efficiency certifications, ready for next-gen Nvidia GeForce RTX 40 Series graphics cards.
Like many manufacturers, Seasonic is updating its range of PSUs with models following the ATX 3.0 standard. With the arrival of RTX 4000 cards, we enter a new era, where power delivery systems, more than ever, play an important role in the function of our key components. Issues such as power spikes and cable longevity have started to make headlines lately, and for enthusiasts choosing a PSU is no longer a case of picking whatever has enough watts and calling it a day.
Renowned manufacturer Seasonic is planning no less than eight models, 1200W, 1000W, 850W and 750W, each available with 80 Plus Gold or 80 Plus Platinum certification and backed by a 10-year warranty as standard. All variants are cooled by a 135mm Fluid Dynamic Bearing (FDB) fan offering a zero dB mode and include protections like OPP / OVP / UVP / SCP / OCP / OTP.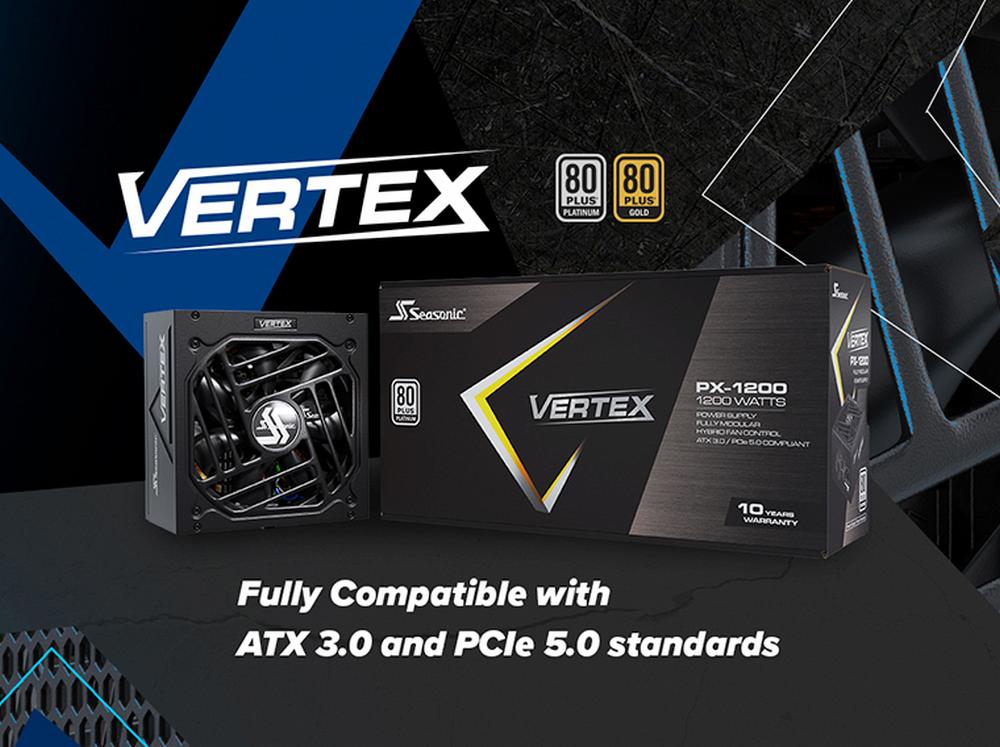 The entire range is fully modular and features the famous (12VHPWR) 16-pin PCIe 5.0 cable/connector which is capable of delivering up to 600W to graphics cards via a single link, making it perfect for thirsty next-gen cards.
While Seasonic didn't go into too much detail about its upcoming Vertex lineup, we do at least get to know pricing which may seem a bit high, but as they say, quality has a cost. These power supplies will be available in mid-December 2022 across Europe, North America, and Asia at the following recommended prices.
80 Plus Gold models MSRP:
Vertex PX-1200: $259.99 / €309.00
Vertex PX-1000: $219.99 / €259.00
Vertex PX-850: $189.99 / €229.00
Vertex PX-750: $169.99 / €199.00
80 Plus Platinum models MSRP:
Vertex GX-1200: $229.99 / €269.00
Vertex GX-1000: $199,99 / €239,00
Vertex GX-850: $169,99 / €199.00
Vertex GX-750: $149,99 / €179.00