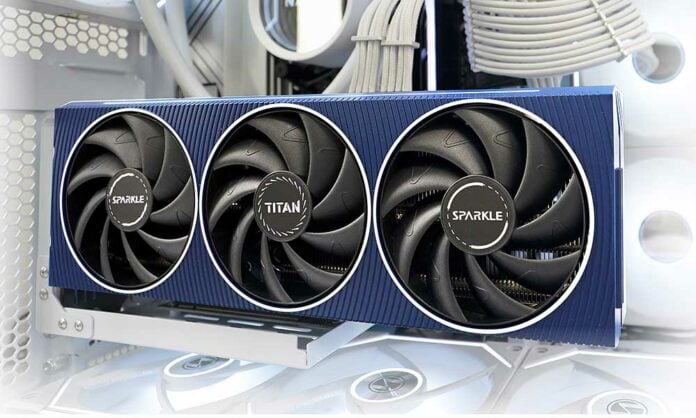 Hands up, who remembers Sparkle? Those who've been around the PC component scene as long as us will recall the Taiwanese brand as a purveyor of eye-catching graphics cards.
Despite having been a longstanding Nvidia GeForce partner, Sparkle withdrew from the consumer graphics market over a decade ago and is now returning from exile as an officially authorised AIC partner for Intel Arc Series graphics cards.
For those questioning the brand's heritage, it's worth pointing out that Sparkle has been in the component manufacturing business since 1982 and has genuine experience in graphics, motherboards, Thunderbolt docking stations and embedded solutions.

Commenting on the rebirth, general manager Willie Huang states "Sparkle is dedicated to creating a creator-friendly working environment, ranging from industrial graphics, external GPU to docking stations… As the last piece of the puzzle, Sparkle Intel Arc Graphics, featuring an advanced Xe Media engine and AV1 encoder, has fully completed our product line and fulfilled the requirement of the desktop community."
The show gets started with a trio of graphics cards ready to ship in America, EMEA, Asia-Pacific and Japan. Sparkle's Arc A750 Titan OC Edition is a triple-fan, 2.5-slot solution carrying 8GB of memory and a $259 MSRP. The Arc A750 Orc OC Edition 8GB slims down to a dual-fan, 2.2-slot form factor, with pricing dropping to $239, while the entry-level Arc A380 Elf is a single-fan, dual-slot card focussing on value at $139.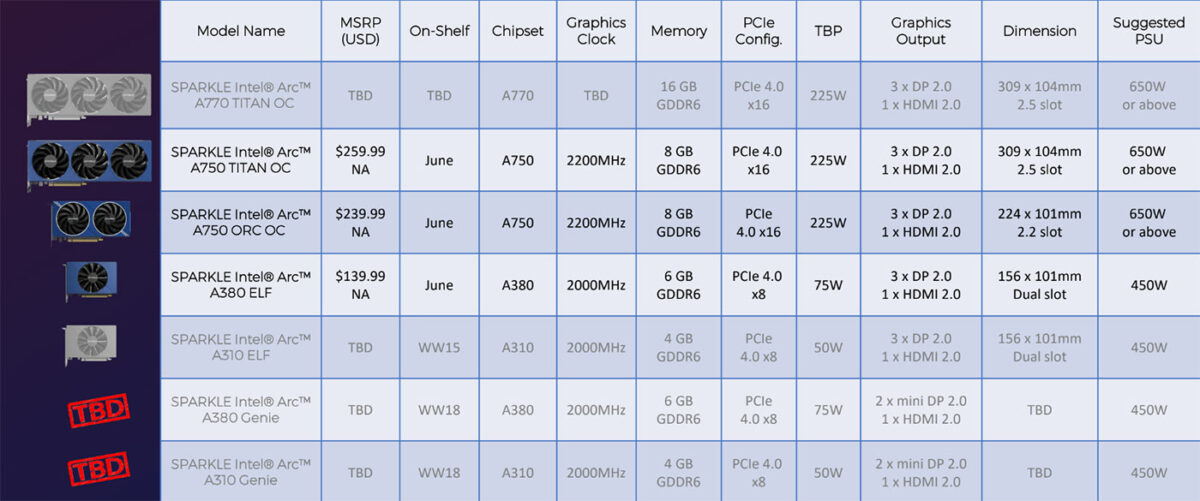 Sparkle does intend to launch a full portfolio of Arc products, meaning we ought to see an A770 16GB in the near future, but the firm has high hopes for the long-term prospects of discrete Intel graphics cards. While Sparkle appears late to the Intel Arc party, the current generation of cards is merely a stepping stone, as the manufacturer already has one eye on next-generation Battlemage. We fully expect to see Sparkle cards ready to go when Intel's second wave arrives in 2024, and the firm's commitment extends to future generations, including Celestial and Druid.
Club386 had the opportunity to handle some of the aforementioned products at Computex 2023, and true to Sparkle's history, the striking blue colour catches the eye, RGB lighting is tastefully implemented and build quality feels solid throughout with full-metal backplates.
Despite a lukewarm reception to Intel's first-generation Arc graphics cards, we're hearing Battlemage could surprise a few folk and set a cat among the pigeons. Such is the growing sense of belief that Sparkle is likely to be joined by other, larger players. Club386 has it on good authority that major AIBs are giving serious thought to becoming launch partners for Arc Gen 2. Watch this space.