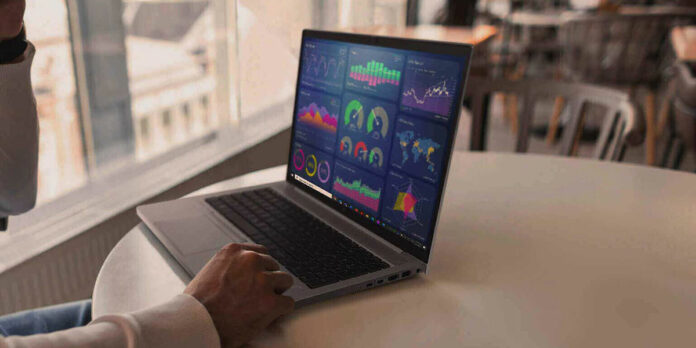 The following text is provided by AMD and published verbatim.
Now more than ever, businesses are making more sustainable choices, from reducing waste and using sustainable materials to shifting to renewable energy sources.
While it might not seem like an obvious step to take, businesses should also take a look at their IT hardware to ensure they're using eco-friendly equipment. Laptops and other electronics often feel like a necessary evil that just aren't sustainable or eco-friendly. Many might feel like devices such as laptops are almost indispensable, and thus not sustainable, and that the greenest laptop to use is the one you already own.
However, choosing the right hardware – such as an energy and power-efficient laptop – could actually take your business one step closer to meeting its sustainability goals.
For this reason, companies need to look at the power consumption of PCs, as one of the easiest ways to minimise your business' carbon footprint is by rethinking how you purchase your business hardware. An energy-efficient PC makes it possible to reduce ongoing electricity costs.
AMD's Ryzen 6000 PRO processors make it easier than ever to ensure you're making good choices. Based on the "Zen 3+" architecture, the CPUs utilise adaptive power management features that adjust speed quickly to ensure that they deliver power efficiency, with AMD delivering a 50% reduction in power consumption from 2018 to 2022.*
Compared to last-generation AMD Ryzen processors, AMD Ryzen 6000 PRO Series processors can use up to 30% less power for video conferencing and deliver up to 45% longer battery life for Microsoft Teams in comparison to Intel's Core i7-
1260P.** This means AMD Ryzen 6000 PRO Series CPUs can deliver up to 26 hours of battery life on a premium business laptop**, ensuring your employees don't need to be tethered to a socket.
That's not a result of compromising performance. Compared to the competition, AMD Ryzen 6000 PRO Series processors yield up to 2x more performance per watt vs the competition, utilising up to 67% fewer watts per core and up to 39% faster rendering.*** The AMD Ryzen 9 6900HS processor, for example, has been shown to offer up to 2.6X more power efficiency than "Alder Lake" i9-12900HK.****
This leadership power efficiency – backed by AMD's collaboration with leading energy regulators – is helping to enable thinner, lighter, more portable business laptops. With many businesses now embracing hybrid working, enabling employees to split their time between their home and the office, you can be sure you're upgrading to devices that will support your workers wherever they are.
AMD's Ryzen 6000 PRO processors can already be found in a number of thin, light and powerful laptops that put eco credentials at the forefront. The HP EliteBook G9, which packs an AMD Ryzen 7 PRO 6850U processor, has been built for the earth-conscious. It's crafted from aluminium that has been manufactured from reclaimed ocean-bound plastics, uses recycled plastics in the screen bezel and keycaps, and ships in fully recyclable packaging.
Similarly, the Lenovo ThinkPad Z – which packs an AMD Ryzen 7 PRO 6860Z CPU into its thin-and-light chassis – sports a stylish recycled aluminium frame. The ecofriendly materials go beyond the laptop itself with 100% recyclable and compostable bamboo and sugar cane packaging and an AC power adapter that has been made from 90% post-consumer content.
These laptops, thanks to their high-performance AMD Ryzen 6000 PRO processors, are built to last, too, which means you won't have to replace your hardware any time soon, lessening your organisation's contribution to the growing problem of electronic waste.
What's more, not only are AMD's latest mobile processors built to last, but they are also fully optimised for both modern and legacy software, which means you don't have to implement a full rip-and-replace strategy. This isn't just good news for your sustainability strategy, but it will also save your business time, money and stress.
---
*Based on testing by AMD as of 12/14/2021 using AMD internal power sampling and logging methodologies to capture total system power (TSP) and overall battery life in Microsoft Teams 3×3 teleconferencing, Google Chrome web browsing, and Netflix streaming video playback. System configuration: AMD reference motherboard(s), Ryzen 7 5800U @ 15W and 2x8GB LPDDR4, Ryzen 7 6800U @ 28W and 2x8GB LPDDR5, 1080p eDP PSR display with Varibright at 150 nits, Samsung 980 Pro 1TB SSD, WLAN enabled and disconnected, Windows 11 22000.282, BIOS 103BRC1 (5800U) and 090RC6INT (6800U). -RMB-17
**Based on testing by AMD as of 4/1/22. Battery life evaluated in hours using a nine-participant Microsoft Teams video conference with camera on, 200 nit brightness, slider position AC#2 (Balanced), with 95% utilization. Battery life results normalized for battery capacity differences. System configuration for Intel® Core i7-1260P CPU/GPU performance: Lenovo ThinkPad X1 Carbon, 57-watt hour battery, Intel Iris Xe Graphics, 2X8 GB RAM (LPDDR5-5500 ), 1TB SSD, BIOS version N3AET45W (1.10 ), Windows 11 Pro. System configuration for Ryzen 7 PRO 6860Z: Lenovo ThinkPad Z13, 50-watt hour battery, 2x16GB LPDDR5-6400, Windows 11 Pro, 1TB SSD, AMD Radeon 680M graphics, GPU driver 30.0, BIOS N3GET12WE (0.12 ). Actual battery life will vary based on several factors, including, but not limited to: product configuration and usage, software, operating conditions, wireless functionality, power management settings, screen brightness, and other factors. The maximum capacity of the battery will naturally decrease with time and use. RMP-32
***'Based on measurements by AMD labs as of February 2022 of the AMD Ryzen 7 Pro 5800U against Energy Star 8.0 requirements. CZM-146
****Based on testing by AMD and notebookcheck.com as of 02/07/2022 using the Cinebench nT benchmark / Sustained power limit for each system. Configuration for Ryzen 9 6900HS system: ASUS G14 configured with 2x8GB DDR5-4800, Windows 11 22000.282, 1TB SSD, Radeon 6800S graphics, sustained processor power limit of 35W. Data for Core i9-12900HK provided by notebookcheck.com: https://www.notebookcheck.net/Intel-Core-i9-12900HK-Processor-Benchmarks-and-Specs.589165.0.html. Configuration for Core i9-12900HK: MSI GE76 Raider configured with 2x16GB DDR5-4800, Windows 11, 2x1GB SSD, GeForce GTX 3080 Ti, sustained processor power limit of 110W. Results may vary. RMB-45