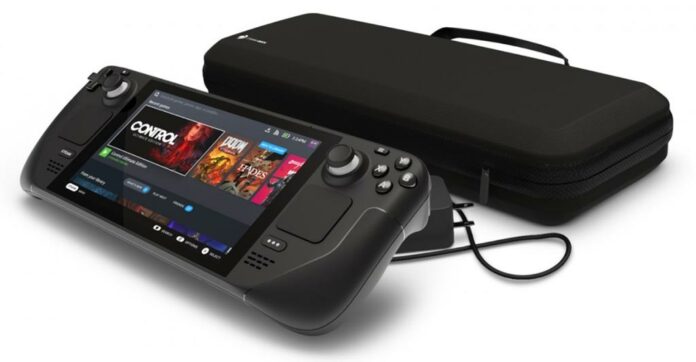 A recent Steam Deck mod making the rounds on the web enabling users to upgrade storage to a larger 2242-size M.2 from the original 2230-size M.2 SSD has brought some scepticism from one of Steam Deck's lead designers, Lawrence Yang, with the engineer urging against the mod as it could significantly reduce the lifespan of the gaming device.
The mod itself was original discovered by enthusiast Belly Jelly and shared via his twitter @TheSmcelrea. The operation involves adapting a 2242 NVMe to the Steam Deck's socket, requiring a 30-to-42 mm bracket extension, and removal of a thermal pad that sits atop an inductor. Though the heatspreader does bow, Belly Jelly claims it doesn't collide or put extra strain on any cables, and the subsequent backplate reassembly, OS boot and installation went off without a hitch.
Despite this, Yang took to Twitter and responded in kind to an article posted by PC Gamer regarding the mod, warning Steam Deck owners against attempting to replicate it. Stating the increased power demand of a larger 2242 M.2 drive would result in hardware running hotter and drawing more power than what the Steam Deck is designed for.
Following the post, even the original modder admitted that even though he has not encountered any problems, he agrees with Yang, warning users to "mod at your own risk."
Still, the M.2 discovery stands testament to Valve's design logic, showcasing the relatively easily upgradable chassis, allowing for any enthusiast to tinker at their heart's content. It's good to see the 'right-to-repair' design philosophy evident here, and it's amazing what kind of shenanigans Steam Deck has brought upon the modding community. Have you seen the Steam Deck running an external RX 6900 XT? Completely mental.
Still, Valve does advise "please, don't this." Best leave it to the professionals, or proceed at your own risk. The choice is entirely up to you.