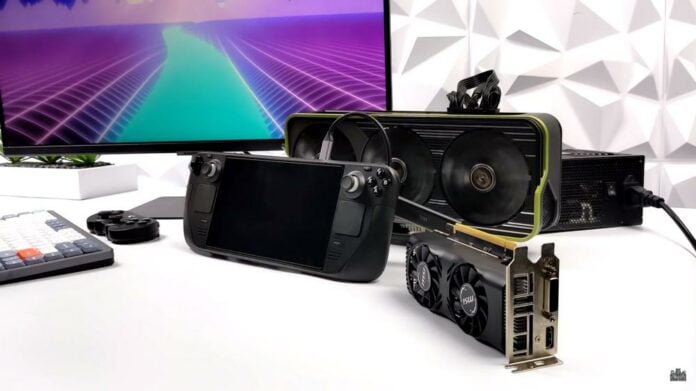 YouTube channel ETA PRIME had a unique idea… why not connect an AMD Radeon RX 6900 XT graphics card to Valve's handheld Steam Deck? Why not indeed.
How, you may ask. Well, it wasn't straightforward, obviously, as there is no Thunderbolt nor PCIe x16 on the Deck. ETA PRIME employed a PCIe x16 to M.2 adapter, limiting PCIe lines to x4 or fewer, and added a Corsair CX750M PSU to feed the beast.
With an occupied M.2 port, there was no place left for the SSD to go in, meaning the OS had to boot from somewhere else. That place was a 256GB Micro SD card with Windows 11 which, by the way, was surprisingly snappy, according to ETA PRIME. Games were installed on a USB-C SSD, which should be fast enough for any game you throw at it.
Following these shenanigans, Valve's machine was no longer portable, but who cares; we are here to see FPS go sky high. To no one's surprise, even though the RX 6900 XT is powerful, it was getting bottlenecked by the slow four-core/eight-thread Zen 2 CPU inside the Steam Deck. Another demonstration of why you should not pair a Core i9-12900KS with a Radeon RX 6500 XT, for example.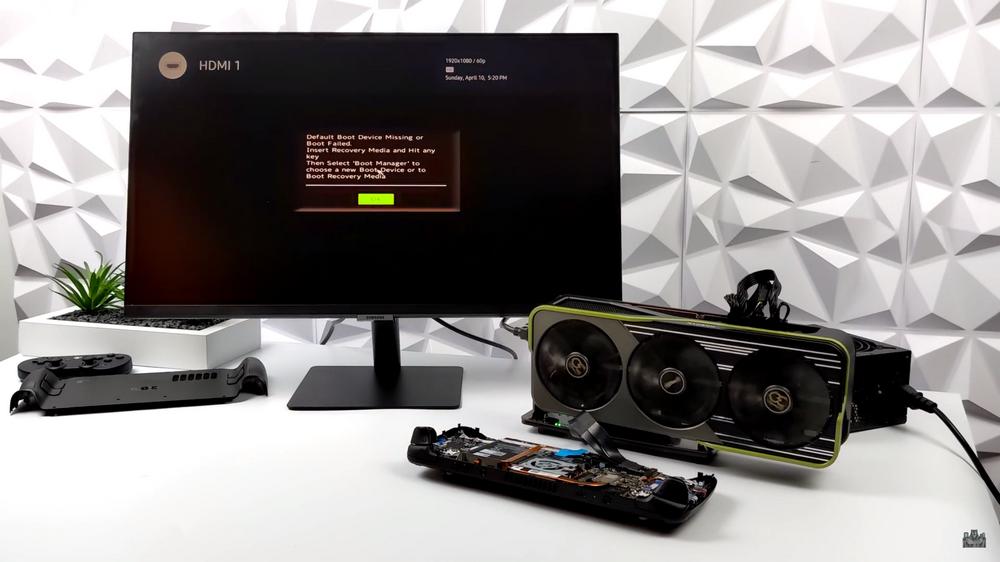 In synthetic benchmarks, this Frankenstein RX 6900 XT boosted scores by 3.7x in Fire Strike and 6x in Time Spy over the integrated RDNA 2 GPU present in the Steam Deck. Yet that's still nowhere near what that monster GPU is capable of.
It's in actual gaming scenarios where we see how much the Deck's CPU is holding things back. In Elden Ring, this combination averaged 56FPS at FHD maximum settings, changing by a few frames when going to 4K. In God of War, meanwhile, 42FPS at FHD Low become 37FPS UHD Ultra.
For reference, the RX 6900 XT can easily push 60FPS in Elden Ring UHD and God of War UHD when paired with an adequate desktop CPU.
In other games, we don't have a comparison between FHD and UHD, but the numbers are still interesting to see. The Witcher 3 hits a comfortable 108FPS at UHD Ultra; GTA 5 gets 73FPS at UHD Very High, while Cyberpunk 2077 oscillates from 40 to 70FPS at FHD High.
In hindsight, this small Zen 2 CPU packs a punch when you factor in how little power it consumes. Moreover, looking towards a balanced system, it doesn't appear be a bottleneck for the 8CU RDNA 2 iGPU.
To wrap things up, I see the Steam Deck as a powerful-enough handheld for its size and price, plus with Cloud gaming becoming more reliable, this little box of tricks is ample for casual/on-the-go gaming.