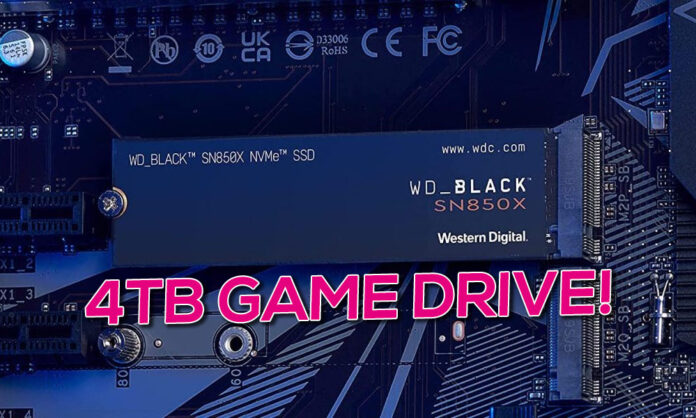 WD_BLACK SN850X 4TB
---
"Crush load times and slash throttling, lagging, and texture pop-ins for a smooth, fast experience that lets you compete at your absolute peak."
We earn a commission if you make a purchase, at no additional cost to you.
The summer bank holiday hasn't provided a whole lot of sun, but no bother, if you're already starting to feel the autumn chill, we've identified a couple of PC bargains to help warm the cockles.
Specifically, 4TB M.2 SSDs are subject of attention, as prices continue to drop to historic lows. Even the best drives are tumbling, as evidenced by the 4TB WD_Black SN850X, whose fee has fallen to £244 in the UK or $299 in the US.
It is worth remembering WD's roomy SSD launched this time last year alongside a lofty £671 MSRP. It was a sought-after SSD then, but crashing NAND flash pricing is such that listings have been slashed by a whopping 64 per cent in roughly 12 months. Such savage cuts elevate the 4TB SN850X from good to great.
WD's drive touts lofty sequential read and write speeds of up to 7,300MB/s and 6,600MB/s, respectively, but there is a still premium for a flagship SSD from one of the biggest brands in the business. For those wanting to keep costs as low as possible, the 4TB Lexar NM790 offers similar speeds at an even more attractive all-time-low of £182 GBP / $210 USD.
LEXAR NM790 4TB
---
"Designed for gamers and creators, the Lexar NM790 SSD has the performance you need to accelerate your game and keep up with your creative endeavors."
We earn a commission if you make a purchase, at no additional cost to you.
A bargain in our book, and with this amount of capacity, either SSD will stand the test of time whether it's a PC or PS5 upgrade.
Club386 is always on the lookout for unmissable PC component deals. Follow on Twitter or Facebook to stay up to date with the latest discounts, and subscribe to our free weekly newsletter to be kept abreast of all the developments in the world of tech.