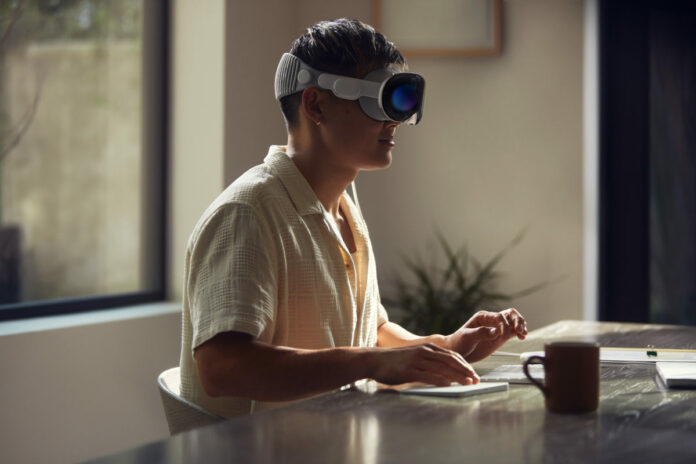 Apple has finally debuted its version of extended reality headsets, and in Apple fashion, it arrives late to the party yet miles ahead of the competition in terms of technology and overall refinement. Enter the $3,499 Vision Pro, available early next year.
At first glance, it features a sleek, unapologetically Apple design comprising of a mix of premium materials and modular system of parts split between a custom alloy aluminium alloy frame and 3D-laminated glass that houses its myriad cameras, screens, and tech. There's also a light seal and a headband and strap combination made of a flexible, soft textile material designed to provide comfort through cushioning, breathability and stretch. Intriguing.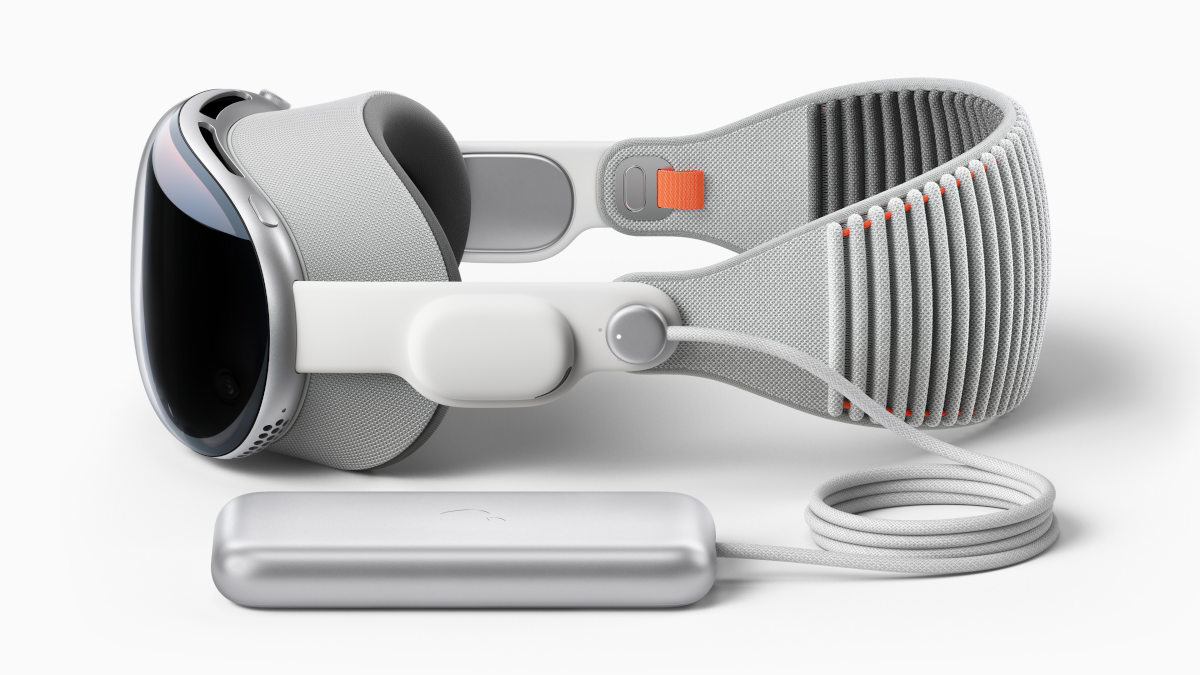 Take a closer look inside and you will find Apple's latest M2 processor takes the helm and drives overall graphical performance, while a brand-new R1 chip is responsible for various input processes from 12 cameras, five sensors and six microphones. Whew.
Apple says the R1 is capable of 12ms response times, meaning it's eight times faster than the human eye, allowing for crisp, clear and lag-free visuals. Driving that home is the ultra-high resolution display system that features micro-OLED technology allowing for 4K+ resolution for each eye. It packs 23 million pixels into those two postage stamp-sized displays, also giving it a wide colour gamut and high dynamic range capabilities. Woof.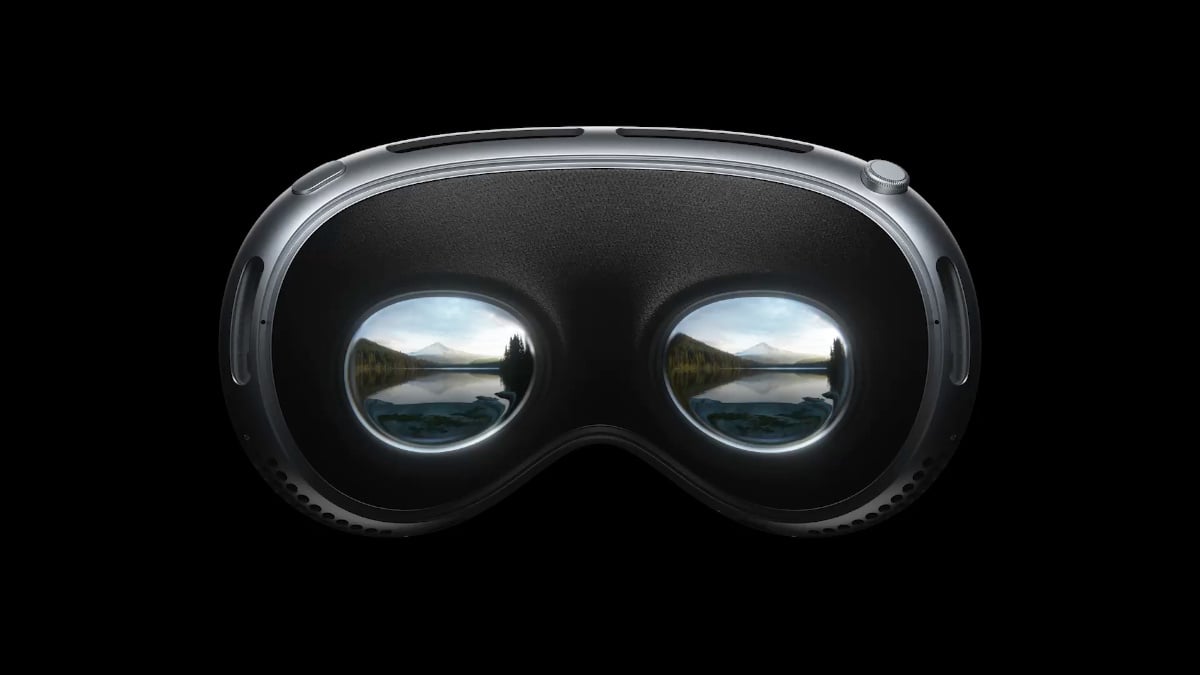 Rounding off, the headband features Apple's Spatial audio, matching audio quality for its already impressive visual capabilities. One caveat is that Apple only touts two hours of screen-on time delivered by an externally connected battery pack – a possible downside to the otherwise sleek and lightweight device.
visionOS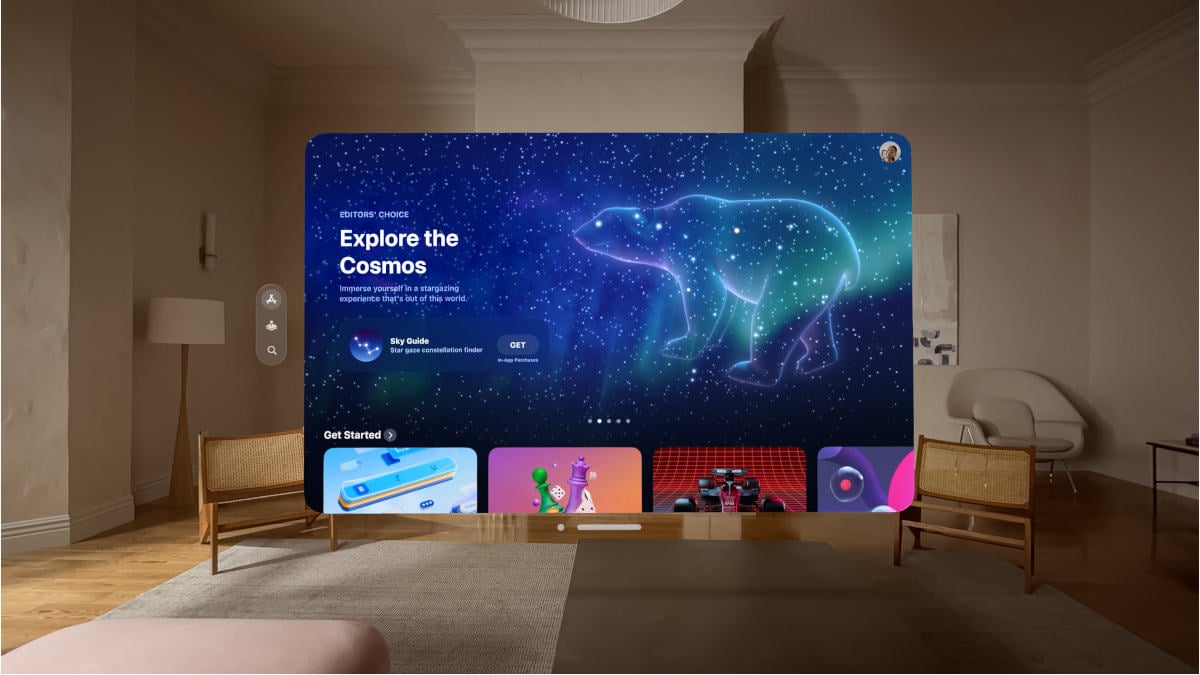 visionOS was designed from the ground up to deliver a lag-free, low-latency performance and seamless compatibility with Apple's iOS ecosystem. Setting itself apart from the rest, there is no physical feedback in a sense of controlled input. Instead, your hands, eyes, and voice become the tools that are the communication pieces between the real and digital world.
It works by having high-resolution cameras inside that take care of eye tracking, while the outside cameras keep track of your real world surroundings, and most importantly, is capable of 3D spatial tracking, including your hands and individual digits. Lastly, the six accompanying microphones take audio cues and voice commands. Putting it all together, and it's a simple matter of looking at a specific app that's laid out in front of you in a tile format, selection is made by the pinching of your thumb and index fingers, or simply doing the same on a search bar and query away via an audio command.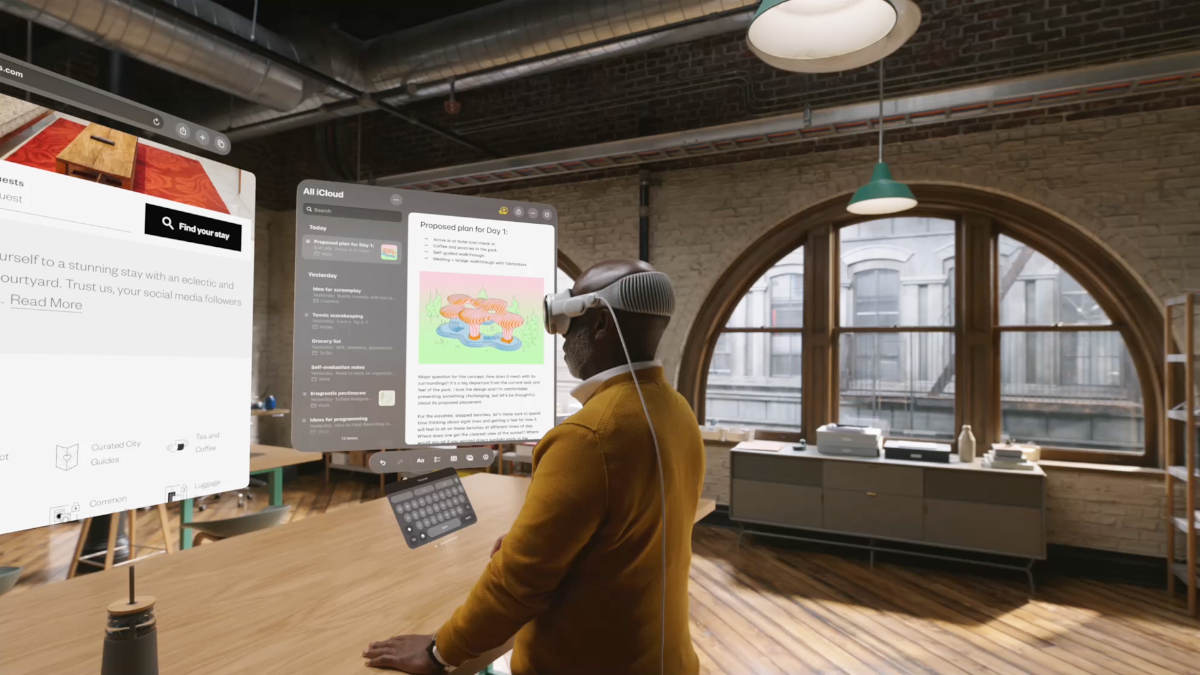 For now, the experience is limited to Apple-only apps, but they all have been seamlessly integrated. The Vision Pro can FaceTime your mates and they will be presented in life-sized video tiles, whereas a digital representation is reflected back at those watching you. All thanks to, you guessed it, a mix of advanced AI machine-learning techniques and integrated cameras that reflect your face and hand movements in real time.
While it's miles ahead of the cartoony avatar rendition presented by Meta and VR chatrooms, I can't help but think of the uncanny valley effect it will undoubtedly produce. The entire purpose of a video call is to create a personal shared connection between loved ones, friends or colleagues, which is something I don't think a digital representation can replicate, at least for now. Though, it's still an amazing concept.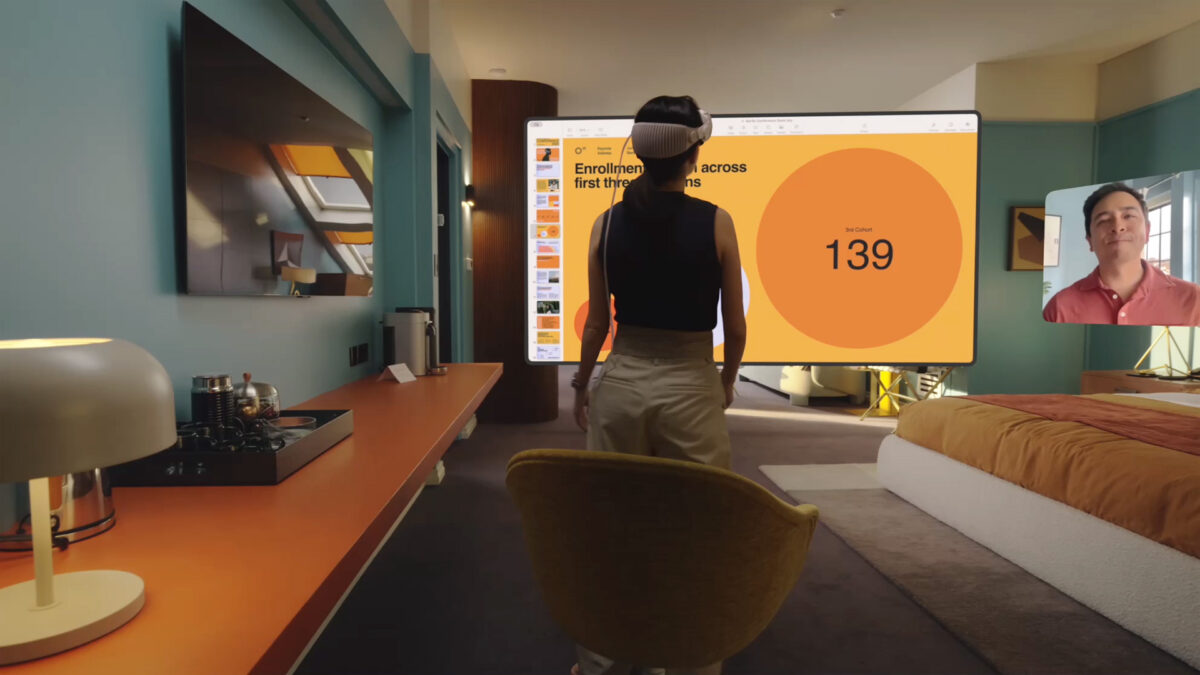 For entertainment, the device is capable of 180-degree, 100-feet-wide high-resolution recording with Spatial Audio, essentially making it capable of creating a fully realised IMAX theatre for one – an enticing prospect. Users can also play over 100 Apple Arcade games with support for popular game controllers, too.
Productivity is enhanced thanks to the multitasking apps providing a scalable, move-anywhere workplace that supports both magic mouse and magic keyboard input devices. Heck, it even connects wirelessly to MacOS for a truly immersive work-from-home experience.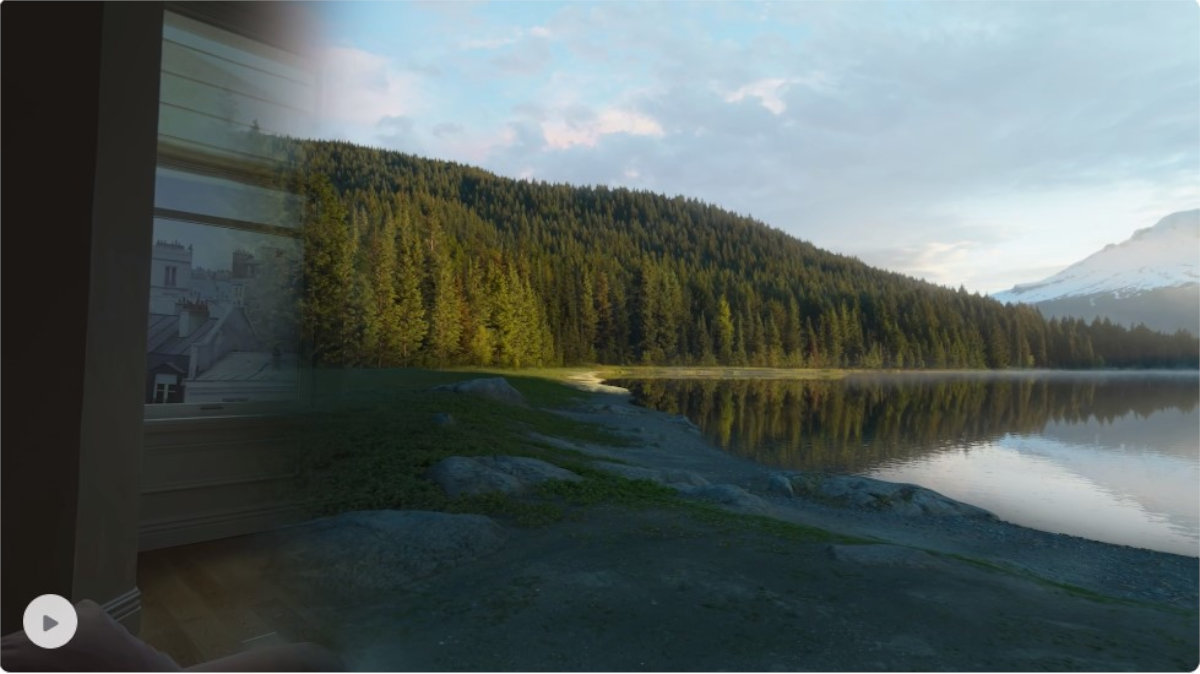 What's more, Immersive Environments grants users the ability to transform a physical room into a dynamic, life-like visual landscape, with a simple twist of a digital crown situated on the top-right of the device.
Finally, the cameras can also be used to record a three-dimensional video, allowing users to capture, relive and immerse themselves in past memories, while EyeSight creates a visual representation of your eyes when using the passthrough function that mirrors the users' eyes on an OLED display situated upfront. Both extraordinary innovations, albeit a bit creepy at the same time, don't you think?
Who's it for?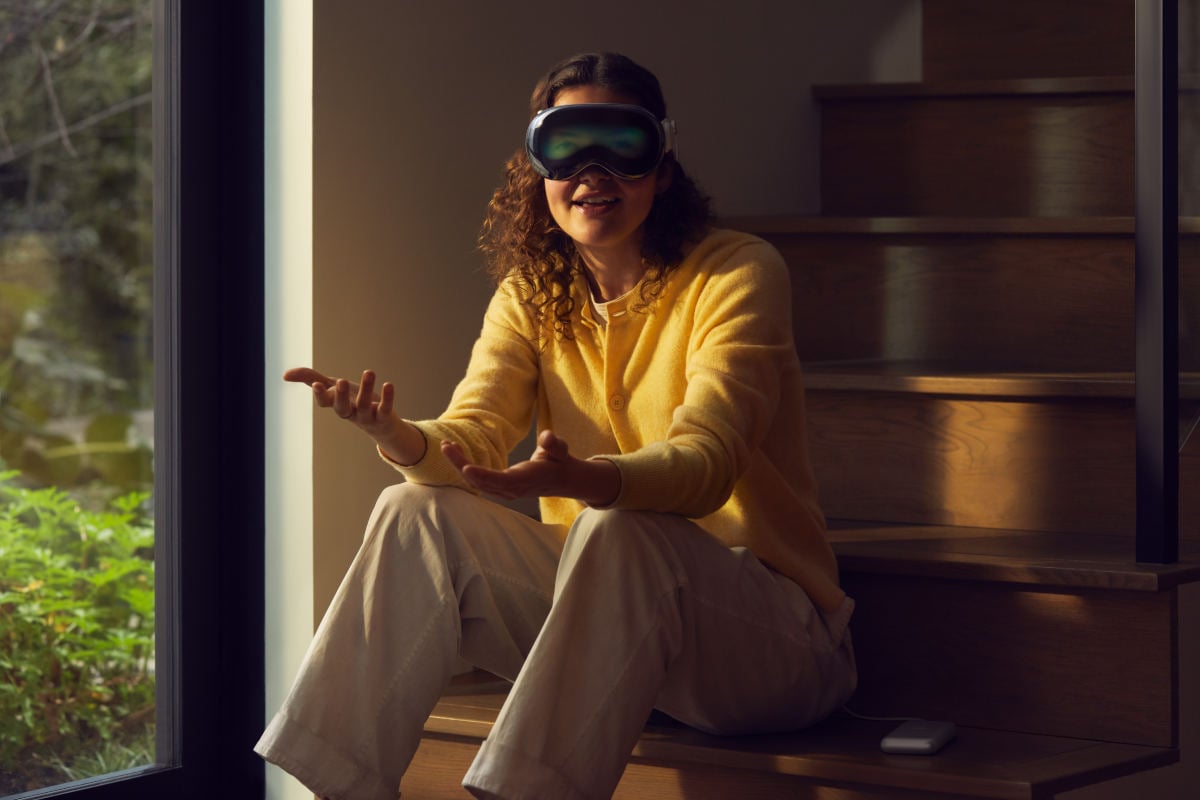 Apple touts the Vision Pro as a device that harkens "the era of spatial computing," a device that blends digital content with the physical world, ostensibly so. One thing's for certain, the device is expensive and brings up more questions than it answers.
First off, we have to address the elephant in the room that is the Vision Pro's exorbitant price tag. At $3,499, surely it's not intended for the masses, like Apple's myriad of consumer products that often sell tens of millions of units.
On the other hand, the PR videos market the Vision Pro as a "be all, end all" of computing devices as we see it today, a product set out to eventually replace everything from your living-room home-theatre system to the very smartphone, PC or laptop you're most likely reading this article from.
Though the prospect of having a wearable plastered on your face that's both limited by battery capacity and comfort, the proof will come with real-world adoption. There are also many privacy concerns; just take a look at the ultimate failure of Google Glass as a prime example.
Perhaps, like the very first iteration of the Apple iPhone, its intended for early adopters to take a dive into an enticing new product that will eventually decrease in price with every new iteration, allowing the masses to flock to future models. Admittedly, I don't have the answers, only time will tell.