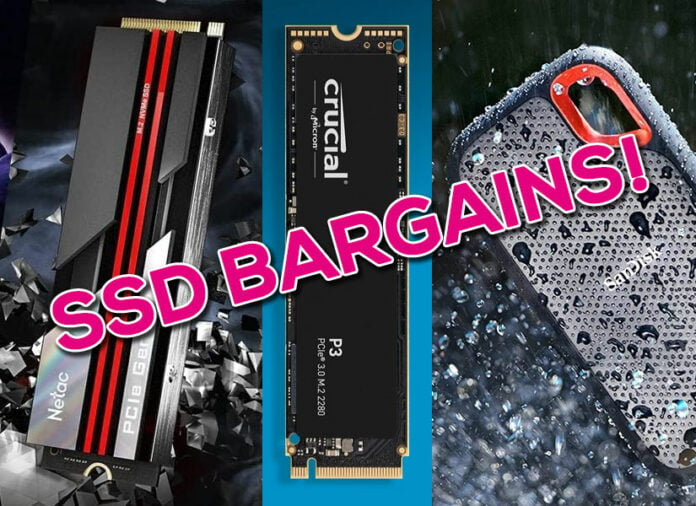 Crucial P3 4TB SSD
---
"Get faster bootups, downloads and file transfers, and store all your files, photos, videos, apps, and games with room to spare with the quality and dependability you expect from Crucial."
We earn a commission if you make a purchase, at no additional cost to you.
Amazon Prime Day 2023 is here. The two-day shopping extravaganza runs July 11 – 12, promising a deluge of deals for consumers hoping to bag a bargain in these times of soaring living costs.
For those in need of massive storage, a corker of a deal is the Crucial P3 4TB NVMe SSD, now down to an all-time-low of £147.99 UK and $159.99 US. Sure, it ain't the fastest around, but if you want a spacious PCIe 3.0 x4 drive from a reputable manufacturer, look no further.
A great choice for that ever-expanding game library, and if you don't need quite so much space, Prime Day sees reductions across the range; Crucial's 2TB P3 is a bargain at just £67.99 / $80.99. If there's room in the budget to go a tad higher, the slightly quicker, newer P3 Plus is also terrific value; a 4TB P3 Plus at £155.99 is the drive I'd go for.
Netac NV7000 2TB SSD
---
"The Netac M.2 2280 NVMe SSD offers unmatched performance to elevate your PS5 gaming experience. You can also save more of your favourite games with a capacity of up to 2TB."
We earn a commission if you make a purchase, at no additional cost to you.
We thought the well-reviewed Netac NV7000 2TB was a veritable bargain at £106, but Prime Day sees the price drop to just £95.99 with voucher, or $109.97 US. As a recap, NV7000 2TB offers fantastic all-round performance and nearly saturates the PCIe 4.0 x4 interface with respect to straight-line speed. What's more, it ships with an attractive aluminium heatspreader to boot, making it an ideal PS5 upgrade.
External SSD deals are equally tasty, if not more so. The 2TB Crucial X8 Portable SSD is our pick of the bunch given that Prime Day pricing has plummeted to £77.99 / $91.99. Easily the lowest we've ever seen, and great value for a portable drive with spacious 2TB capacity, USB-C connection and 1,050MB/s peak speed.
Even the 4TB Crucial X8 is hugely attractive at £177.99 / $175.99, and if you're a Bear Grylls wannabe, the SanDisk Extreme Portable SSD may be more your thing, with the 2TB dust-resistant drive reduced to £118.99 / $119.99. We've checked and these drives have never been cheaper.
Crucial X8 2TB Portable SSD
---
"Quickly and easily add storage to your PC and Mac with the Crucial X8 Portable SSD. Just plug it in — no reformatting required."
We earn a commission if you make a purchase, at no additional cost to you.
As a reminder, and stating the obvious, Prime Day deals are available exclusively to Amazon Prime members! If you haven't already been a Prime member in the past 12 months, you can sign up for a free trial here.
Club386 is always on the lookout for unmissable PC component bargains. Follow on Twitter or Facebook to stay up to date with the latest deals, and subscribe to our free weekly newsletter to be kept abreast of all the developments in the world of tech.