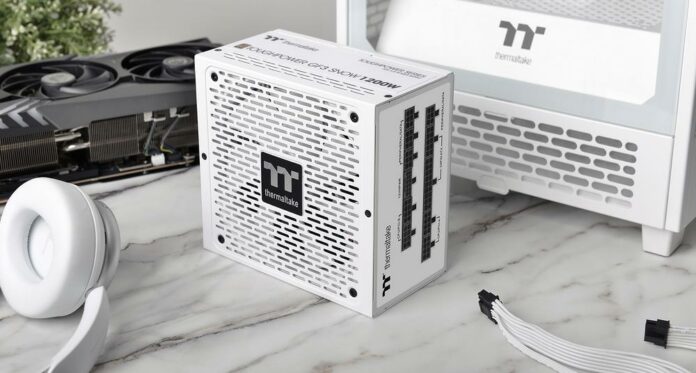 Thermaltake has announced three new PSUs joining the Toughpower GF3 and GF A3 lineups featuring high efficiency, a long warranty, and ATX 3.0 support.
Via these Snow Editions, the brand is offering Toughpower GF3 and compact Toughpower GF A3 PSUs in full white for those planning a themed build. Even the fan and cables are white, reinforcing the 'snow' aspect.
Aside from colour, the GF3 Snow series will include only a single 1,200W model measuring 150mm (W) x 86mm (H) x 160mm (D) and housing 100 per cent high-quality 105°C Japanese electrolytic capacitors in single-rail configuration using LLC and DC-to-DC technologies. These components are cooled by a 140mm FDB fan operating in zero-rpm mode if load stays below 20 per cent.
The 1,200W GF3 comes bundled with two 8-pin CPU EPS cables, two 6+2 PCIe, one 12VHPWR capable of 600W delivery, two SATA, two Molex, plus the mandatory 24-pin.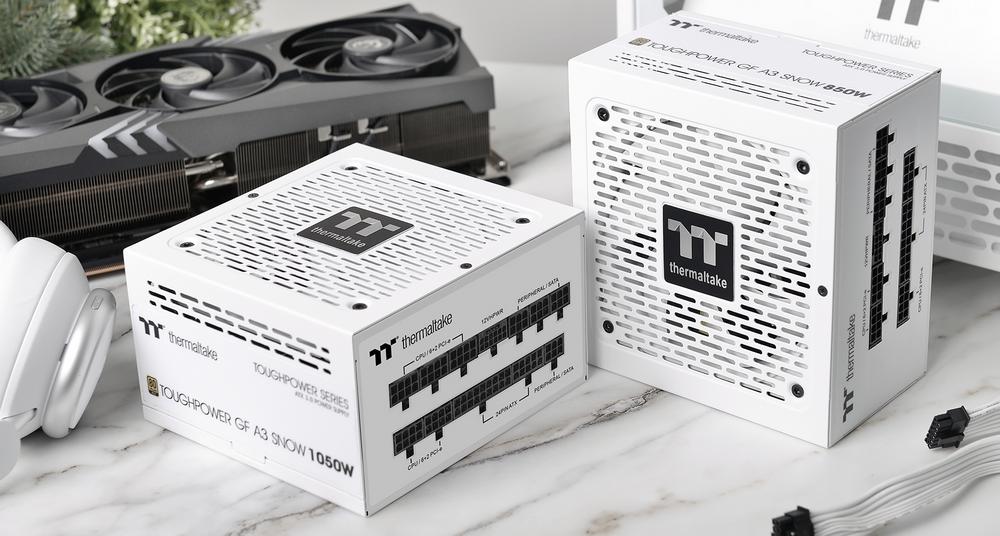 The GF A3 Snow lineup, on the other hand, offers 850W and 1050W capacities measuring 150mm (W) x 86mm (H) x 140mm (D), again opting for a single-rail with LLC and DC-to-DC configuration, though not using a full Japanese capacitor design. For cooling, a smaller 120mm FDB fan with zero-rpm mode under 30 per cent load is included due to the compact size.
850W GF A3 comes with one 4+4 CPU EPS, two 6+2 PCIe, one 12VHPWR supporting 450W delivery, one SATA, two Molex, plus an FDD adapter, while the 1,050W GF A3 pumps things a bit by adding another 8-pin for CPU power, one 6+2 PCIe, one SATA, and improving the 12VHPWR rating to 600W.
All models boast 80 Plus Gold efficiency and carry the usual OCP, OVP, UVP, OPP, SCP, and OTP electrical protections.
Backed by a ten-year warranty, 1,200W Toughpower GF3 Snow will be available at $219.99 / €239.90 MSRP, with the 850W and 1050W Toughpower GF A3 Snow respectively sitting at $129.99 / €139.90 and $159.99 / €169.90.