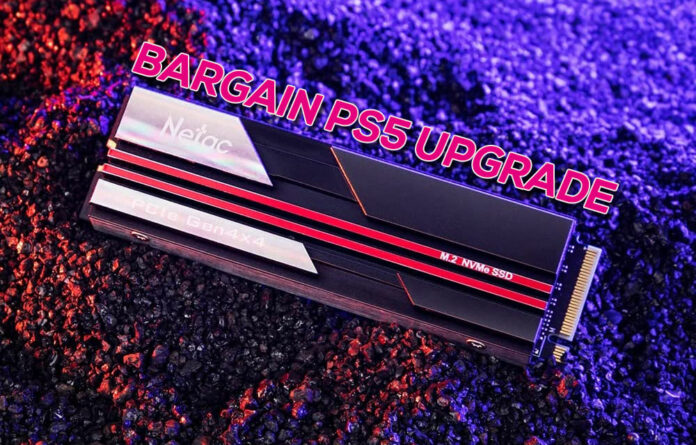 Netac NV7000 M.2 SSD
---
"The Netac M.2 2280 NVMe SSD offers unmatched performance to elevate your PS5 gaming experience. You can also save more of your favourite games with a capacity of up to 2TB."
We earn a commission if you make a purchase, at no additional cost to you.
Running out of room on your PlayStation 5 console? There's good reason to consider an SSD upgrade as prices have plummeted in the first half of 2023.
The process is simple enough – Sony has a useful tutorial on how to add an M.2 SSD – but there are two things in particular to look out for. You'll want a drive capable of sequential read speeds of 5,500 MB/s or faster, and preferably a pre-attached heatsink to help aid heat dissipation.
There's no shortage of choice out there, but if it's a case of keeping costs down, you'll do well to beat the 1TB Netac NV7000 on price.
At the time of writing, said drive is reduced to £70.39 at Amazon, and while that's a decent price in itself, a five per cent voucher is available to reduce the purchase cost to a mere £66.87! Astonishingly, that's less than the pre-order price of Final Fantasy XVI, and the value argument is just as strong in the US where a $20 coupon brings ownership cost down to $74.99.
While the Netac name may sound unfamiliar to some, the Chinese flash storage company has been in the business for over two decades and is no stranger to high-performance SSDs. The 1TB NV7000 M.2 drive touts sequential read and write speeds of up to 7,000MB/s and 6,700MB/s, respectively, and unlike other low-cost drives, includes both a DRAM cache and a heatsink designed with PS5 in mind.
Given that Sony's flagship console ships with around 667GB of usable storage, a 1TB M.2 upgrade affords a 2.5x increase in capacity. Want to go bigger? Netac's 2TB variant is also on offer at £112.87 when applying the current 15 per cent voucher code. A bargain in our book, though you may need to act quick as the voucher codes tend to come and go.