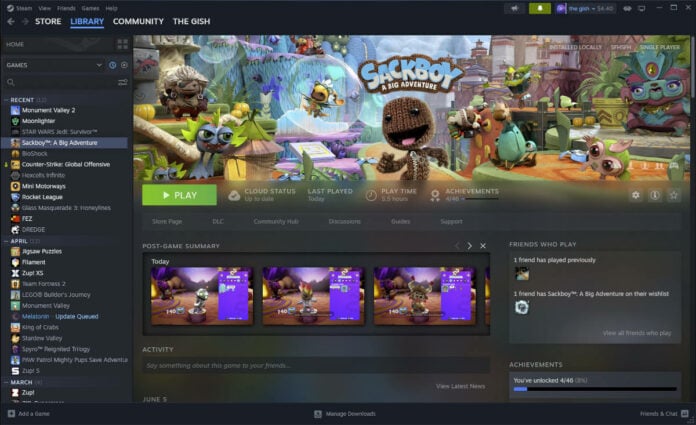 Valve has launched a whopper of an update for its Steam client, providing a litany of visual improvements, an overhauled in-game overlay, and changes to the notification settings, among other things.
Straight off the bat, the most notable change is the fresh coat of paint that includes new font and colours as well as redesigned menus. The familiar Valve aesthetic remains, mind you, except now it's much cleaner and the accompanying features add to the experience rather than detract from it. Nicely done.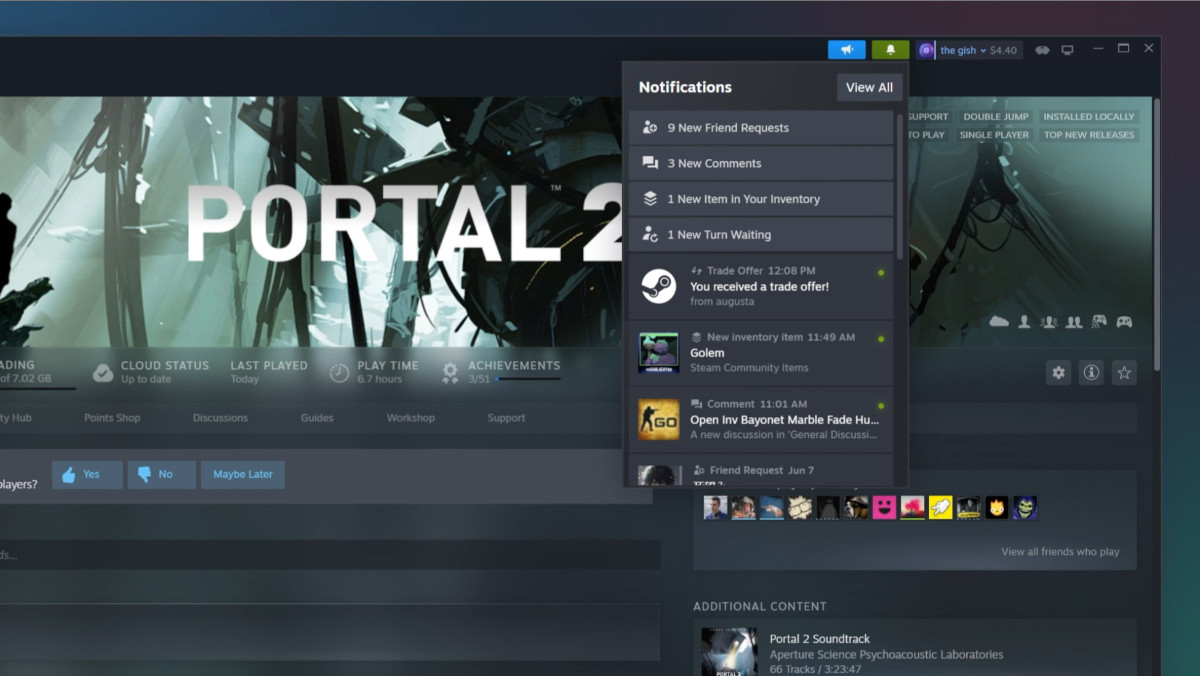 Steam notifications have been improved to bring a richer and more useful experience. These changes include the green bell only lighting up when something 'truly new' is available, thus limiting tray view to only new notifications. However, older ones are not lost and can be checked via the view all button for a more historic listing. Finally, there are a bunch of new notification settings to tinker with for further refinement.
Of note, the in-game overlay receives the biggest overhaul and a new intuitive look and feel, with some specific desktop and Steam Deck features. A new toolbar is now available at the bottom of the screen where users can utilise widgets and adjust to their liking.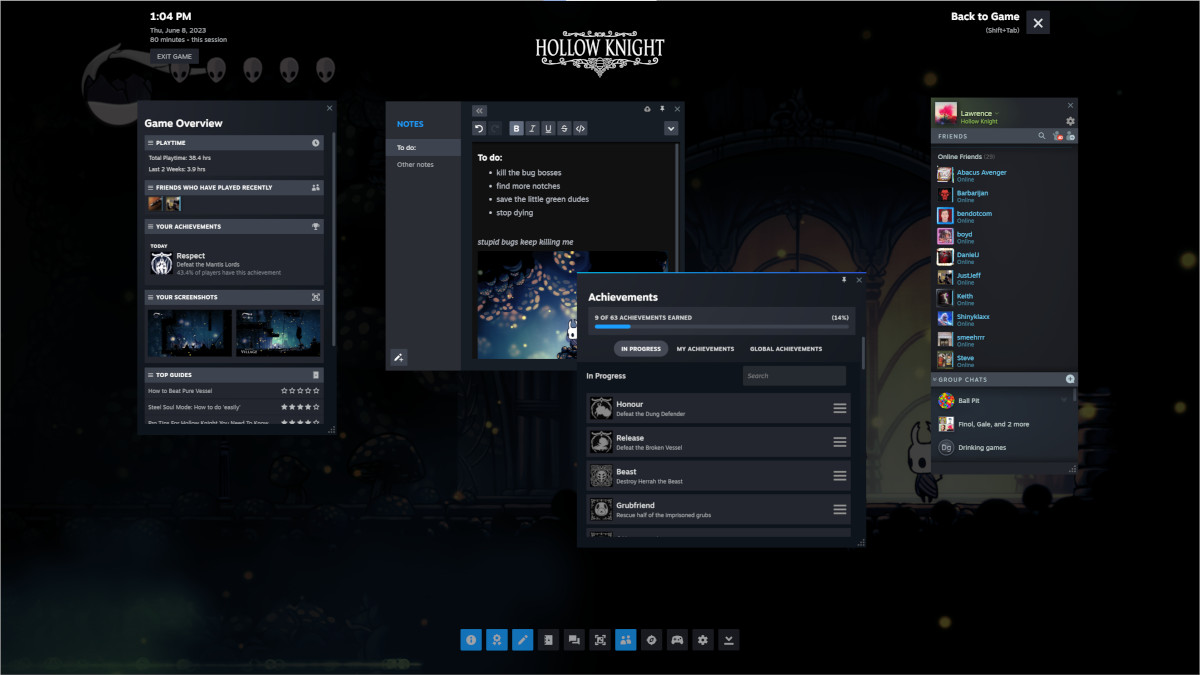 These new customisable widgets include the highly-anticipated Notes feature that leaked not too long ago and was previously exclusively available via the Steam Beta client build. I'm especially excited to try this one out.
Operation is simple and can be pinned via the in-game overlay, appearing seamlessly on top of a game for easy reference. Notes are also saved in the cloud so that users may keep track across multiple devices. Alternatively, the feature is accessible outside the in-game overlay, on the game details page, and can be used offline. There are also neat editing tools present – rich text formatting and image pasting – for that added bit of convenience. I like your style, Valve.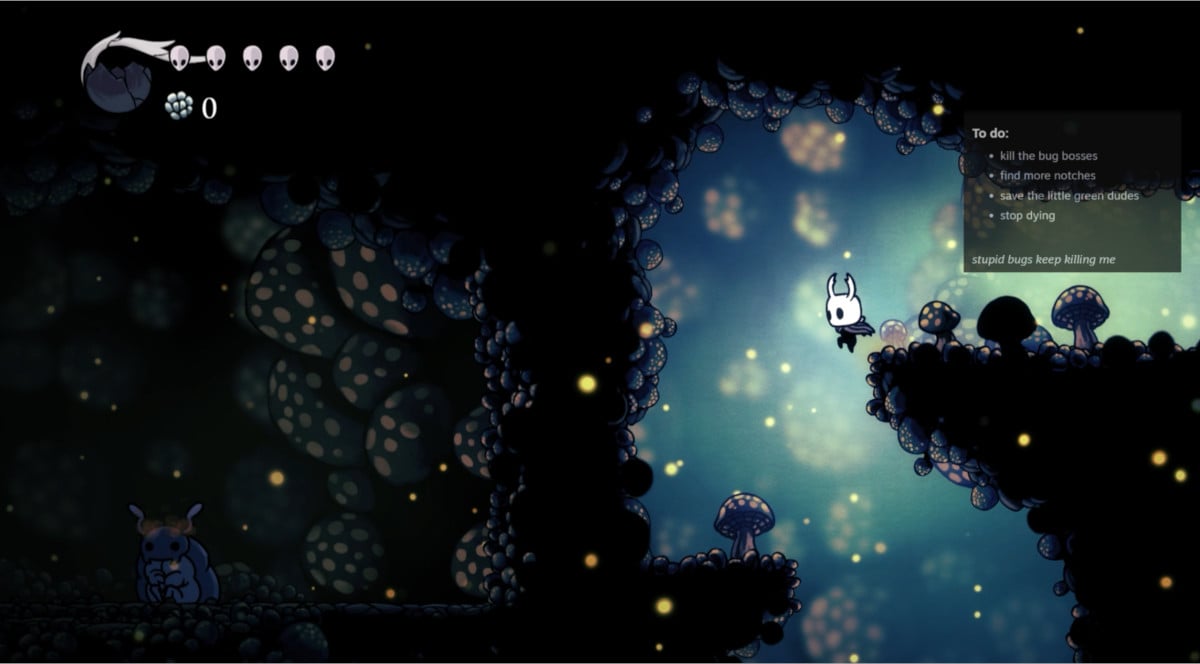 Moving on, users also get the ability to move and pin overlay panels to different parts of the screen, with opacity easily adjustable for a better viewing experience. What's more, controllers are now configurable via the overlay that will pop up if a gamepad is connected.
Besides this, some bug fixes were also introduced, including one that causes DualSense Edge controllers to randomly cut off. Lastly, videos and the browser page have been updated and pin-able via the game overlay window for quick, easy access. What more could you ask for?

Underneath the surface, eagle-eyed readers will likely notice that the latest client is built on an entirely new framework. Valve says, "This makes it easier and faster for us to ship features across desktop, Steam Deck, Big Picture (mode), and mobile." Good to know.
The steam update should be up and running once you've checked in. For a full breakdown, feel free to peruse at your own leisure, here. Now all we need is Half Life 2: Episode 3.