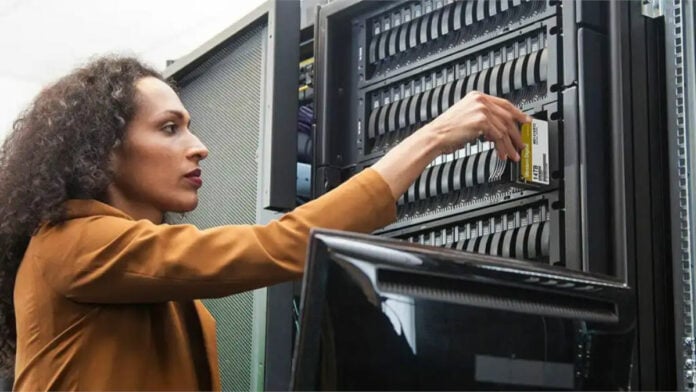 WD has introduced a new line of Ultrastar hard drives. The Ultrastar DC HC580 and WD Gold both offer 24TB, while the DC HC680 SMR features a mammoth 28TB of storage. WD also promises improved speed, thanks to its energy-assisted perpendicular magnetic recording technology.
When it comes to datacenter applications, high-capacity storage is king. In other words, HDDs aren't necessarily known for their speed. WD seeks to address this issue. These products leverage numerous proprietary innovations – including ePMR, OptiNAND, UltraSMR, and more – to deliver high density, efficient, and faster drives to market.
How fast exactly? Well, very fast, at least by HDD standards. According to the brand, the WD Gold and DC HC580 promise a maximum data transfer rate of up to 298MB/s. Meanwhile its DC HC680 can manage a sustained data transfer rate of up to 265MB/s. As a comparison, a standard HDD will read and write at typically 80MB/s to 160MB/s. SATA111-rated SSDs read and write between 200MB/s to 550MB/s.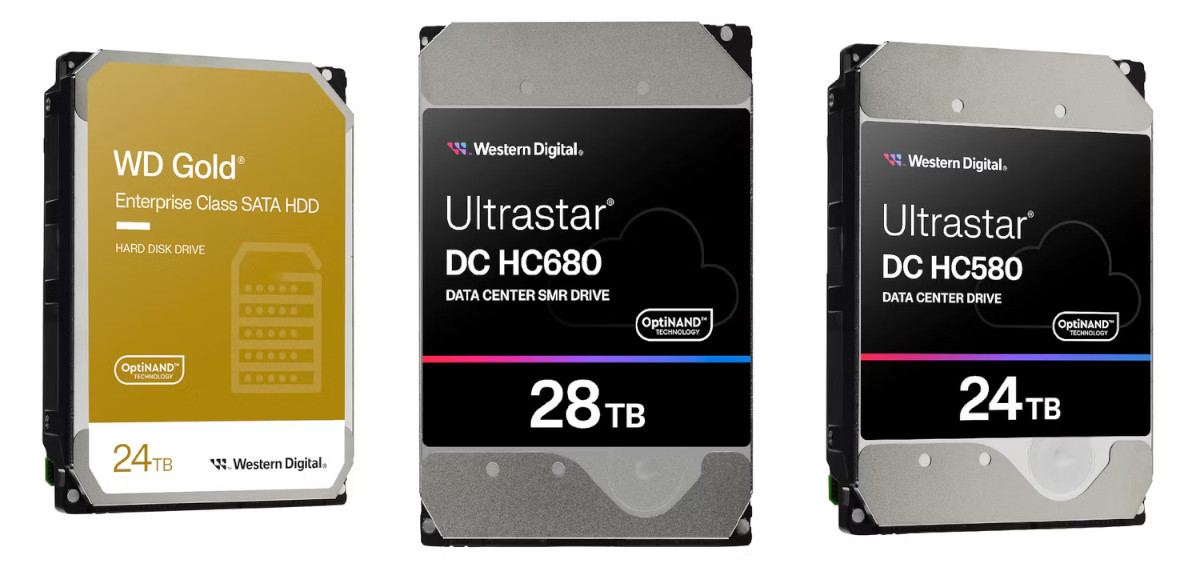 Effiency is also a major factor. When it comes to power consumption, the drives have a rating of 5.5W idle and 6.8W up to 9.8W operational based on 50/50 read and write scenarios. More importantly, WD claims that due to its OptiNAND technology, these three drives offer higher per-terabyte power efficiency. To be exact, their terabyte-per-Watt power efficiency is rated between 10% and 12% higher compared to previous generation HDDs. Ideal for power-limited datacenters.
Finally, at 24TB per unit, the Ultrastar DC HC580 and WD Gold each allow for up to 612TB of raw storage per rack in a 102-bay 4U chassis. Additionally, WD's Ultrastar DC HC and WD Gold have the added benefit of a 550TB annual workload. A plus for reliability.
You can grab the WD Gold 24TB now with a $629.99 price tag. Meanwhile, the Ultrastar DC HC680 and HC580 HDDs are now in the qualification phase with select CSPs, hyperscalers, and OEMs. Pricing for those are not yet available. Find out more, here. Of course, there are many other WD HDD alternatives available if you don't fancy waiting around.