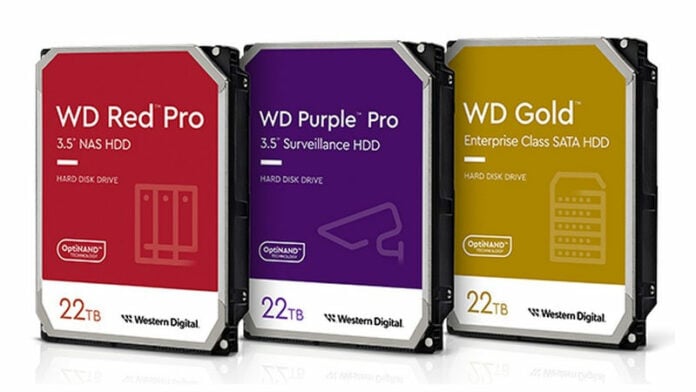 Having sampled its 22TB CMR hard disks to select hyperscale customers back in May, storage giant WD is now officially shipping consumer drives at the flagship capacity.
Three product lines – WD Gold, WD Red Pro and WD Purple Pro – are getting the 22TB treatment starting today, with each targeting a specific use case. Gold HDDs are geared for data centre environments, Red Pro champions network-attached storage, while Purple Pro continues to cater for video surveillance.
All three new additions incorporate a 10-platter design leveraging a bevy of cutting-edge WD technologies, including OptiNAND, energy-assisted PMR (ePMR), triple-stage actuator (TSA), and HelioSeal, to help achieve a leading areal density of 2.2TB per platter.
"We are thrilled to reach this milestone as HDDs are complex and sophisticated systems," said Ravi Pendekanti, senior vice president of product management and marketing, HDD Business Unit at Western Digital.
"From the cloud to the edge, Western Digital's hard drives play a vital role in storing, protecting, capturing and analyzing data that's shaping nearly every aspect of our digital lives. Our technology leadership and expanded portfolio of industry-leading HDDs provide us with a tremendous opportunity to deliver value to our customers today and well into the future."
Gold enterprise-class drives now range from 1TB to 22TB with a 2.5M hours MTBF, with WD keen to point out that higher capacities help reduce total cost by increasing storage in the same footprint. Industries with huge storage requirements can reduce racks, cabling and power consumption with ultra-high-capacity drives, and Red Pro echoes those sentiments on a smaller scale.
The 22TB Red Pro is designed specifically for NAS systems carrying up to 24 bays (how does 528TB grab you?), while Purple Pro, now available in 8TB to 22TB capacities, continues to feature optimisations for up to 64 HD video streams at 3.2Mbps apiece.
All three models are backed by a five-year warranty and while we await confirmation of UK pricing, the 22TB Purple Pro is already available to order in the US at a cost of $599.99.