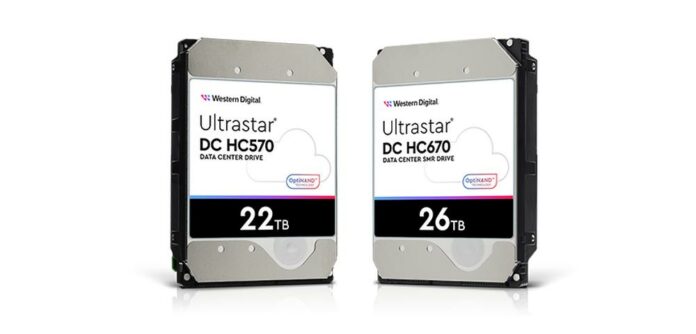 Western Digital has announced sampling of 22TB CMR and 26TB UltraSMR HDDs to select hyperscale cloud customers, each encorporating a cutting-edge, 10-platter design.
Planned for wide availability this summer, the drives leverage WD's unique OptiNAND, energy-assisted PMR (ePMR), triple-stage actuator (TSA), HelioSeal and UltraSMR technologies. The storage specialist suggests the groundwork has now been laid for capacities of 30TB and beyond, without having to navigate the complications of heat-assisted magnetic recording (HAMR).
Western Digital's Ultrastar series 22TB hard drives (model DC HC570) for servers and data centres, plus consumer Purple Pro, Red Pro and Gold series, all feature 2.2TB platters. The 26TB drive (model DC HC670) aimed at large cloud providers and data centres, improves density even further using 2.6TB platters, offering 18 per cent more capacity.
"As a longstanding partner of the industry's leading cloud providers, we understand their unique requirements in building next-generation cloud infrastructure and invested in several HDD innovations we developed alongside our areal density technology," said Ashley Gorakhpurwalla, EVP and GM, HDD Business Unit, Western Digital.
"Our intent with taking this development strategy was not only to address the capacity demands of the world's largest cloud titans but to deliver on a roadmap that would also support the evolving economics of their data centers for decades to come. With ePMR, OptiNAND and now UltraSMR as the foundation of Western Digital's HDD roadmap, our cloud customers can continue rapidly scaling their business by taking advantage of our innovations to lower their storage TCO."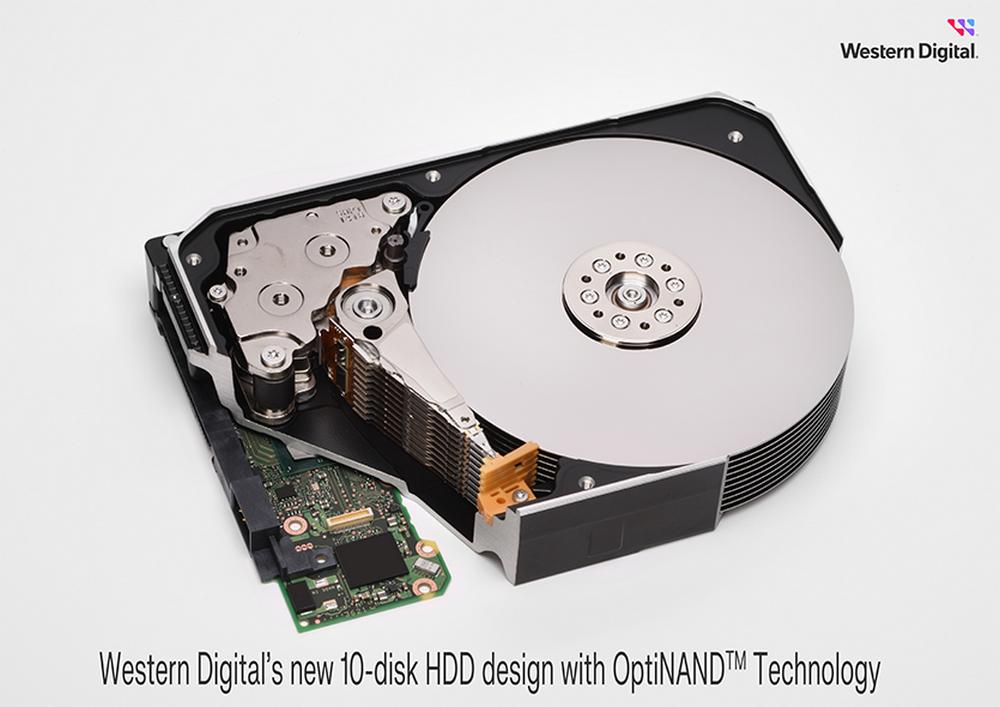 Western Digital didn't disclose all the technical characteristics of these new products. However, it emphasises the use of OptiNAND caching, which provides increased speed when randomly writing large blocks. Thanks to this technology, at transfer lengths of 256KB or greater, IOPS and throughput improve by more than 40 per cent compared to non-OptiNAND drives, with peaks over 80 per cent at 1MB lengths.
Finally, ArmorCache, the write cache data safety feature, gives customers the performance of write cache enable (WCE) alongside the data protection of write cache disable (WCD) to provide added data protection in case of an emergency power off (EPO).
Availability:
The 22TB Ultrastar DC HC570 HDD and 26TB Ultrastar DC HC670 UltraSMR HDD are now sampling direct to select hyperscale customers. Channel shipments will begin in the summer and 22TB drives will also feature in the Ultrastar Data60 and Data102 JBODs, as well as WD Purple Pro, Red Pro and Gold HDDs for surveillance, NAS and enterprise, respectively.