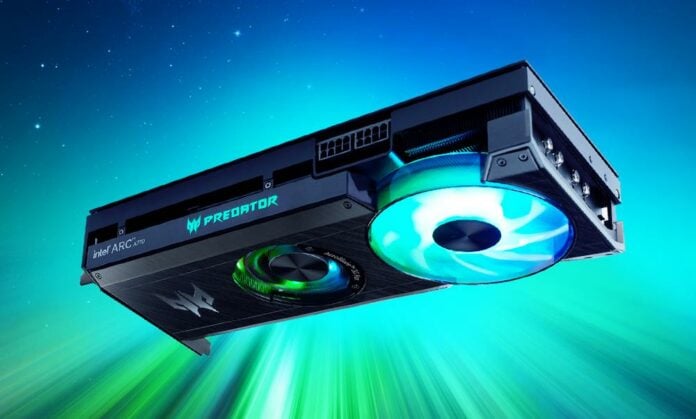 Acer has unveiled its Arc A770 Predator BiFrost graphics card powered by Intel's top-of-the-line Arc A770 GPU and cooled using a hybrid fan arrangement.
The arrival of Intel GPUs marks an occasion for some new partners to enter the graphics card market, or simply to come back from long inactivity. Acer is one of them, launching its Arc A770 Predator BiFrost card equipped with a radial fan alongside a second axial one, plus four heatpipes transferring heat from thermally active components.
For quite a long time now, it has to be said, we haven't seen weird-looking graphics cards like the GTX 680 Super Overclock or Gainward GTX 970 Phantom – at least anything memorable enough. And no, five-slot graphics cards don't count; they're even becoming the norm nowadays.
A770 Predator BiFrost combines a bigger – probably 90 or 100mm fan – sitting on top of what resembles a flow-through design, allowing air to vent out of the back, since there is no PCB underneath. There's also a smaller (50mm or so) blower fan pushing air through a heatsink appearing open at the video-connector side. As you may know, blower-type fans tend to be noisy, so it will be interesting to see how Acer manages the card's noise levels.
Unfortunately, Acer's announcement remained vague, lacking any concrete details. However, from what Intel has published, we know that A770 GPU will ship with either 8GB or 16GB of 17.5Gbps GDDR6 memory on a 256-bit wide bus – 8GB being widely available to partners. The underlying ACM-G10 GPU features 32 Xe-Cores, which translates to 4,096 stream processors, and a TDP of 225W. The frequency is said to be 2.10GHz on the GPU.
In terms of performance, Intel has announced that A770 is competing with the Nvidia GeForce RTX 3060 at an MSRP of $329 for 8GB and $349 for Limited Edition 16GB models.
So, does this mean we should also expect Acer to launch Nvidia and AMD cards? We don't see why Acer can't do so, but first let's see if this card is coming to the DIY market, since Acer could keep it exclusively for prebuilt Predator PCs.