Adata is teasing plans for CES 2023 featuring new external USB 4 SSDs, internal M.2 PCIe 5.0 SSDs, high-speed DDR5, CXL memory, and more.
Adata's CES will be themed 'Make it Fusion, Make it Xtreme!' and will display products like the XPG Fusion 1,600W Titanium PSU – developed in collaboration with Delta Electronics – XPG Cybercore II and Core Reactor II series, XPG PCIe Gen 5 SSDs, plus other memory, chassis, and peripherals with some specially designed ones. Not forgetting enterprise products such as the CXL (Compute Express Link) memory modules in capacities of up to 16TB.
Starting with storage, the brand will showcase the SE920 USB 4 SSD capable of reaching up to 3.8GB/s transfer rates alongside its fast XPG PCIe Gen 5 M.2 SSD, which is rated at up to 14GB/s in both read and write while offering 8TB of space – probably using a Silicon Motion SM2508 controller. Note these figures are higher than Adata's previous announcement, which advertised a 12GB/s write speed.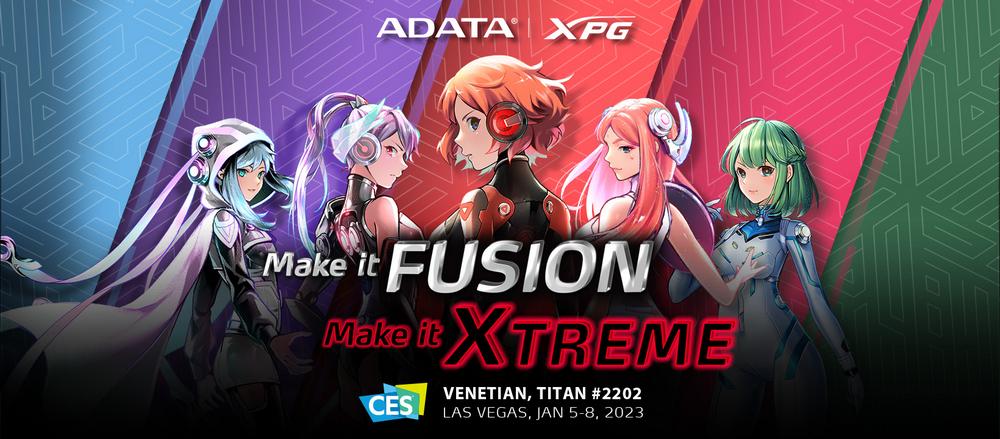 Adata will present XPG Caster DDR5-8000 memory compatible with Intel and AMD motherboards and supporting Intel XMP 3.0 for easy overclocking. For those looking for stylish builds, Ace 6400 DDR5 modules will also be on show, a product that Adata recommends being paired with a white machine. With a bit of luck, we could even see announcements for some uniquely designed RAM or SSDs.
We should also see a bunch of Mera Edition gear including the XPG Lancer RGB DDR5-7200 Mera Edition, plus Mera-themed chassis, headset, keyboard, mouse, and mousepad.
We are eager to see how all these products will look and perform, hopefully beyond our expectations. As always, we will keep you informed of any noteworthy hardware.