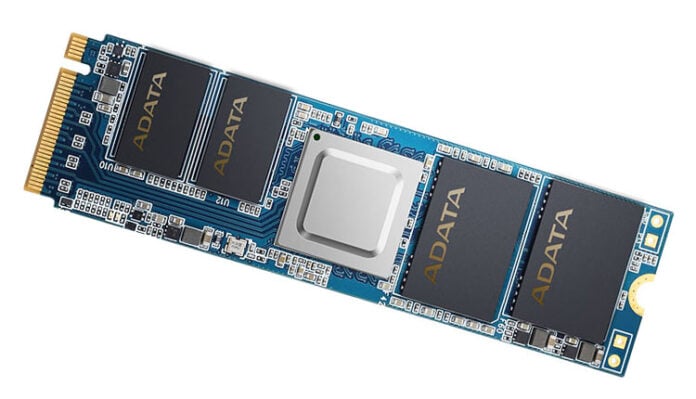 The consumer solid-state storage (SSD) market has received new impetus as more companies adopt the PCIe 4.0 interface and build controllers and NAND to take advantage of increased bandwidth.
As drives are typically presented in an M.2 form factor and connect to a motherboard's x4 connector, moving from PCIe 3.0 x4 to PCIe 4.0 x4 increases theoretical bandwidth from 8GB/s to 16GB/s. Protocol overheads and implementation reduce these figures by up to five per cent, but today's premium SSDs can push out sequential read and write figures of over 7GB/s easily enough.
Even mainstream solutions are adopting PCIe 4.0. A case in point is the recent WD Black SN770 NVMe SSD, whose controller/NAND combination affords over 5GB/s bandwidth and close to one million IOPS.
All that said, PCIe 5.0 is on the horizon. As you would expect, it again doubles the bandwidth of PCIe 4.0, so a x4 interface could, in theory, provide 16GB/s bandwidth. The Intel Alder Lake CPU is built with PCIe 5.0 in mind, but current 600 series chipset support is such that Gen 5 drives need to be in a motherboard's PCIe slots for full speed, not M.2. AMD is also coming to this high-bandwidth party later in the year with Zen 4-powered Ryzen 7000 series CPUs.
From a recent earnings call, controller specialist Silicon Motion made positive noises about upcoming PCIe 5.0. "We are going to sampling our PCIe Gen5 enterprise controller in the second half of this year. It will be production in second half of next year 2023," said Wallace Kou, President and CEO.
Most likely appearing in notebooks first
The controller Wallace refers to is the enterprise-grade SM8366, though Kou goes on to shed some light for the consumer side of things. "It is likely that PCIe Gen4 will last a few years since Intel, AMD both continue to bring new upgrade variant of CPU with PCIe Gen4 to the market. Similarly, we are preparing for the launch of our third-generation PCIe Gen4 controller next year before transitioning to PCIe Gen5 in the following year."
This means 2023/24, by all accounts, and the consumer controller in question is the SM2508. At the bleeding edge of performance, expect to see the PCIe 5.0 controller in drives destined for laptops first, as that market is larger than desktop. If bandwidth claims scale as we expect, these upcoming enthusiast-grade drives will easily breach the 10GB/s sequential barrier, possibly as high as 14GB/s, along with a commensurate increase in IOPS.
Silicon Motion doesn't produce finished consumer drives; that task is left to partners such as ADATA and TeamGroup. Competitors Phison and Samsung also have plans for PCIe 5.0 SSDs in the near future.
PCIe 4.0 will then be relegated to entry-level and lower mainstream status, paving the way for even cheaper drives imbued with decent performance.