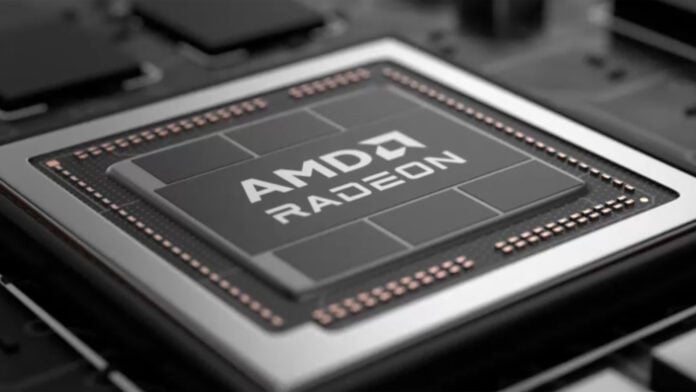 Gunning to compete with the Nvidia RTX 4080 laptop GPU, AMD has launched the Radeon RX 7900M. It's the first in AMD's arsenal based on a chiplet design and arrives exclusively in the Alienware m18 gaming laptop.
We've seen the Alienware m18 in a few different configurations over 2023. The latest launched yesterday, dressed entirely in red with a Ryzen 9 7945HX at the heart. It also comes with Alienware's CherryMX mechanical keyboard, 32GB of RAM, and 1TB of storage. You can increase up to 8.5TB, but that'll cost you a pretty penny. The new Radeon RX 7900M makes it an AMD Advantage package, letting the processor and GPU communicate more effectively.
Based on RDNA 3 architecture, the RX 7900M compliments the AMD Radeon RX 7900 XT but with a few cutbacks. First, it houses 16GB of GDDR6 VRAM and 72 RDNA 3 compute units running at 1.825GHz. This is expectedly a fair bit trimmer than its desktop counterpart due to space constraints, but still plenty capable. It also features two dedicated AI accelerators per compute unit and second-gen ray tracing accelerators. We don't yet know how this compares to the previous generation, but two is a bigger number than one, at least.
Just like the desktop version, the RX 7900M supports AV1 encoding and decoding. It also leverages machine learning from Xilinx to improve text quality in lower resolution or bit-rate streams. We'll never scoff at something that helps accessibility. Since this is a 1440p GPU, one of the options is an 18-inch 2560×1600 display at 165Hz. The other halves the resolution at 1920×1200, but more than doubles the refresh rate at 480Hz. It's fair to say that none of the extra horsepower goes to waste in either model.
AMD also claims you'll get up to seven per cent more frames in select games compared to the RTX 4080 mobile. This includes Cyberpunk 2077, Borderlands 3, and Dirt 5. Take this with a pinch of salt, though. All titles are hand-picked by Team Red to shine the best possible light on the RX 7900M. You'll get even more frames when enabling AMD Hypr-RX and FSR 3, but then you'd rightfully need to use DLSS 3 to make it a fair fight.
All this power makes the Alienware m18 a hungry laptop. AMD says the GPU will guzzle up to 180W TGP, while Alienware claims a lofty 200W with SmartShift Max. Tom's Hardware notes that Nvidia RTX 4090 laptop GPUs use around 175W, which is more efficient for the performance you get out of it.
Adding the portability tax brings the AMD Radeon RX 7900M-equipped Alienware m18 to $2,799, available from Dell and Best Buy in the US. More configurations might crop up with the chip, but only time will tell.