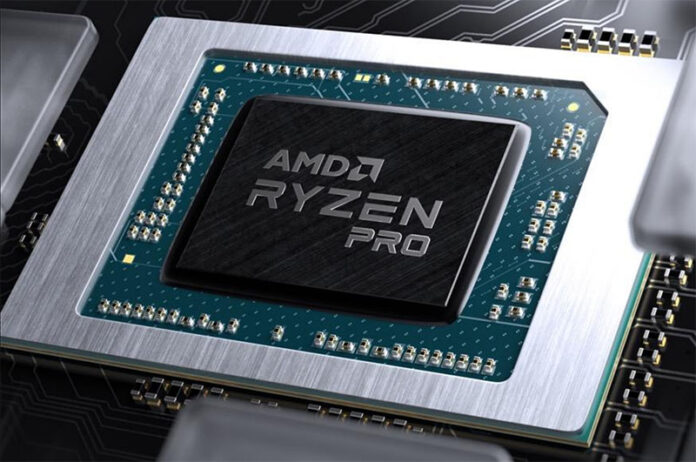 AMD has invigorated its consumer laptop proposition with the release of Ryzen 6000 Series mobile processors in January. Offering a modicum extra CPU performance, up to twice the integrated graphics oomph, and better battery life than last year's Ryzen 5000 Series mobile, there's plenty to get excited about. Today sees the same underlying technology applied to commercial platforms through Ryzen Pro 6000 Series processors.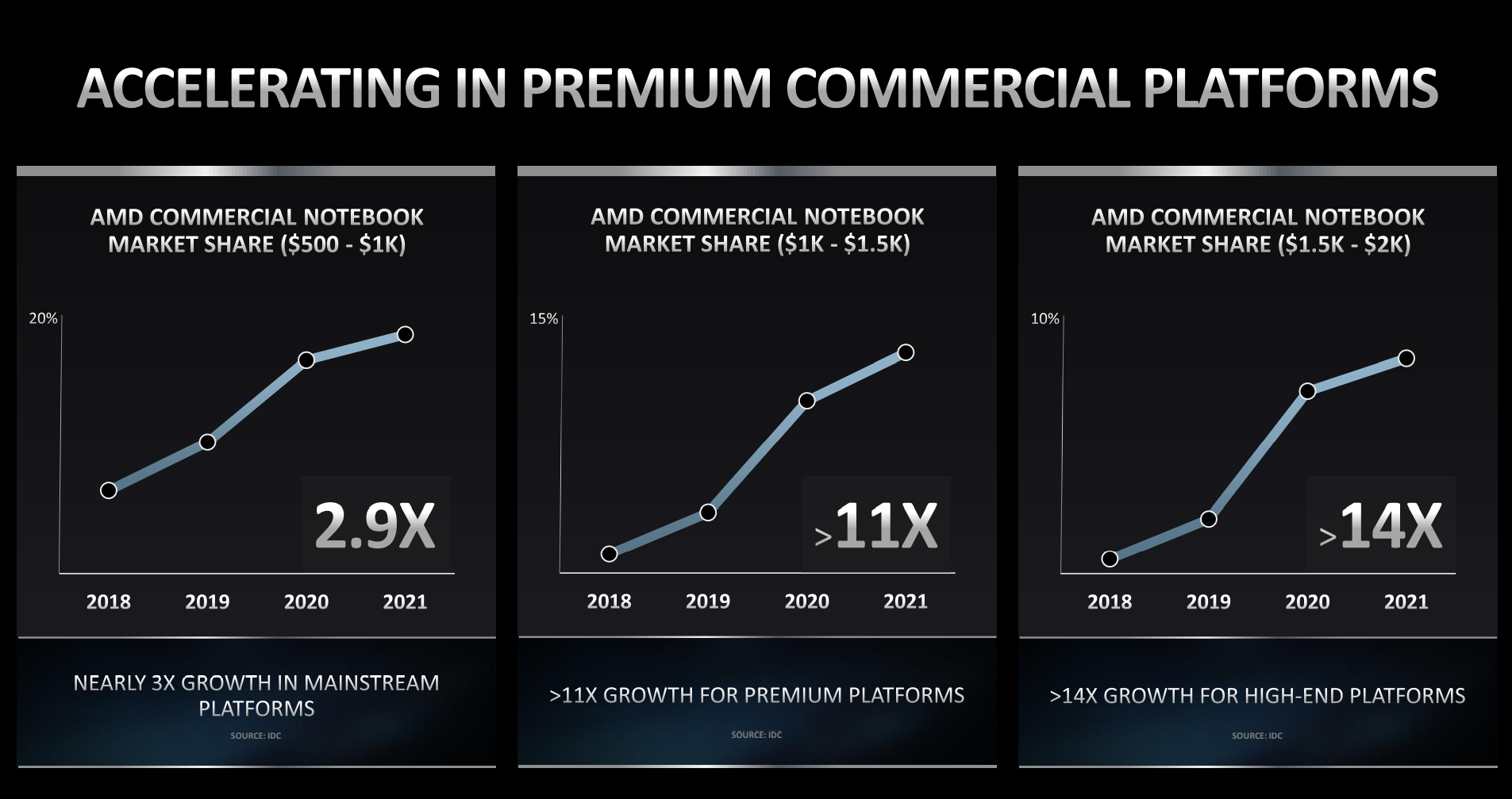 It makes sense for AMD to follow up on the consumer side as quickly as possible because the commercial notebook space is fertile ground for enhancing revenue and market share. Underscoring Ryzen success in this area, AMD has gone from having practically zero presence to a reasonable foothold; Ryzen Pro 6000 Series ought to cement the position further.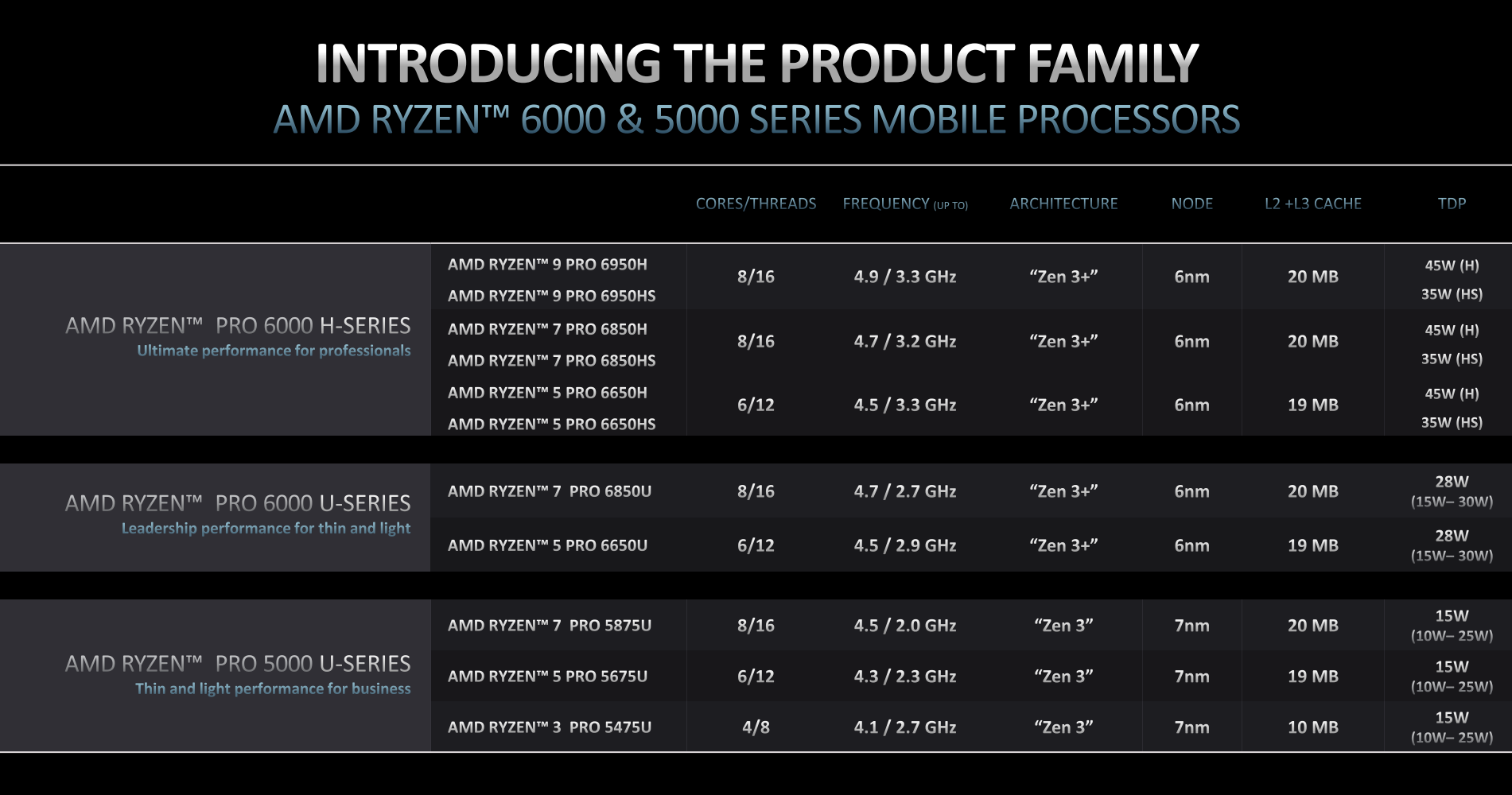 We see the same U-, H- and HS-series present in Pro. The only missing member from the consumer clan is HX-series, designed for best-in-class performance, whose absence is fully understandable.
Zooming in, AMD offers Pro 6000 in Ryzen 5, 7 and 9 families. They are distinguished from consumer chips by having a '5' in the model number, though as far as we can tell, frequencies and TDPs are identical.
Markets more sensitive to cost are catered by refreshes to existing Ryzen Pro 5000 Series chips. Based on the Zen 3 CPU and Vega GPU architectures, respectively, they are marginally higher-clocked versions of models released last March.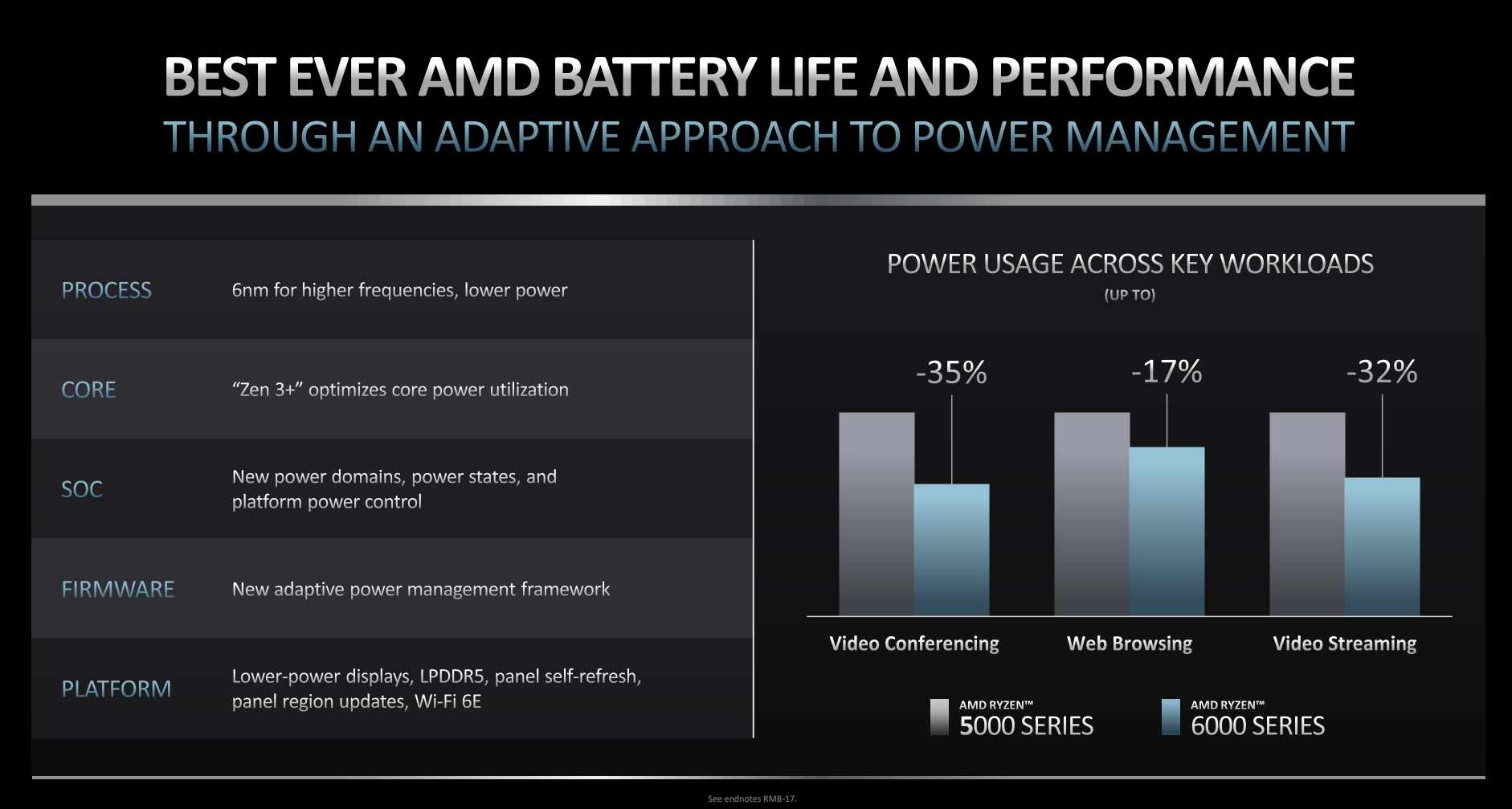 The main thrust of Ryzen Pro 6000 relies on improving CPU efficiency – Zen 3 moves over to Zen 3+ – and turbocharging graphics. Speaking to the former, AMD lists a number of useful benefits emanating from reducing the power required by the SoC, partly driven by a move down to a 6nm manufacturing node, which in turn boosts battery life, even if the OEM doesn't increase the capacity.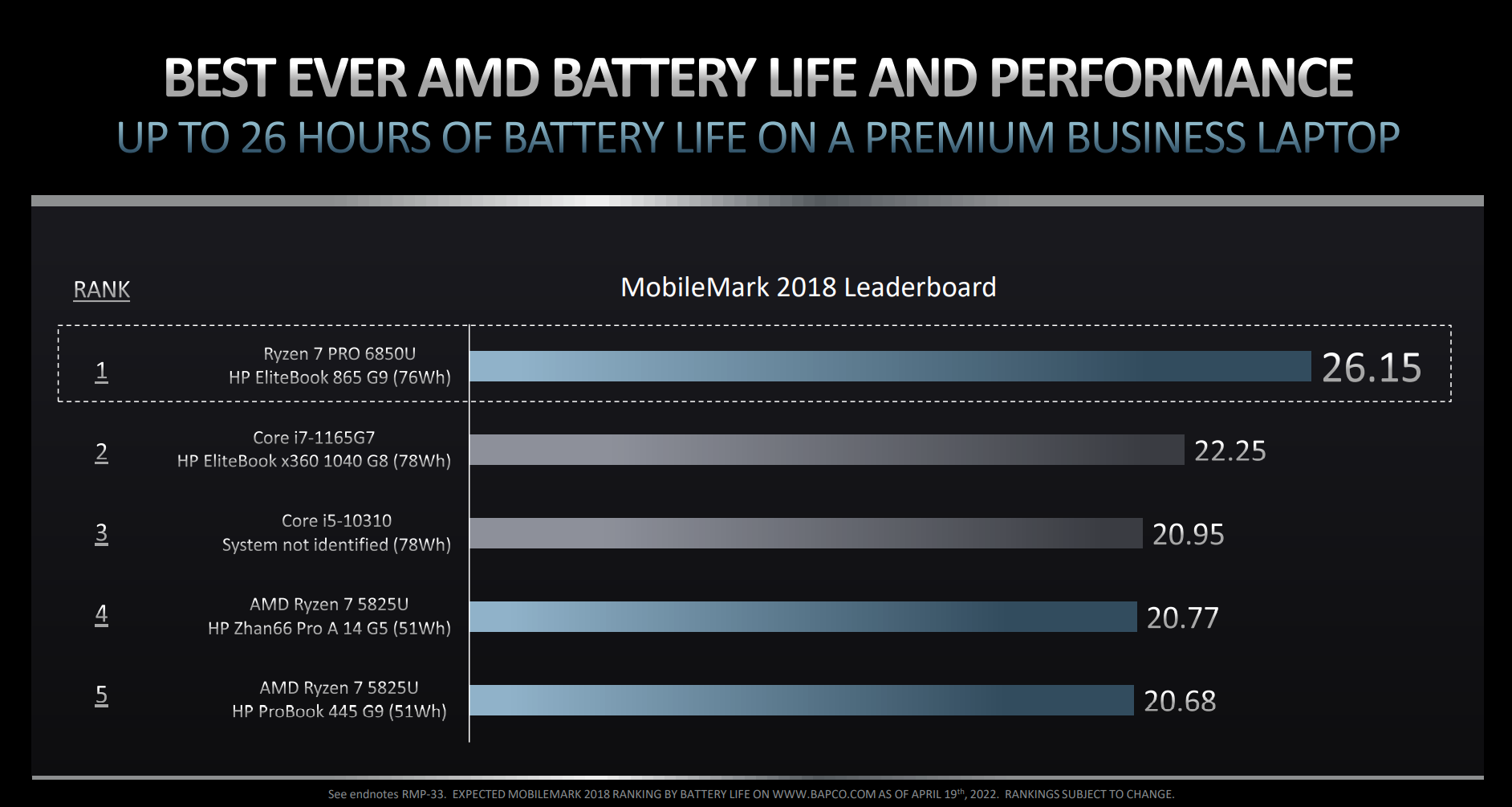 Battery life is so good, in fact, that an HP EliteBook 865 G9, equipped with a 76Wh capacity, sets a new record in MobileMark 2018. 26 hours is monumental longevity, meaning all-day use is a certainty for everyday productivity tasks.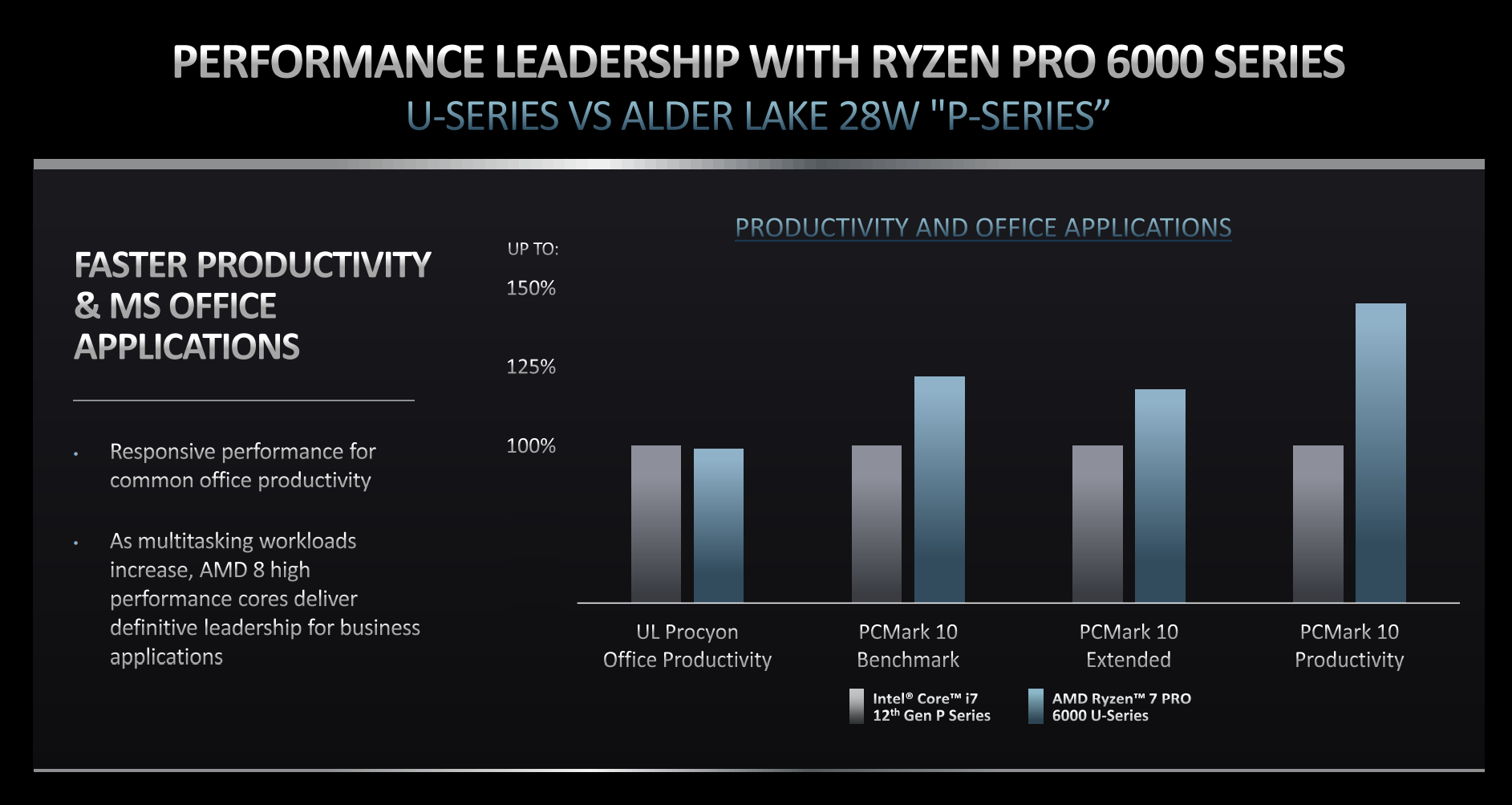 Performance is mostly known as benchmark characteristics are informed by specifications also common on released non-Pro chips. It is clear AMD will only portray situations where it does well, but even so, comparing generally like for like paints Ryzen 7 Pro in a good light.
PCMark tests benefit greatly from new RDNA 2 graphics baked into each Ryzen Pro 6000 Series APU, and if you like to game casually on a work notebook – most don't feature discrete graphics – then this new series is unbeatable.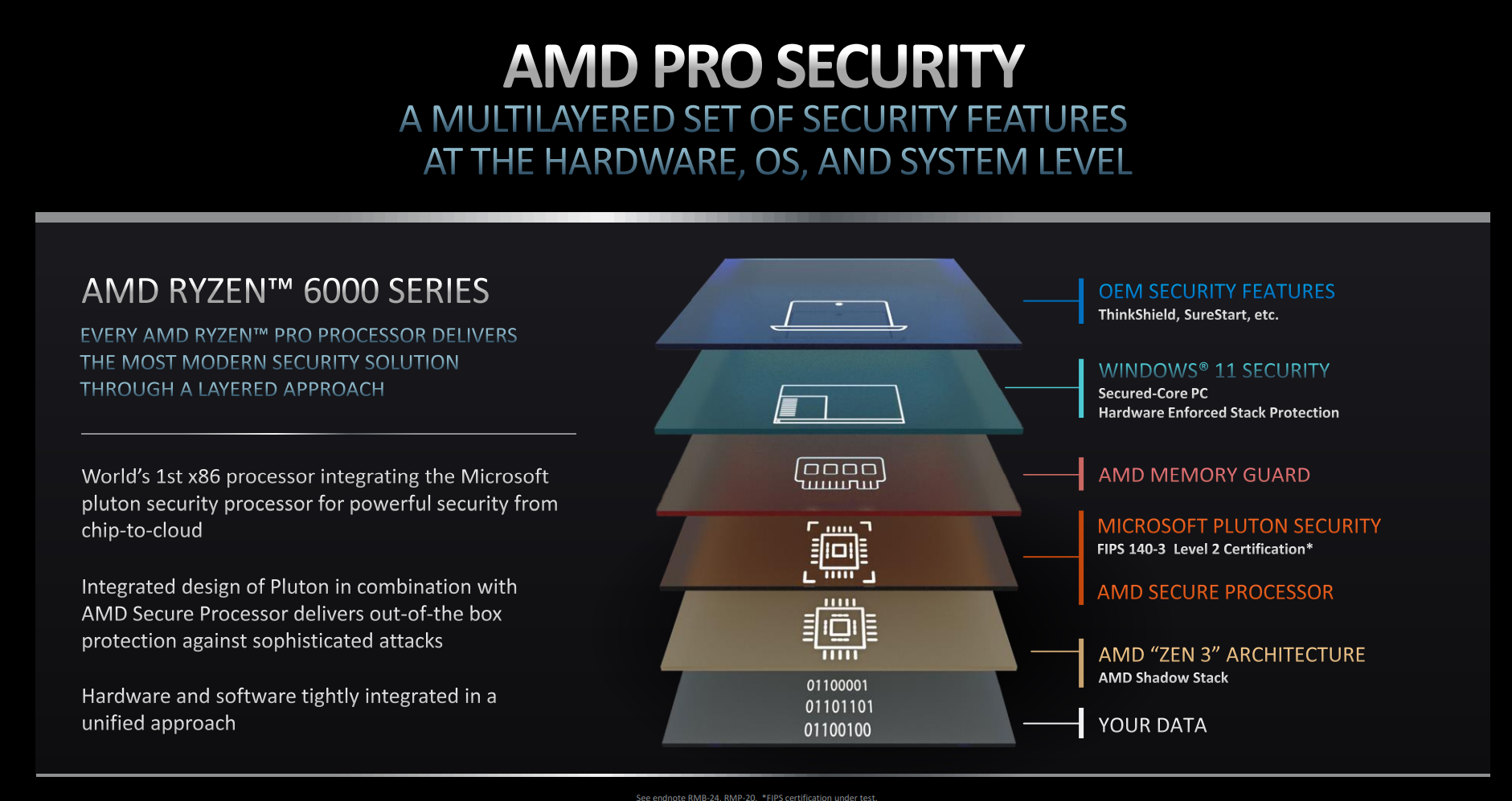 If Ryzen 6000 Series and Ryzen Pro 6000 Series are cut from the same architecture cloth, a fundamental question is why would a business opt for the latter, when it is usually more expensive?
Myriad reasons exist that coalesce into a meaningful unique selling point. AMD guarantees 18 months of planned software stability, has 24 months of guaranteed availability, which is key for large enterprises, and says Pro-certified SoCs go through a more stringent QA and validation process. On top of that, Ryzen Pro 6000 Series has enhanced security and remote updating credentials.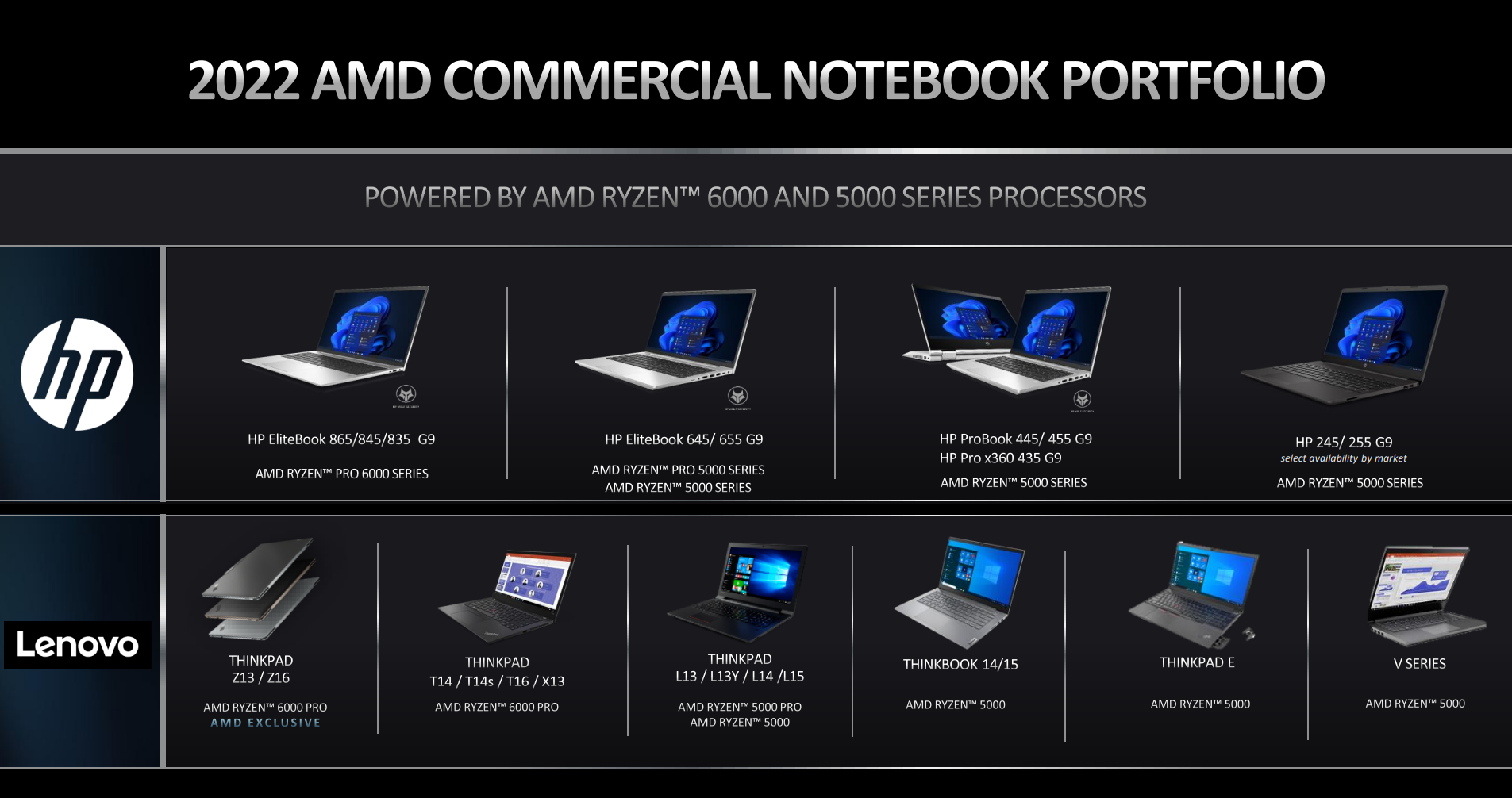 AMD also announces a number of laptops adopting Ryzen Pro 6000 Series technology. The expectation is they'll begin to filter through the channel in the next few months, and it's important AMD has triple-A vendors such as HP and Lenovo behind its professional platform.
Adding more business-ready features to the nascent Ryzen 6000 Series line was always on the cards. If all of AMD's claims hold true, there's every reason to think the Pro line will continue to increase market share at the direct expense of competitor Intel.