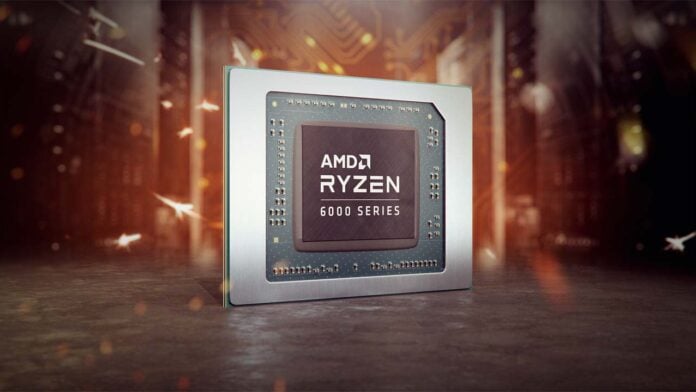 AMD's big push in the first few months of 2022 is getting its latest technology into a broader range of laptops. The strategy makes a lot of sense when set against the backdrop of mobile sales eclipsing desktop by a factor of more than 4:1.
Following on from last year's Ryzen 5000 Series mobile, encompassing a 10-54W power range, making them suitable for practically all laptops, AMD brings Ryzen 6000 Series mobile Rembrandt to the same segments. This new series aims to better the last in every meaningful way.
A change in model branding is sometimes used to obfuscate minor technology enhancements from one generation to the next. AMD, however, is making robust changes to CPU efficiency, GPU prowess, and heralding a large swathe of power-related improvements. Make no mistake, Ryzen 6000 Series mobile is a big, big launch for AMD.
Mobile processors ought to be considered system-on-chips (SoCs) rather than mere CPUs, and the interrelated nature of technology implementation is key in getting the most out of any design. Let's take each part of Ryzen 6000 Series mobile in turn.
CPU – Zen 3+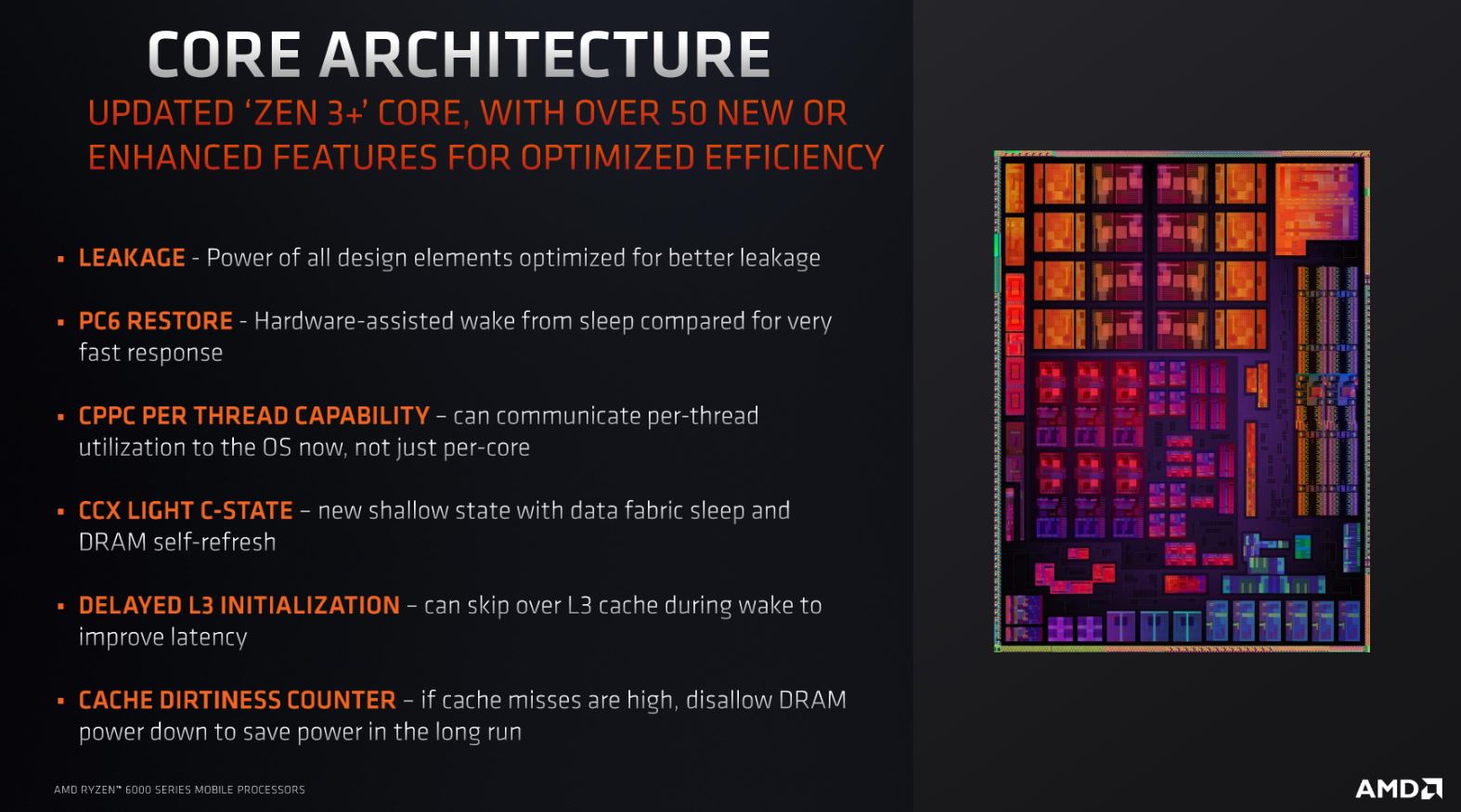 An overriding requirement for mobile processors is across-the-board excellence in efficiency. That's a tough gig when the base Zen architecture has to scale from energy-sipping 10W through to 300W in full-blown server Epyc guise, and the main driver of why AMD has adopted a chiplet approach to design.
Focus on CPU efficiency in the necessary 10-54W band sees AMD move from Ryzen 5000 Series mobile Cezanne Zen 3 to Zen 3+ contained within Rembrandt. Immediate benefits arise from shifting production from 7nm to 6nm. That may sound like a trivial move, but it has important ramifications for AMD. This 6nm variant brings reflective extreme ultraviolet lithography (EUV) technology into play for some layers. On a technical level this means foundry partner TSMC can reduce the number of steps to build the required mask from four (multi-patterning) to one (single-patterning). Obvious upsides are higher yields emanating from fewer variables to go awry.
"Make no mistake, Ryzen 6000 Series mobile is a big, big launch for AMD."
Other than yield, attendant benefits include lower power for a given frequency or, turning it around, higher frequency for the same amount of power. A win-win situation for TSMC N6 and AMD, and why you see higher peak speeds this generation.
Zen 3+ is likely to remain a mobile-only architecture, for reasons noted above, and while it doesn't fundamentally change the floorplan of Zen 3 – it's still an 8C16T engine, along with the same cache structures and latencies – AMD says over 50 features have been incorporated to boost efficiency.
Drilling down, PC6 Restore is a feature enabling processors to be turned off either individually or as a group when they enter a low-power state. PC6 itself is a wider state that turns off the entire CPU package, leaving only a low-power connection to the laptop's display.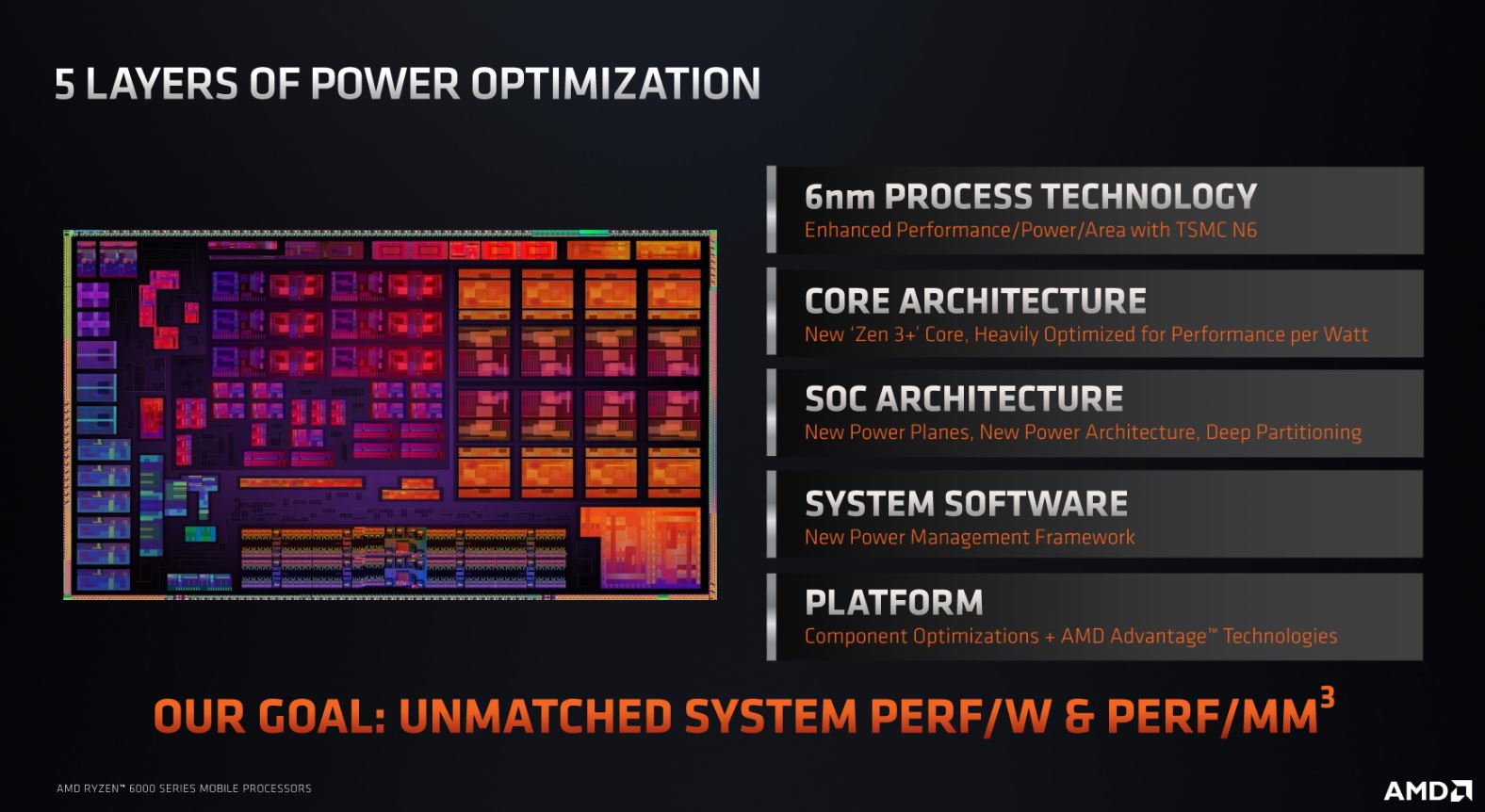 The purpose of doing so is to jump in and out of PC6 when cores or blocks have no meaningful work to do, and AMD adds hardware accelerators to switch states up to four times faster than previously possible. If parts of the chip can go to sleep, therefore, AMD forces them to do so, quickly. Examples include the little increments in time when browsing or reading email. Understand this doesn't improve all-out performance per se – Zen 3+ and Zen 3 will benchmark very closely if configured at the same speed – but ought to positively impact battery life. Intel's HUGI (hurry up, get idle) is AMD's HUGO (hurry up, get off).
You may recall AMD added Collaborative Processor Performance Control (CPPC) in Ryzen 3000 Series processors, which let the operating system know how best to apportion voltage/frequency/power states for the processor. CPPC worked on a per-core basis. Now, it works on per-thread, which is useful as all Ryzen 6000 Series mobile feature SMT.
As caches get larger and need more power to drive on and off, bypassing them in certain instances makes sense. Coming out of a low-power state to do some minor work doesn't require the expansive L3 cache to be warmed up and active. AMD says it can now circumvent caching and jump straight to DRAM if the need arises. Put this one down as a minor improvement debuted for battery longevity.
Another related feature removes the ability of the DRAM to power down and back up in instances where cache misses are high. Should that happen, perhaps on a workload that is hard to predict, the DRAM is automatically more active, and it's better to keep it switched on than continuously power cycle in and out. Another battery-related improvement.
These types of power benefits may only add a few per cent to on-the-go juice, but when all the low-hanging fruit has been gobbled up by previous generations, AMD's engineers are forced to go deeper and more granular – higher up the fruit tree, if you will – in search of further core-centric power savings in a mobile environment.
SoC power improvements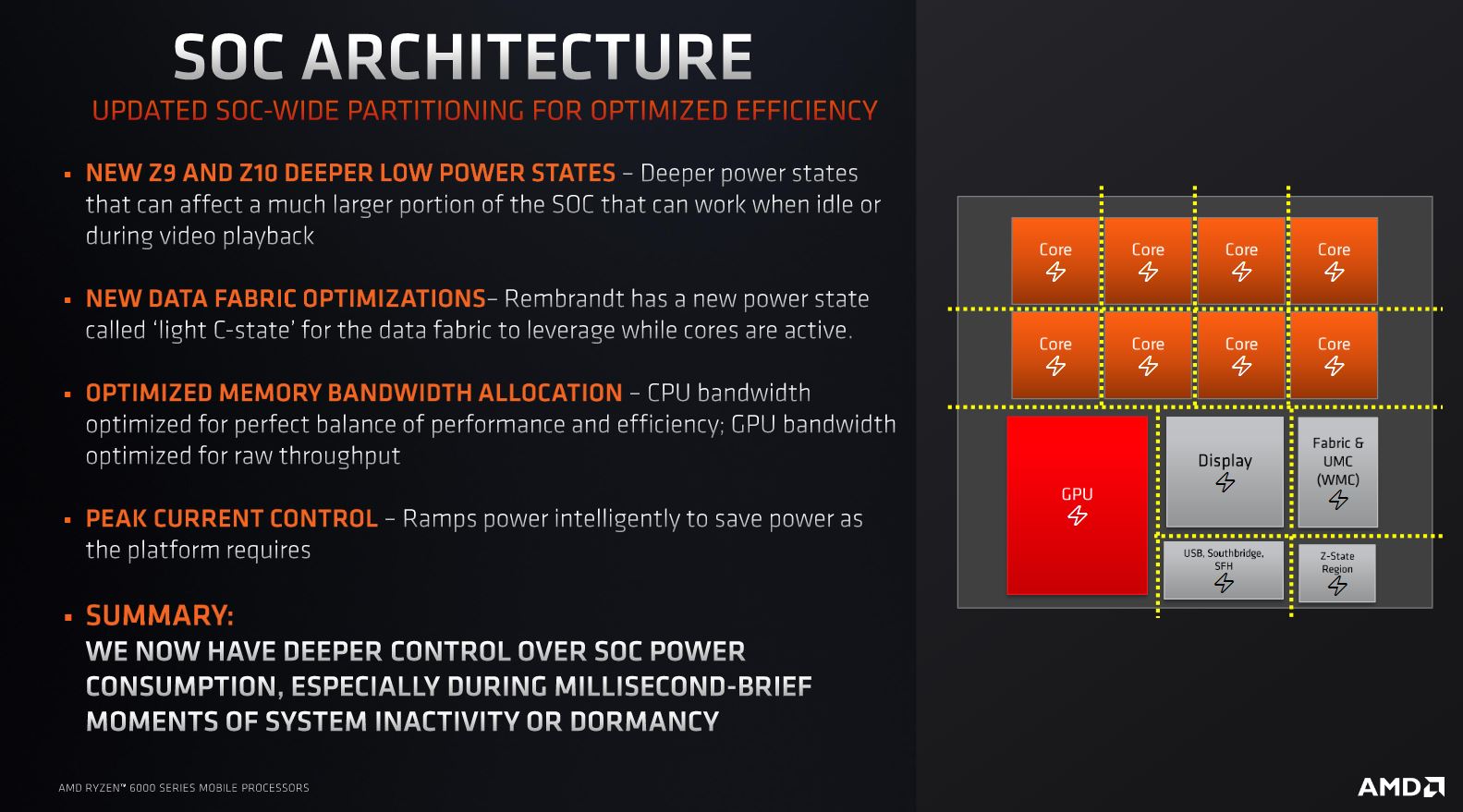 Moving outside the core, where AMD can only make so many optimisations without changing the underlying architecture, there's fertile power ground to be exploited within the SoC itself. A new Z10 state enables the Infinity Fabric and graphics core to be totally powered down, including encode/decode blocks, video controllers and, taking a step further, segments of the display itself.
Screens burn a large portion of the overall power budget, yet newer panels are coming to market which only self-refresh a small portion of the display, with the rest switched off, and AMD has the capability to address them with Rembrandt. Let's put these aggregated benefits down to multi-domain power gating.
AMD's built power management framework (PMF) software to leverage these multitude benefits. Unlike traditional laptop power plans such as silent, balanced or performance, which exercise a set level of performance irrespective of external factors, the PMF algorithm takes a bunch of internal and external telemetry into account when implementing a sliding power/frequency/performance scale.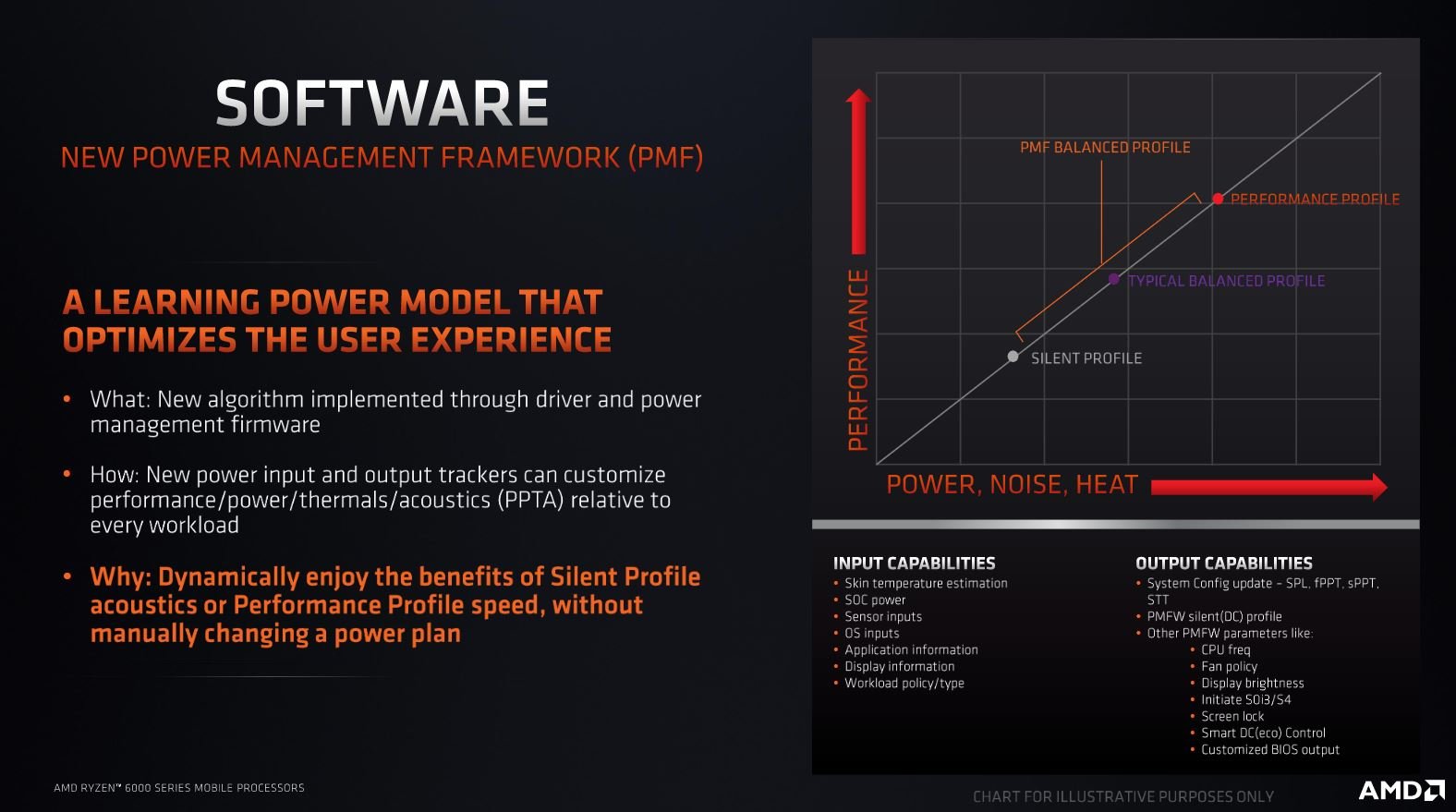 Working through drivers and firmware, PMF ought to keep laptops silent when browsing the web or running low-level tasks. It's difficult to ascertain how well it works, and how readily laptop makers adopt it, but it can be overridden and set back to regular power plans if needs be. We've lost count the number of times a thin-and-light laptop's fans spin up unnecessarily when opening up a browser or loading Excel; PMF seeks to eliminate this behaviour through a real-time feedback loop.
GPU – RDNA 2
If the CPU and SoC are about energy efficiency, the GPU portion is primed to address performance. Industry commentators have waited for AMD to mate the latest-generation CPU architecture with RDNA 2 graphics – Ryzen 5000 Series mobile, if you remember, tied Zen 3 with age-old RX Vega.
Now, RDNA 2 (Navi 2x) makes a first appearance in AMD APUs, skipping RDNA 1 in the process. Known as Radeon 6x0M, Ryzen 5 chips use 660M and more powerful Ryzen 7/9 the 680M.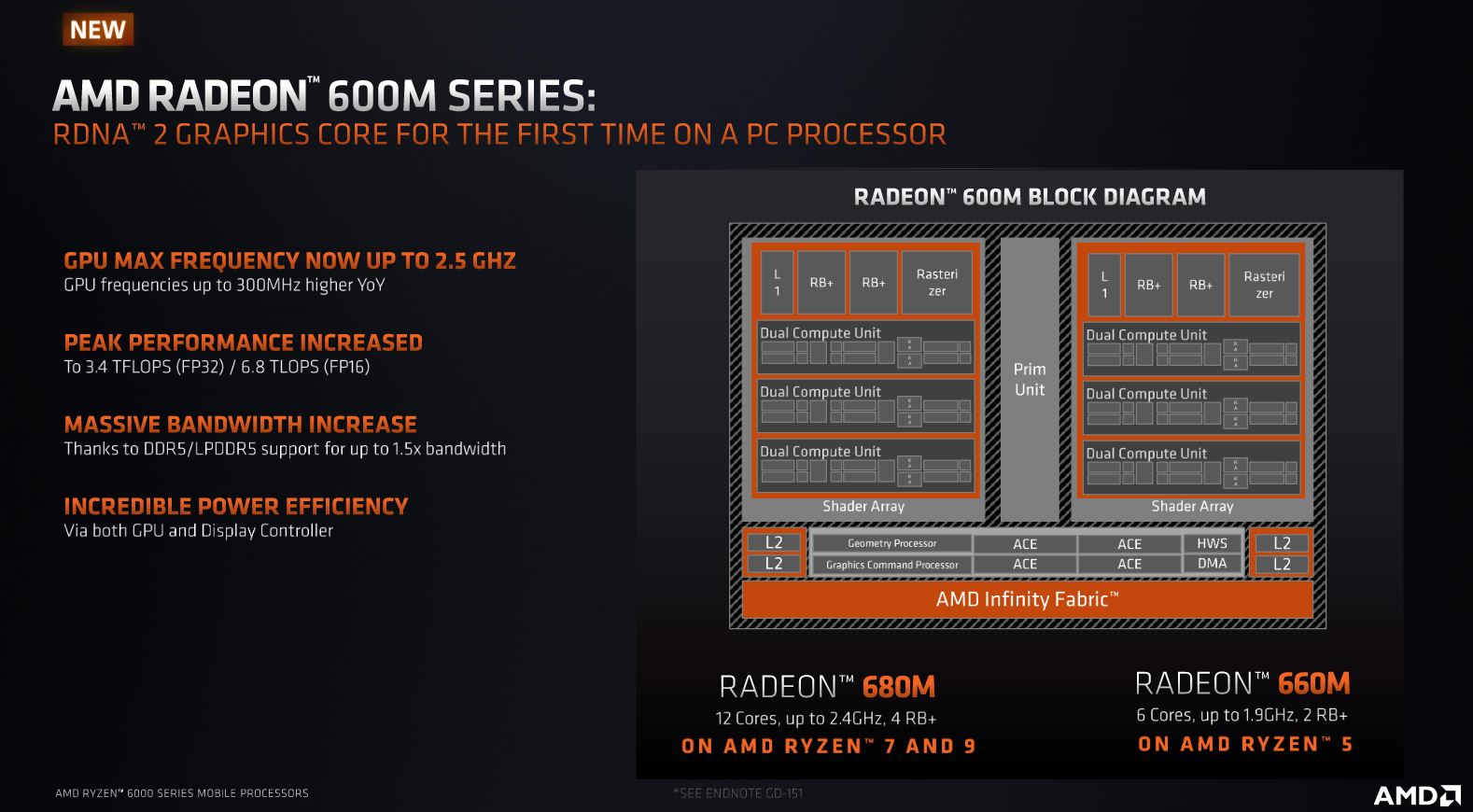 Looking at the top-bin GPU first, 680M is home to 12 Compute Units (768 cores) running up to 2.5GHz. As the architecture is broadly similar to the latest desktop graphics cards, this puts 680M's innate performance somewhere in the region of RX 6400. We know this because both share 3.5 TFLOPS FP32 compute throughput.
That's enough for AMD to proclaim Ryzen 7/9 6000 Series mobile processors capable enough for basic FHD gameplay, especially if framerate-boosting FSR technology is applied, though we don't believe baked-in ray tracing hardware has the necessary chops to be useful in any meaningful way.
660M, meanwhile, carves capabilities broadly in half, along with a lower peak speed, though it's still considered a performance upgrade over Ryzen 5000 Series mobile's IGP.
Zooming out to a platform level reveals a truth that may be overlooked. The initial Ryzen 6000 Series mobile platform, in Rembrandt from, uses either DDR5 or LPDDR5 memory alone; there is no room for ubiquitous DDR4. Reasons are simple enough, if you think about it, as the memory subsystem has to feed the much hungrier, bandwidth-hogging GPU.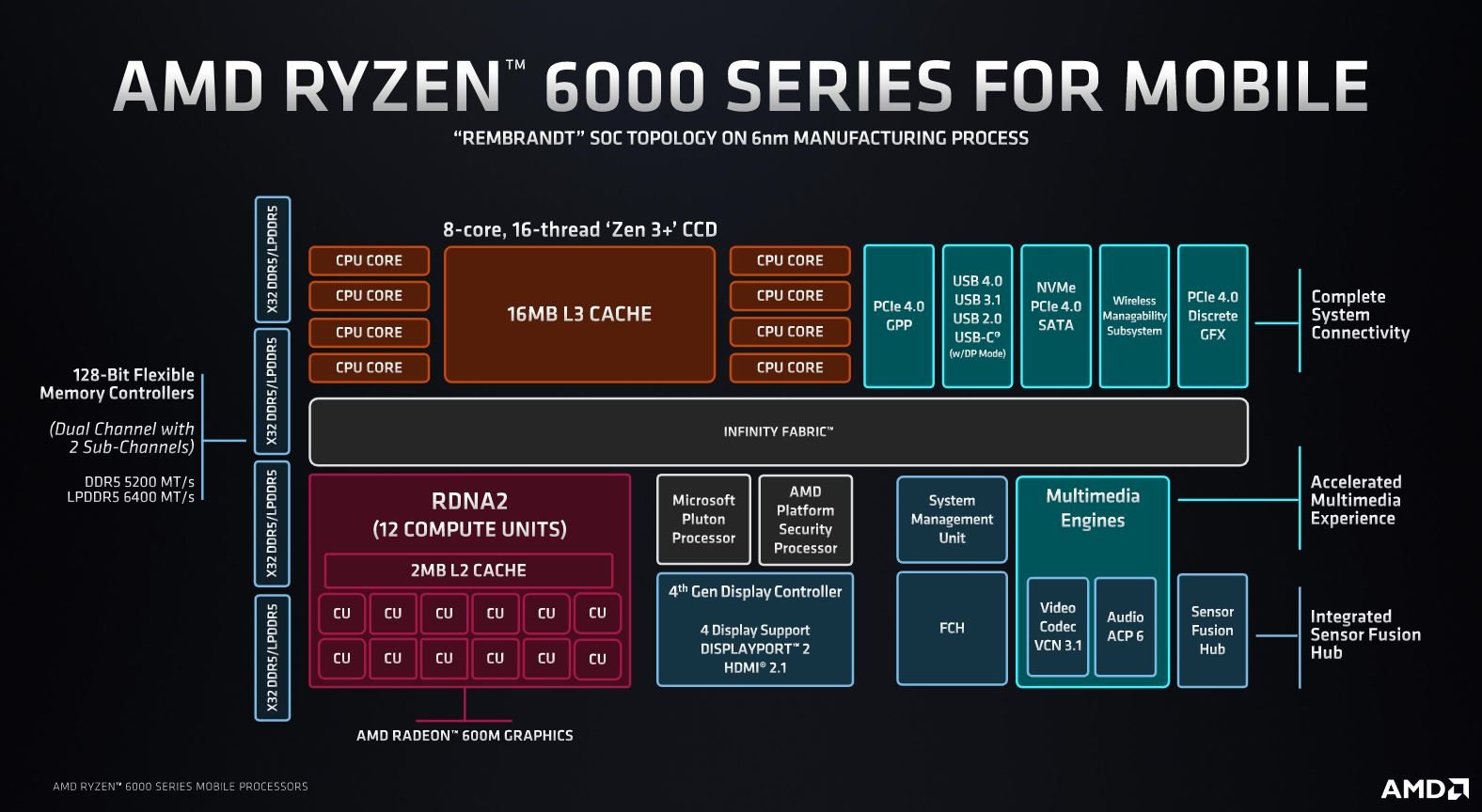 DDR4's bandwidth would stifle overall performance by too great a degree, according to AMD, but going solely for DDR5 raises the spectre of higher platform prices and limited availability, as we have seen on the desktop side of things. There will be DDR4 platforms under this platform umbrella, but not just yet.
"A big part of why AMD chooses to keep the CPU semi-shackled rests with harnessing RDNA 2-class graphics for the first time."
A look at the block diagram also reveals 20 PCIe 4.0 lanes, split into x8 for dedicated discrete graphics, x4 support for an NVMe drive, x4 reserved for specific components (WLAN, LAN, etc), and a further x4 for general purpose, which can be split into two x2. There's also support for WiFi 6E and integrated USB 4.0 (40Gbps), though certification is still pending and we'll likely see the first compliant laptops later in the quarter.
On the video front, FreeSync-compatible RDNA 2 graphics drive up to four independent displays. HDMI 2.1 and DisplayPort 2 are supported, as well, and hardware encode and decode properties match the latest desktop cards.
Adding vastly meatier RDNA 2 to the SoC results in transistor budget and die space ballooning from the last generation. Ryzen 6000 Series mobile fits in 13.1 billion transistors within a 210mm² die, compared to 10.7 billion and 180mm² for Ryzen 5000 Series mobile.. and that's with AMD taking advantage of smaller-pitch TSMC N6 production. Rembrandt may have been economically unviable on 7nm.
The Wrap
Ryzen 6000 Series mobile looks to strengthen AMD's attractiveness in common 15W and 28W power budgets. The CPU side focuses on efficiency more than manifest leaps in full-on performance, and Zen 3+ is likely to be only 10-15 per cent faster than its predecessor on a core-and-thread basis, with most of that gain coming from frequency, not IPC. This strategy is sensible when battery life is a major concern. Using exactly the same system and running typical workloads, AMD reckons 2022's mobile platform offers an extra three hours of battery life.
A big part of why AMD chooses to keep the CPU semi-shackled rests with harnessing RDNA 2-class graphics for the first time. The latest architecture combines with up to 768 cores and fast DDR5 memory to offer up to 80 per cent more performance than the previous generation. AMD deliberately goes down this route because, according to its research, the fastest growing segment of the notebook market is IGP-only models fitting within 18mm-thick chassis. In other words, laptops potentially featuring Ryzen 6000 Series mobile processors. Keeping it modern, the SoC harnesses key technologies such as USB 4.0, PCIe 4.0, (LP)DDR5, and WiFi 6E.
AMD puts an especially strong case forward with U-series chips primed for users requiring thin-and-light laptops with decent CPU performance and best-in-class integrated graphics. Just how Ryzen 6000 Series mobile shakes out against a bevy of Intel Alder Lake mobile processors, also new for 2022, remains to be seen. From what we can glean, CPU efficiency, GPU performance, and an up-to-date platform are key pillars driving AMD's notebook momentum through 2022.