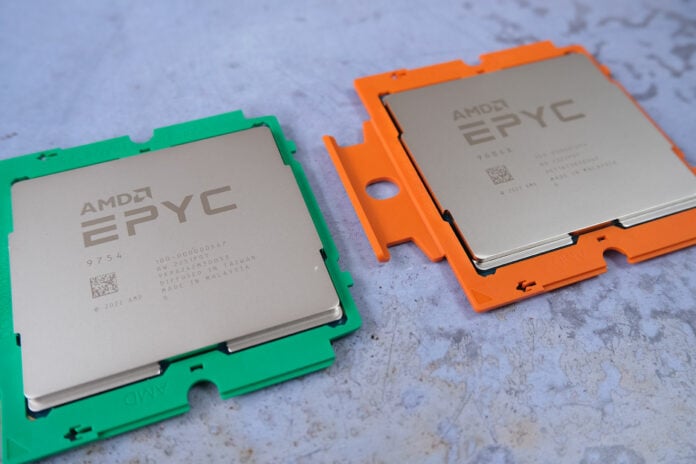 AMD's Epyc line of server processors received a significant boost last month as application-specific Bergamo and Genoa-X chips were added to the burgeoning roster. Focussing on core density and massive on-chip L3 cache, respectively, the two new 4th Generation lines are primed to exploit the rich seam present in cloud-native and technical computing segments. Today, we take a closer physical look at range-topping chips.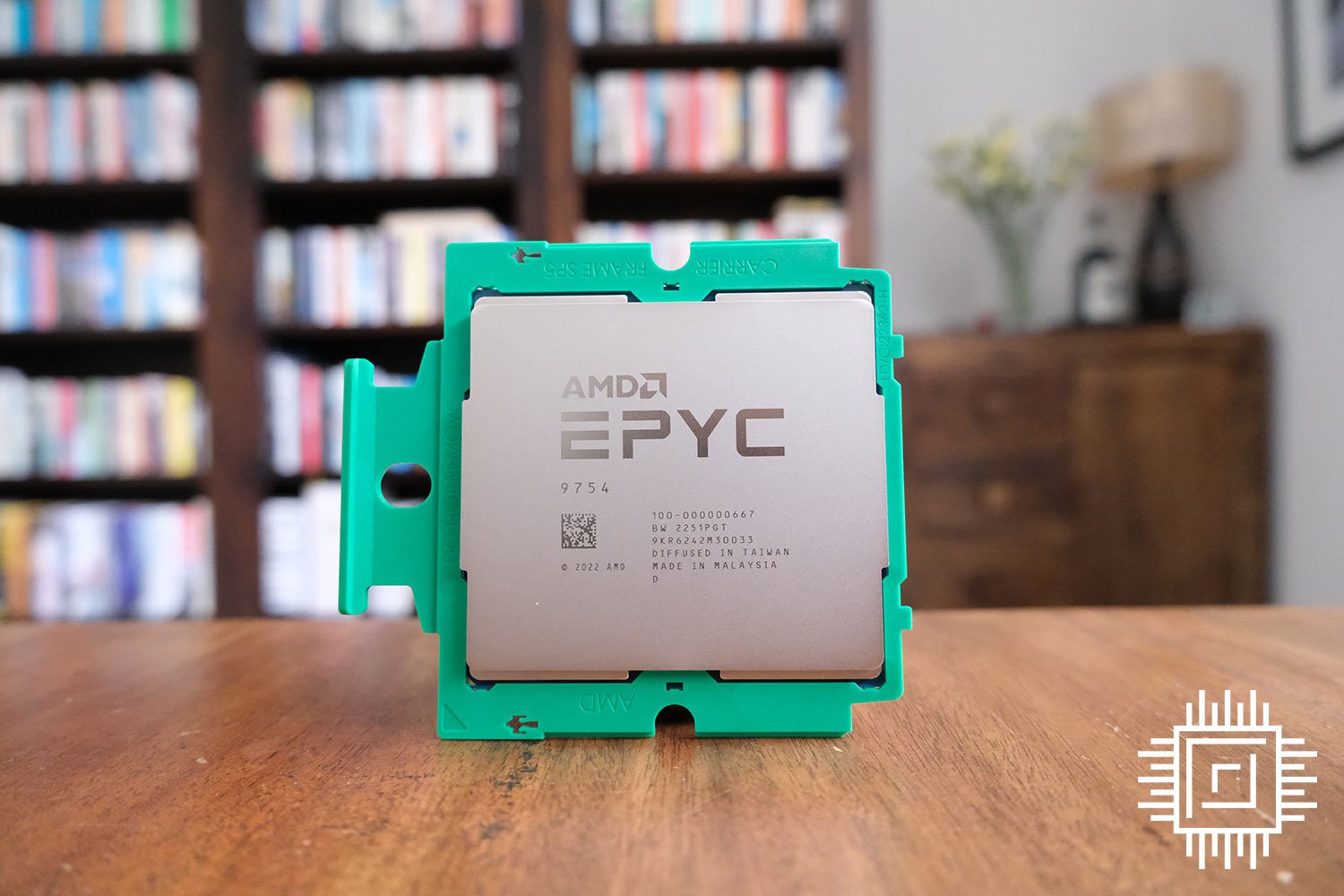 This here is the $11,900 AMD Epyc 9754. Numbers don't mean a whole lot to the uninitiated, but this is the densest x86 processor on the market. Using the leaner Zen 4c design – read all about it here – AMD shoehorns 128 cores and 256 threads into a single package that's SP5 socket-compatible with existing 4th Generation platforms.
AMD is able to concentrate 33 per cent more cores than regular Genoa processors – 128 vs. 96 – by stripping away what it deems to be silicon bulk not required for cloud-native applications. These include, but are not limited to, having less-dense cache, no TSVs for 3D V-Cache technology, and myriad other space-saving refinements. In fact, if taken on the same process and core-to-core basis, including L1 and L2 caches, Bergamo enjoys an impressive 35 per cent smaller footprint than Genoa.
Bergamo's champion, shown above, uses only eight CCDs, which is four fewer than Genoa-based 9654, but AMD effectively doubles the cores contained within each CCD. Now, there are a maximum 16 cores per partition, rather than eight, and simple maths leads us nicely to a full complement of 128 cores.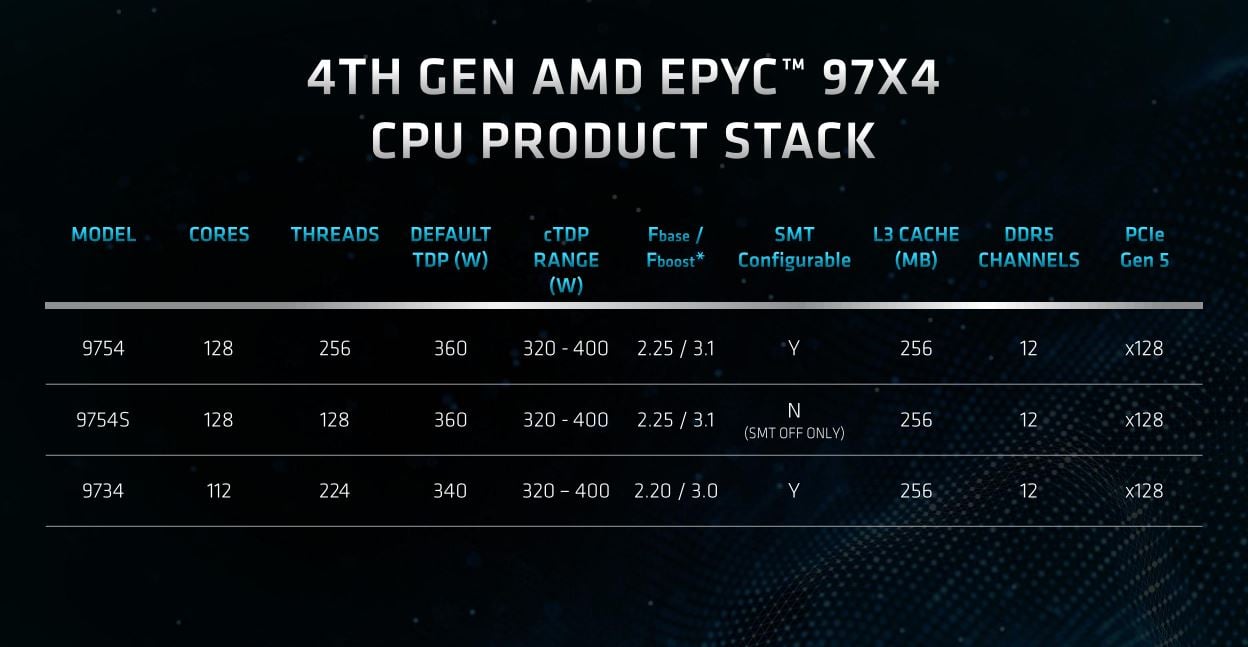 The pictured Epyc 9754 is one of three Bergamos coming to market. 9754S ($10,200) is the non-hyperthreaded version for customers whose workloads don't benefit from the technology, while 9734 ($9,600) switches off one of the eight CCDs to leave a 112-core, 224-thread offering. Opting for more cores compared to Genoa, however, translates into slower base and boost speeds. You can't have it all.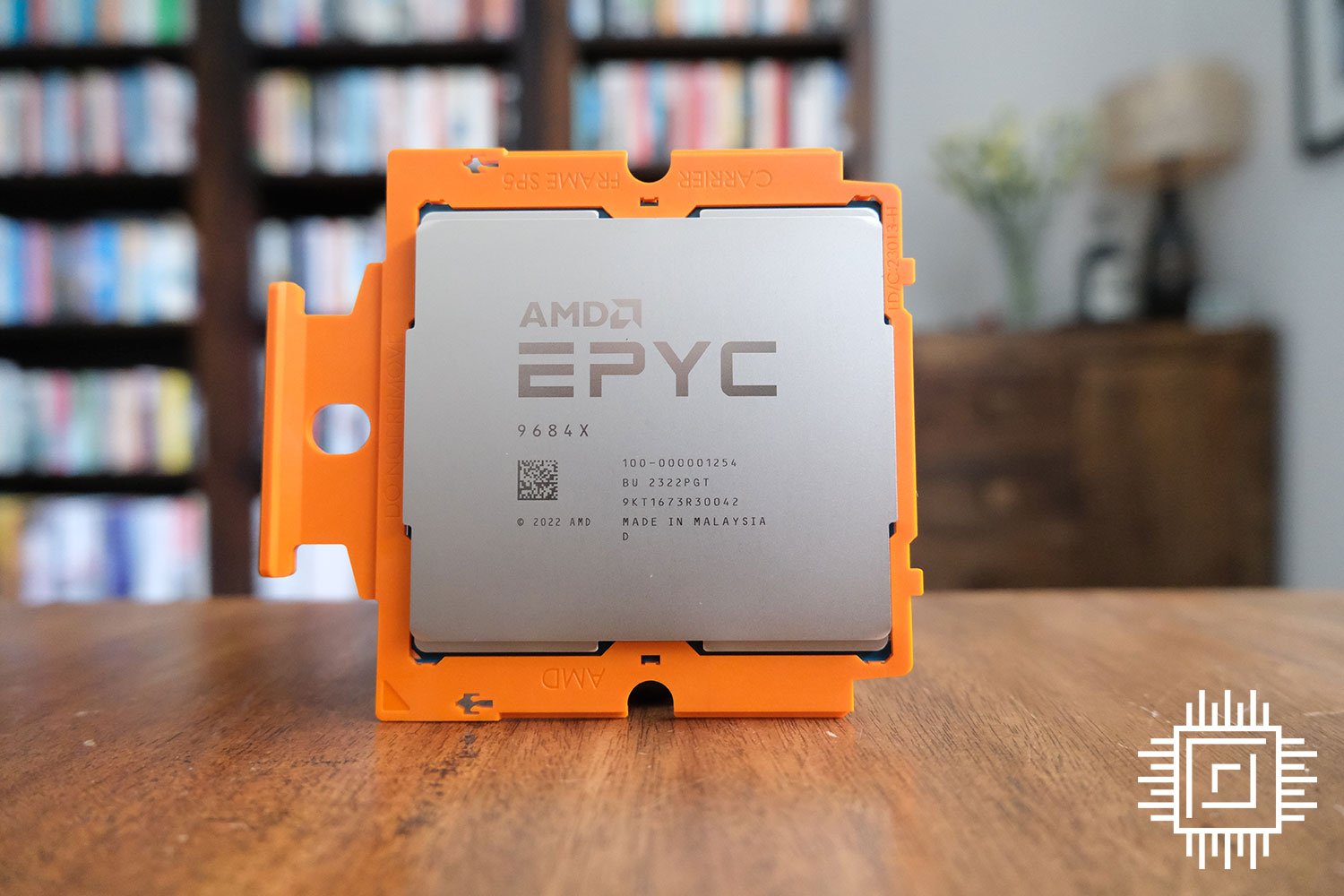 Switching gears, Epyc 9684X is the head honcho of the Genoa-X band of brothers. Architecturally identical to regular 4th Generation Genoa processors, AMD runs with the same L3 cache-infused strategy first seen on 3rd Generation Milan-X, leading to 3x the amount that's made possible by rather clever stacking technology.
As it pertains to this generation, AMD duly increases L3 cache from a standard 384MB on 9654 to 1,152MB on big chief 9684X. Think about that for a second; a 2P server carries approximately 2.3GB of L3 cache, which AMD considers a boon for technical-computing workloads that often arrive with huge datasets in tow. The ability to place them in on-chip cache is an immediate driver of enhanced performance.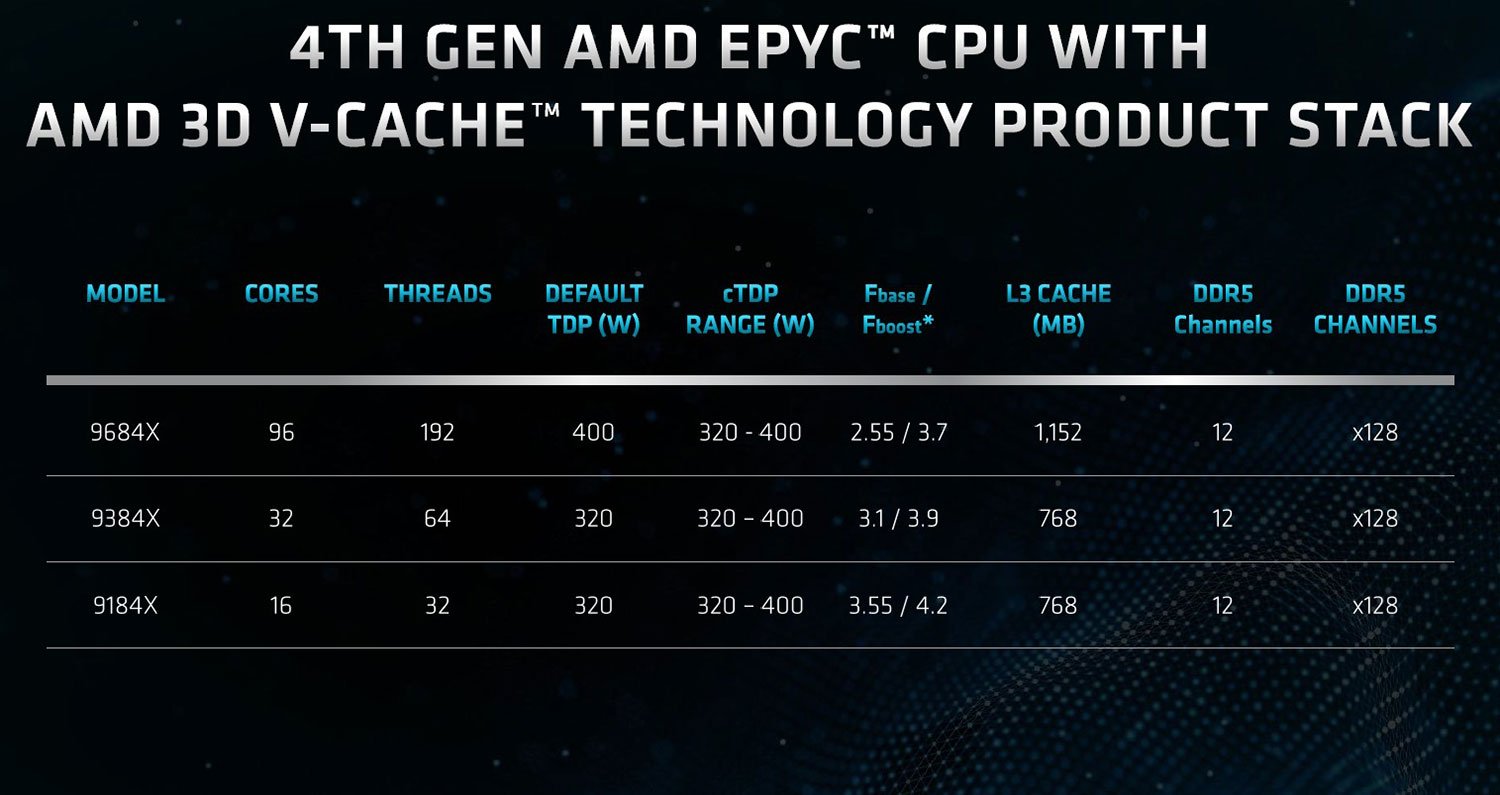 Costing a cool $14,756, 9684X is sure to grab the headlines as the most cache-rich x86 processor to date, but there are two other options at launch. 9384X ($5,529) and 9184X ($4,928) are built for customers whose workload favours caching over cores, though it is important to understand that all three carry the same feature-set.
To that point, AMD's consistency across generations enables customers to upgrade to another CPU without losing any functionality. For example, all 4th Generation Epyc chips offer 128 lanes of PCIe 5.0 connectivity and 12-channel DDR5 support.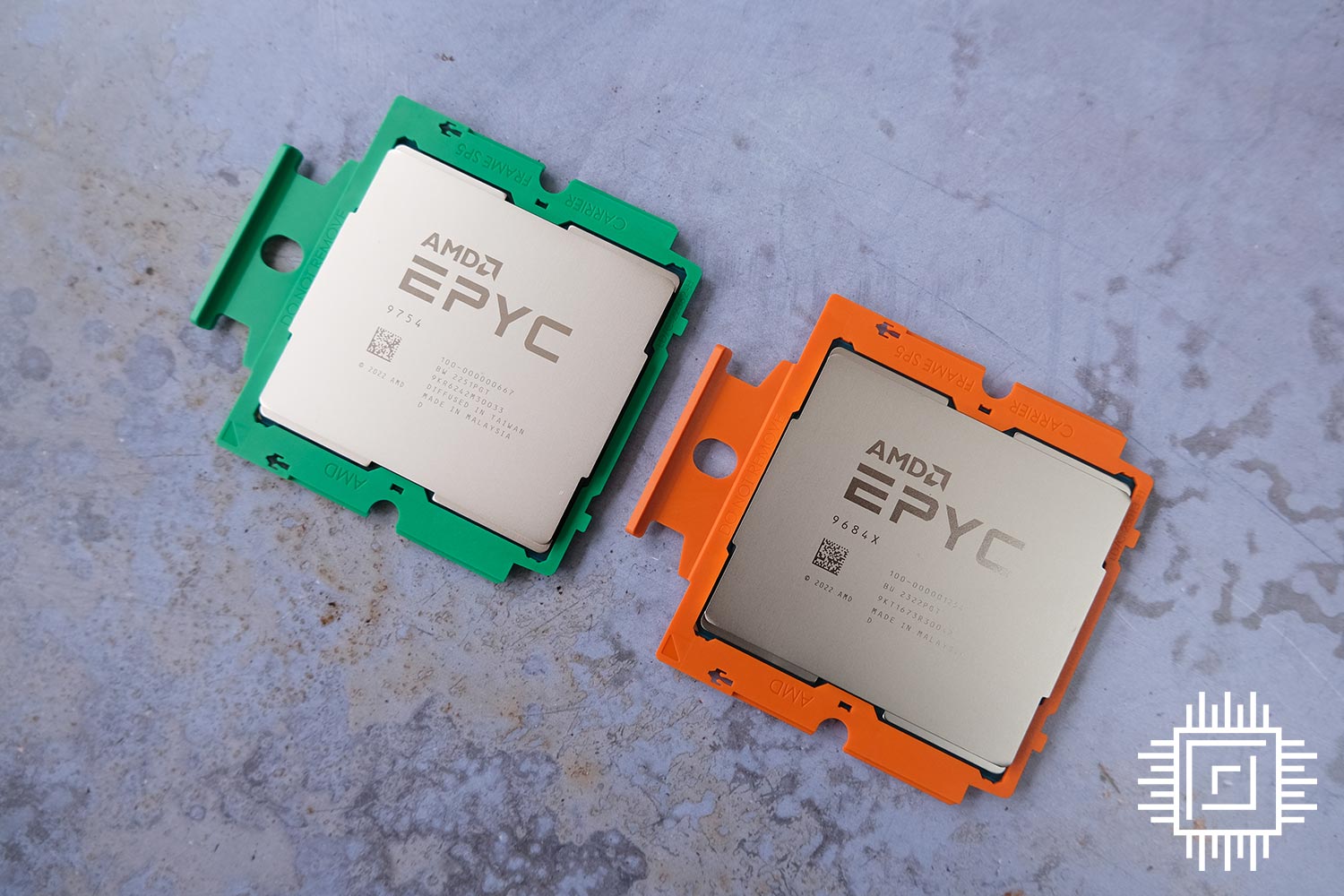 We're busy running these monsters through the benchmark wringer. Stay tuned for the full review.