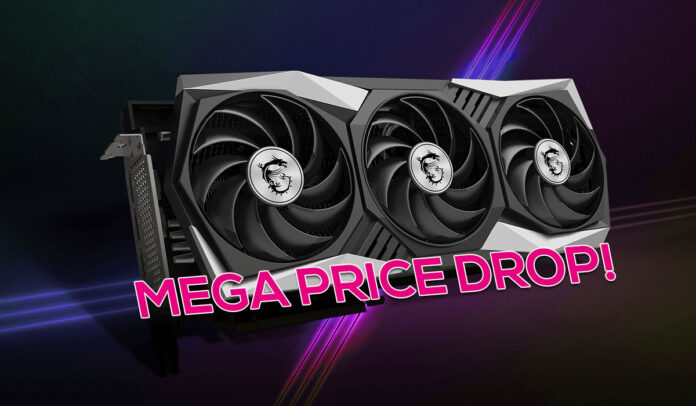 MSI Radeon RX 6750 XT
---
"AMD Radeon RX 6750 XT graphics card has 40 compute units, 12GB of GDDR6 memory, a game frequency of 2,495MHz, and an incredible 1440p gaming experience."
We earn a commission if you make a purchase, at no additional cost to you.
It's no secret that AMD is preparing to launch its latest mid-range graphics cards in the form of Radeon RX 7800 XT and RX 7700 XT, yet for the savvy shopper, the arrival of new hardware typically precludes bargains on existing gear.
That is certainly the case this morning, as partners have quickly adjusted pricing on a range of RX 6000 Series cards in one last-ditch effort to shift excess stock. MSI is leading the charge with the Radeon RX 6750 XT Gaming X Trio. Armed with one of MSI's best coolers, this triple-fan giant has 12GB of memory, is ideal for 1440p gameplay, and has plummeted to £359 overnight.
What's more, this particular model is eligible for a free Starfield Premium Edition game code worth £99, bringing the graphics card's effective cost down to a remarkable £260!
Easily the lowest price we've seen for a 6750 XT with this calibre of cooler, and a sure sign of the GPU boom having come to an end. It's worth pointing out the same card fetched over £550 this time last year, such was the madness of the graphics market at the time.
MSI Radeon RX 6650 XT
---
"The AMD Radeon RX 6650 XT desktop graphics card has 32 compute units & ray accelerators, 32 MB of new AMD Infinity Cache, & a game frequency of 2,410MHz."
We earn a commission if you make a purchase, at no additional cost to you.
Further down the stack, MSI's dual-fan Radeon RX 6650 XT Gaming X has dropped to £219, while the firm's Radeon RX 6600 Mech 2X now fetches £189. Noteworthy drops across the board, and both GPUs feature 8GB of memory and are eligible for a free Starfield Standard Edition game code.
Is it worth contemplating a last-gen card when next-gen successors are imminent? That's debatable, and we await RX 7800 XT and RX 7700 XT pricing with interest, yet with the discounts and Starfield promotion, RX 6000 Series remains a viable option for a large number of gamers who've patiently awaited a GPU upgrade that won't break the bank.