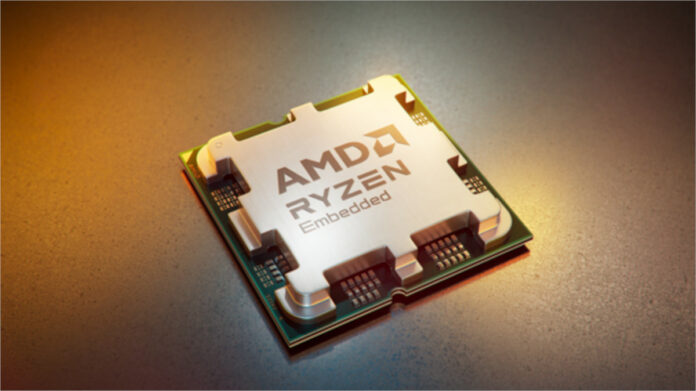 AMD is expanding its Embedded processor family to include Ryzen 7000 processors. The latest chips are intended for use in a wide range of embedded applications including high performance industrial automation, machine vision, and edge servers.
The AMD Ryzen 7000 Embedded Series is also the first embedded processor based on 5nm process technology. It has the added benefit of a seven-year manufacturing availability commitment. This is particularly ideal in both industrial and manufacturing applications with minimal downtime, scalability, and ease of integration being of the utmost importance. Hmm, I guess that Cisco I.T certificate wasn't entirely useless after all.
Besides this, embedded processors also need to meet power, performance, and budget requirements. AMD's chipsets tick all those boxes, simultaneously offering a wide range of support for various operating systems. While office computers run Windows, servers, surveillance, and receiving end systems might run entirely on Linux to save on costs.
This may sound weird, but Windows servers are notoriously expensive to run, particularly the licence fees and upkeep costs. It's not uncommon for startup companies to opt for their Linux-based alternatives on the back-end. Nevertheless, I digress. These AMD Ryzen 7000 Embedded Series processors can do all of this and much, much more.
In terms of specs this is what these chipsets have on offer:
Zen 4 architecture, featuring up to 12 high-performance CPU cores
Integrated Radeon RNDA 2 graphics 1WGP @2.2GHz max
AM5 socket, LGA 40mm x 40mm, 1718 pin
TDP from 65W to 105W
Support for Dual-Channel ECC DDR5 memory at speeds up to 5200MT/s
Up to 28 lanes of PCIe 5 connectivity on-chip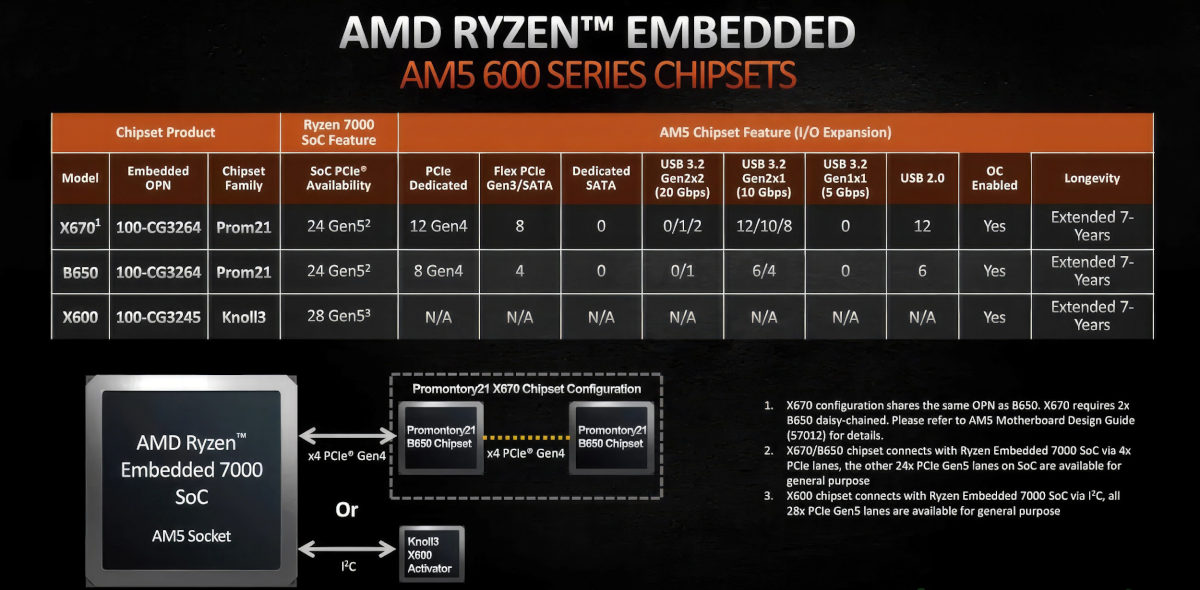 Of note, the Ryzen 7600X and 7700X make an appearance on top of the embedded processor chart alongside the newly-minted 7945, 7745, and 7645 CPUs. Though, these desktop counterparts do not offer the same extended seven-year manufacturing commitment.
"Industrial application use cases are continuing to grow in complexity and sophistication and are driving the need for increased processing capabilities," said Rajneesh Gaur, corporate vice president & general manager, Embedded Processors Group, AMD. "With the integration of key performance features and a scalable design, Ryzen Embedded 7000 Series processors are ideal for a broad range of applications from advanced robotics and instrumentation design to power control, video surveillance and more."
AMD Ryzen 7000 Embedded Series processors are currently in production. If you happen to be in Nuremberg Germany, AMD will showcase the technology in Hall 4, Stand 121 at SPS 23 from November 14-16.