Jump to: CPU | Performance | Gaming | Conclusion
Four chips rolled off the Ryzen 7000 Series production line late last year. Equipped with either 105W or 170W TDPs, maximum performance was the main aim of Ryzen 5 7600X through to Ryzen 9 7950X. Building on that momentum, last week AMD announced three further Zen 4-based processors armed with energy-efficient, 65W TDPs. Built to broaden the scope of latest-gen Ryzen, let's examine exactly how the newcomers stack up.
| Model | Cores / Threads | TDP | L3 Cache | Base Clock | Boost Clock | Cooler | Launch MSRP |
| --- | --- | --- | --- | --- | --- | --- | --- |
| Ryzen 9 7950X | 16 / 32 | 170W | 64MB | 4.7GHz | 5.7GHz | No | $699 |
| Ryzen 9 7900X | 12 / 24 | 170W | 64MB | 4.7GHz | 5.6GHz | No | $549 |
| Ryzen 9 7900 | 12 / 24 | 65W | 64MB | 3.7GHz | 5.4GHz | Yes | $429 |
| Ryzen 7 7700X | 8 / 16 | 105W | 32MB | 4.5GHz | 5.4GHz | No | $399 |
| Ryzen 7 7700 | 8 / 16 | 65W | 32MB | 3.8GHz | 5.3GHz | Yes | $329 |
| Ryzen 5 7600X | 6 / 12 | 105W | 32MB | 4.7GHz | 5.3GHz | No | $299 |
| Ryzen 5 7600 | 6 / 12 | 65W | 32MB | 3.8GHz | 5.1GHz | Yes | $229 |
Analysis
First off, big chief Ryzen 9 7900 is effectively a power-limited version of Ryzen 9 7900X, dropping from a maximum 170W TDP/230W PPT all the way down to 65W/88W. Other than that headline chop – and it's a very significant one at that – the same 12 cores and 24 threads remain. A huge reduction in power means base and boost frequencies are naturally hurt, but as we have seen in our popular Ryzen 9 7950X at 65W article, general performance remains robust.
Of course, one can still opt for a full-fat 7900X and run it at 65W – one would imagine the benchmark numbers ought to come out at similar levels – yet non-X has a couple of neat tricks up its sleeve. The first is a much lower retail price, dropping from $549 to $429. The real-world implication isn't that great, however, as 7900X is routinely available for a street fee of $465. The second is more meaningful for the 65W TDP, as Ryzen 9 7900 is bundled with an AMD Wraith Prism LED cooler in the box. That's genuine extra value right there.
Dropping down to Ryzen 7 7700 tells a similar story, though the massaging to 65W ought to have less of an impact as the X-suffixed model it is readily compared to has only a 105W power budget. Again, there is a decent SRP reduction, from $399 to $329, but as before, 7700X is available today for $345. Like 7900, all-new 7700 is also bundled with Wraith Prism LED.
Last but not least, and set to counter the growing Intel 13th Gen Core desktop threat at mid-range levels, AMD introduced the $229 Ryzen 5 7600. Equipped with the more basic Wraith Stealth cooler in the box, value is the strongest play; unlike the other two aforementioned X models, regular 7600X remains steadfast at $299.
What's more, the unlocked nature of AMD AM5 processors means you can probably turn each of these new chips into their X-suffixed counterparts with manual overclocking. Intriguing, huh?
AMD Ryzen 9 7900 Close Up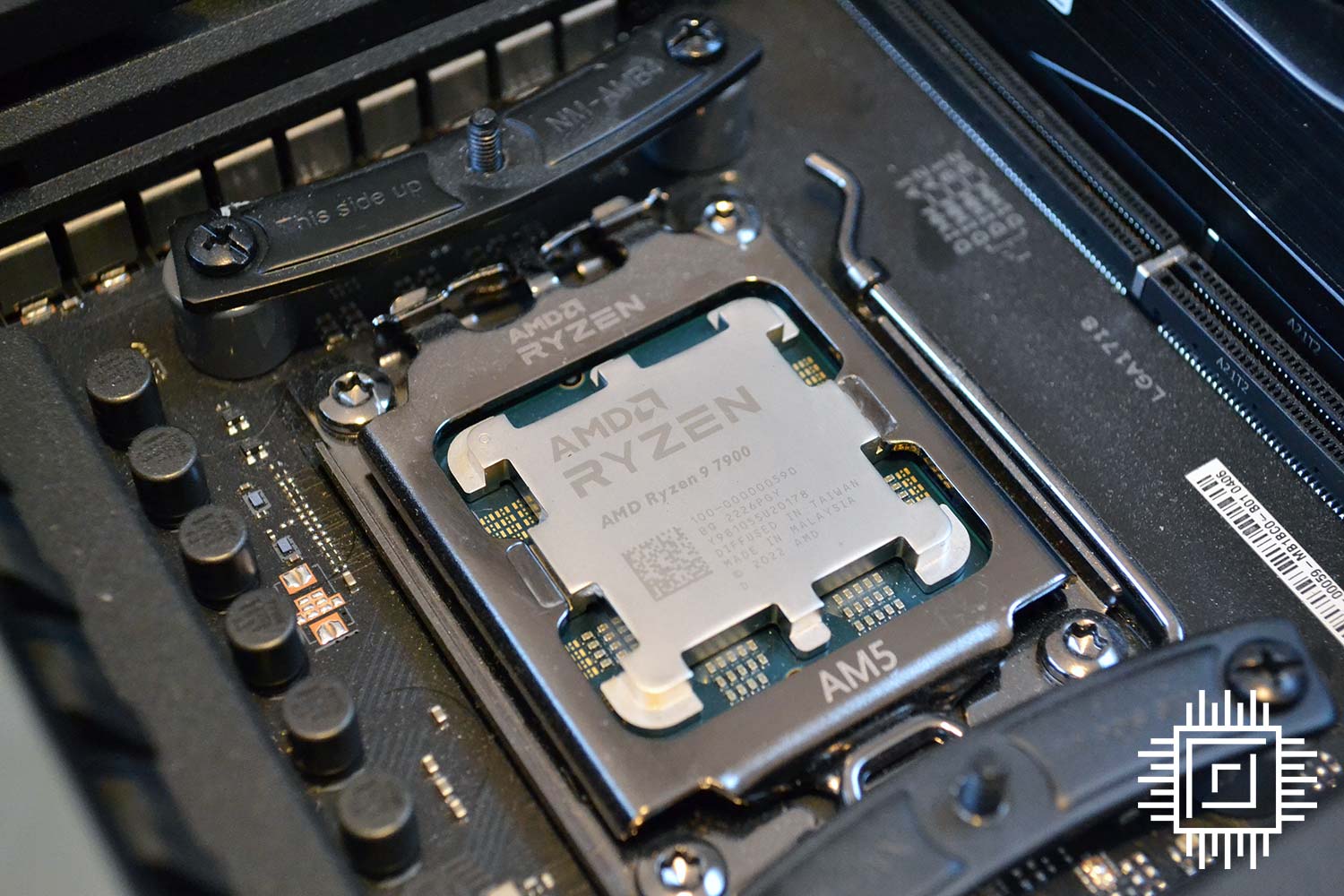 It's to the best CPU at 65W that we now draw particular attention. There are no surprises with respect to presentation. The AM5 LGA1718 processor fits right into a goodly range of 600 Series chipsets. As nominal power is not a concern, there's little need to trouble yourself with 20-phase boards touting insane loads. In fact, mini-ITX boards are more suited to wattage-restrained models.
AMD has most likely taken Zen 4 silicon that doesn't exhibit the necessary voltage/frequency curve for high-frequency 7900X chips and chosen to build out a 65W offering. Part of the reason why the non-X is cheaper than its immediate sibling, we have no qualms about AMD's approach.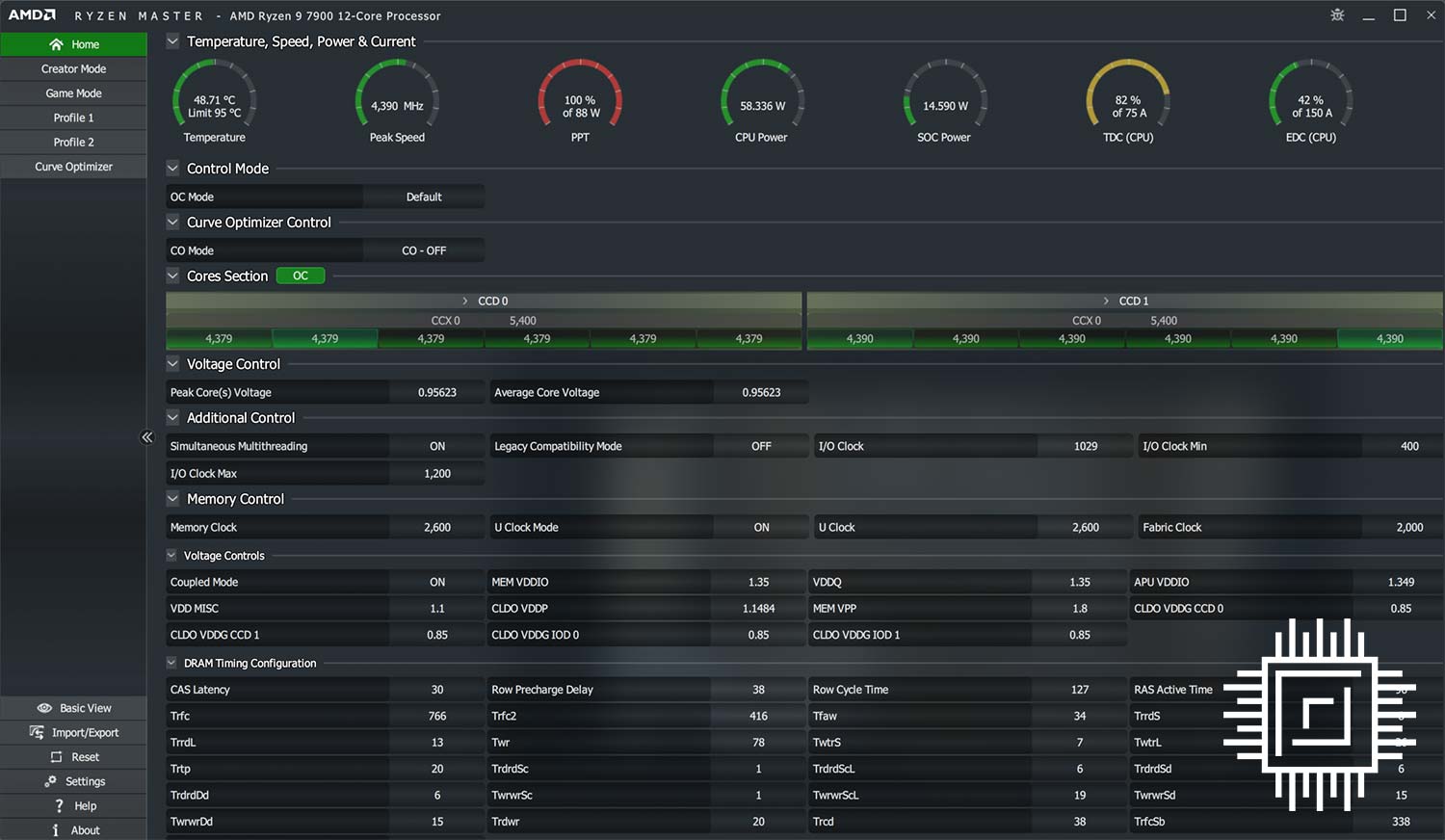 Paying healthy efficiency dividends immediately, 7900 tasks all 24 threads whilst not exceeding an 88W PPT figure. That's some way down, naturally, on the 230W PPT ascribed to the regular, X model. Heck of a switch, in the right direction as far as my electricity bill is concerned.
But what's interesting is the lack of power doesn't totally decimate frequencies. Running all-core applications shows both CCDs humming along at almost 4.4GHz, compared to around 4.9GHz on full-fat 7900X. It's clear to us that Zen 4 works far more effectively at considerably lower voltages than those introduced by the original quartet.
And don't imagine bundled Wraith Prism LED is a mere afterthought in bulking out the package. Currently retailing for £40, the good-looking unit is simplicity itself; attaching to the motherboard by fastening on to the pre-mounted bracket, you're up and running in a minute, removing the faff associated with some aftermarket solutions that, in reality, are no better thermally.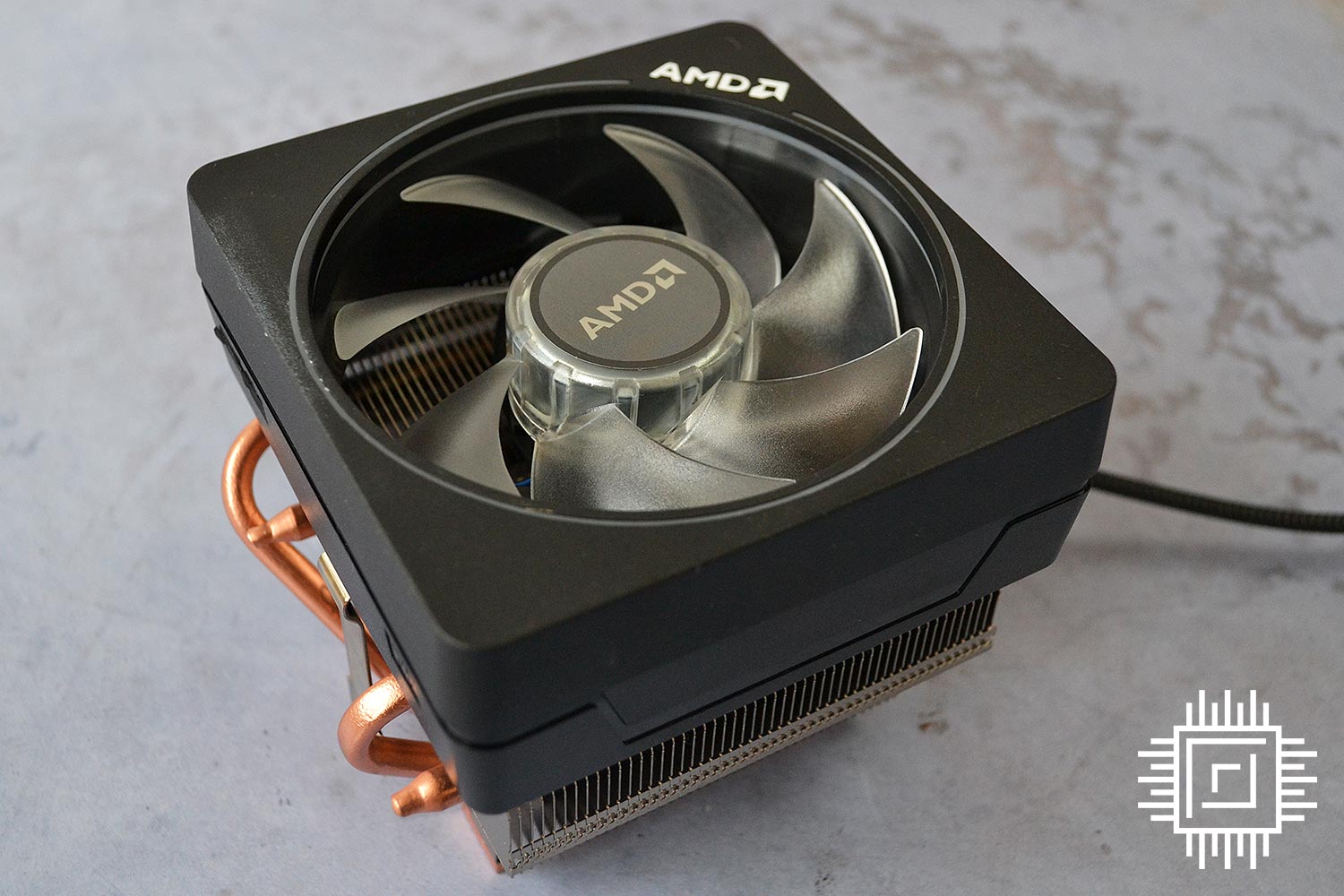 Core Performance
Tests are carried out on top of an Asus ROG Crosshair X670E Hero motherboard outfitted with 32GB (2x16GB) of G.Skill Trident Z5 Neo EXPO memory operating at official specifications of DDR5-5200 (CL30).
The supporting cast, also common between all processors, consists of an Nvidia GeForce RTX 3080 FE graphics card, Seagate FireCuda 530 2TB SSD, and Noctua NH-D15 cooling. The ensemble is powered by a be quiet! Dark Power 13 1,000W PSU. The review chip is run at AMD-mandated settings of 65W TDP and 88W PPT.
The most important performance comparison is to full-on Ryzen 9 7900X, and analysis of improvements will inform us whether AMD's power cuts are too savage. If you're not bothered about escalating power, Intel's Core i7-13700K, priced at $409, is another to keep a beady eye on.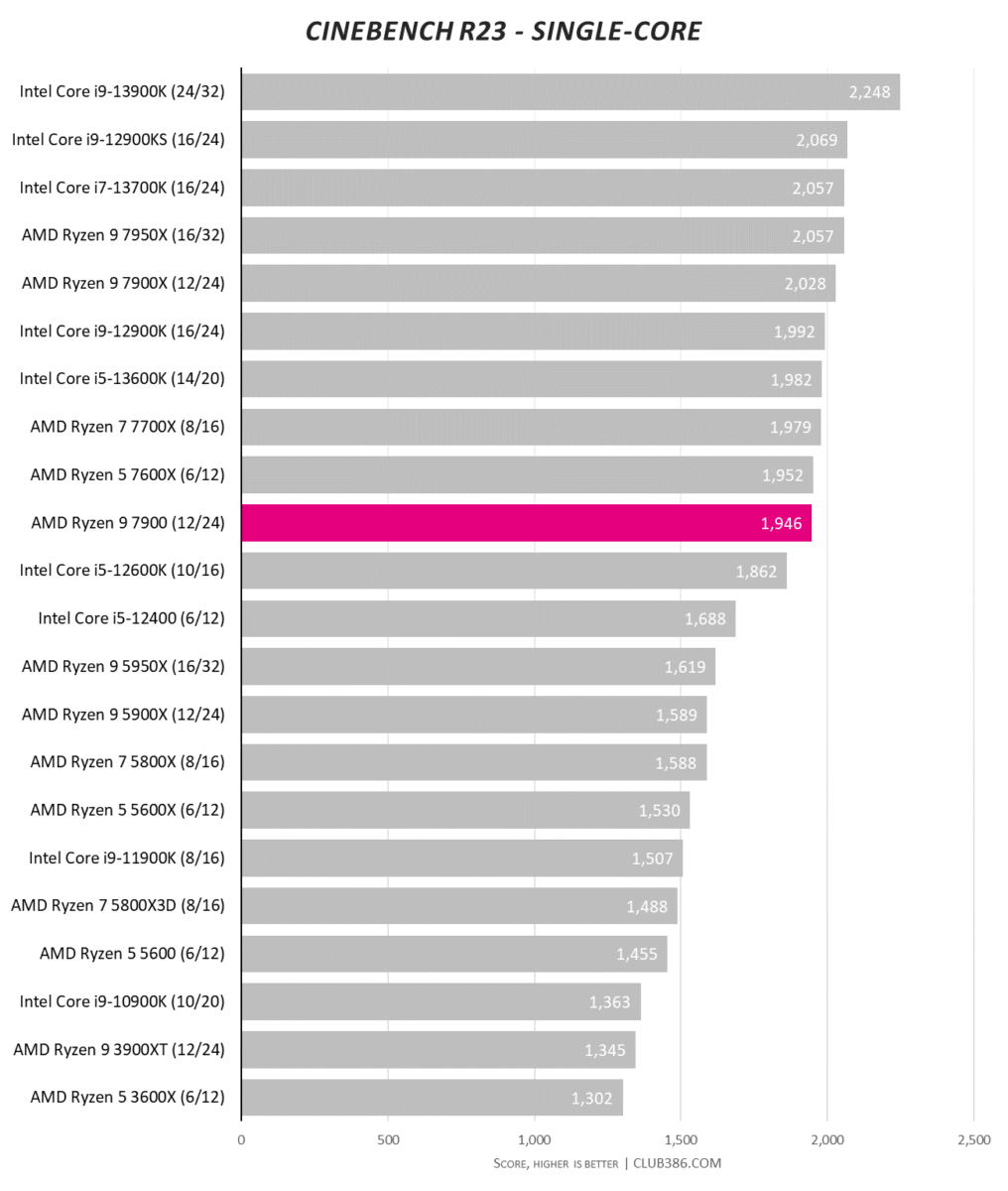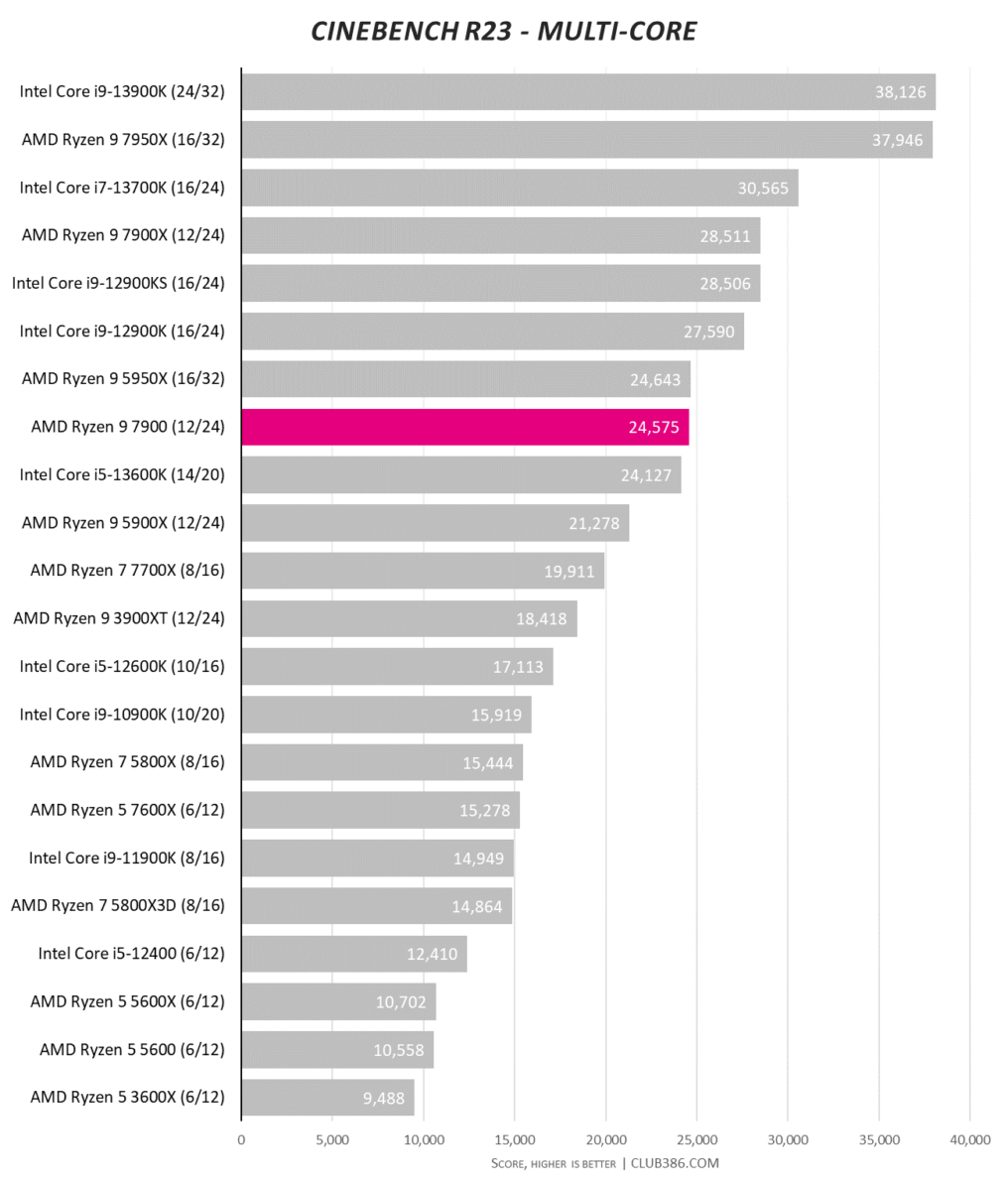 Showing the inexorable progress from one generation to the next, 12C24T 7900 at 65W is more than a match for the best AMD desktop processor from the last generation, Ryzen 9 5950X.
7900 is perhaps more than a power-culled chip off the old X block, though, as in our article looking at the performance of 16C32T 7950X at the same 65W, returning a multi-core score of 23,119, today's review processor does better.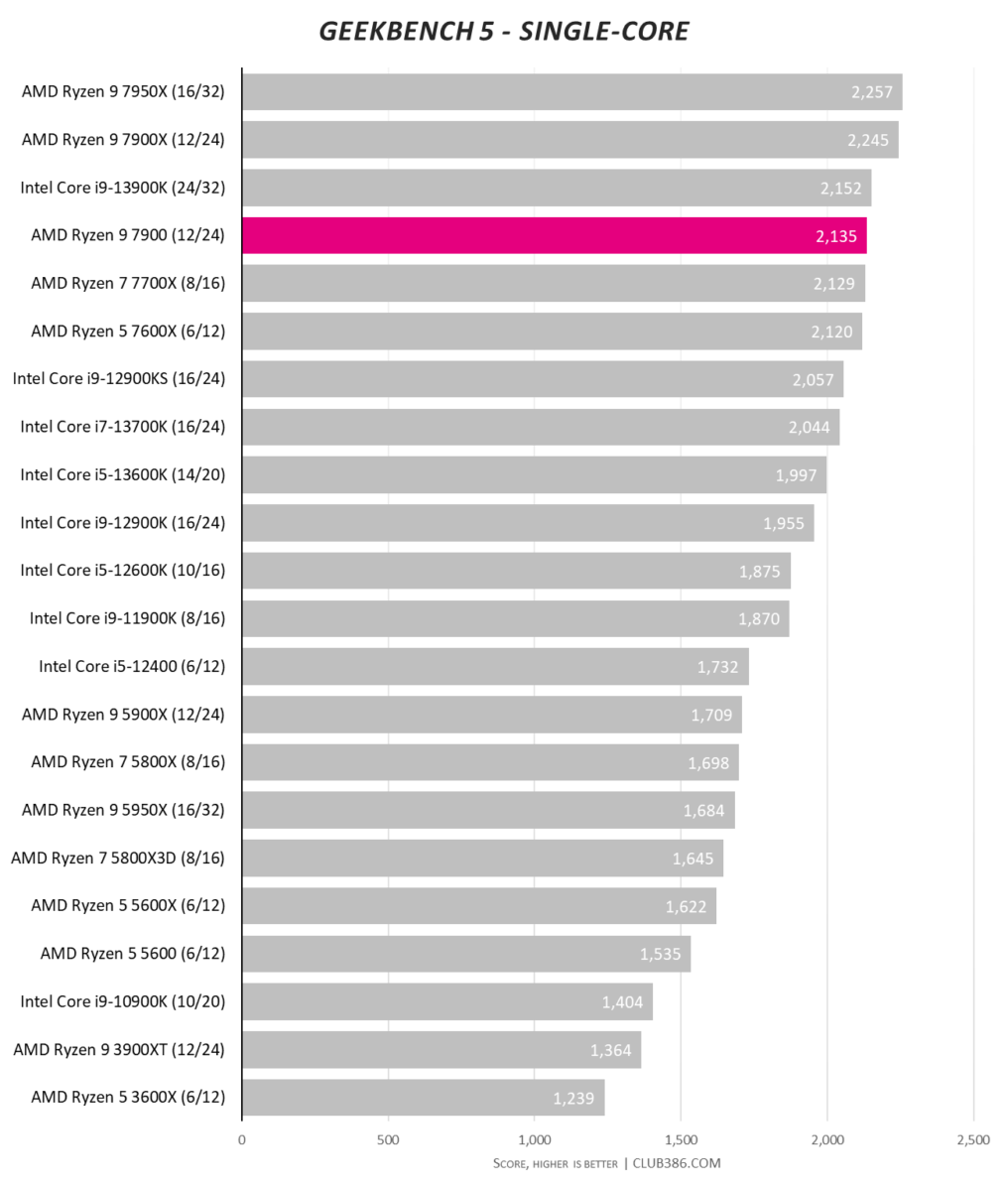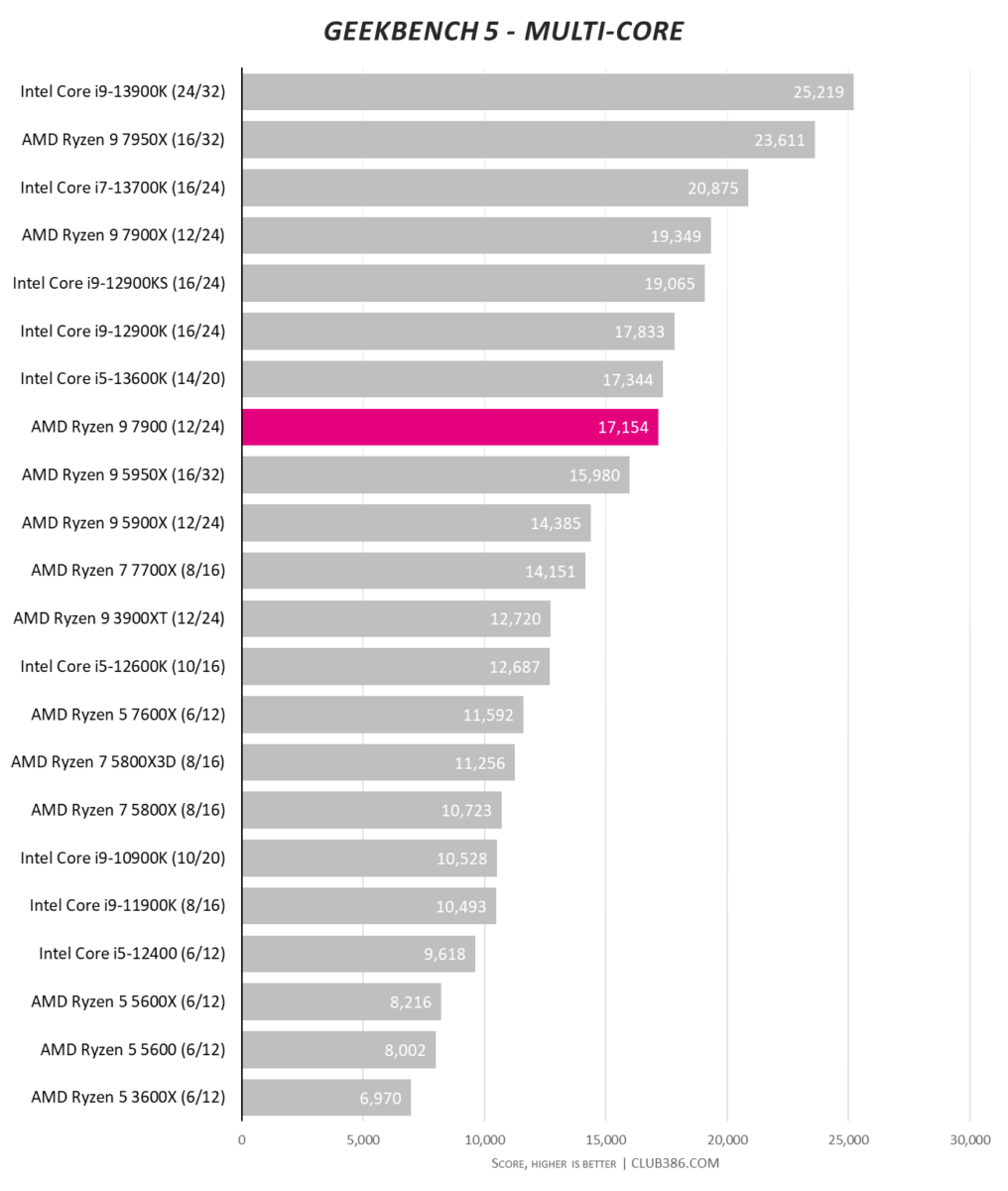 Offering upper-midpack performance with a measly 65W, Ryzen 9 7900 is a wolf in sheep's clothing. A perfect powerhouse for small-factor systems.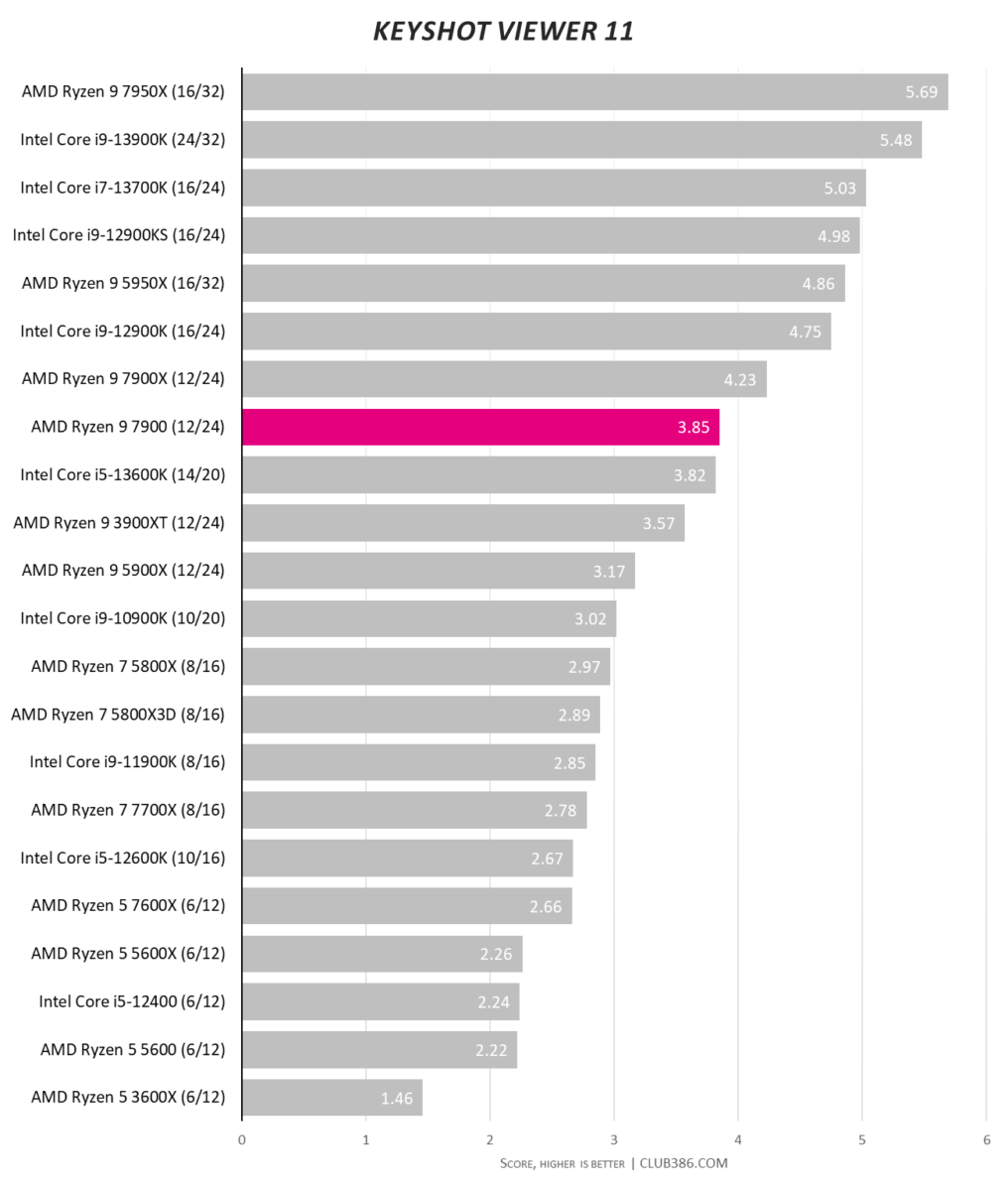 Understanding all-core frequency is in the region of 10 per cent lower than 7900X, the gap between the two AMD heavyweights is predictable.
| | Core i7-13700K | AMD Ryzen 9 7900X | AMD Ryzen 9 7900 |
| --- | --- | --- | --- |
| Recommended pricing | $409 | $549 | $429 |
| TDP/PPT | 253 watts | 230 watts | 88 watts |
| 7-zip 19.00 (HIB) | 157,712 MIPS | 170,613 MIPS | 157,790 MIPS |
| Blender 3.3.0 (HIB) | 454.8 samples | 462.2 samples | 401.8 samples |
| V-Ray 5.0.20 (HIB) | 21,430 samples | 22,003 samples | 19,073 samples |
| y-cruncher 9513 (LIB) | 148.1 seconds | 138.5 seconds | 154.6 seconds |
Examining multi-core performance more closely against two other chips that are rightfully considered rivals, yet at considerably higher native wattages, Ryzen 9 7900 does surprisingly well to hang on to their coattails.
Memory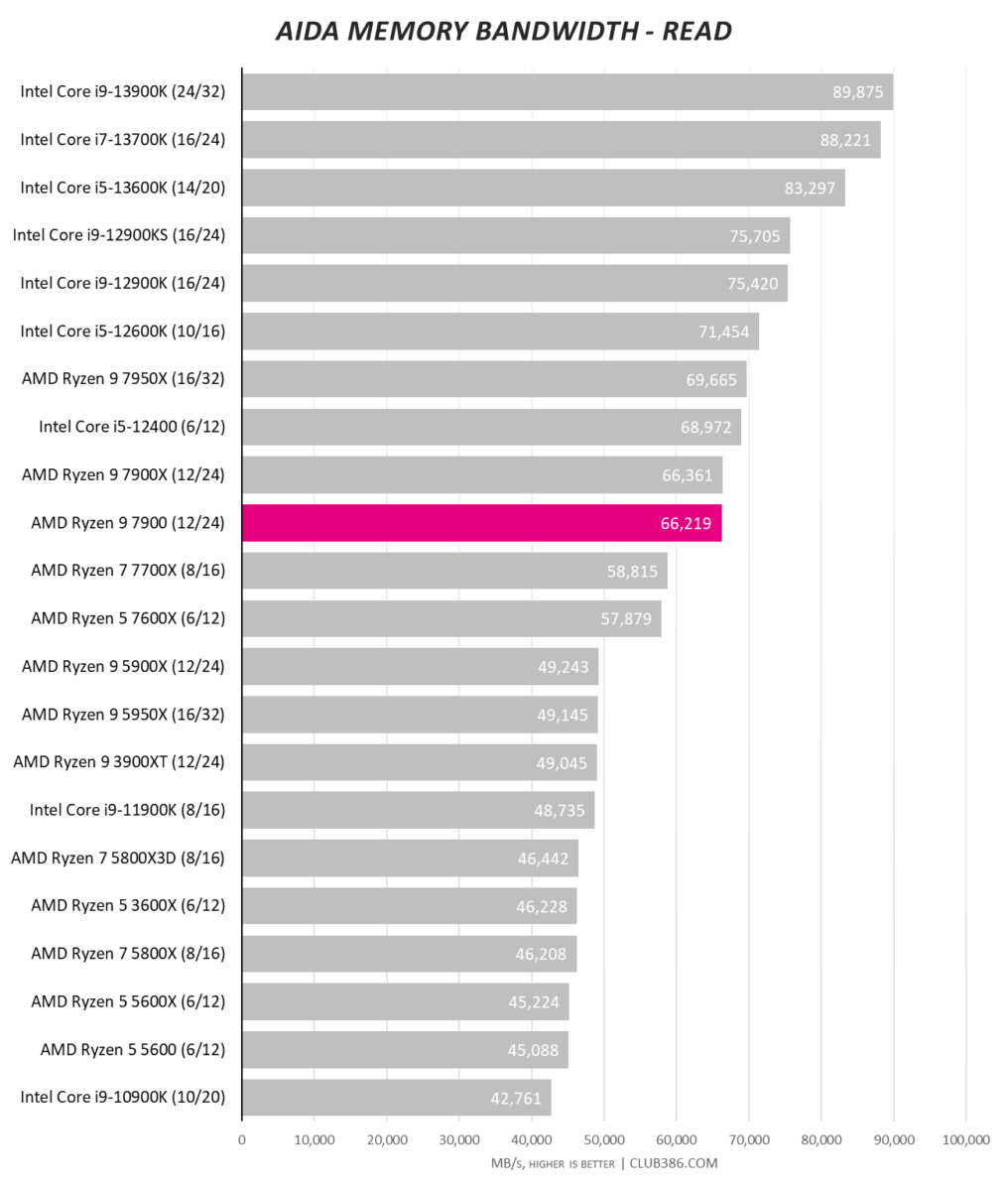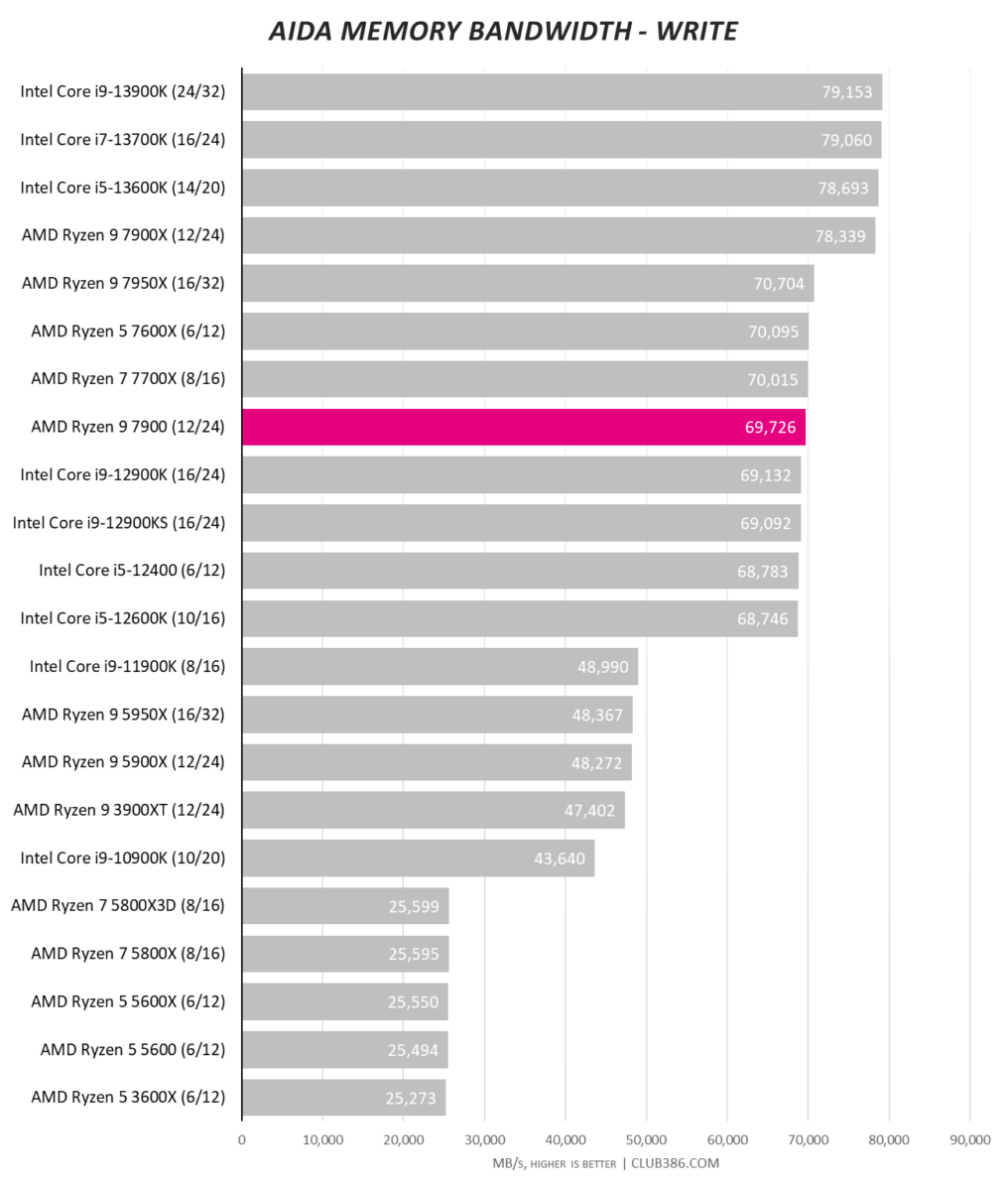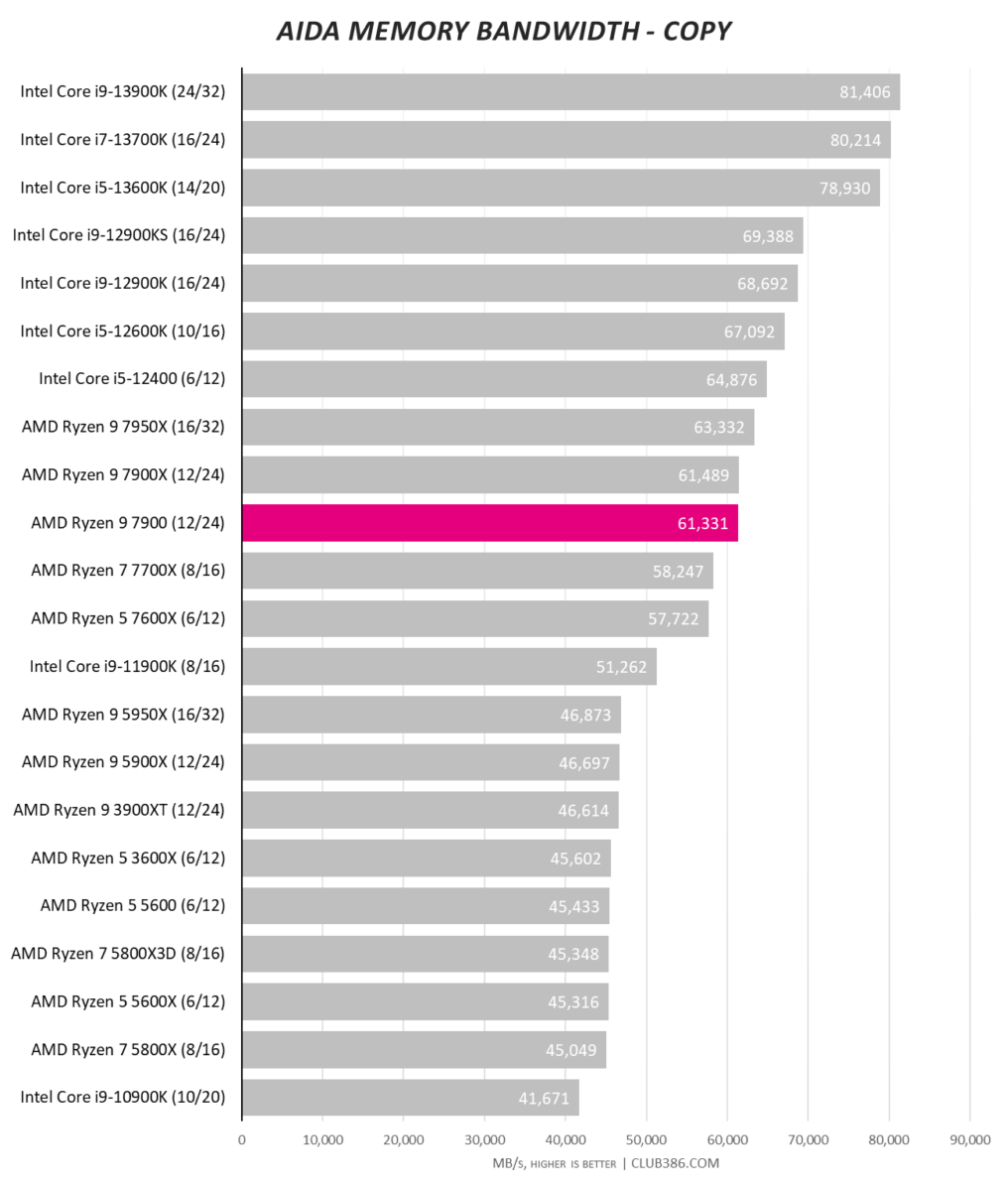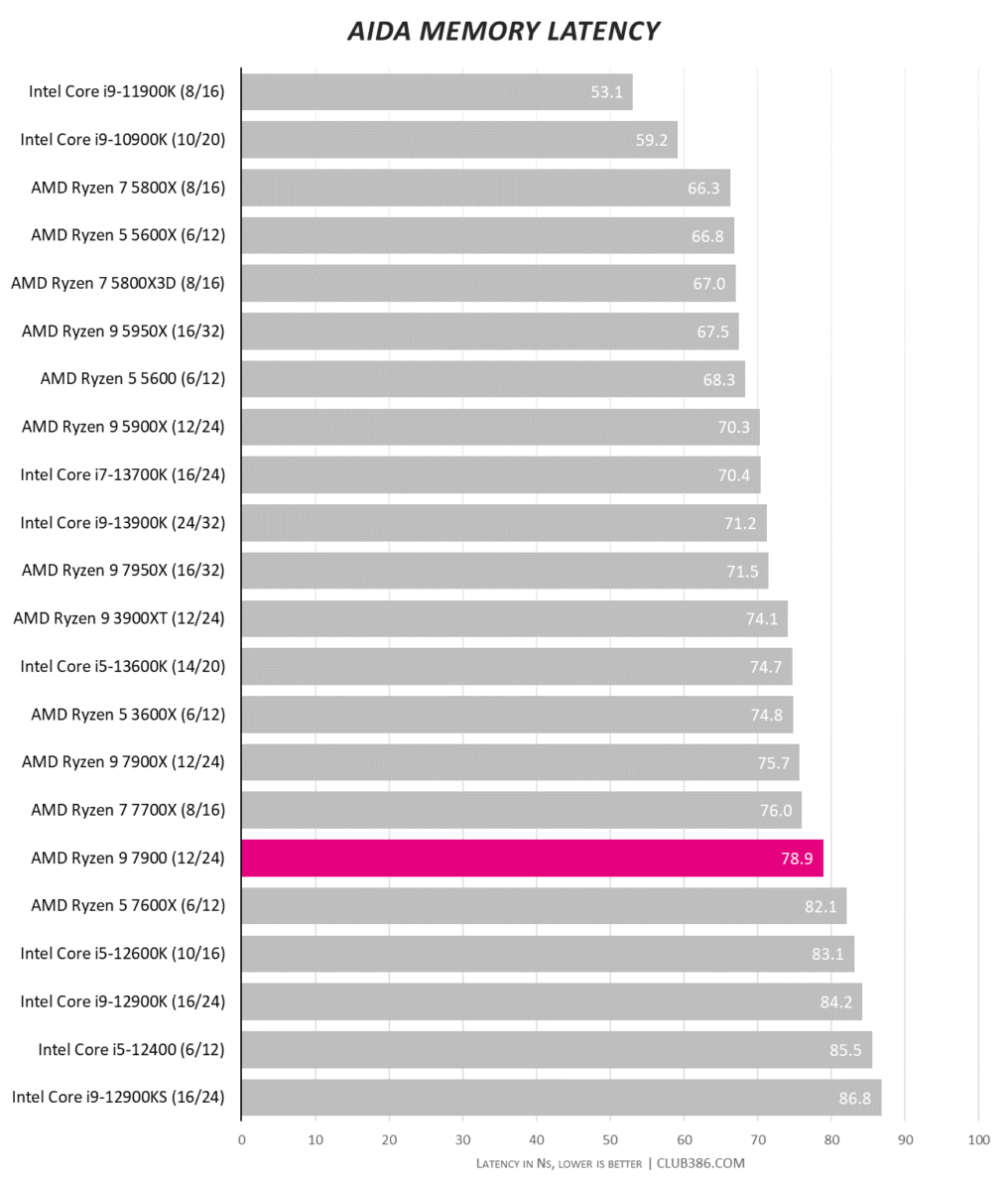 Run at DDR5-5200 with CL30 timings, memory analysis throws up no unexpected surprises.
System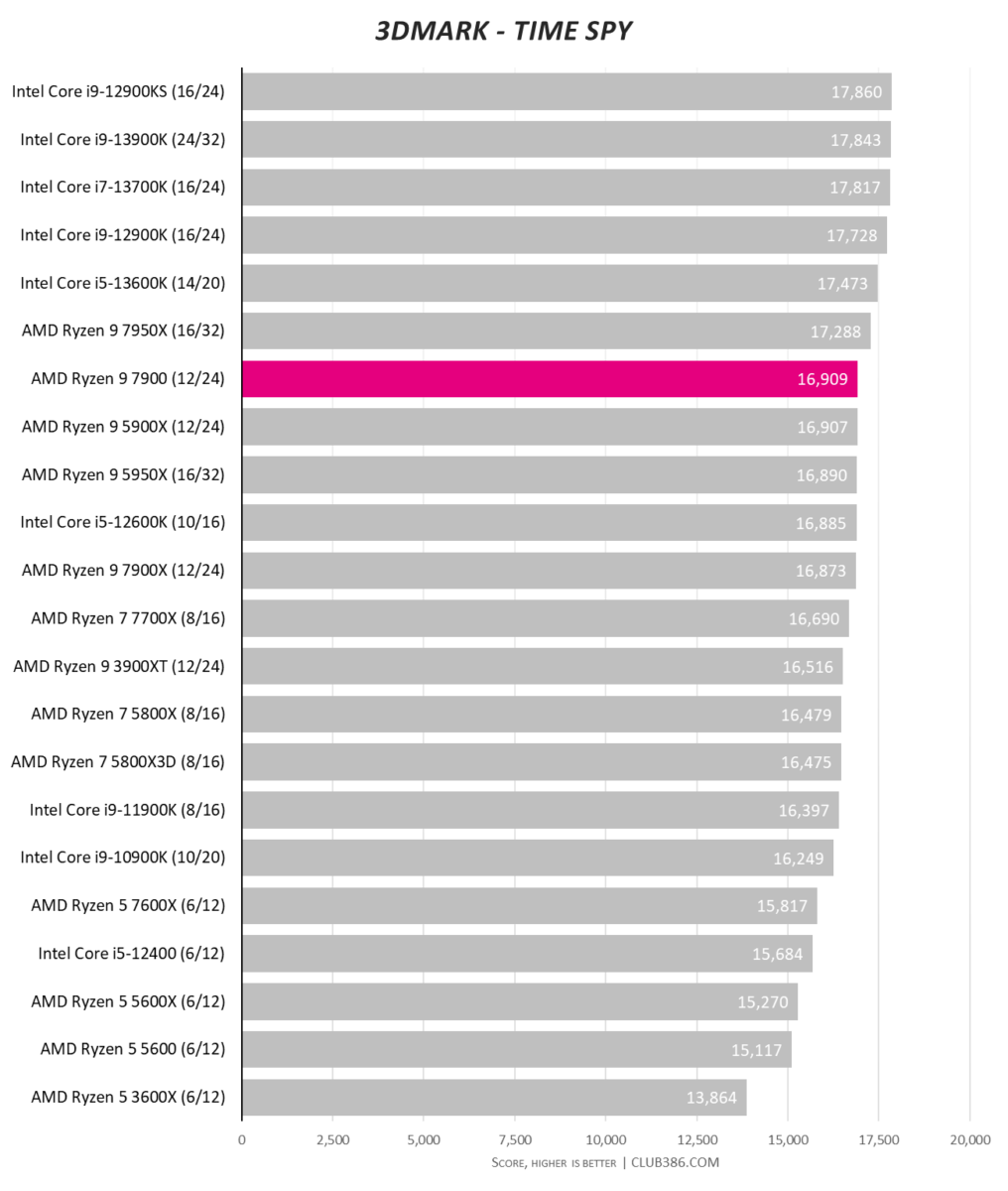 Ryzen 9 7900 does rather well here. Knowing it can, and often does, boost to 5.4GHz, you won't be able to tell the difference between it and, say, Ryzen 9 7900X.
Which is a fact reinforced by PCMark 10.
Gaming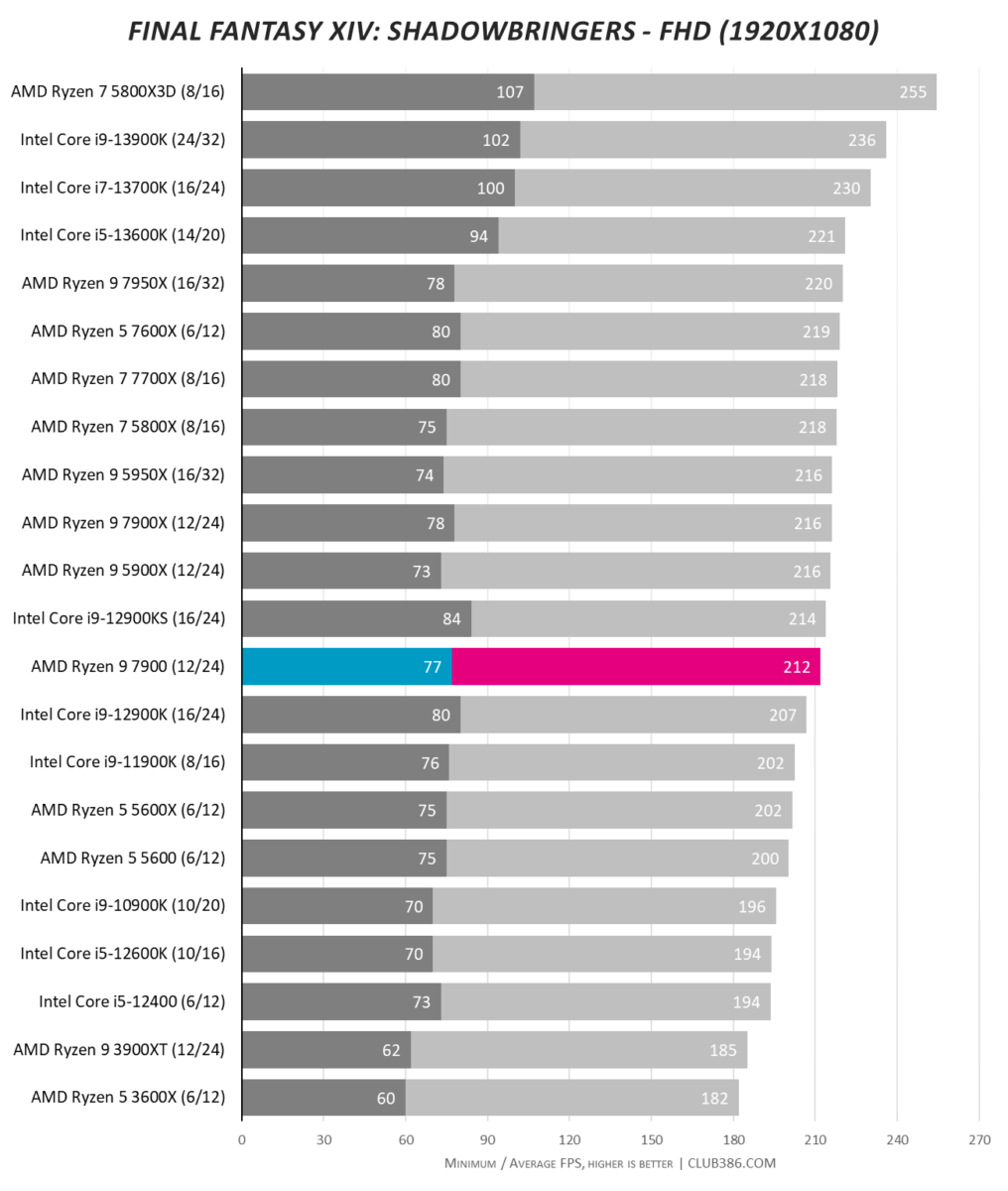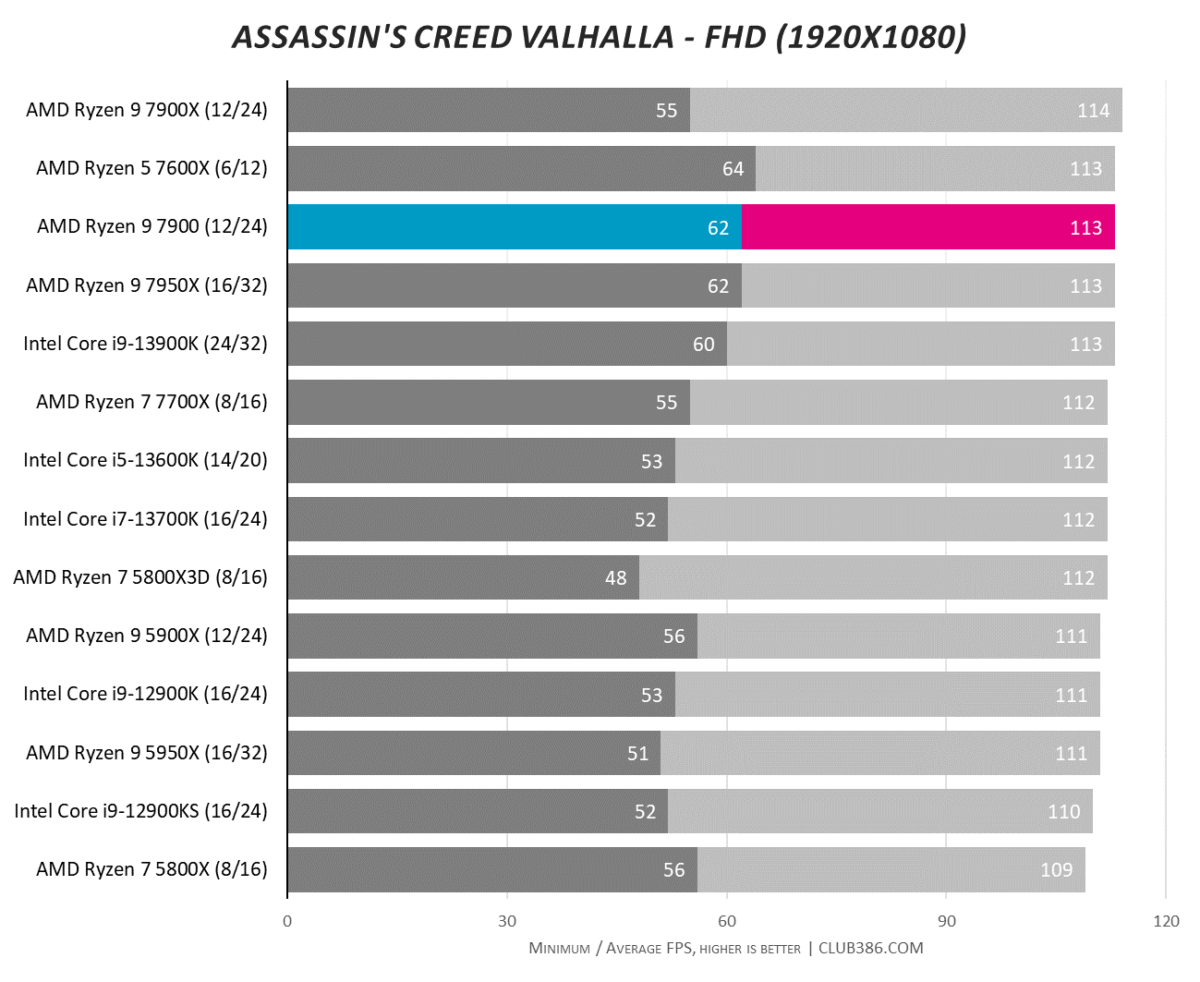 Looking at our first swathe of games, 7900 loses the odd fps here or there compared to full-wattage Ryzens. Observing the same phenomenon on Ryzen 9 7950X run at 65W, the simple explanation is that most games don't tax more than a handful of threads. Gaming, in effect, is a light-load exercise.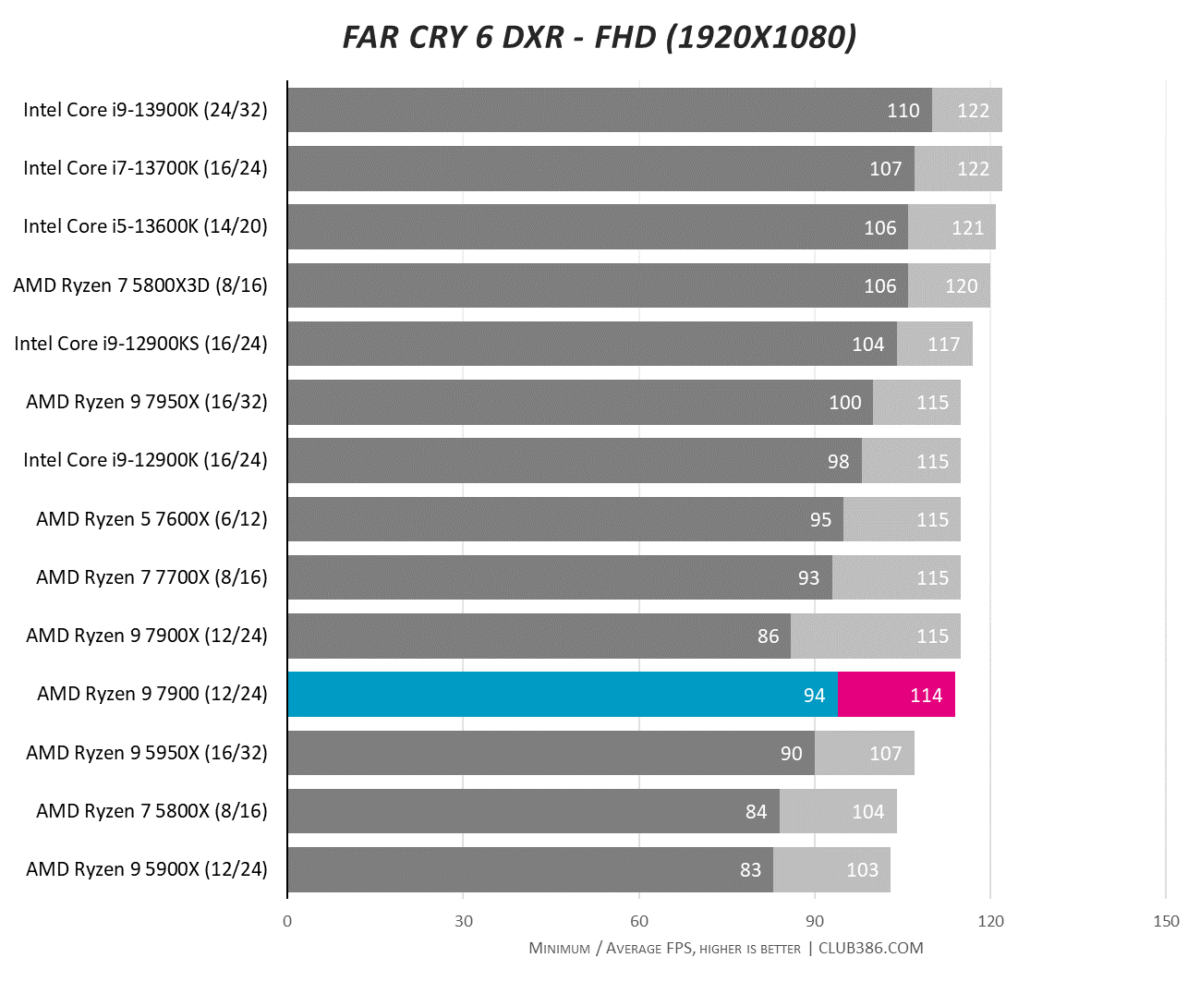 Show your support for impartial Club386 reviews
Club386 takes great pride in providing in-depth, high-quality reviews built on honest analysis and sage buying advice. As an independent publication, free from shareholder or commercial influence, we are committed to maintaining the standards our readers expect.
To help support our work, please consider making a donation via our Patreon channel.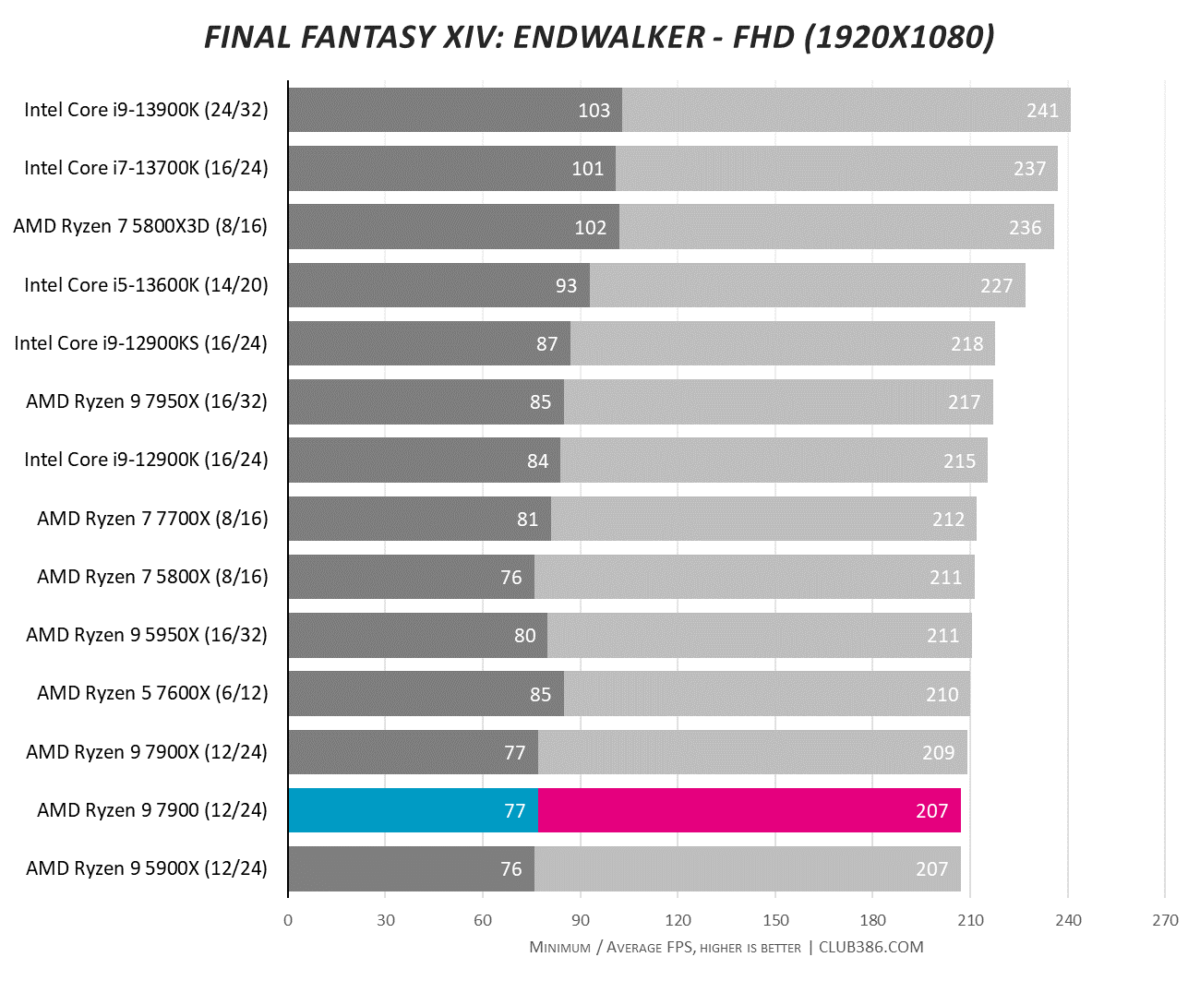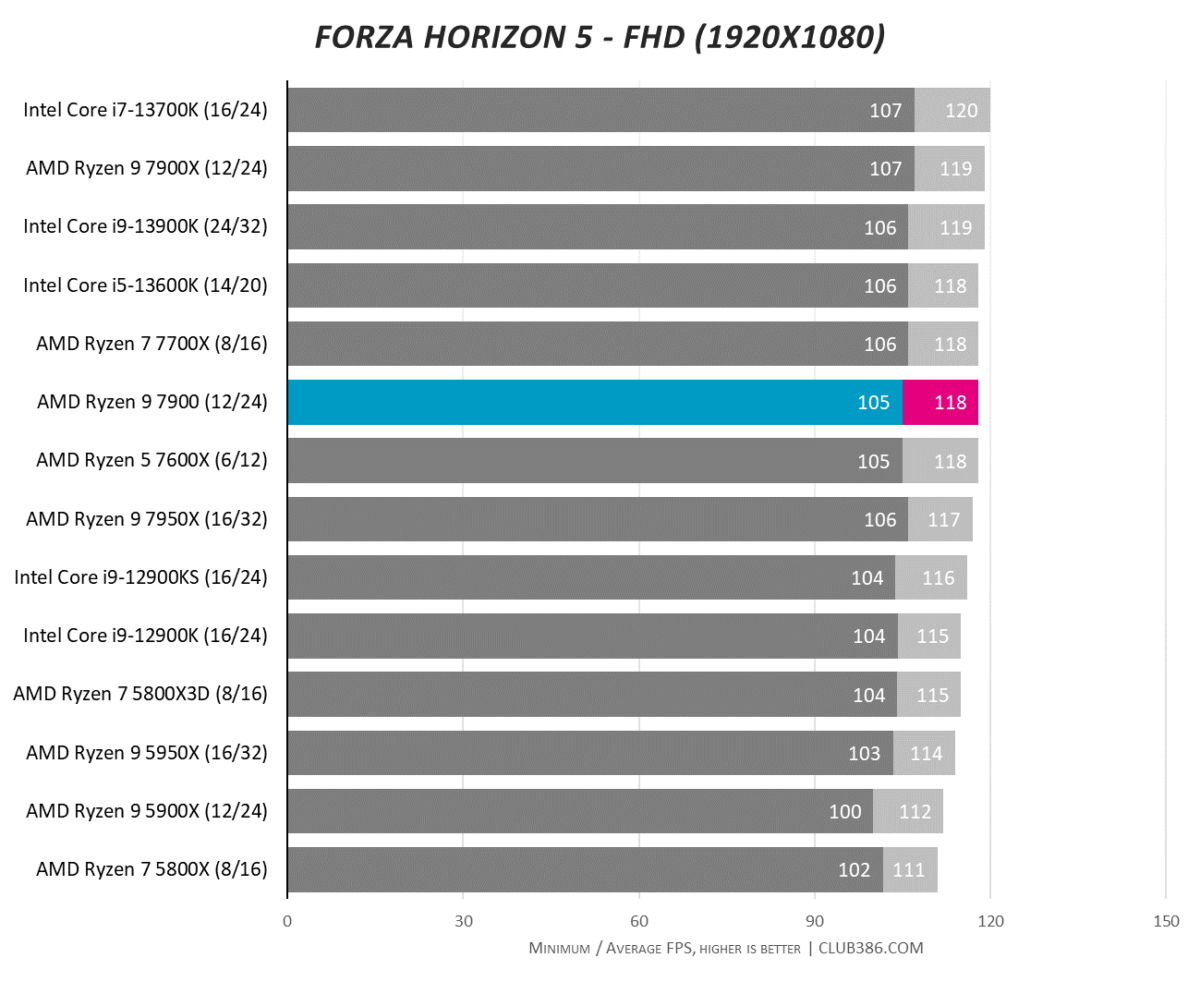 Adding a few more titles at the ubiquitous FHD shows you needn't be scared about opting for a low-wattage processor for gaming thrills and spills.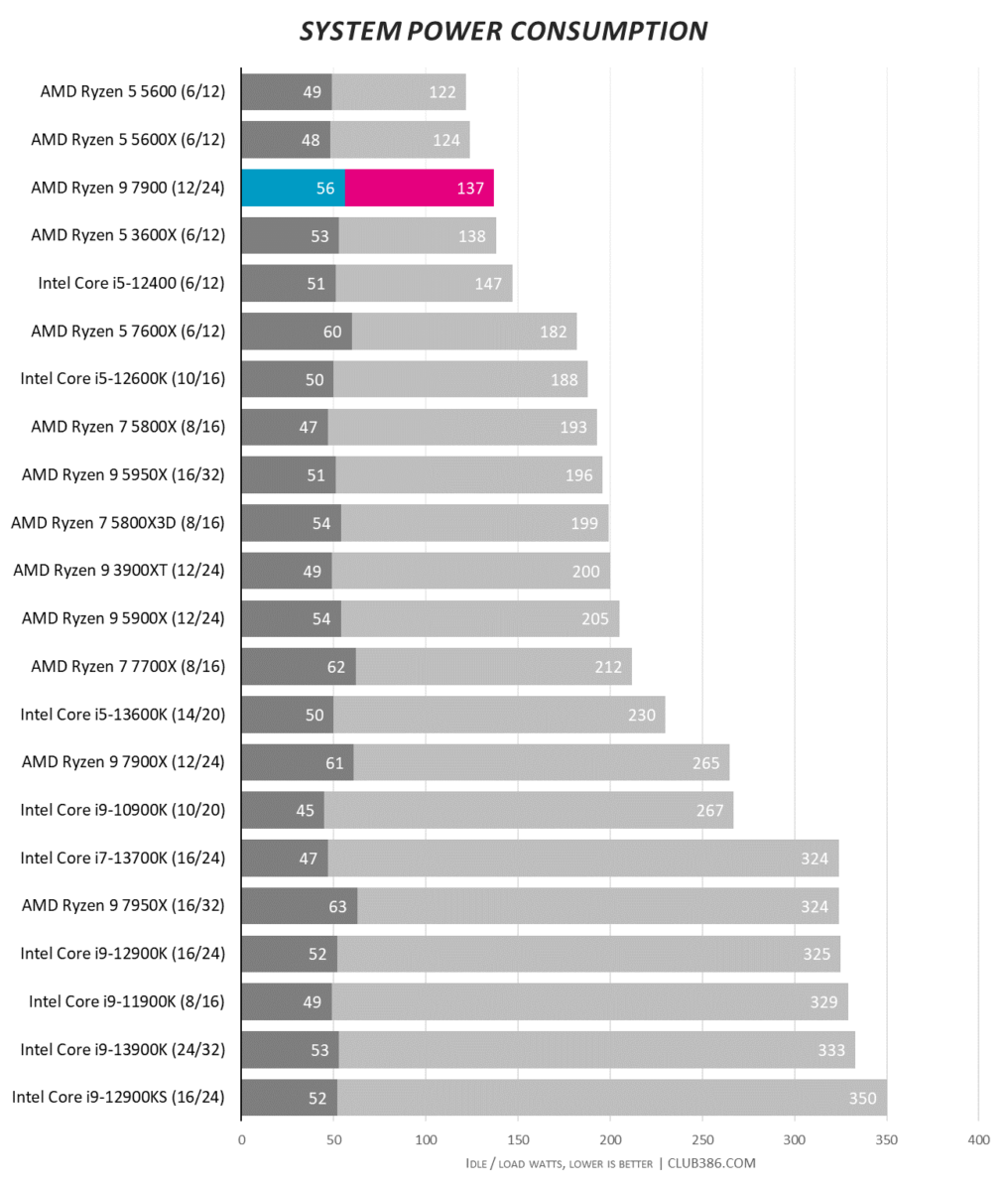 Here is where Ryzen 9 7900 naturally wins big. Solid performance is achieved with meagre power consumption. Sat underneath Noctua NH-D15 cooling, maximum temperature barely rose to 50°C under prolonged multi-core load, leading to a cool and eerily quiet test system. Got the feeling we like this chip?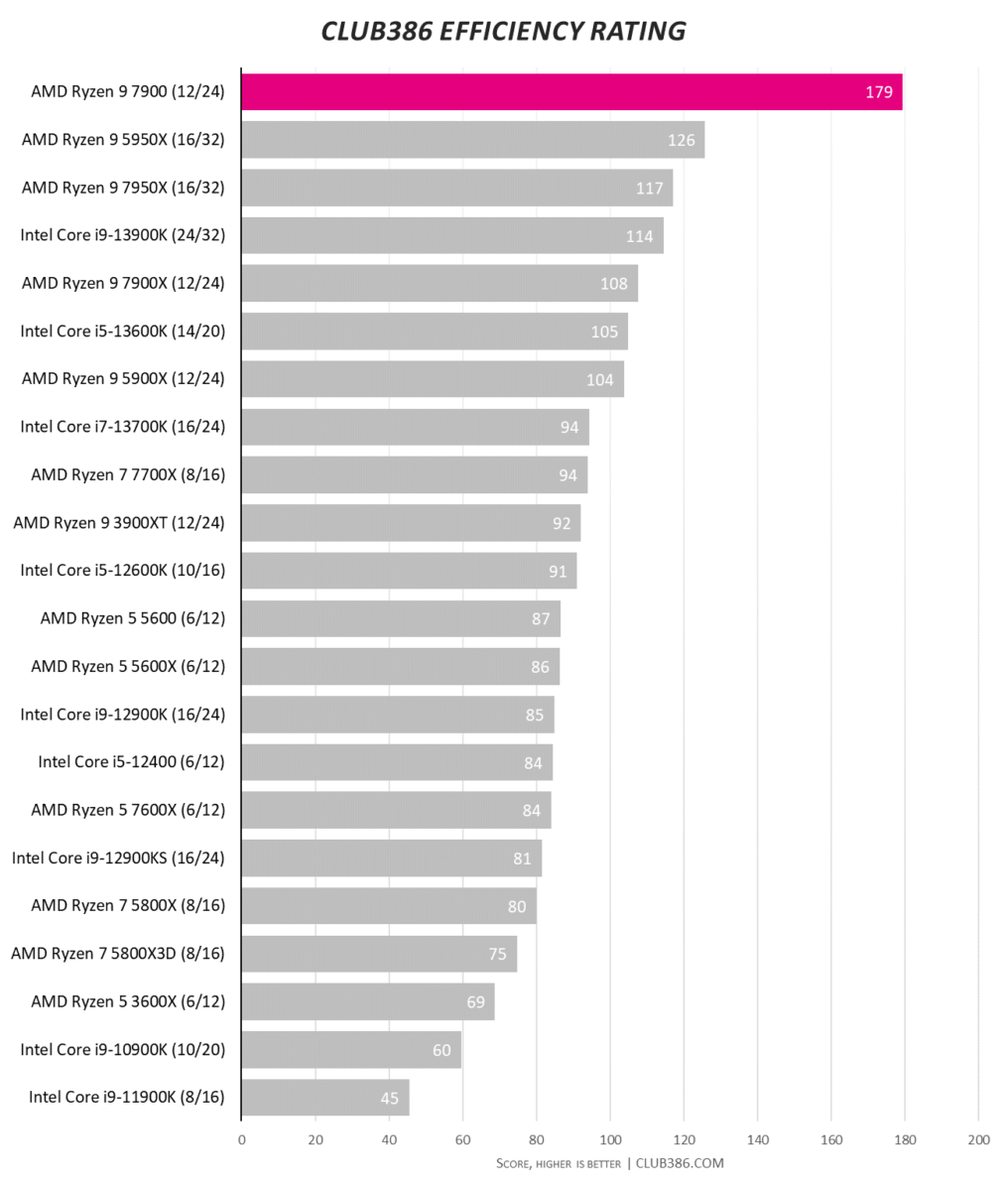 Dividing the Cinebench R23 multi-core score by system-wide power consumption gives us this graph. Boom! Nothing else comes close.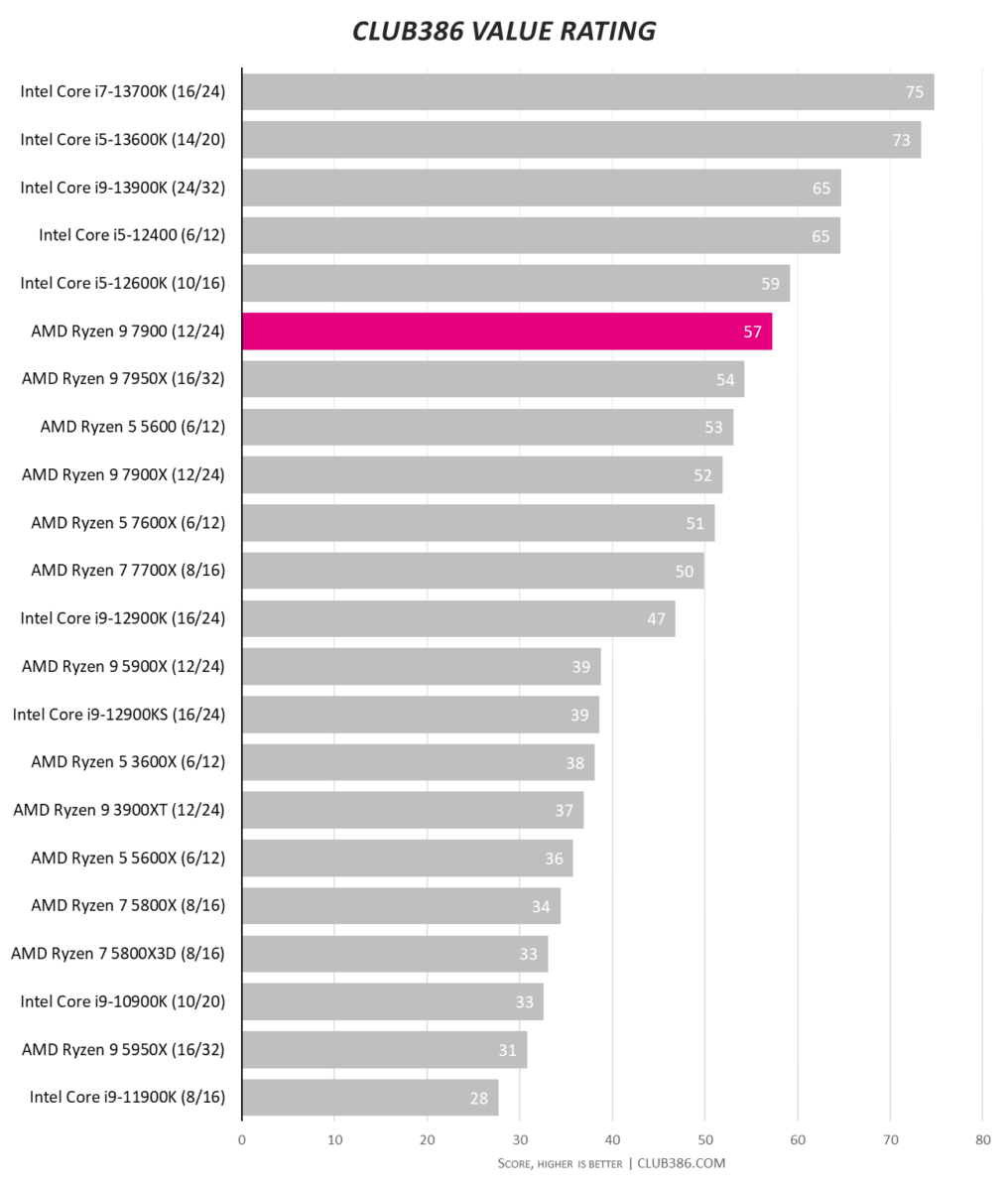 Using SRPs evaluated against the same multi-core score throws up this graph, where Ryzen 9 7900 continues to punch well.
Overclocking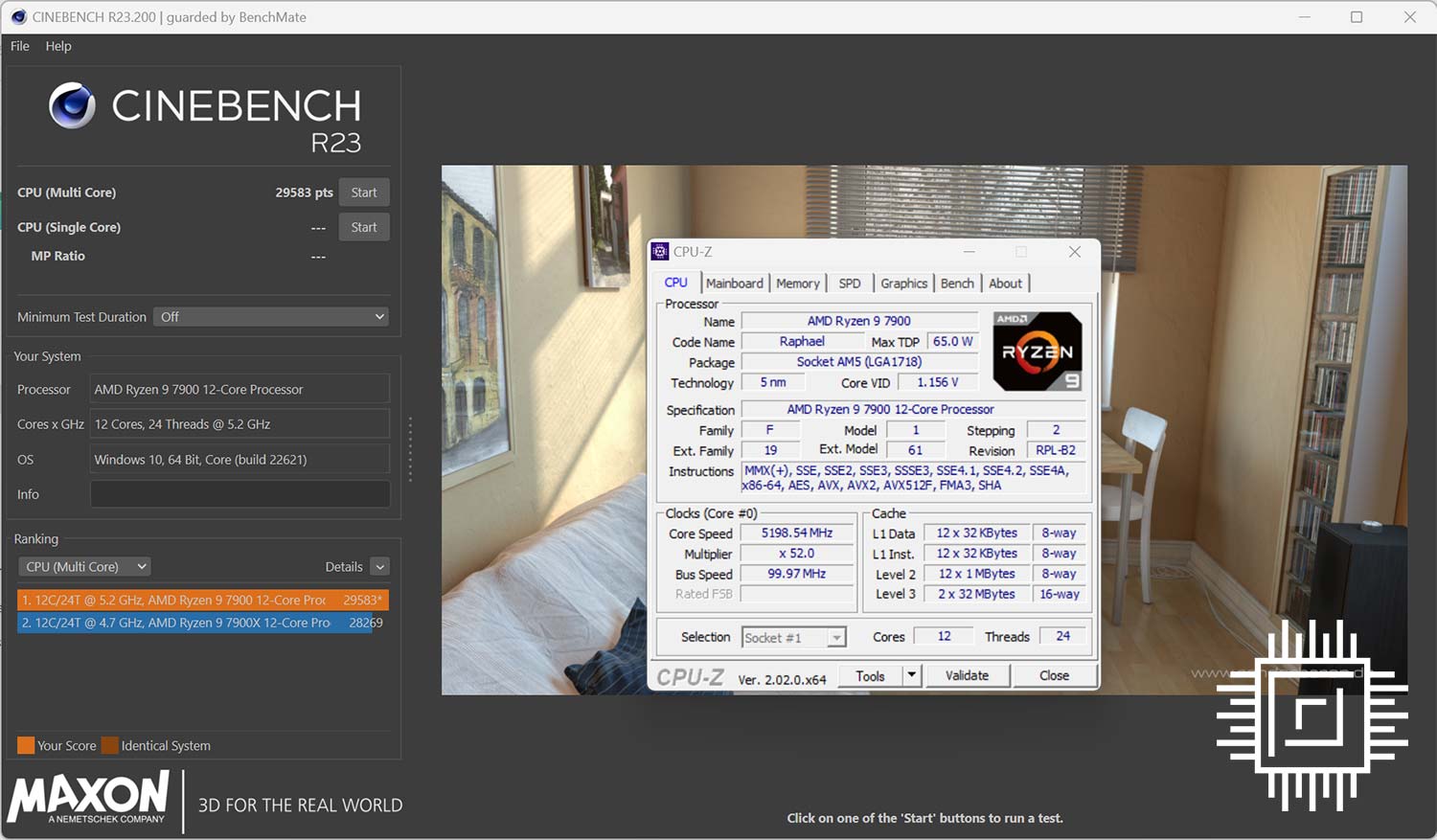 It's easy to fly past the multi-core performance offered by Ryzen 9 7900X by simply increasing voltage to 1.3V and raising the all-core multiplier. This rough-and-ready approach provides 5.2GHz on all threads within 10 minutes of messing around in the firmware.
AMD has built plenty of overclocking and tweaking scope into Ryzen 7000 Series – including per-core optimisations and Precision Boost Overdrive – so enthusiasts can expect more per-thread performance than we managed with our foray into overclocking.
Nevertheless, hitting almost 30,000 marks in Cinebench R23 is a nice return for minimal effort. Gaming performance actually drops by opting for all-core symmetry, hence why it's worth spending time fine-tuning the overclock.
Conclusion
There's a lot to be said for considering energy-efficient processors in today's world of spiralling energy costs. AMD addresses this oft-overlooked part of the market by introducing a trio of 65W chips that take the same building blocks as their X-suffixed brethren, but, crucially, tame power considerably.
This approach works best with Ryzen 9 7900. Losing only 10 per cent full-on performance compared to 7900X, whilst being practically as good in gaming, AMD adds to the value narrative by reducing SRP by $120 and also includes a capable Wraith Prism cooler in the box.
Vagaries of real-time pricing is such that the fiscal savings aren't as grand; nevertheless, it's hard to argue against the overall proposition put forward by Ryzen 9 7900. Impressive performance is underscored by a versatile chip equally at home in small-form-factor systems as well as powerhouse PCs, once easily overclocked.
Strong competition from Intel, who also debuted a wider range of desktop 13th Gen Core chips last week, keeps AMD honest and the enthusiast happy. AMD Ryzen 9 7900 is a good buy in a market crowded with top-notch processors.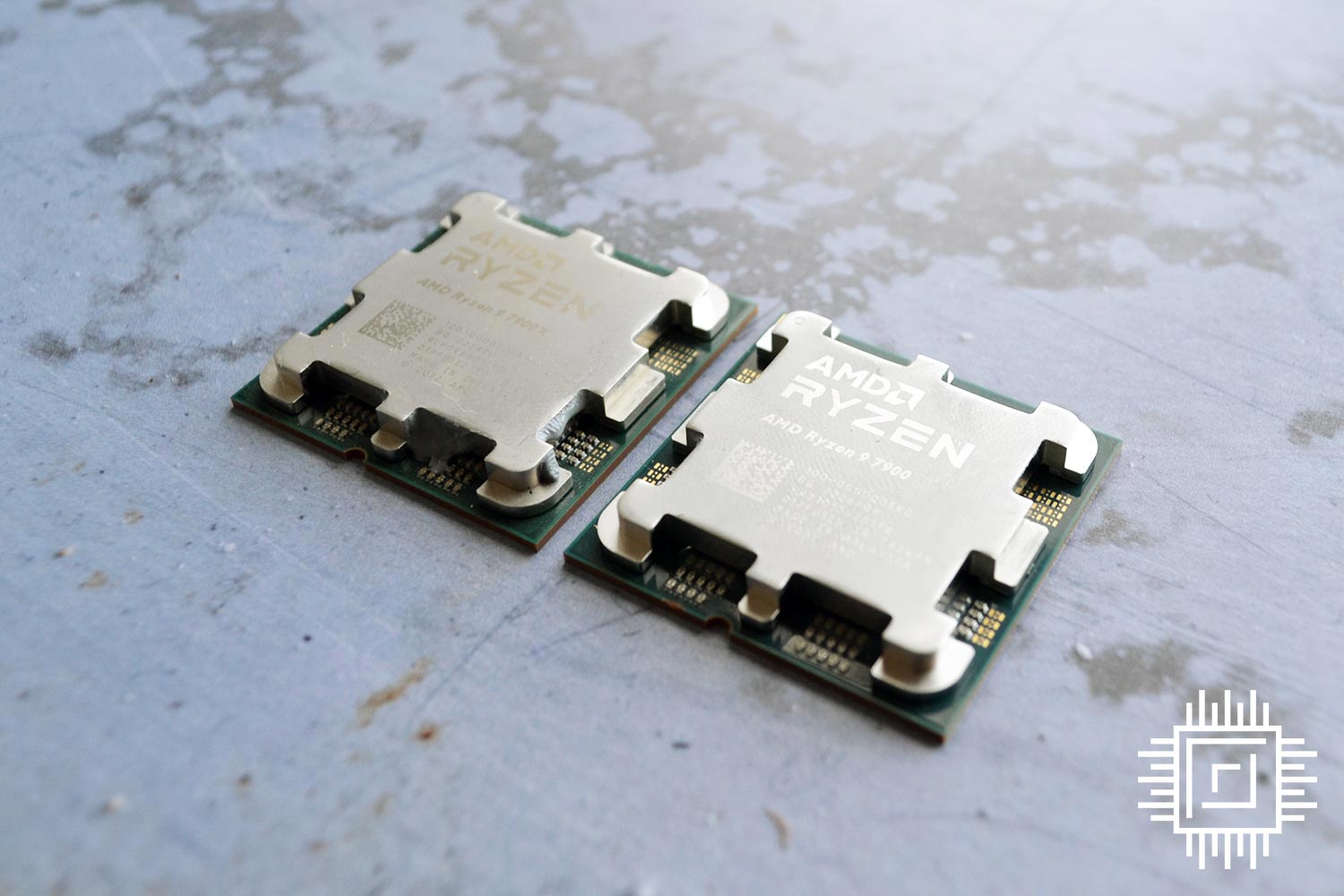 AMD Ryzen 9 7900
Verdict: Working spiffingly well at 65W, AMD's best energy-efficient chip is a force in its own right.
---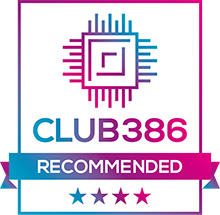 Pros
Excellent perf at 65W
Overclocks past 7900X
Good cooler in box
Solid value
---
Club386 may earn an affiliate commission when you purchase products through links on our site. This helps keep our content free for all.
Rest assured, our buying advice will forever remain impartial and unbiased.