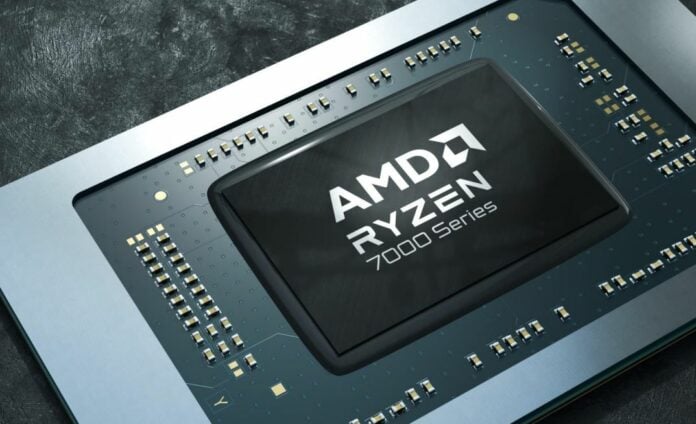 AMD's plans for powering 2023 laptops consist of energy-efficient and high-performance Ryzen 7000 Series APUs populating power budgets between 15W and 54W. Details regarding 7040U Series have already been divulged, and they're a good fit for modern thin-and-light laptops that usually ship without a discrete graphics card. Now, AMD is putting focus on the gaming-orientated Ryzen 7040HS series.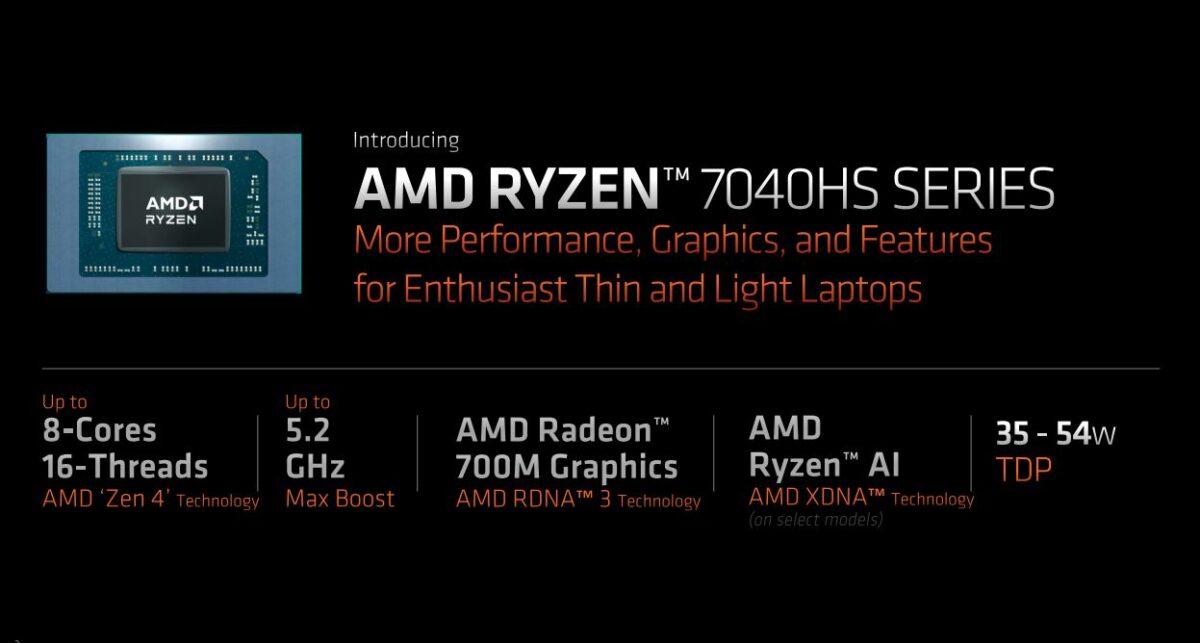 AMD's recent marketing tactic is one of announcing a mobile technology some time before laptops are ready to buy. This is the case with Ryzen 7040HS, announced at January's CES show, but yet to show up in volume from makers such as HP, Dell, Asus, Razer, et al.
Nevertheless, Ryzen 7040HS-based laptops are now starting to filter through – we'll have a review next week – so it's an opportune time to investigate the underlying technology beforehand.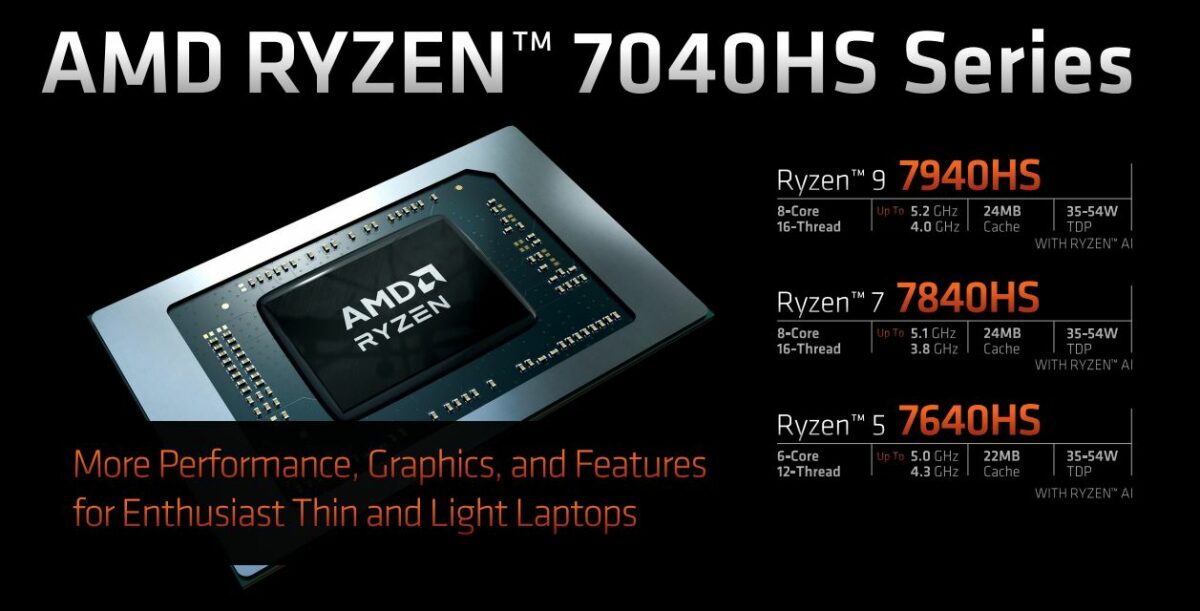 This series is part of the 4nm-manufactured Phoenix group and naturally sits above 7040U with respect to performance. Destined for more powerful laptops that typically wield a discrete graphics card, the strategy is on elevating frequencies thanks to a larger power budget.
Ryzen 7040 Series models
To that end, here's how the entire 7040 Series ensemble matches up.
| | | | | |
| --- | --- | --- | --- | --- |
| | Cores / threads | Frequency (GHz) | Cache (MB) | Power (W) |
| Ryzen 9 7940HS | 8 / 16 | 4.0 / 5.2 | 24 | 35-54 |
| Ryzen 7 7840HS | 8 / 16 | 3.8 / 5.1 | 24 | 35-54 |
| Ryzen 5 7640HS | 6 / 12 | 4.3 / 5.0 | 22 | 35-54 |
| Ryzen 7 7840U | 8 / 16 | 3.3 / 5.1 | 24 | 15-30 |
| Ryzen 5 7640U | 6 / 12 | 3.5 / 4.9 | 22 | 15-30 |
| Ryzen 5 7540U | 6 / 12 | 3.2 / 4.9 | 22 | 15-30 |
| Ryzen 3 7440U | 4 / 8 | 3.0 / 4.7 | 12 | 15-30 |
It's clear that U and HS parts are hewed from the same cloth. They are architecturally identical and are mostly differentiated on frequency. For example, the Ryzen 7 7840HS appears to be nothing more than a faster-clocked version of Ryzen 7 7840U. The extra power budget enables AMD to elevate frequency, particularly for base clock, and we expect all-core speeds to be 30 per cent higher in well-ventilated laptop chassis.
All but the Ryzen 5 7540U and Ryzen 3 7440U are equipped with Ryzen AI technology. Rather than jumping on the industry's hottest topic and implementing a half-baked solution, AMD includes a dedicated XDNA AI hardware engine, availed from the purchase of Xilinx. On laptops such as these, the AI is used to improve visuals such as automatic framing, eye contact and background effects. The proof of the pudding will be in the testing.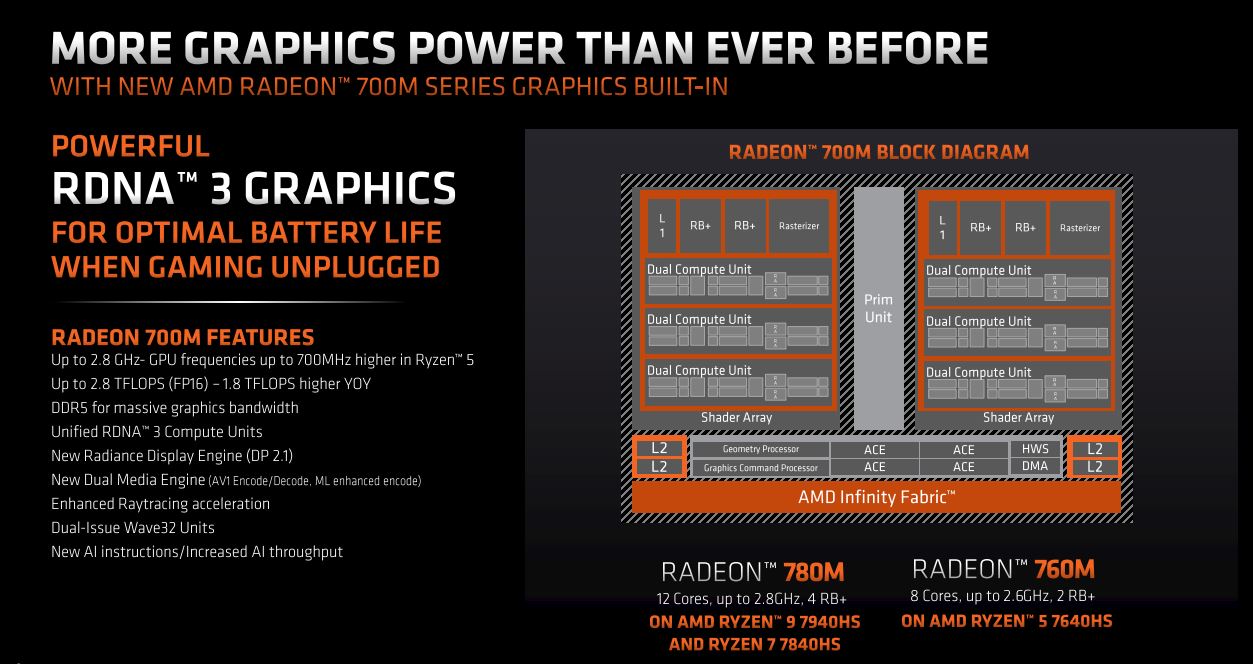 Outside of AI, 7040HS chips carry integrated graphics from Radeon 780M or 760M families. Based on the latest RDNA 3 architecture, the IGP portion runs a little faster on HS than U, which makes sense given, you guessed it, a larger power budget. Other than speeds, and just like the CPU portions, the architectures remain consistent between the two.
Performance potential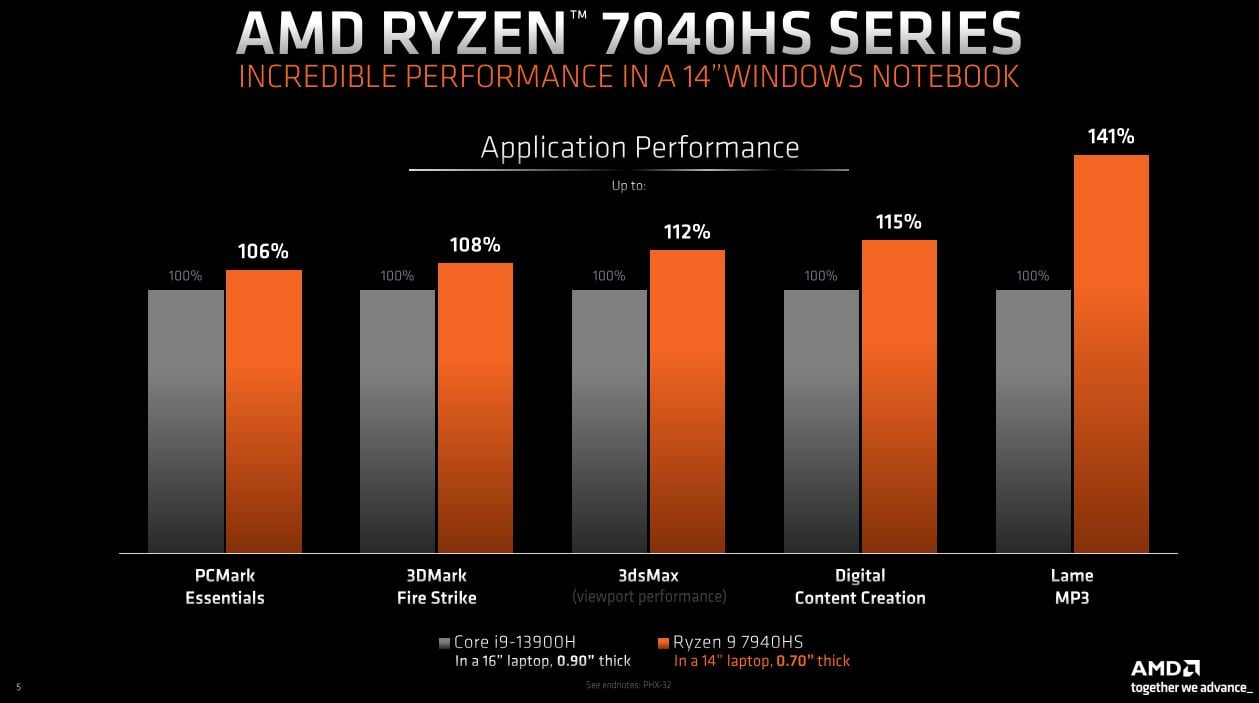 AMD suggests top-stack Ryzen 9 7940HS' application performance is better than a rival Intel Core i9-13900H operating at 45W base and 115W boost, therefore requiring a larger chassis for adequate cooling. Impressive claims. Furthermore, there's also a suggestion that the baked-in Radeon 780M GPU can run popular games at decent-enough framerates at a FHD resolution, albeit with low-quality settings.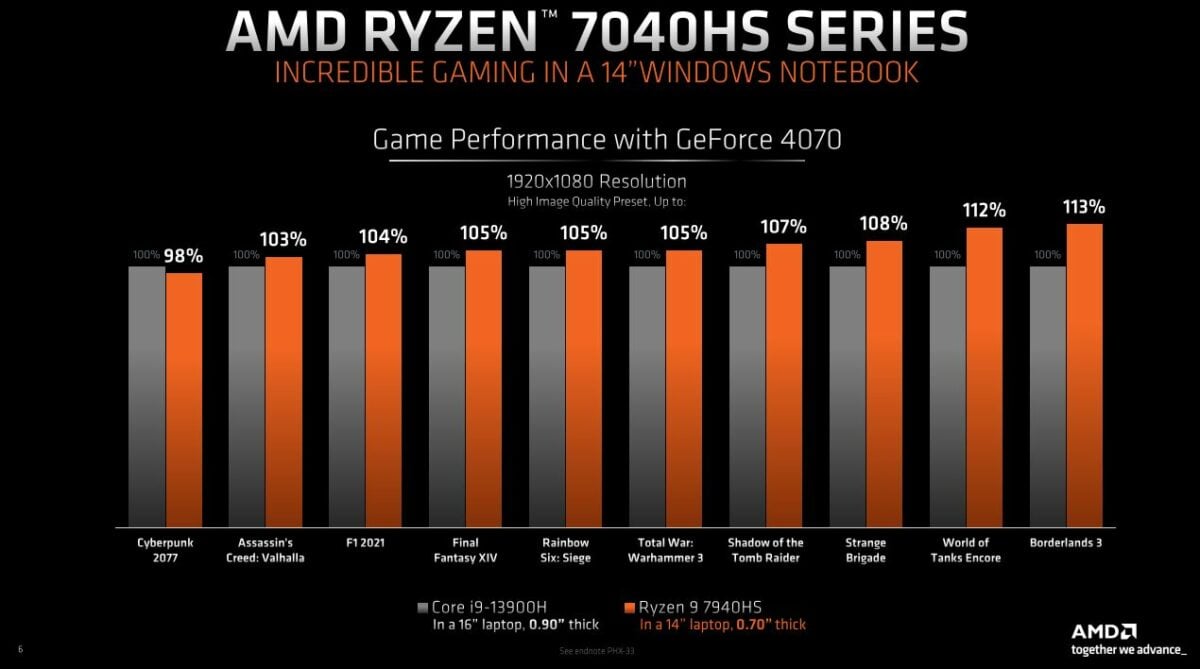 Most prospective purchasers will, we believe, look towards laptops featuring a discrete graphics card. Shown here with a GeForce RTX 4070 munching away at the pixels, AMD believes it provides more performance in a 14in chassis than Intel does in a larger, heavier, and thicker 16in model housing a quality Core i9-13900H chip.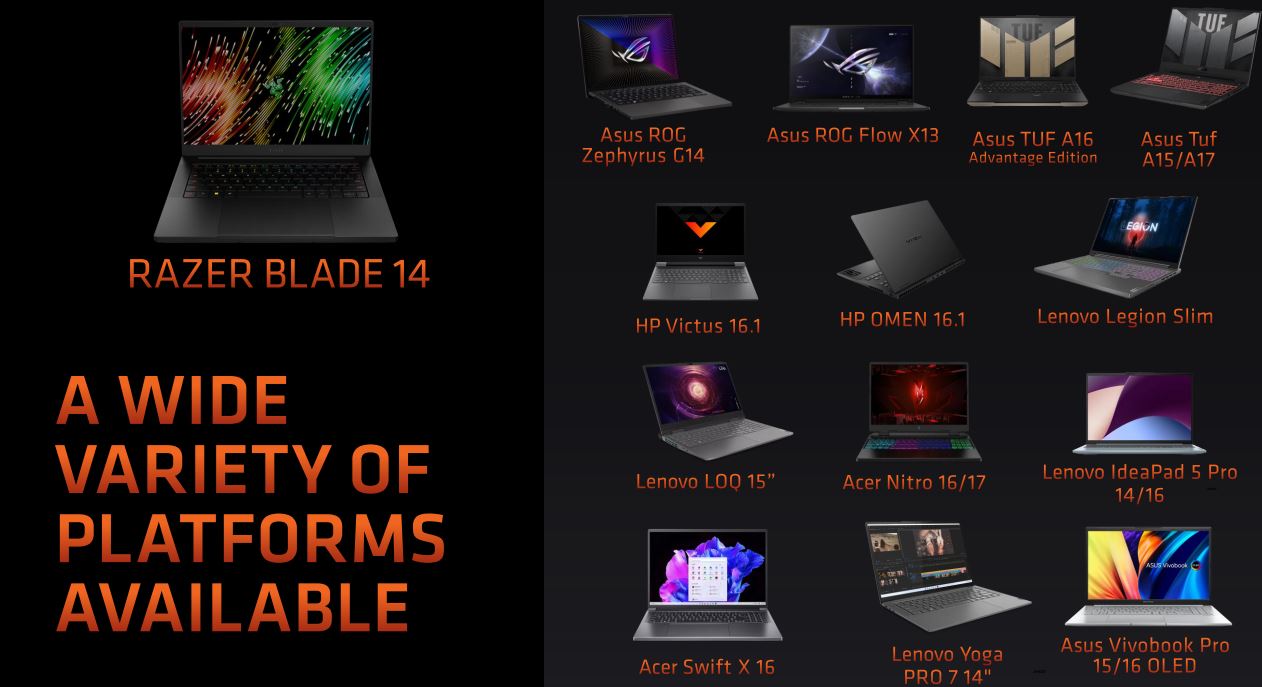 The wrap
Ryzen 7040HS Series is purposely designed for thin-and-light gaming notebooks, and many of the upcoming models shown above do take due consideration of a svelte form factor. For those that require unbridled performance, there will be a more powerful series of chips, codenamed Dragon Range, coming out later and designed for larger-footprint gaming laptops that can also be viewed as desktop replacements.
For us, Ryzen 7040HS Series achieves, on paper, an optimal sweet spot between power, performance and gaming potential when allied to a discrete graphics card. Next week will show how well AMD's promise translates to real-world use.