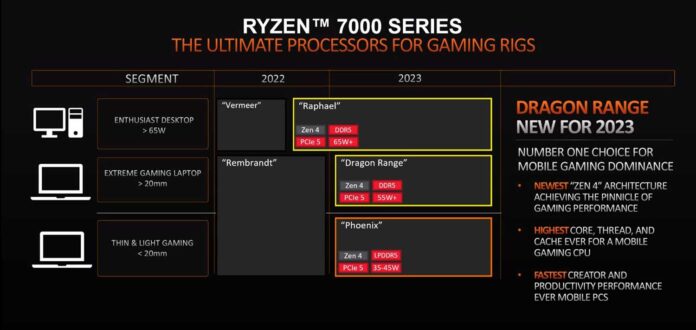 It's no secret AMD is releasing a number of Ryzen 7000 Series CPUs using the latest Zen 4 architecture later in the year. In an updated roadmap, more detail is provided on how Zen 4 will fit into desktop, extreme gaming, and thin-and-light laptops.
The slide indicates Zen 4 debuts on desktop at the back end of 2022. Present 'Vermeer' chips, also known as Ryzen 5000 Series, will continue to hold the high-performance fort until then.
New desktop processors are codenamed 'Raphael,' and bring with them expected goodies such as DDR5, PCIe 5 and a minimum 65W TDP. There's no indication of DDR4 support, lending further weight to it not present for Ryzen 7000 Series.
On the laptop front, 'Rembrandt' is the codename for today's Ryzen 6000 Series processors that also house integrated graphics. It will be superseded and split into 'Dragon Range' for extreme gaming laptops and 'Phoenix' for thin-and-light models. Other than power budgets, the only change between the two 2023 platforms is the use of LPDDR5 instead of DDR5, which makes sense as thinner form factors benefit more from lower-power memory.
Though not mentioned, Zen 4 chips are to be built by foundry partner TSMC on a 5nm process. We have a small, nagging doubt about the slide's authenticity. mind; where Zen 4 is considered to be the 'pinnicle' (sic) of gaming performance. Someone better get the spellcheck out.