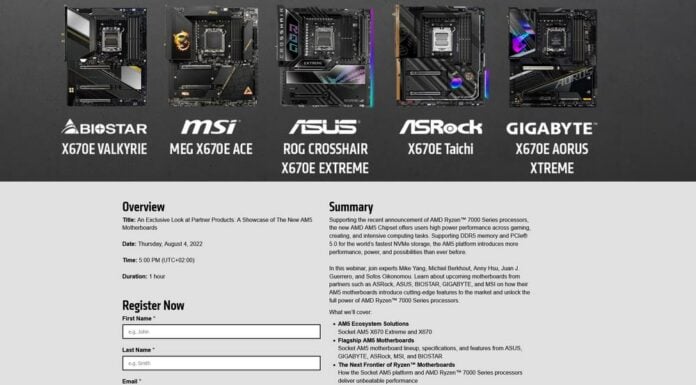 Via a Tweet from @planet3dnow we have learned AMD is planning a webinar to showcase next-gen AM5 motherboards and chipsets on the August 4 16:00 UTC.
As you may know, for Ryzen 7000 series processors, AMD is going all new with the Zen 4 architecture supporting PCIe 5.0 plus DDR5 memory, X670 and X670E chipsets made by ASMedia for high-end boards, not to mention the change to an LGA-type socket (LGA-1718) with the pins on the motherboard instead of the CPU.
On the event registration page summary, we read "Supporting the recent launch of AMD Ryzen 7000 Series processors," which may be a hint at a launch date not too far away. However, we don't know if AMD will show Zen 4 CPUs during this event. If the rumours stating that AMD Zen 4 processors could be available in stores on September 15 is true, logically we should start getting some unveilings pronto.
According to the visuals and info published, AMD should present X670- and X670E-based motherboards from partners such as Asus, ASRock, Gigabyte, MSI, and Biostar. In terms of models, we are looking at ROG Crosshair X670E Extreme, X670E Taichi, X670E Aorus Xtreme, MEG X670E Ace, and X670E Valkyrie, respectively.
While AMD didn't mention B650 chipsets, it would be surprising not to see quick points about the capabilities of a chipset that most people will probably use. What is sure, anyway, is more information about DDR5 memory and PCIe 5.0 SSDs will become available. So, let's wait and see.