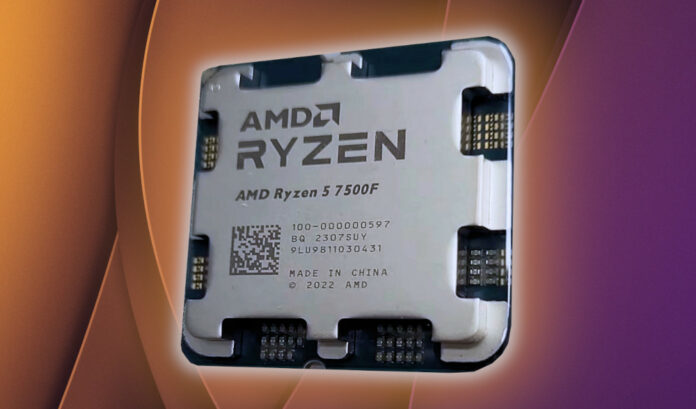 AMD's Ryzen 5 7500F CPU has been benchmarked using Geekbench showing performance on par with the similarly configured Ryzen 5 7600X.
Previously spotted on a Puget Systems benchmark and pictured by a Korean retailer, the Ryzen 5 7500F is a 6-core CPU based on the Zen 4 architecture, though not expected to feature any integrated graphics part.
According to this new benchmark, the Ryzen 5 7500F carries 64KB of L1 cache per core, 1MB of L2 cache per core, plus 32MB of shared L3 cache, with its six cores clocked at 3,700MHz base and 4,848MHz boost (all core) – unsurprising, since it's pretty much a Ryzen 5 7600 without iGPU.
This resulted in 2,782 single-core and 13,323 multi-core scores. In other words, trading shots with the Ryzen 5 7600X. That said, the latter pulls away when it comes to single-threaded loads thanks to higher frequency. Proper testing is obviously needed to figure out this chip's real-world performance. If we had to guess, the 7500F should perform a tiny bit slower than a 7600 (non-X).
The test was run using an Asus TUF Gaming A620M-Plus WiFi motherboard alongside 32GB of DDR5-6000, which indicates that memory support is also still unchanged.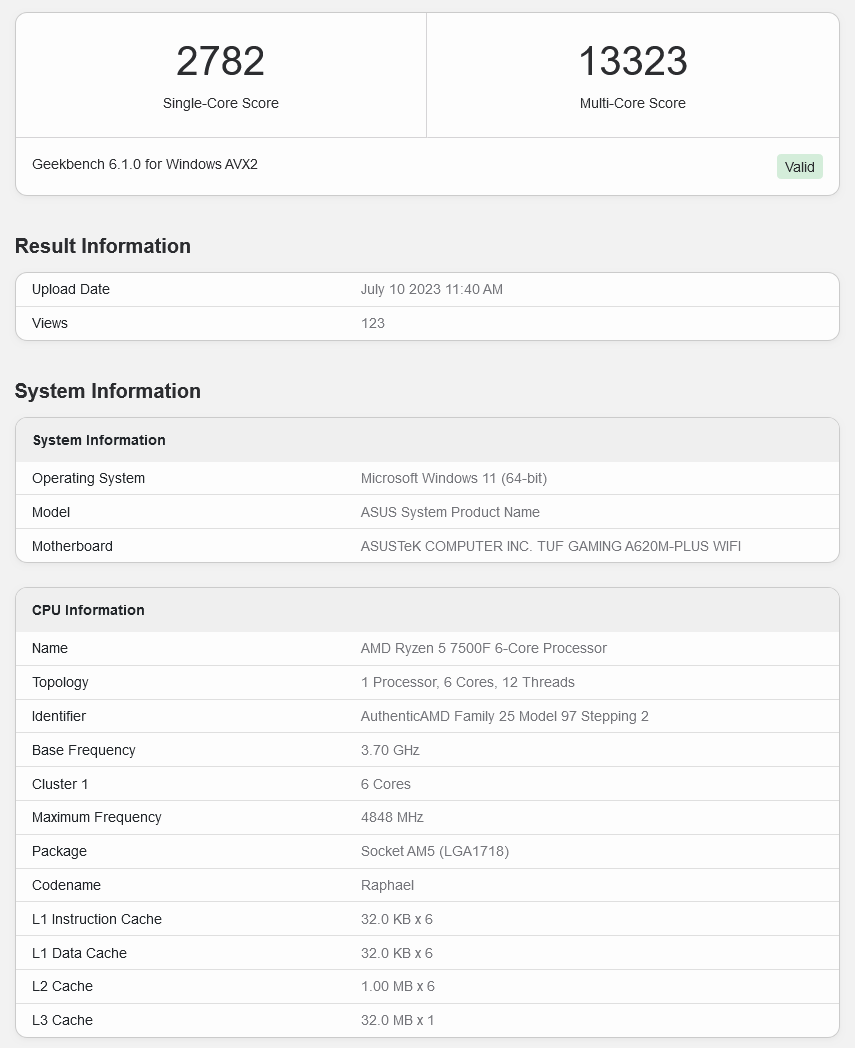 Meanwhile, some Tom's Hardware sources close to the matter have said that AMD is releasing Ryzen 5 7500F exclusively for the Chinese market by the end of this month, meaning that we may never see this CPU elsewhere, at least via official channels.
Even if not that powerful compared to dedicated graphics cards, Ryzen 7000's 2 Compute Units are handy for troubleshooting and media decoding. Losing this capability for £10 or so price reduction may not be worth it for most.
It's also interesting how AMD is launching products for specific markets and retailers. You may recall the Ryzen 5 5600X3D is Micro Center exclusive CPU only available from 25 brick-and-mortar stores in the US.